This caponata recipe is a sweet and savory blend of eggplant, peppers, tomatoes and olives, all simmered together to create a delicious appetizer or side dish option. A unique offering that's easy to make and is sure to get rave reviews!
When I'm looking for a party snack that everyone will love, I turn to favorites such as a mezze platter, mini quiches or this vibrant and flavorful eggplant caponata.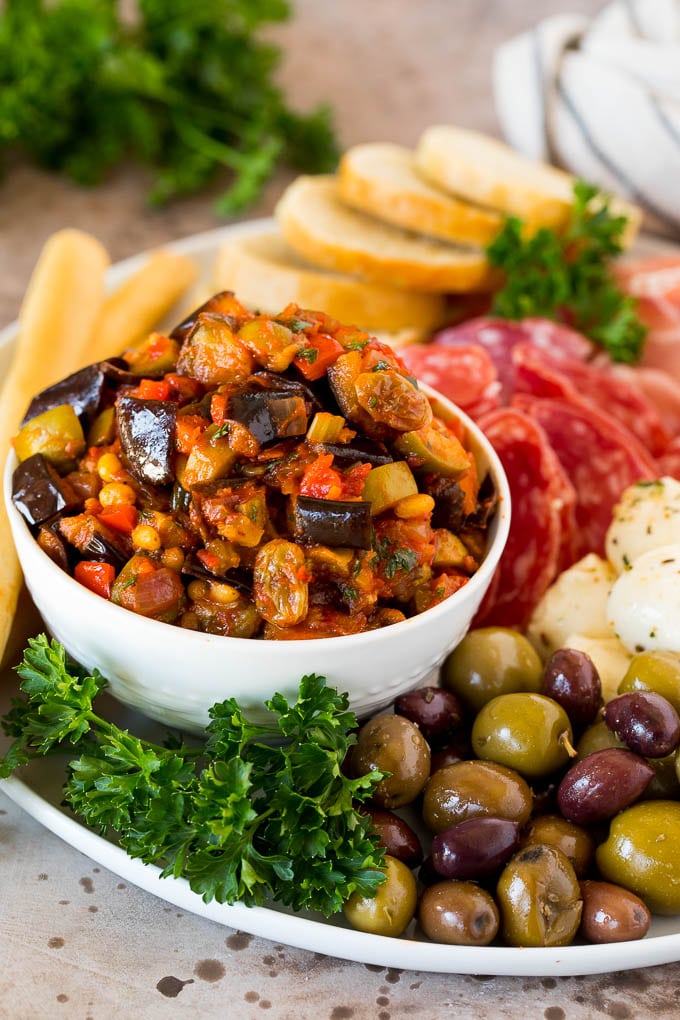 Whenever I see caponata on the menu at a restaurant, I have to order it. I just love the complex flavors, especially when served over a piece of toasted bread! I've since learned to make this dish at home, and it happens to be quite simple to put together.
What is caponata?
Caponata is an eggplant based dish where this vegetable is browned and combined with other ingredients including tomatoes, onion, celery, olives and capers. This dish always contains a sweet element such as raisins, honey or sugar. Traditionally caponata was served as a main course, but in modern times it is most often served as a side dish alongside a protein, or as an appetizer with bread.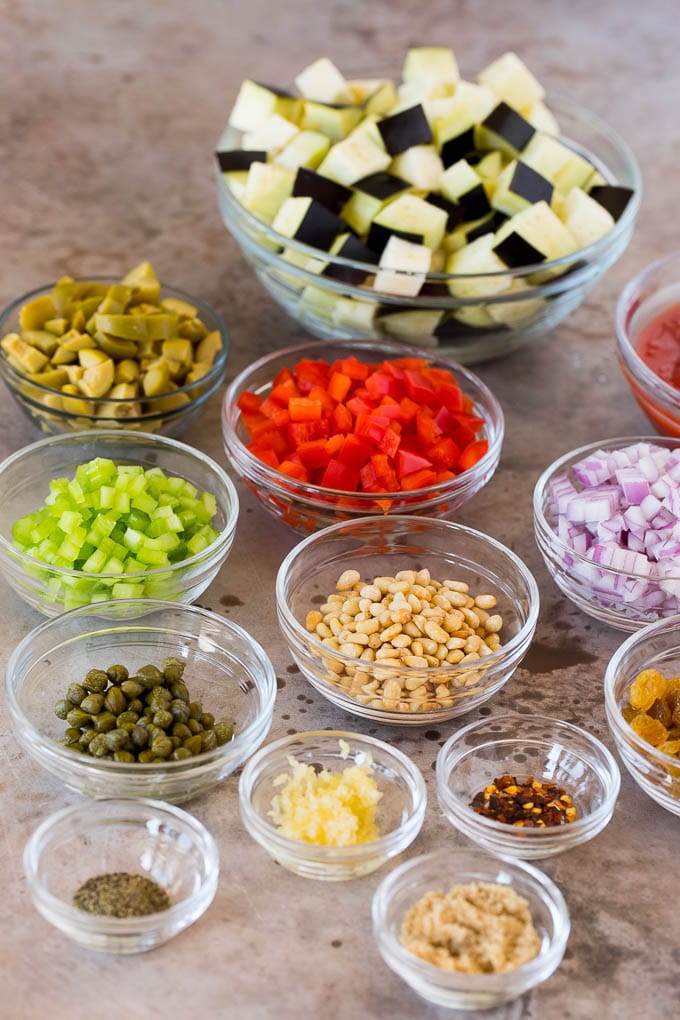 How do you make caponata?
Start by cutting an eggplant into cubes and roasting it in the oven until golden brown. Heat olive oil in a pan, then add diced red onions, celery and red bell peppers, and cook until the veggies are tender. Next, add the cooked eggplant along with tomatoes, raisins, olives, capers and seasonings. Let everything simmer until the mixture is thickened. Stir in fresh herbs along with pine nuts, then serve or refrigerate for later use.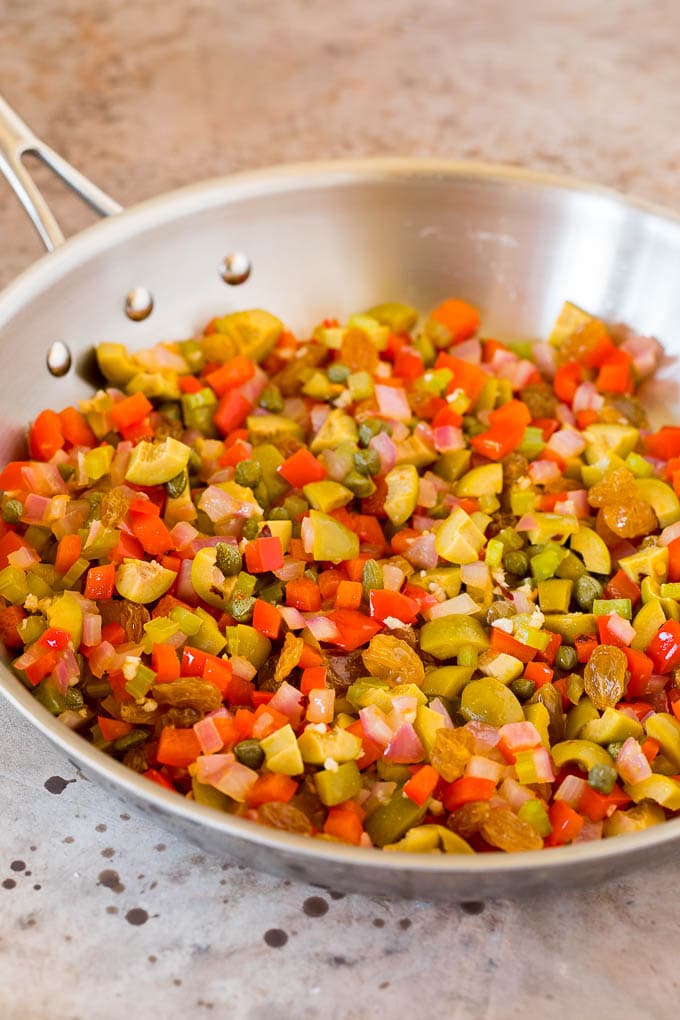 Tips for the perfect dish
This dish can be made up to 3 days before you plan to serve it, and it actually tastes best if you let it sit in the refrigerator for 24 hours. This gives the flavors time to meld.
You can use any herbs you like to finish the dish. The most common choices are parsley, mint, basil or some combination of those herbs.
The finished dish should take on an almost jam-like consistency. Don't be afraid to cook the mixture until you reach the perfect level of thickness.
Caponata can be frozen for up to 2 months. Simply thaw the dish overnight in the fridge, then reheat over low heat on the stove until everything is warm and any excess water has evaporated.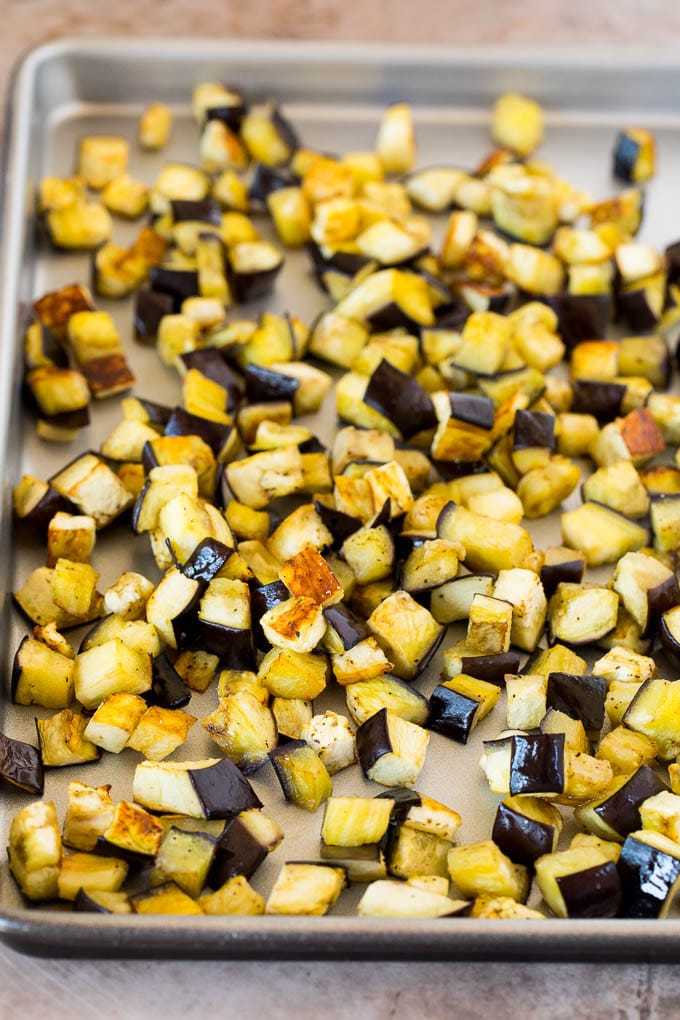 How to serve caponata
While this dish is most often served as an appetizer alongside crostini, I actually like to offer it in numerous ways.
Pizza: Dress up a plain cheese pizza by adding dollops of caponata over the top after it comes out of the oven.
Pasta: This dish makes for a great pasta sauce. Toss it with penne or spaghetti and serve as-is or with grilled chicken on top.
Sandwiches: Create the ultimate vegetarian sandwich by spreading caponata onto an Italian style roll and adding slices of fresh mozzarella and a handful of greens such as arugula.
Topping: Spoon this eggplant over grilled chicken, steak or fish to make your meal extra special.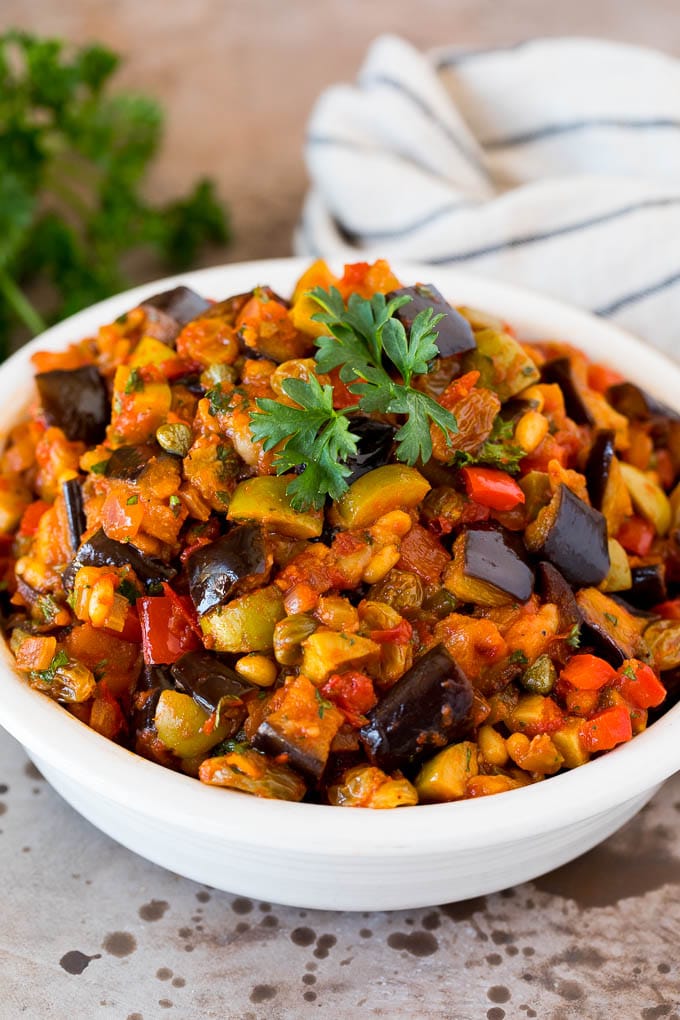 This dish is absolutely loaded with flavor, and I find myself making it on a regular basis. It's just that good!
More appetizer recipes to try
Caponata Video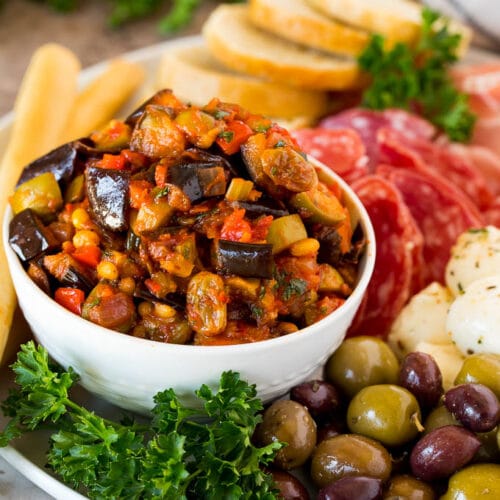 This caponata recipe is a sweet and savory blend of eggplant, peppers, tomatoes and olives, all simmered together to create a delicious appetizer or side dish option. A unique offering that's easy to make and is sure to get rave reviews!
Ingredients
1

pound

eggplant

cut into 3/4 inch pieces

6

tablespoons

olive oil

divided use

salt and pepper to taste

3/4

cup

red onion

diced

1

red

bell pepper

diced

1/2

cup

celery

diced

1

teaspoon

garlic

minced

1/4

cup

green olives

chopped

2

tablespoons

capers

drained

1 1/4

cups

canned crushed tomatoes

do not drain

1/4

cup

golden raisins

2

teaspoons

brown sugar

3

tablespoons

red wine vinegar

1/4

teaspoon

crushed red pepper flakes

or more to taste

1/4

cup

pine nuts

toasted

2

tablespoons

chopped herbs

such as parsley, mint or basil

cooking spray
Instructions
Preheat the oven to 400 degrees F. Coat a sheet pan with cooking spray.

Place the eggplant on the sheet pan in a single layer. Drizzle with 3 tablespoons of the olive oil and season with salt and pepper to taste.

Bake for 25-30 minutes or until eggplant is tender and browned.

While the eggplant is in the oven, warm the remaining 2 tablespoons of olive oil in a large pan over medium heat.

Add the red onion, red bell pepper and celery to the pan. Cook for 5-7 minutes or until vegetables are tender.

Add the garlic and cook for 30 seconds.

Add the olives, capers, raisins, brown sugar, red wine vinegar, red pepper flakes and tomatoes. Stir to combine.

Add the cooked eggplant to the pan. Stir and bring to a simmer.

Cook for 10-15 minutes or until mixture has thickened and has a jam-like consistency. Stir in the pine nuts and chopped herbs. Season with salt and pepper to taste.

Serve hot, at room temperature, or you can refrigerate it and serve it cold. Caponata will stay fresh in the fridge for up to 5 days.
Nutrition
Calories:
224
kcal
|
Carbohydrates:
14
g
|
Protein:
2
g
|
Fat:
19
g
|
Saturated Fat:
2
g
|
Sodium:
173
mg
|
Potassium:
303
mg
|
Fiber:
3
g
|
Sugar:
9
g
|
Vitamin A:
77
IU
|
Vitamin C:
4
mg
|
Calcium:
21
mg
|
Iron:
1
mg