These coconut shrimp are jumbo shrimp rolled in a sweet and savory coating, then deep fried to golden brown perfection. A restaurant style appetizer or main course that's super easy to make at home.
I love to recreate my restaurant favorites at home, including crab rangoon, lettuce wraps and these succulent coconut shrimp.
Coconut shrimp are one of my all time favorite indulgences – if I see them on a restaurant menu, I immediately order some! That being said, it's actually really easy to make your own coconut shrimp at home, and I have to say, I think they taste even better than the restaurant version.
How do you make coconut shrimp?
This recipe calls for just a handful of ingredients. Large shrimp are dipped in flour and egg, then rolled in a mixture of panko breadcrumbs and shredded coconut. The shrimp go into a pot of oil to fry, then you're ready to eat!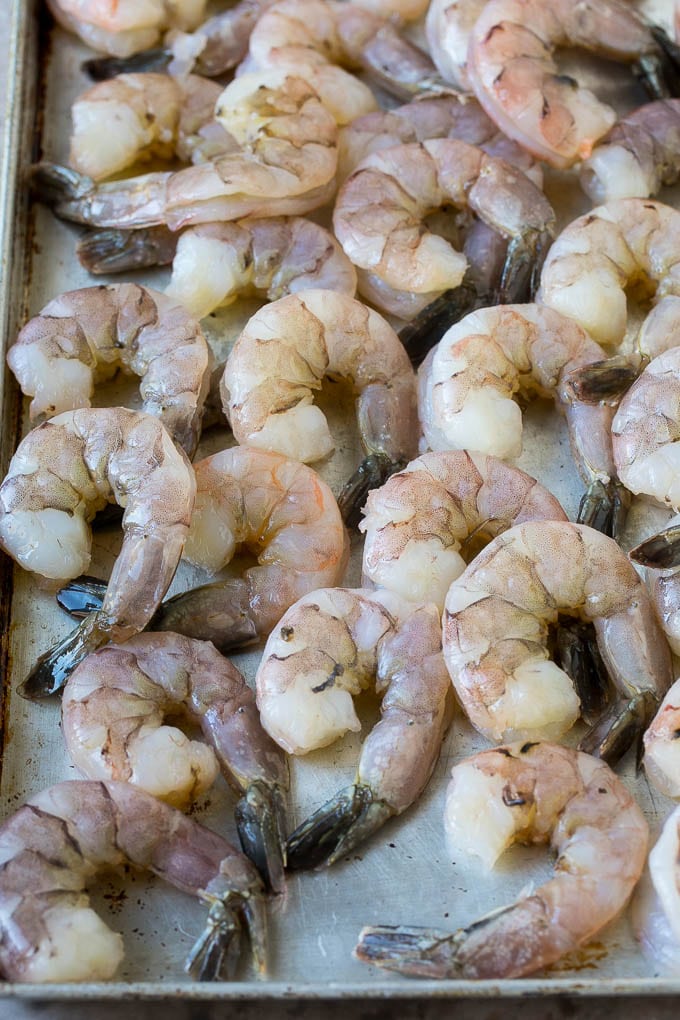 How to Peel shrimp
This recipe calls for raw shrimp. You can sometimes buy your shrimp already peeled. If the shrimp come with the shells on, you'll need to remove them yourself. To peel shrimp, it's easiest to start at the bottom where the legs are attached and carefully pull off the shell, leaving the tail piece on. It's best to keep the tail on for this recipe because the tail will act as a little handle for you to pick up and eat your shrimp.
You'll also need to devein your shrimp, which you can do by running a small paring knife down the back of each shrimp and removing the dark vein. If you've purchased pre-peeled shrimp you can skip all of these steps and just proceed with the recipe.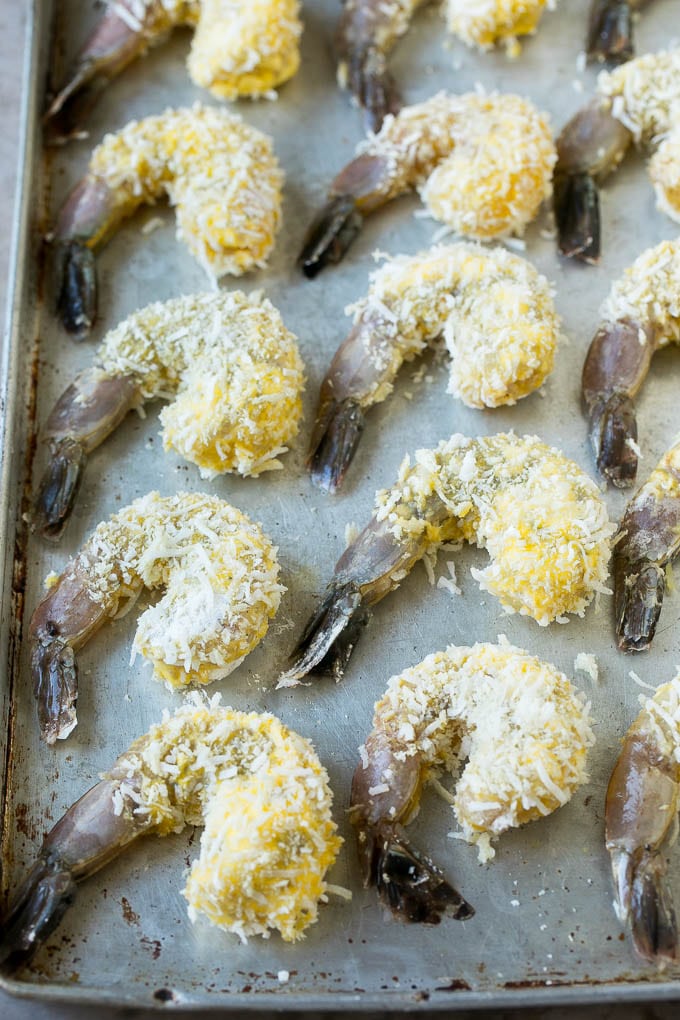 Tips for Coconut Shrimp
Use a thermometer to make sure your oil is at the correct temperature. You want your oil to be between 350 and 375 degrees F. If your oil is too hot, the coating might burn. If your oil is too cold, the breading will absorb more of the oil and become greasy.
Buy the largest shrimp you can afford – I used jumbo shrimp at 16/20 count per pound.
You can use sweetened or unsweetened coconut for this recipe. I personally prefer sweetened coconut, but either one will work just fine.
This recipe calls for panko breadcrumbs which is a type of Asian breadcrumb found at most grocery stores.
I like to serve my shrimp with a side of Thai sweet chili sauce, which can be found in a bottle in the ethnic aisle at your local grocery store, or at any Asian market.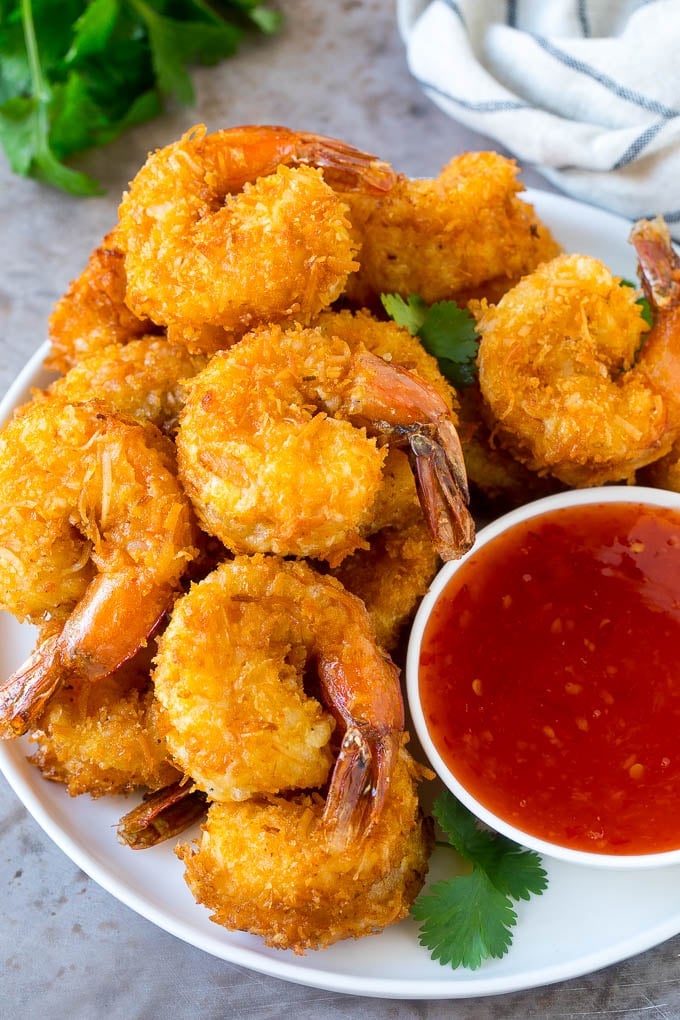 Baked Coconut Shrimp
You can bake your coconut shrimp instead of frying them if you prefer. The coating won't come out quite as crispy and browned, but it's still delicious! Arrange your breaded shrimp on a greased sheet pan and coat the shrimp with cooking spray. Bake at 425 degrees F for 10-15 minutes or until browned.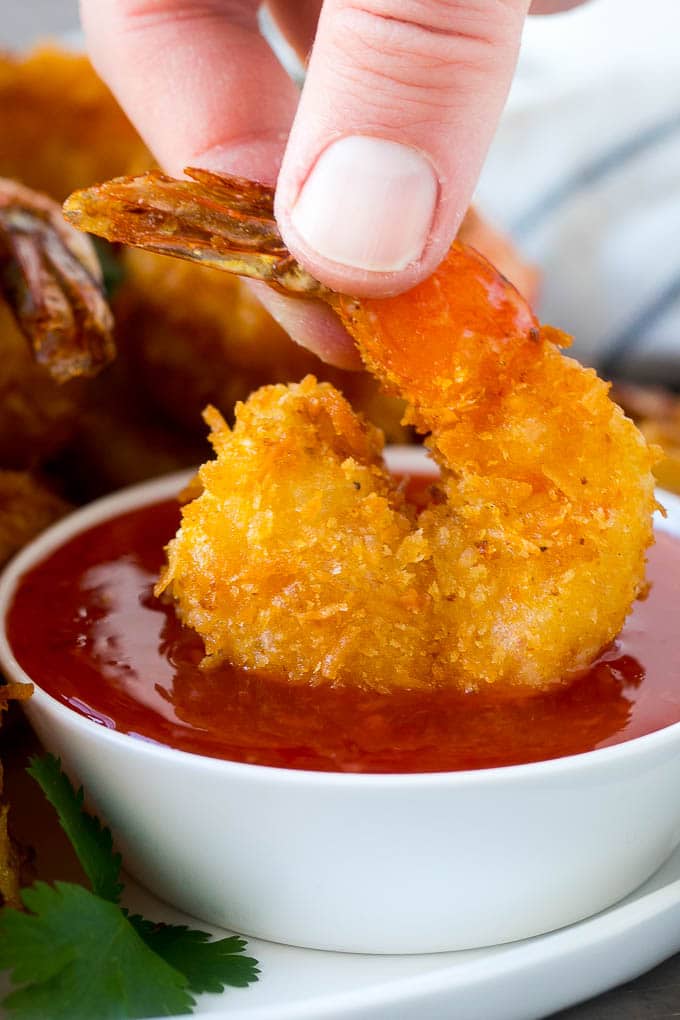 Once you make these coconut shrimp at home, you'll never want to order them out again! Whether you're serving your shrimp as a hearty appetizer or a main course over rice, they're sure to be a hit.
More great shrimp recipes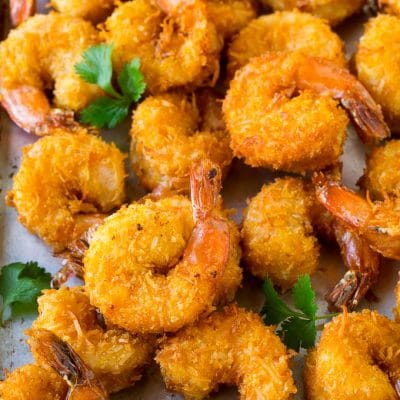 These coconut shrimp are jumbo shrimp rolled in a sweet and savory coating, then deep fried to golden brown perfection. A restaurant style appetizer or main course that's super easy to make at home.
Ingredients
2

pounds

jumbo shrimp

devein and peel but leave tails on

1/2

cup

all purpose flour

3/4

teaspoon

salt

1/2

teaspoon

pepper

3

eggs

beaten

1 1/2

cups

finely shredded coconut

the sweetened variety

1

cup

panko breadcrumbs

oil for frying

3/4

cup

sweet chili sauce

cilantro for garnish

optional
Instructions
Place the flour in a medium size bowl along with the salt and pepper. Stir to combine.

Place the eggs in a second bowl. In a third bowl, add the coconut and breadcrumbs and mix until combined.

Dip each shrimp first into the flour, then into the egg, then roll in the coconut mixture to coat evenly. Place each breaded shrimp on a sheet pan. Repeat the process until all shrimp are breaded.

Heat 3 inches of oil in a deep large pot to 350 degrees F.

Add 6 shrimp at a time and cook for 3-4 minutes or until golden brown. Drain on paper towels.

Repeat the process with the remaining shrimp.

Place the shrimp on a plate. Serve immediately with sweet chili sauce and garnish with cilantro leaves if desired.
Nutrition
Calories:
326
kcal
|
Carbohydrates:
31
g
|
Protein:
36
g
|
Fat:
14
g
|
Saturated Fat:
1
g
|
Cholesterol:
462
mg
|
Sodium:
688
mg
|
Potassium:
182
mg
|
Sugar:
15
g
|
Vitamin A:
120
IU
|
Vitamin C:
6.2
mg
|
Calcium:
250
mg
|
Iron:
4.6
mg