This shrimp alfredo pasta is made with fettuccine in a creamy parmesan sauce, topped with sauteed garlic shrimp. An easy dinner that tastes like it came from a fancy restaurant!
Shrimp fettuccine alfredo is one of my favorite dishes to order when I go out to eat. Now I can make it at home for a lot less money, and it tastes absolutely amazing.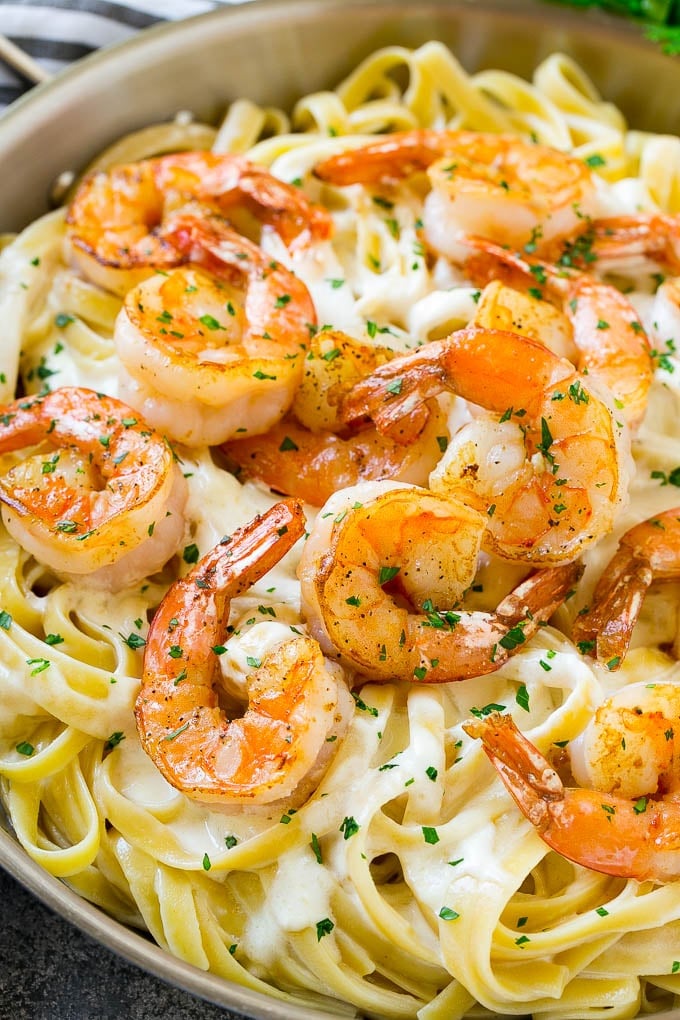 I know I can't be the only one that has a hankering for shrimp once in a while. I especially like it mixed with pasta like this shrimp alfredo. It's a creamy, delicious dinner that's quick and easy which is just how I like my meals!
HOW DO YOU MAKE SHRIMP ALFREDO?
Boil your pasta, and while the noodles are cooking, simmer the ingredients for your sauce. Add your shrimp to a hot pan and cook until they're pink and opaque. Toss your shrimp and pasta together with the creamy sauce, then serve. The perfect dinner that's easy for any night of the week.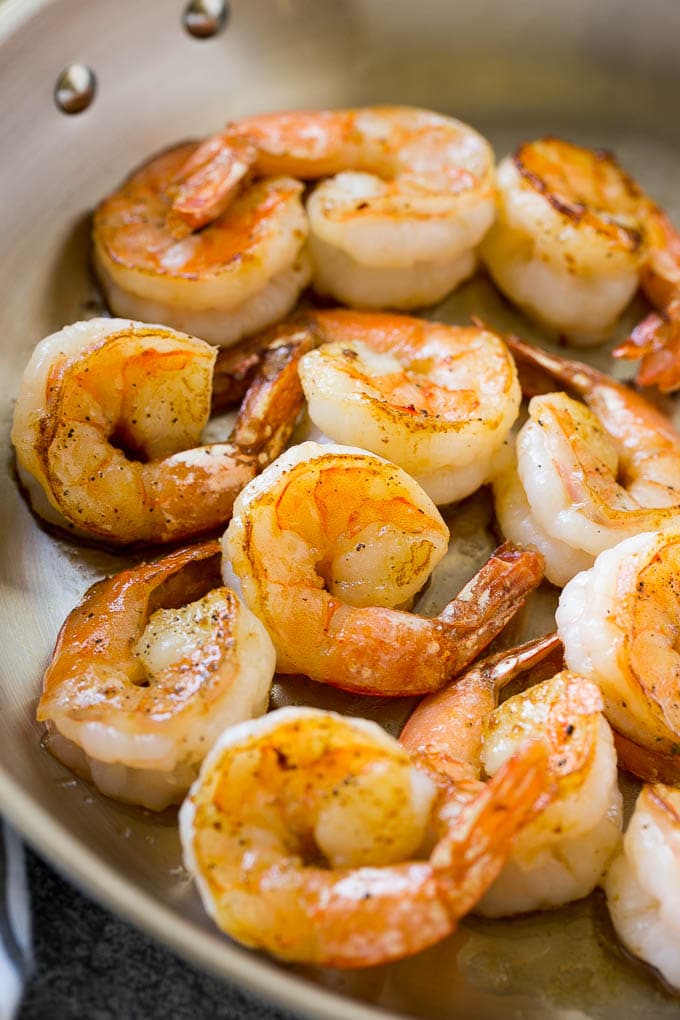 Use the largest shrimp you can find for your shrimp alfredo pasta. If you're looking for a nicer presentation, leave the tails on. However, if you're leaning towards easier eating versus elegant presentation, remove the tails prior to cooking. You can use other long pasta for your shrimp fettuccine alfredo like spaghetti or vermicelli.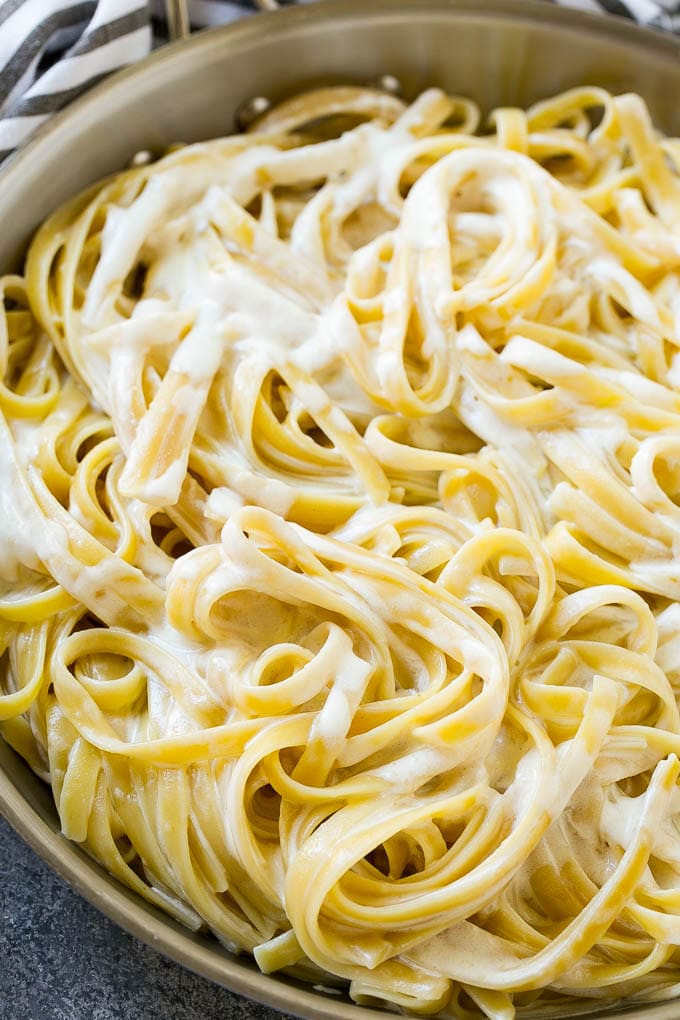 Be sure to cook your creamy parmesan sauce over low heat. Never let it come to a boil or it could separate. Freshly grated parmesan cheese is a crucial component of this dish as it will melt a lot better than the pre-shredded kind.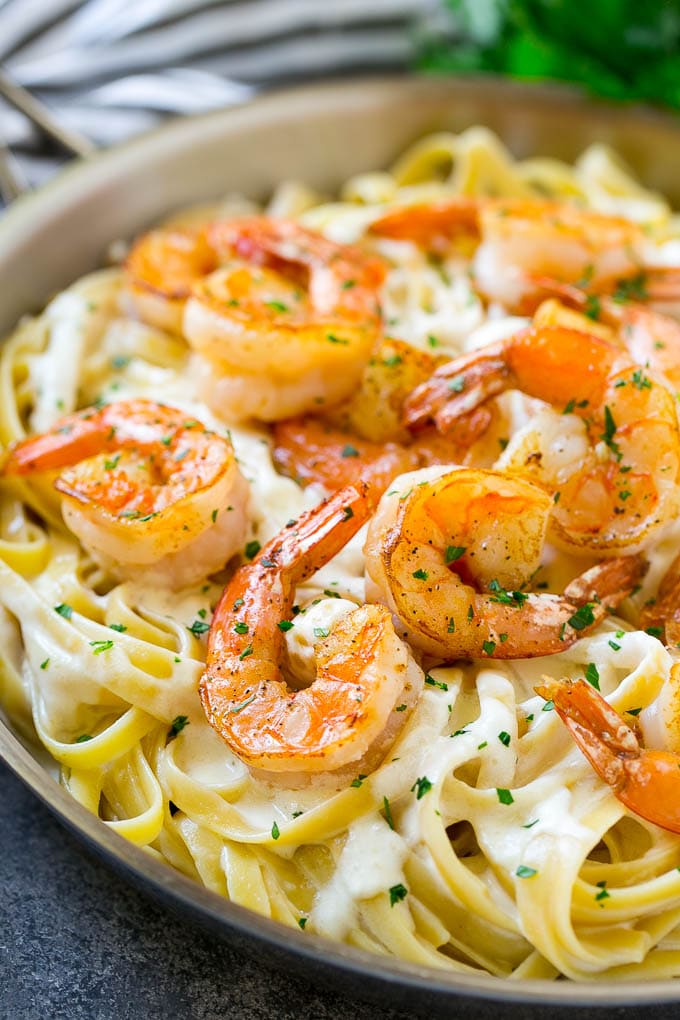 HOW DO YOU KNOW IF SHRIMP IS COOKED?
Shrimp doesn't take long to cook, especially if you buy the pre-cooked kind (they're already pinkish when you buy them at the store). If you buy the greyish shrimp, that means they're uncooked, and once they turn pink and opaque, that's when you know they're done. It typically takes 3-4 minutes to cook average sized shrimp. Be sure to watch your shrimp carefully so that they don't overcook. This recipe calls for uncooked shrimp, if you use the pre-cooked variety they may turn tough during the second cooking process.
HOW DO YOU COOK THE PERFECT PASTA?
First of all, always be sure that your water is salted. You want the water to have plenty of salt so that your pasta is well seasoned when it comes out of the pot. The pasta should be cooked to al dente which is tender, but firm.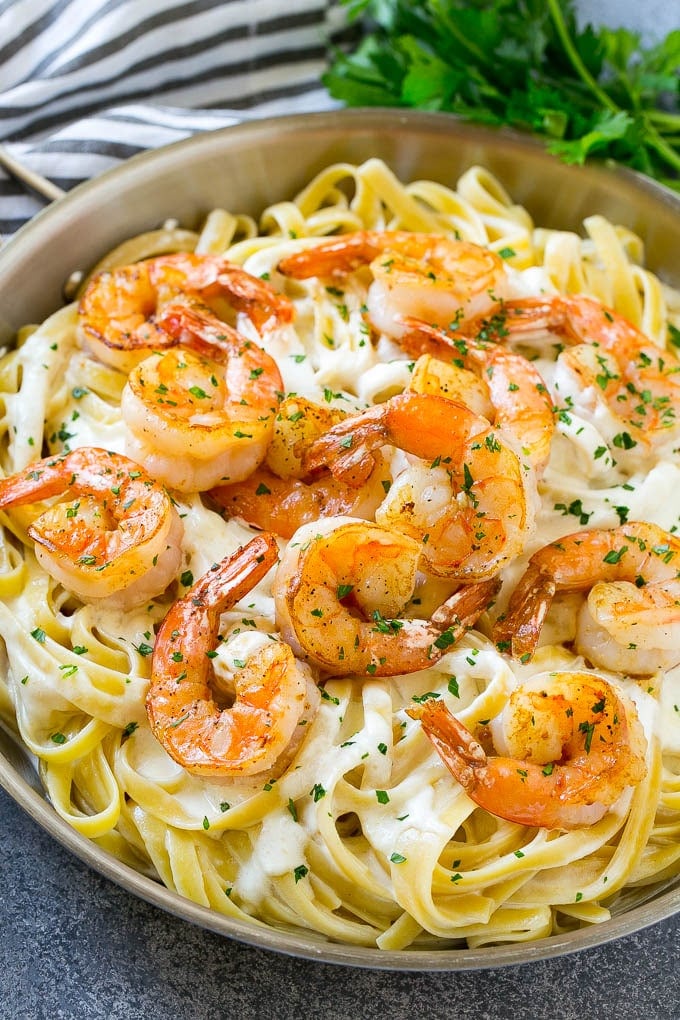 This is one of the easiest dinners you will make. It's perfect for the warmer months as well because it involves very little time over the hot stove but is hearty enough for the biggest appetites. I know I'll be making this shrimp alfredo pasta all the time now that my family fell in love with it!
MORE SHRIMP RECIPES YOU'LL LOVE
Shrimp Alfredo Video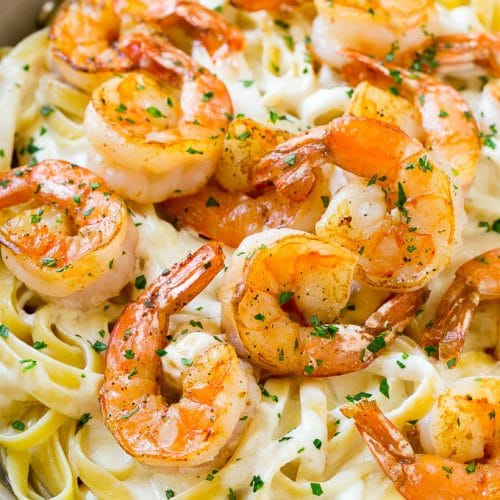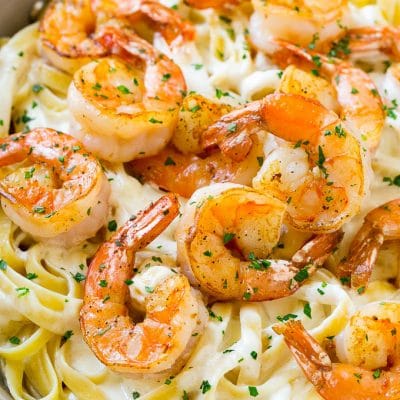 This shrimp alfredo pasta is made with fettuccine in a creamy parmesan sauce, topped with sauteed garlic shrimp. An easy dinner that tastes like it came from a fancy restaurant!
Ingredients
10

ounces

fettuccine pasta

5

tablespoons

butter

divided use

1

cup

heavy cream

3/4

cup

freshly grated parmesan cheese

salt and pepper to tastee

1

pound

shrimp

peeled and deveined, tails removed if desired

1

teaspoon

minced garlic

2

tablespoons

chopped parsley
Instructions
Cook the pasta in salted water according to package directions.

Melt 4 tablespoons of butter in a saucepan over medium low heat.

Add the cream and simmer for 4-5 minutes or until just thickened - do not boil.

Whisk in the parmesan cheese, stirring continuously, until cheese has melted.

Season the sauce with salt and pepper to taste.

Heat 1 tablespoon of butter in a large pan over medium high heat.

Add the shrimp to the pan and season with salt and pepper.

Cook the shrimp for 3-4 minutes, stirring occasionally, until shrimp are pink and opaque.

Add the garlic to the pan and cook for an additional 30 seconds.

Drain the pasta and toss with the alfredo sauce. Arrange the shrimp on top and sprinkle with parsley, then serve.
Nutrition
Calories:
689
kcal
|
Carbohydrates:
52
g
|
Protein:
41
g
|
Fat:
35
g
|
Saturated Fat:
26
g
|
Cholesterol:
477
mg
|
Sodium:
743
mg
|
Potassium:
325
mg
|
Fiber:
2
g
|
Sugar:
1
g
|
Vitamin A:
1505
IU
|
Vitamin C:
5
mg
|
Calcium:
454
mg
|
Iron:
3.9
mg