A complete guide on how to put together the best charcuterie board, with a selection of meats, cheeses, crackers, fruit, veggies and other snack foods. The ultimate party appetizer that always gets rave reviews!
I love to put together an assortment of appetizer options when I'm entertaining, including favorites such as baked brie, pigs in a blanket and a fabulous charcuterie board.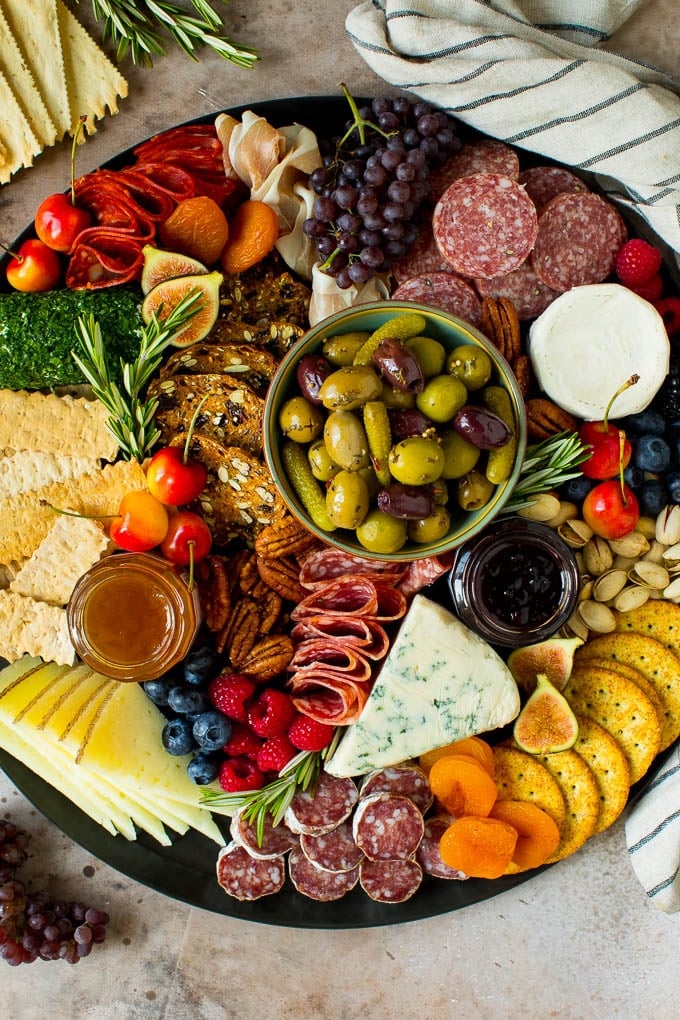 The latest craze to hit the food scene is the charcuterie board, also known as a grazing board. Sometimes people take it to the next level and create a whole grazing table to feed their guests! Making a beautiful and functional charcuterie board is easy to do, and the results are always fantastic.
What is a charcuterie board?
Charcuterie is a French term that traditionally has referred to any processed meat, such as cured meats or pate. In the past, a charcuterie board primarily consisted meats with a few other accompaniments. In the modern day, a charcuterie board can contain any variety of items from meats and cheeses to nuts, dips and vegetables.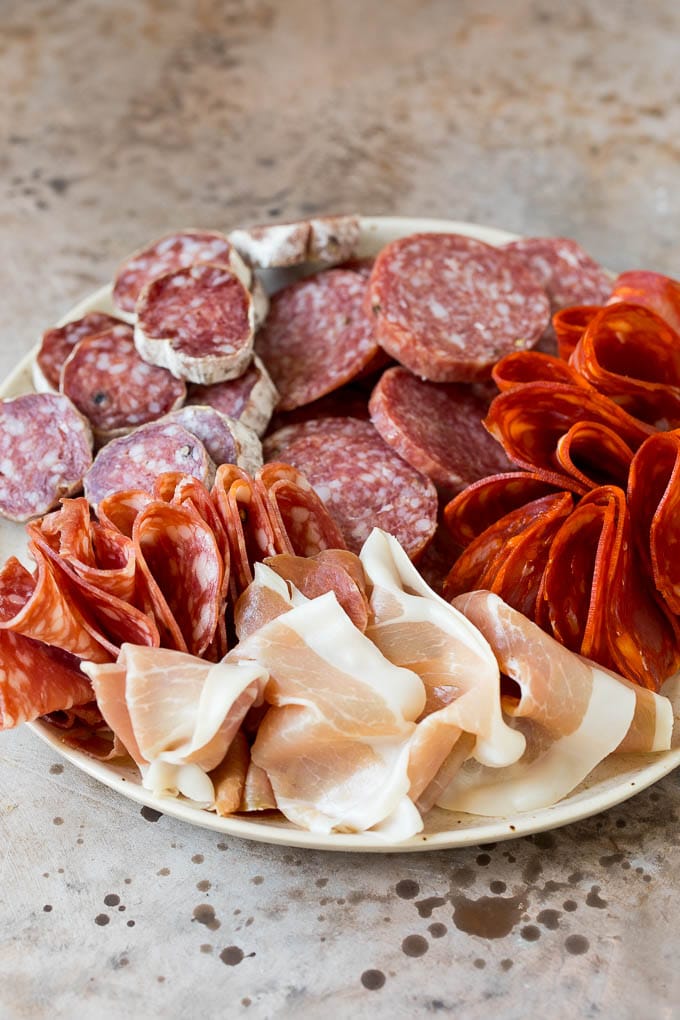 How do you make a charcuterie board?
The first step is to plan out exactly what you'd like to put on your tray by category. I like to include a little bit of everything so that my guests have plenty of options! Arrange all the items on a large board or tray. I like to add a garnish of fresh herbs for a touch of freshness and elegance, then set out your tray and watch the rave reviews come in.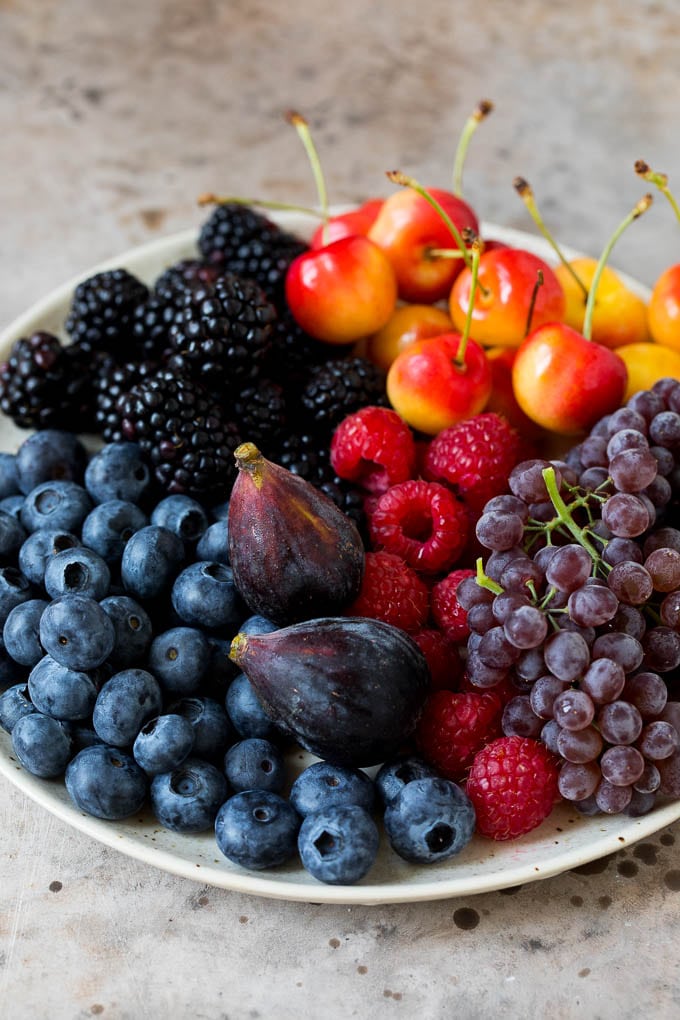 Charcuterie Ingredients
You can put almost any bite sized item on a charcuterie tray, here are some of the most popular items.
Meat: Cured meats are the centerpiece of any charcuterie display. Some great options include salami, prosciutto, pepperoni, pate, ham or chorizo.
Cheese: I like to include a few types of cheese for a good variety of flavors and textures. I typically choose an aged cheddar, a soft cheese such as goat cheese or brie, and a blue cheese. Other options include fresh mozzarella balls, parmigiano reggiano, manchego and gruyere.
Vegetables: Offer an assortment of veggies such as baby carrots, cherry tomatoes, cucumber, marinated artichokes, roasted red bell peppers, pickles or blanched green beans.
Fruit: It's common to see fresh or dried fruit on a party tray. My favorite fresh fruit choices include apples, berries, figs and grapes. When it comes to dried fruit, dried apricots or dates are a popular choice.
Nuts: Include a handful or two of nuts such as candied pecans, pistachios or marcona almonds.
Bread: I always make sure that there are a few choices of crackers, breadsticks or fresh sliced bread.
Dips and Spreads: It's nice to include a few dips or spreads to complement the cheese choices. You can go savory with olive tapenade, garlic aioli or basil pesto, or try a hint of sweetness with honeycomb or fruit preserves.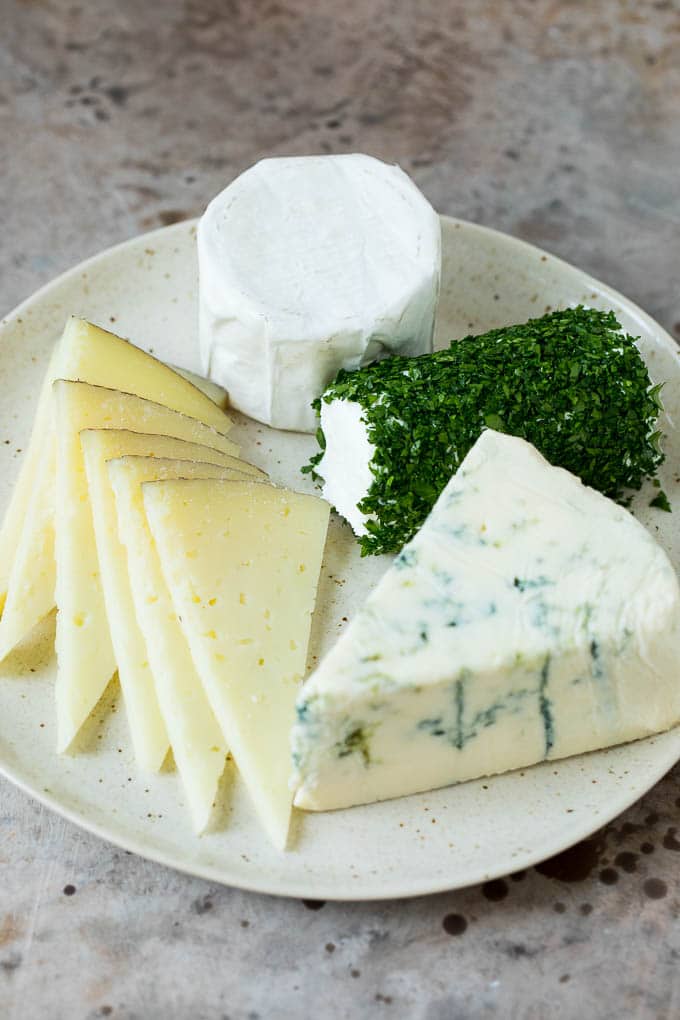 What is the difference between antipasto and charcuterie?
Charcuterie is similar to antipasto in that both items contain cured meats. That being said, antipasto platters typically stay within the realm of Italian ingredients, whereas charcuterie may include ingredients from other regions of the world, and often has a French influence. Charcuterie offerings traditionally consist primarily of meat and cheese, where the Italian antipasto also contains a lot of vegetables.
How long can a charcuterie board sit out?
You should plan to leave your grazing board out at room temperature for no more than 2 hours. If it's a particularly hot day you'll want to shorten this time frame to 90 minutes. If the board sits out for longer than two hours, you run the risk of spoilage. Leftovers can be refrigerated for later enjoyment.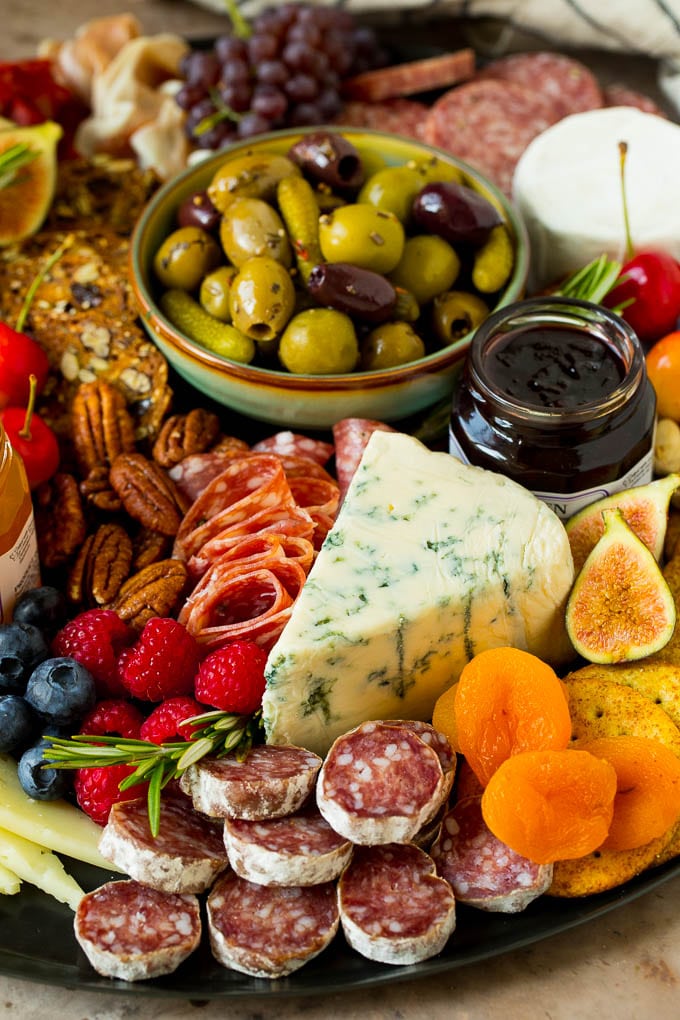 Make ahead instructions
You can assemble your board up to 8 hours before you plan to serve it. Keep the board covered and in the refrigerator until you're ready to eat. If you're making it ahead of time, leave off any wet items such as marinated artichokes, and add them at the last minute. I also recommend leaving off bread items until right before you serve, as they can get stale in the fridge.
You can never go wrong with a charcuterie plate, there's something for everyone! This is a trend that I hope sticks around for a long time.
More appetizer ideas
Charcuterie Board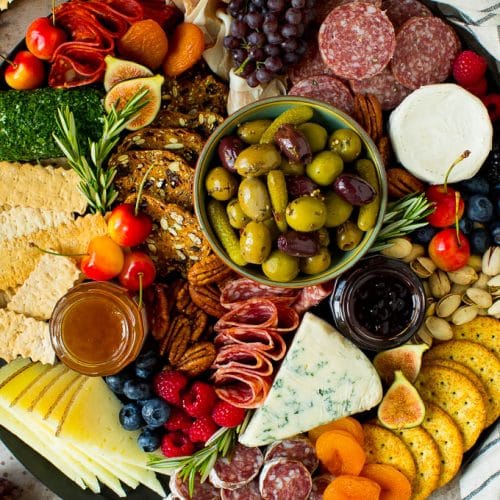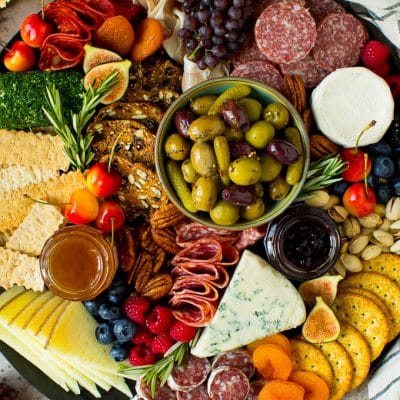 A complete guide on how to put together the best charcuterie board, with a selection of meats, cheeses, crackers, fruit, veggies and other snack foods. The ultimate party appetizer that always gets rave reviews!
Ingredients
1 1/2

pounds

assorted cured meats

such as salami, pate, prosciutto, pepperoni and coppa

1

pound

cheese

cubes or as a whole wedge

1

cup

olives

1

cup

vegetables

raw, grilled or pickled

1

cup

fruit

fresh or dried

12

ounces

assorted bread

baguette slices, breadsticks, crackers

3/4

cup

nuts

fresh herbs for garnish

sauces such as preserves or dips

optional
Instructions
Arrange all the ingredients on a large board or platter. If you're using sauces, place them in small bowls. Garnish with fresh herbs, then serve.

If you want to make this platter in advance, assemble everything on the board except the bread products and fresh herbs. Cover and refrigerate for up to 8 hours. Remove from the refrigerator, uncover, and add bread and herbs. Let stand for 15 minutes, then serve.
Nutrition
Calories:
292
kcal
|
Carbohydrates:
10
g
|
Protein:
14
g
|
Fat:
23
g
|
Saturated Fat:
11
g
|
Cholesterol:
48
mg
|
Sodium:
503
mg
|
Potassium:
174
mg
|
Fiber:
3
g
|
Sugar:
3
g
|
Vitamin A:
1503
IU
|
Vitamin C:
2
mg
|
Calcium:
347
mg
|
Iron:
1
mg