This turkey brine recipe is flavored with apple, citrus, brown sugar, rosemary and spices. It's the perfect way to guarantee a moist and flavorful turkey every time!
Every cook's biggest fear on Thanksgiving day is a dry turkey. A good brine does wonders for the flavor and consistency of the turkey and helps to prevent it from drying out during the roasting process. Serve your brined turkey with sweet potato casserole and cornbread dressing for the ultimate holiday meal.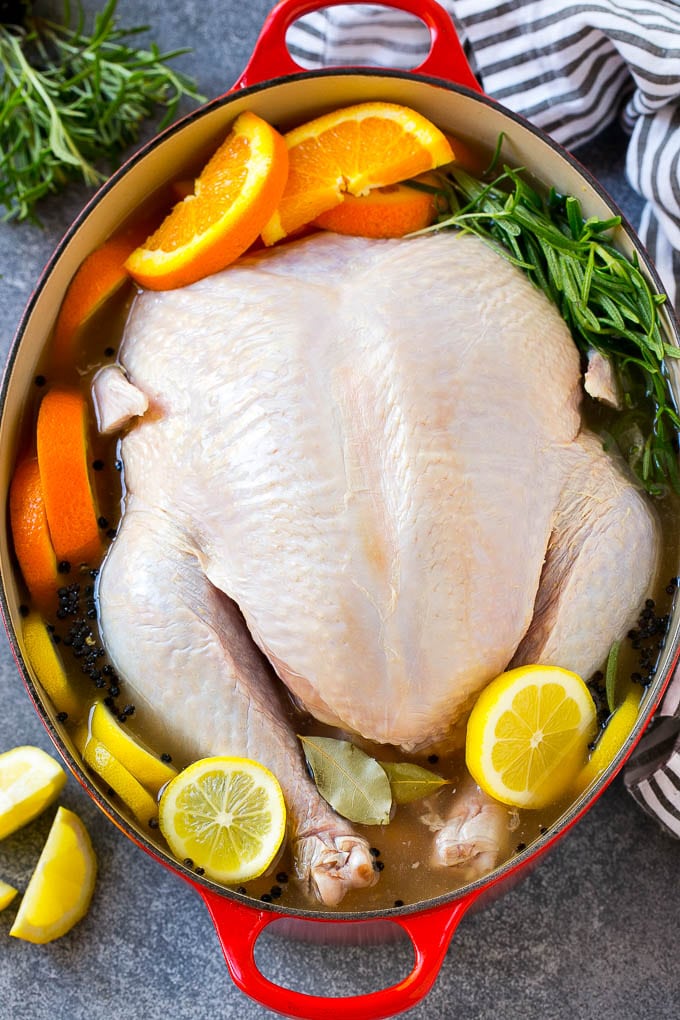 Every year around the holidays, cooking a turkey was such a source of stress for me. I was worried about the turkey either being bone dry or completely raw in the middle! Now that I've discovered the wonders of a good turkey brine recipe, I can produce a juicy and delicious turkey every time with no stress.
How do you make turkey brine?
This brine is a combination of salt, sugar, liquid, herbs and spices. In this case, we're using kosher salt, brown sugar, apple cider, citrus fruits, rosemary, garlic, peppercorns and bay leaves. Simmer the brine briefly to dissolve the salt and sugar. Add your turkey and you're ready to go!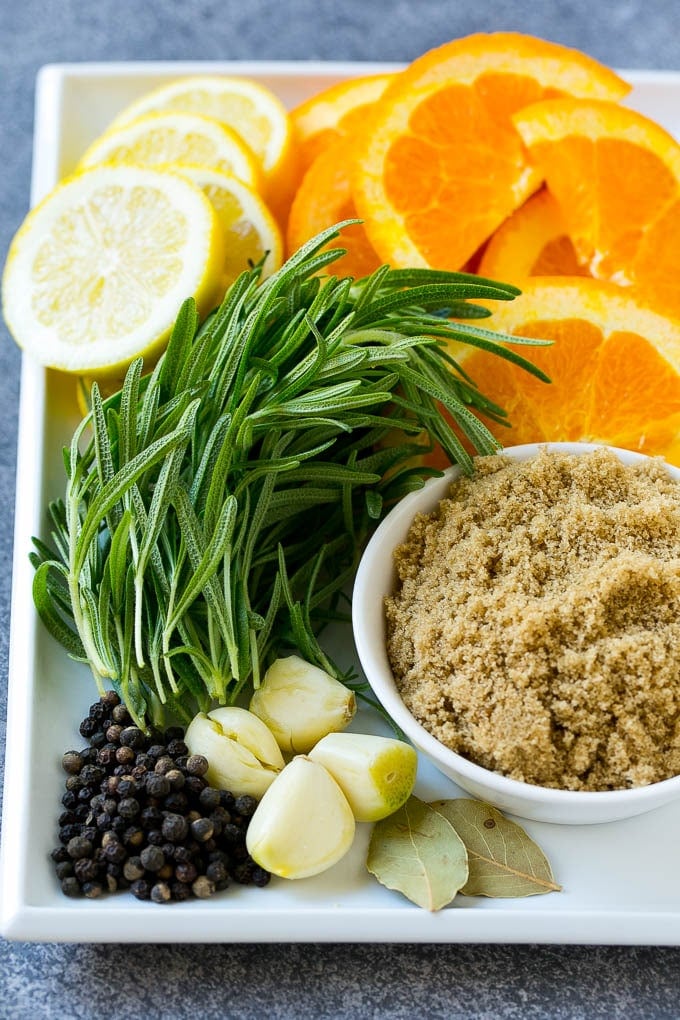 How do you brine a turkey?
You'll want to make sure your turkey is fully submerged in the liquid. It can be tricky to find a pot large enough for this task, so you can also use a cooler or they make special turkey brining bags for this exact purpose.
Why do you brine a turkey?
A turkey is a naturally lean type of meat which mean it's prone to drying out. When a turkey is placed into brine, it absorbs some of the brine which helps to both keep it moist and also to season it all the way through. When you're working with a brined turkey, even if you overcook it a bit, it should still come out tender and juicy. I always brine my whole chickens for the same reason!
How long should you brine a turkey?
A turkey needs to brine for at least 18 hours, but you can go up to 24 hours if you have a larger bird. Do not go past 24 hours or your turkey could be overly salty. Also, you need to make sure that the turkey you buy from the store is not already pre-brined or treated with salt.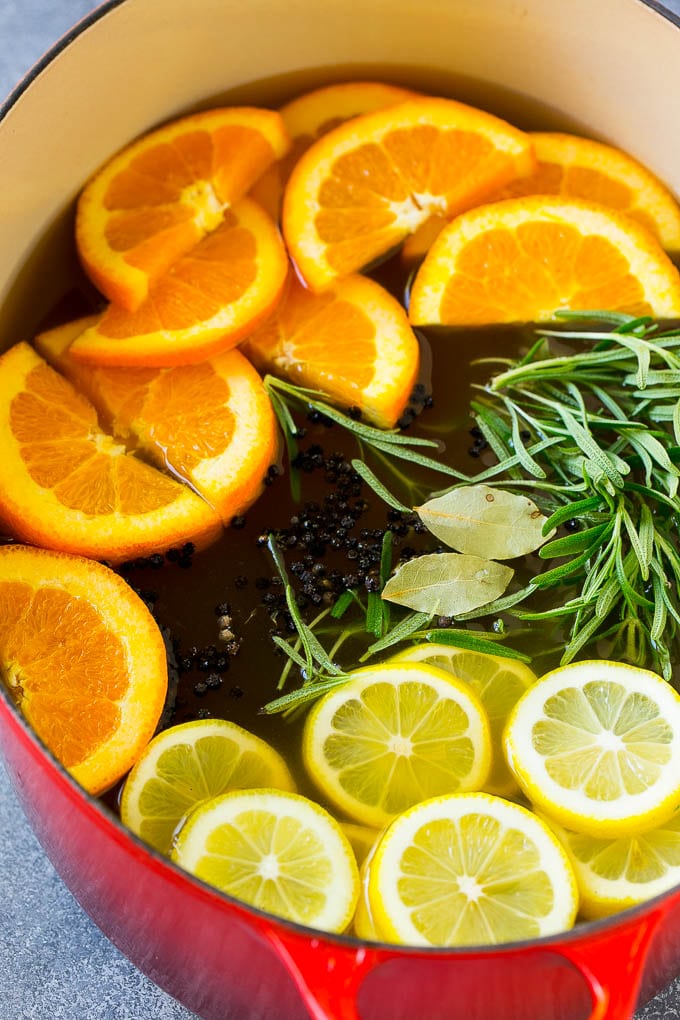 Tips for turkey brine
Make sure you use kosher salt and do not substitute any other type of salt. Table salt is denser than kosher salt and doesn't measure the same way.
You want to make sure you put your turkey into a cool brine; never put a turkey in a hot or warm brine.
Feel free to change up the flavors by using different herbs – thyme, parsley and marjoram are all great bets.
Pat your turkey dry before you roast it to ensure crispy skin.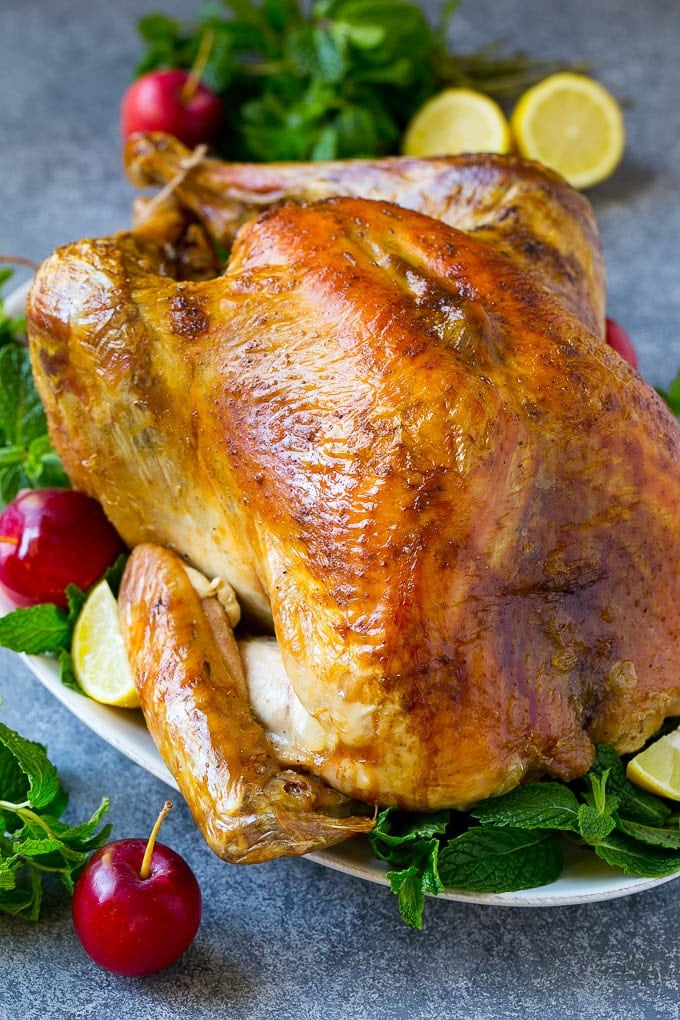 Can you make gravy from a brined turkey?
Typically gravy is made with turkey drippings, but in the case of a brined turkey, sometimes the drippings can be overly salty. You should taste the drippings before you proceed with your gravy. If you think the drippings are on the saltier side, you can always use unsalted chicken or turkey broth to keep the seasoning of your gravy at the proper level.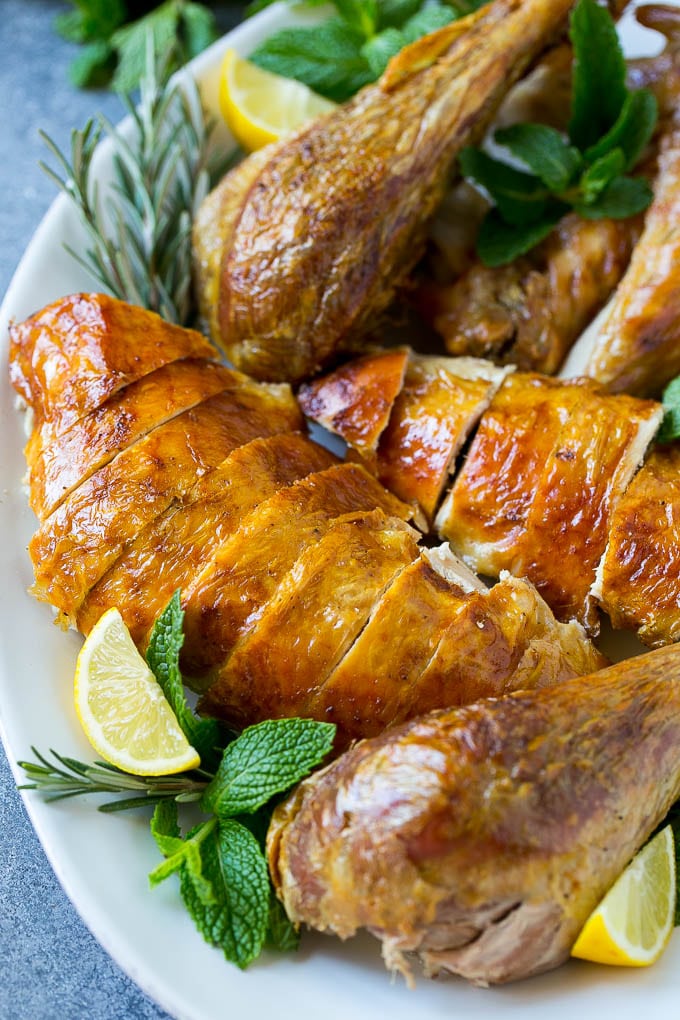 How long do you cook a turkey?
A turkey needs to cook in the oven for approximately 15 minutes per pound. After your turkey comes out of the brining liquid, dry it with paper towels, then roast it for the appropriate amount of time based on the size of your bird. A turkey is done when a thermometer inserted into the thickest part of the thigh registers 165 degrees F.
Recommended turkey recipes
These turkey recipes pair perfectly with this brine, there are plenty of options including roasted turkey, smoked turkey and turkey breast.
More recipes for your Thanksgiving table
Turkey Brine Video
Turkey Brine Recipe
This turkey brine recipe is flavored with apple, citrus, brown sugar, rosemary and spices. It's the perfect way to guarantee a moist and flavorful turkey every time!
Ingredients
2

cups

apple cider

2

gallons

cold water

1 1/2

cups

kosher salt

1

cup

brown sugar

5

cloves

garlic

smashed

2

tablespoons

peppercorns

2

oranges

thinly sliced

2

lemons

thinly sliced

5

rosemary sprigs

3

bay leaves
Instructions
Place all the ingredients in a large pot over medium heat. Bring to a simmer.

Cook for 2-3 minutes or until salt and sugar have dissolved.

Turn off the heat. Let the brine mixture cool.

Place a whole turkey in the brine solution to fully submerge it, then refrigerate for 18-24 hours.

When you're ready to cook your turkey, remove it from the brine and rinse with cool water; pat dry with paper towels.

Proceed with your normal turkey roasting method, or I've listed my favorite turkey recipes below in the notes section.
Notes
Here are my favorite turkey recipes to pair with this brine
Nutrition
Calories:
43
kcal
|
Carbohydrates:
11
g
|
Sodium:
561
mg
|
Potassium:
62
mg
|
Sugar:
9
g
|
Vitamin A:
25
IU
|
Vitamin C:
8.7
mg
|
Calcium:
20
mg
|
Iron:
0.3
mg
This recipe was originally published on October 23, 2018 and was updated on October 28, 2020 with new content.