This recipe for slow cooker mac and cheese is a blend of tender pasta with two types of cheese and plenty of seasonings, all cooked together to creamy and cheesy perfection. It's the easiest crock pot macaroni and cheese ever!
This macaroni and cheese is total perfection, my kids absolutely adore it and ask for it every week. Serve it with a roasted chicken and sauteed asparagus for a complete meal that's sure to get rave reviews.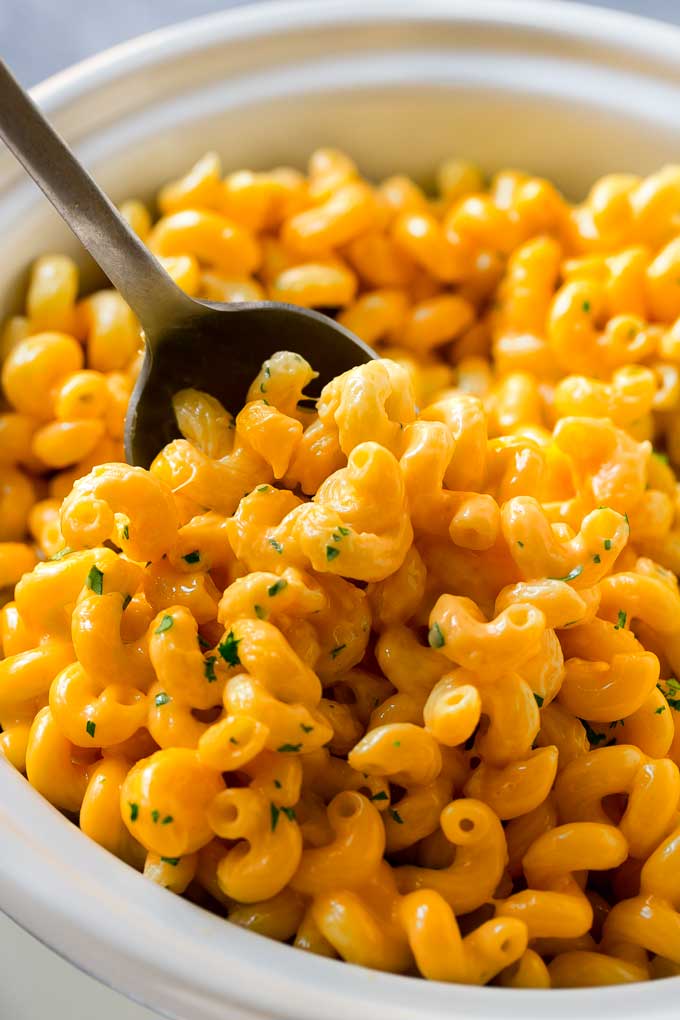 I've found that homemade mac and cheese can be a little tricky to get right. Sometimes I have issues with the sauce separating or being grainy from the flour, and I find that baked versions of mac and cheese can dry out easily. This slow cooker mac and cheese is practically fool proof; it comes out ultra creamy every time thanks to a secret ingredient.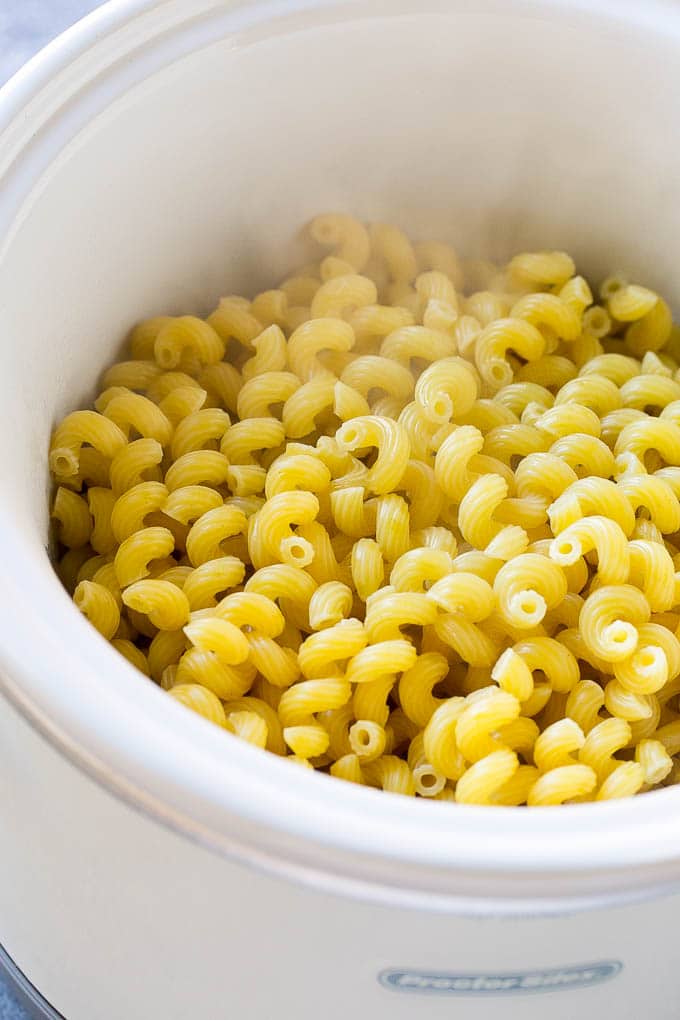 HOW DO YOU MAKE SLOW COOKER MAC AND CHEESE?
This crock pot mac and cheese is very simple to make. First step is to boil you noodles. Slow cooker mac and cheese can sometimes come out with mushy, overcooked pasta if it cooks for too long. To avoid that, I use a heartier noodle like cavatappi, and I undercook it by 2 minutes before I put it into the slow cooker. The noodles are coated with butter, then mixed with cheddar cheese, evaporated milk, half and half, and seasonings. And now for the secret ingredient reveal: American cheese! Not the kind that comes in the little slices wrapped in plastic; go to your deli and buy a block of American cheese to cut into cubes for this recipe. This cheese melts beautifully and makes the end result ultra creamy. In about 2 hours you'll have mac and cheese perfection!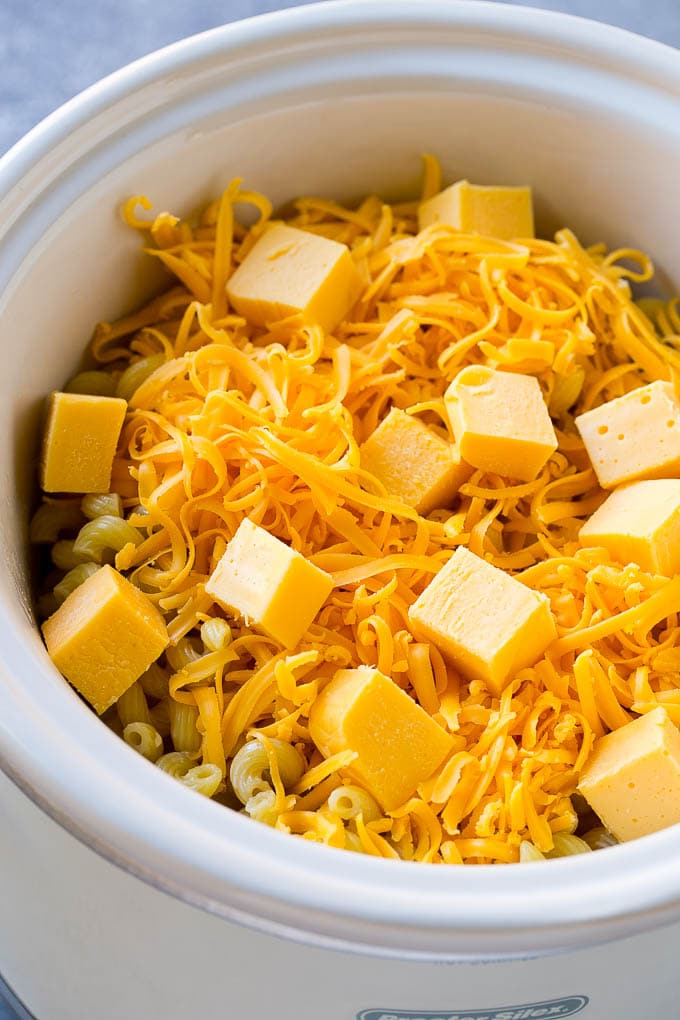 Tips for perfect crock pot mac and cheese
The cook time for this mac and cheese varies a bit depending on your slow cooker. I find that some of the older slow cookers tend to run on the hot side and have less heat settings. If you've got an older crock pot, cook this mac and cheese for about 1 1/2 hours to avoid mushy noodles.
If you've got a more modern crock pot with multiple heat settings, cook on the lowest setting for 2 hours. Either way you'll want to stir the mac a few times during the cooking process. If it looks soupy at the end of the cook time, just keep stirring and it will come together into a smooth sauce.
I recommend grating your own cheddar cheese for this recipe. The bagged pre-shredded cheese sold at the grocery store is often coated in anti caking agents and preservatives and does not melt as smoothly as freshly grated cheese.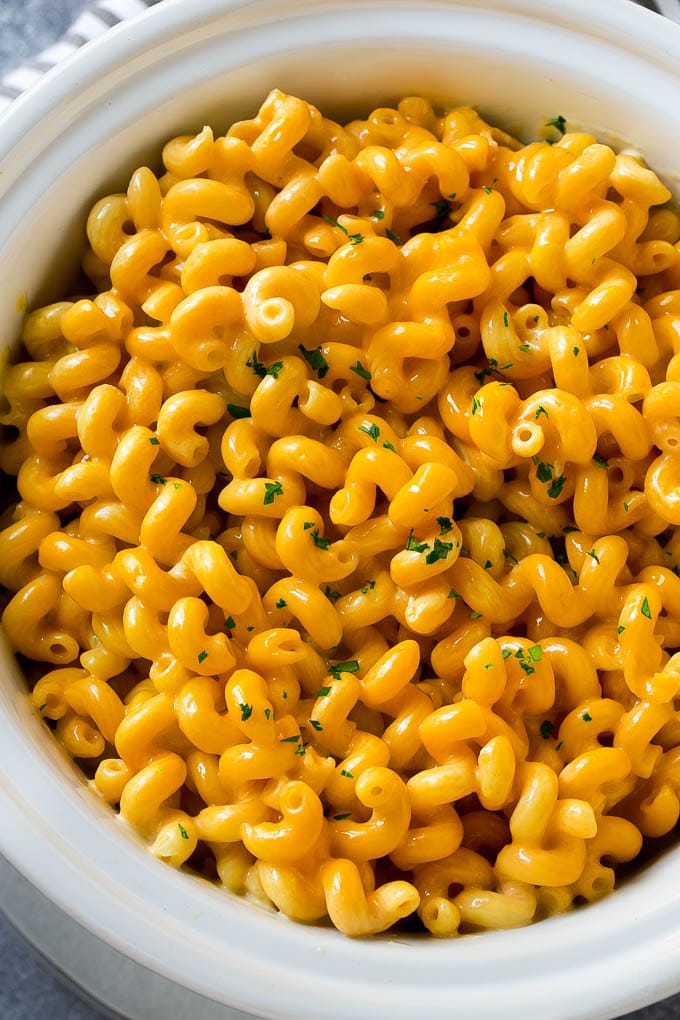 CAN YOU FREEZE SLOW COOKER MAC AND CHEESE?
You can freeze mac and cheese for up to 3 months. Make sure to avoid freezer burn by storing your mac and cheese in an airtight container or resealable freezer bag. Thaw the macaroni and cheese in the fridge before you reheat it.
The American cheese, combined with cheddar cheese, butter, half and half and evaporated milk, make the sauce perfectly smooth. This is a basic mac and cheese in terms of the seasoning profile, but you can amp it up with the addition of your favorite herbs and spices, or even add some cubed ham at the end of the cook time for an extra special treat!
More slow cooker recipes
Slow cooker mac and cheese video
Slow Cooker Mac and Cheese
This slow cooker mac and cheese recipe is rich and creamy and super easy to make!
Ingredients
1

lb

cavatappi pasta

or other corkscrew shaped pasta

1/4

cup

butter

cut into cubes

1

12 ounce can

evaporated milk

1 1/2

cups

half and half

4

cups

shredded cheddar cheese

1/2

lb

block of orange American cheese

cut into cubes (8 ounces)

1/2

teaspoon

salt

1/4

teaspoon

pepper

1/4

teaspoon

onion powder

1/4

teaspoon

paprika

cooking spray

2

teaspoons

chopped parsley

optional garnish
Instructions
Cook the pasta in boiling water for 2 minutes less than package directions call for.

Coat a 4 or 6 quart slow cooker with cooking spray. Place the noodles in the slow cooker and add the butter. Stir until the noodles are coated with butter.

Add the evaporated milk, half and half, cheddar cheese, american cheese, salt, pepper, onion powder and paprika.

Cover and cook on LOW for 1 1/2 - 2 hours. Stir every 30 minutes.

At the end of the cook time, stir until a smooth sauce coats the noodles. Serve, topped with parsley if desired.
Notes
Adapted from The Country Cook.
Cavatappi is sometimes called corkscrew pasta or cellentani. If you can't find cavatappi you can use farfalle or gemelli.
Nutrition
Calories:
571
kcal
|
Carbohydrates:
51
g
|
Protein:
25
g
|
Fat:
28
g
|
Saturated Fat:
17
g
|
Cholesterol:
88
mg
|
Sodium:
912
mg
|
Potassium:
419
mg
|
Fiber:
1
g
|
Sugar:
10
g
|
Vitamin A:
960
IU
|
Vitamin C:
0.8
mg
|
Calcium:
654
mg
|
Iron:
1.2
mg
This post was originally published on April 10, 2017 and was updated on October 13, 2019 with new content.