This is the best turkey gravy you'll ever have – it's smooth, creamy and full of savory flavors. Homemade gravy is a must have for any holiday meal, and my version is so simple to make.
When it's Thanksgiving time, there are a few necessities for the big meal. Everyone must have a flavorful and juicy roasted turkey, creamy mashed potatoes, slow cooker cranberry sauce, and of course, plenty of gravy to pour over everything.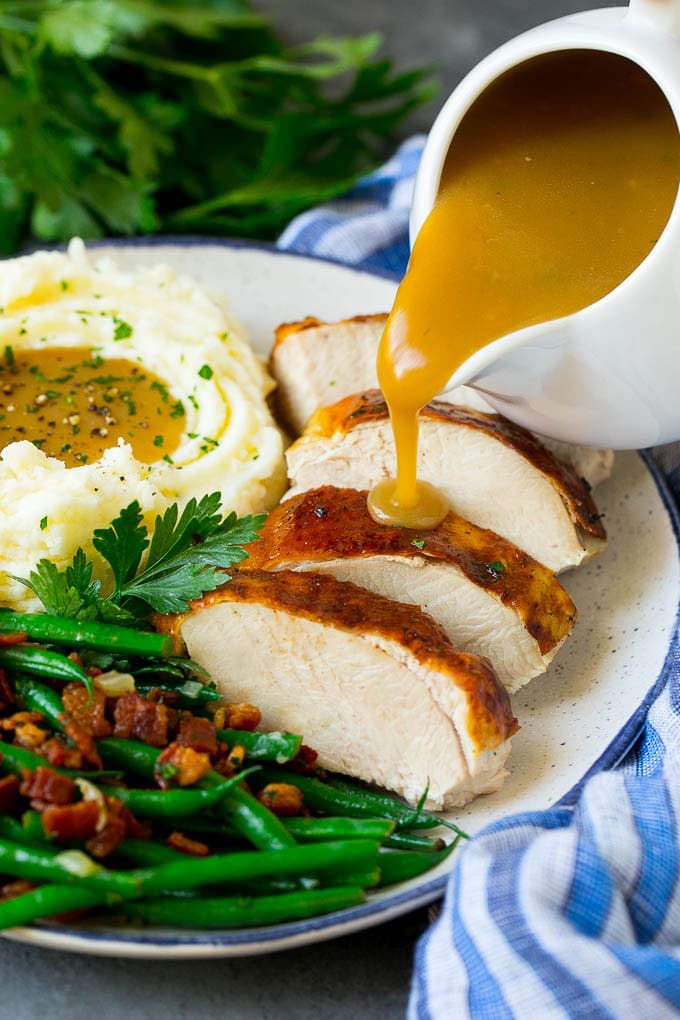 Turkey gravy is often an afterthought when it comes to Thanksgiving dinner. People typically reach for a jar or a packet to make gravy, but in reality, it's so very easy to make gravy from scratch. It's definitely worth the 15 minute time investment!
How do you make turkey gravy?
A good gravy is made of a roux, turkey drippings and broth. To make a fantastic and easy roux, heat some butter in a pan until completely melted. Whisk some flour slowly into the butter. Cook the roux until it reaches a nice golden color. Add turkey drippings and some chicken or turkey broth, along with salt and pepper. After everything simmers for a few minutes, it is ready to pour over your turkey.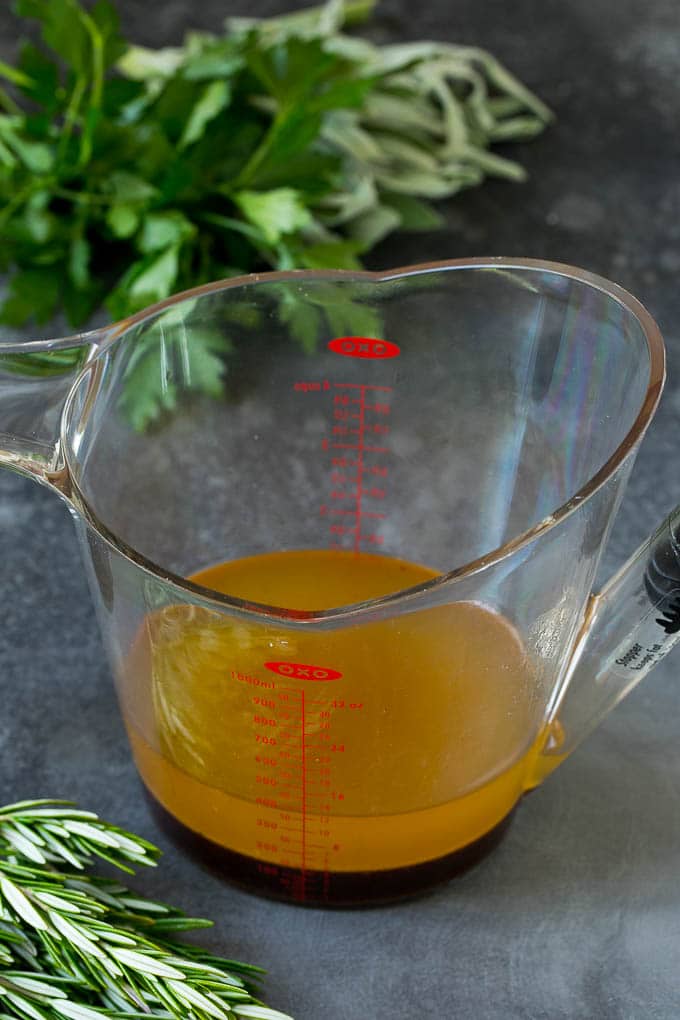 Tips for turkey gravy
I like to make my turkey gravy as soon as I take my turkey out of the oven while it's resting.. To separate the flavorful pan drippings from the fat, I use a fat separator. This device looks like like a large measuring cup with a spout coming out from the bottom. Simply place the drippings and fat in the separator and then pour the drippings from the bottom of the cup through the spout while the fat stays in the cup.
Make sure to whisk your gravy as it cooks until it is smooth. If you don't whisk the gravy, you will get lumps in your gravy. If you end up with any lumps in your gravy, simply pour it through a sieve before serving.
Gravy should be served warm. If you find that your gravy has cooled, you can microwave it in 20 second increments until it's warmed through.
If you've gotten your drippings from a brined turkey, be sure to go easy on the salt for your gravy.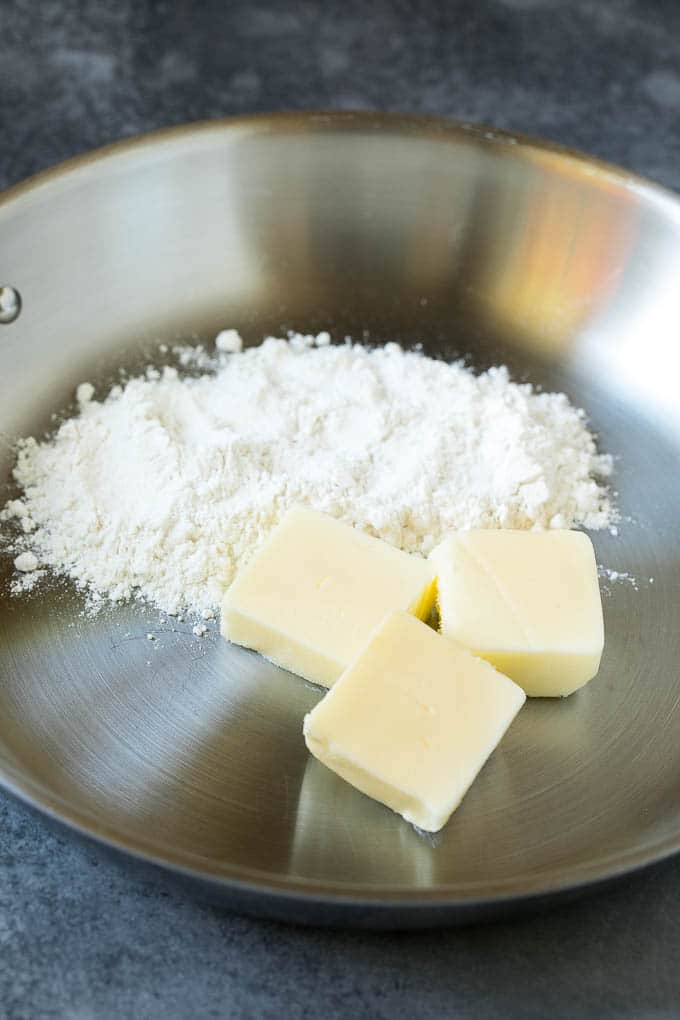 How to make turkey broth
For this recipe, you can use homemade or store bought broth. That being said, it's quite easy to make your own turkey broth, and the flavor is much better when it's homemade. You can use 4 roasted turkey wings or the carcass of a cooked turkey to start your broth.
Place the wings or carcass in a stock pot with 2 sliced carrots, 2 quartered onions, 1 cut up celery stalk, 1 small bunch of flat leaf parsley, 2 peeled and smashed garlic cloves, 2 bay leaves, 1 sprig of fresh thyme, 1 teaspoon of salt and 1 teaspoon of whole peppercorns. Pour enough water over everything to fill your stock pot. You want to have around 5-6 quarts of water.
Bring the water to a boil for 5 minutes and then simmer the mixture for 1 hour and 45 minutes. After the broth has cooked, skim the surface to remove any fat and pour the mixture slowly through a mesh strainer or a colander. Place a couple of paper towels on the strainer or colander to remove additional fat.
The broth should be a lovely translucent yellow and the turkey, veggies and seasonings should be discarded. Use the broth immediately or store it in a refrigerator for 2-3 days or freeze it to use within 2 months.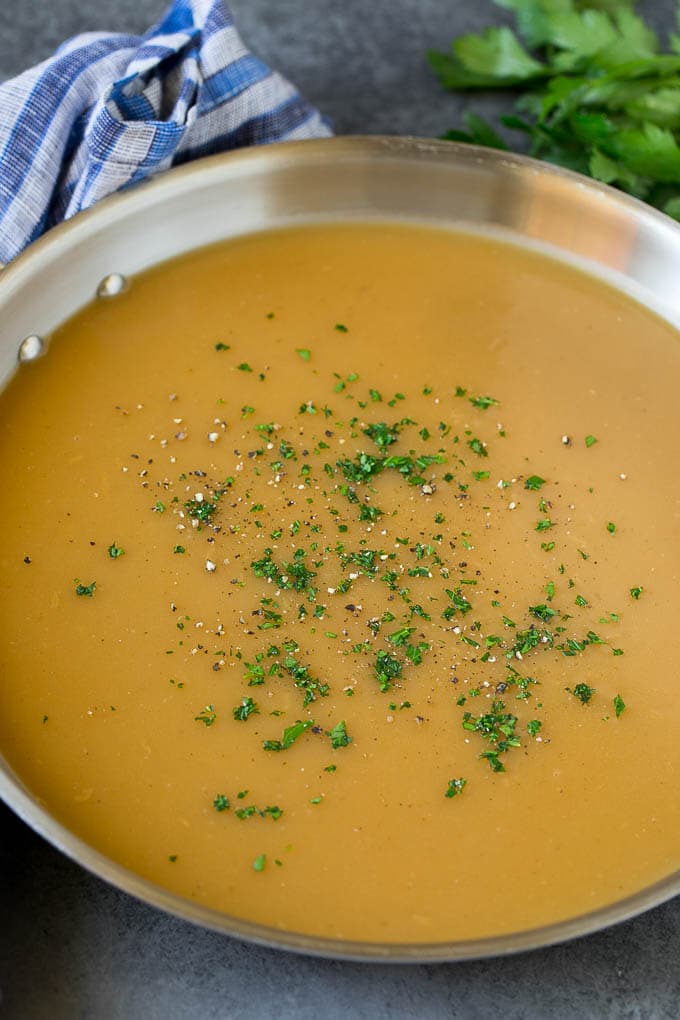 How do you thicken gravy?
There are several ways to thicken gravy if it ends up a little thin. First make sure that it has simmered long enough to thicken. It should take around 3-4 minutes to thicken. If it doesn't thicken, give it a couple more minutes of heat.
You can further thicken your gravy by adding a little extra flour. If you add more flour, whisk it with a few tablespoons of water until smooth, then pour the mixture into the pan and cook for another 2 minutes.
You can also thicken the gravy with a little cornstarch. In a separate bowl, mix 2 teaspoons of cornstarch with two tablespoons of cold water. Once the cornstarch has dissolved, slowly and carefully whisk the cornstarch and water mixture into the gravy. You will need heat the gravy to a boil for a minute to activate the cornstarch.
Can gravy be reheated?
You can reheat gravy. Just place leftover gravy in a pan over medium heat, then bring it to a simmer. Whisk the gravy to make it smooth. If the gravy ends up too thick, add a little turkey or chicken broth. If the gravy is a little thin, add a bit of flour or cornstarch dissolved in cold water.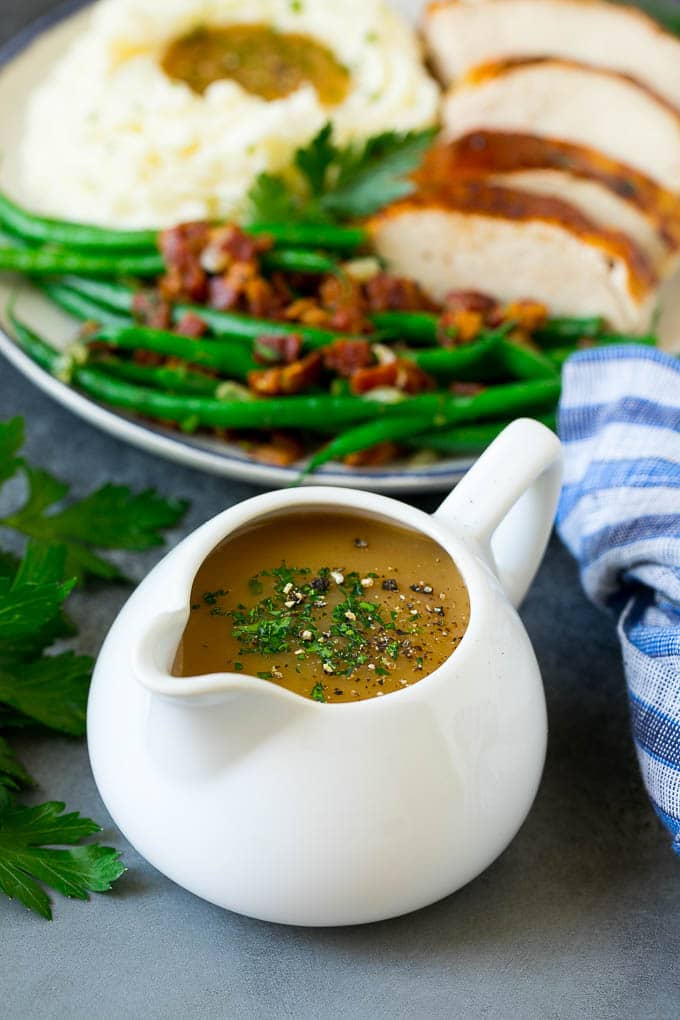 Good gravy can rescue a bad turkey dinner and make a good turkey dinner extraordinary. Instead of packaged gravy, make your own silky and delicious gravy with this quick and easy recipe.
More thanksgiving recipes you'll enjoy
Turkey Gravy Video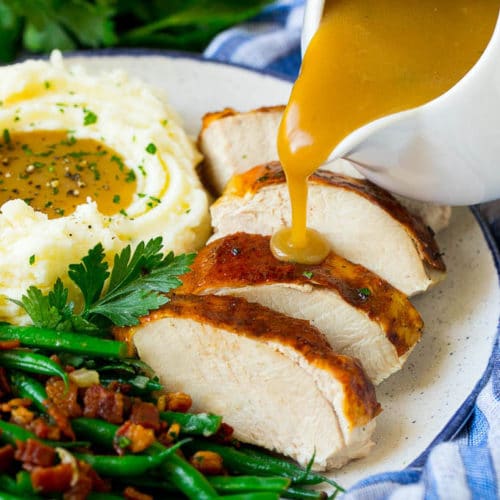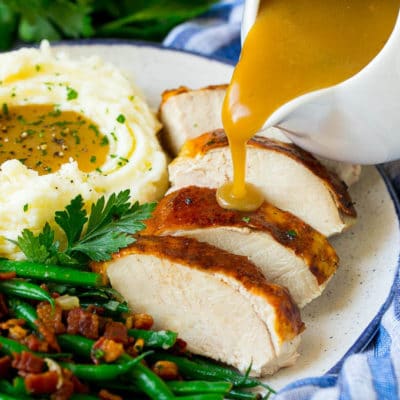 This is the best turkey gravy you'll ever have - it's smooth, creamy and full of savory flavors. Homemade gravy is a must have for any holiday meal, and my version is so simple to make.
Ingredients
1/2

cup

butter

1/2

cup

all purpose flour

2

cups

turkey drippings

fat separated out

2 1/2

cups

chicken or turkey broth

salt and pepper to taste

1

tablespoon

chopped parsley
Instructions
Melt the butter in a large skillet over medium heat.

Add the flour and whisk to combine. Cook for 1 minute, stirring constantly.

Slowly pour in the drippings and the broth, whisking constantly.

Bring the gravy to a simmer. Cook for 3-4 minutes or until thickened.

Season with salt and pepper to taste.

Pour the gravy into a pitcher or gravy boat. Top with parsley, then serve.
Nutrition
Calories:
95
kcal
|
Carbohydrates:
5
g
|
Protein:
2
g
|
Fat:
8
g
|
Saturated Fat:
5
g
|
Cholesterol:
20
mg
|
Sodium:
82
mg
|
Potassium:
48
mg
|
Fiber:
1
g
|
Sugar:
1
g
|
Vitamin A:
236
IU
|
Calcium:
4
mg
|
Iron:
1
mg
This post was originally published on September 19, 2019 and was updated on November 4, 2020 with new content.