This recipe for sauteed mushrooms and onions is tender vegetables cooked in garlic, butter and seasonings until golden brown. A quick and easy side dish that pairs well with steak, pork chops, burgers and chicken.
My family happens to love mushrooms! Some of our favorites include speedy garlic butter chicken and mushrooms, irresistible fried mushrooms, and these sauteed mushrooms and onions.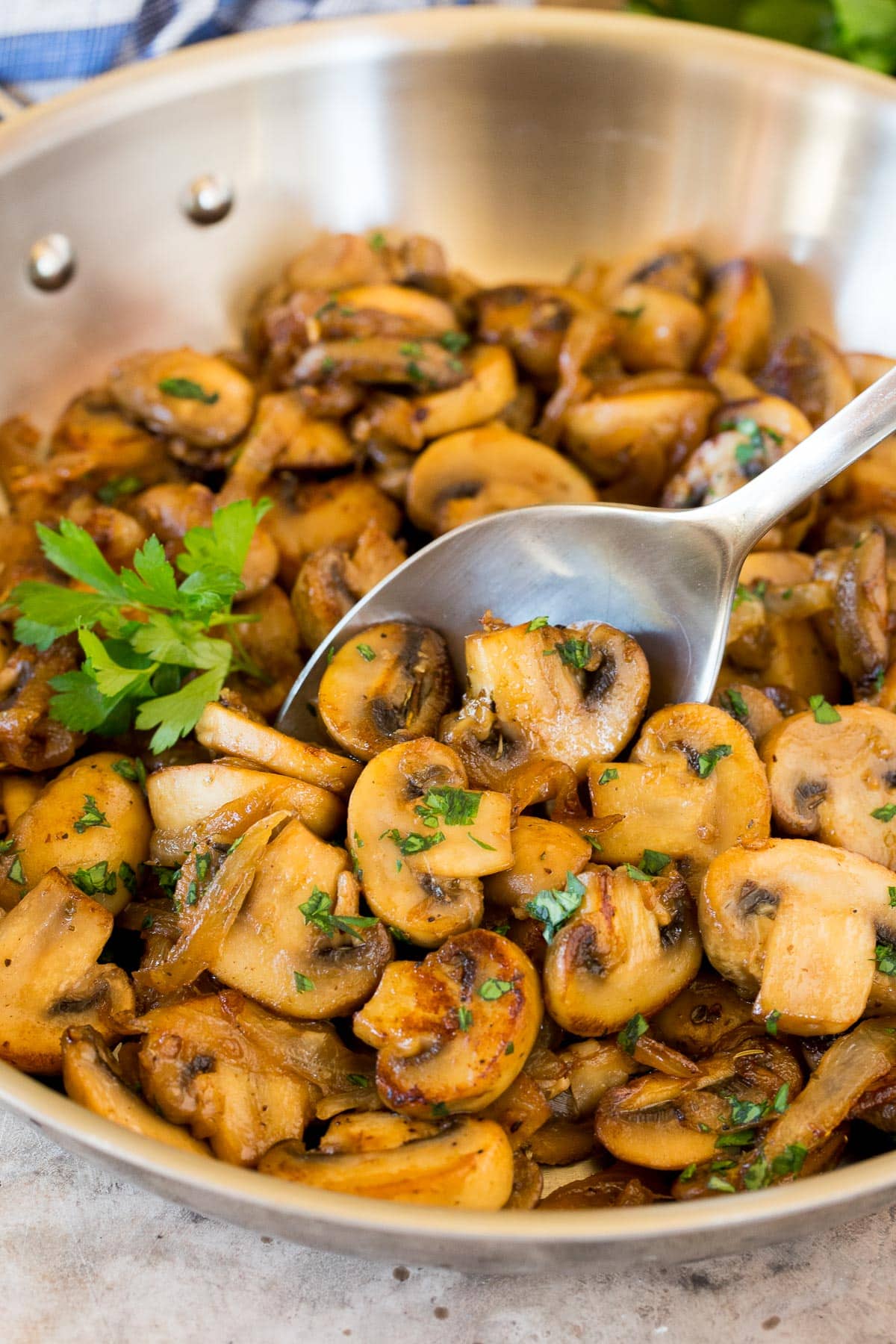 Sometimes the best side dishes are the simplest ones, like this recipe for sauteed mushrooms and onions. With just a few ingredients, humble vegetables are transformed into something spectacular!
Recipe Ingredients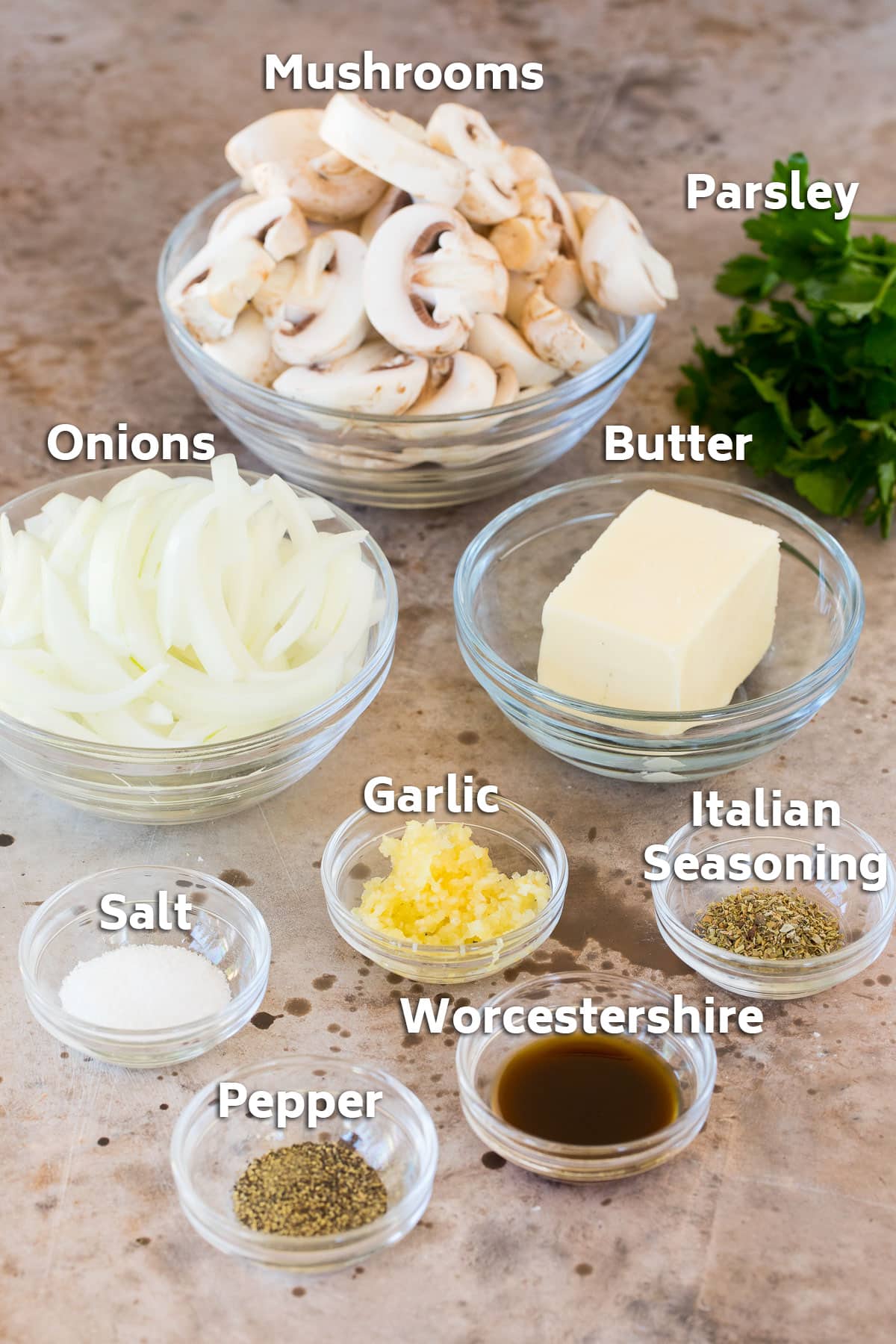 This recipe includes butter, onions, mushrooms, garlic, Italian seasoning, Worcestershire sauce, fresh parsley, and some salt and black pepper.
How Do You Make Sauteed Mushrooms And Onions?
Start by melting some butter in a large skillet, then add sliced onions. Cook the onions until they are soft and starting to caramelize. Add the mushrooms to the pan, then continue to cook until everything is tender and browned. This may take some time, as the mushrooms will need to release all of their liquid before they start to brown. Stir in garlic, Italian seasoning and a dash of Worcestershire sauce for extra flavor. Finally, top the vegetables with a sprinkle of fresh parsley, then serve and enjoy.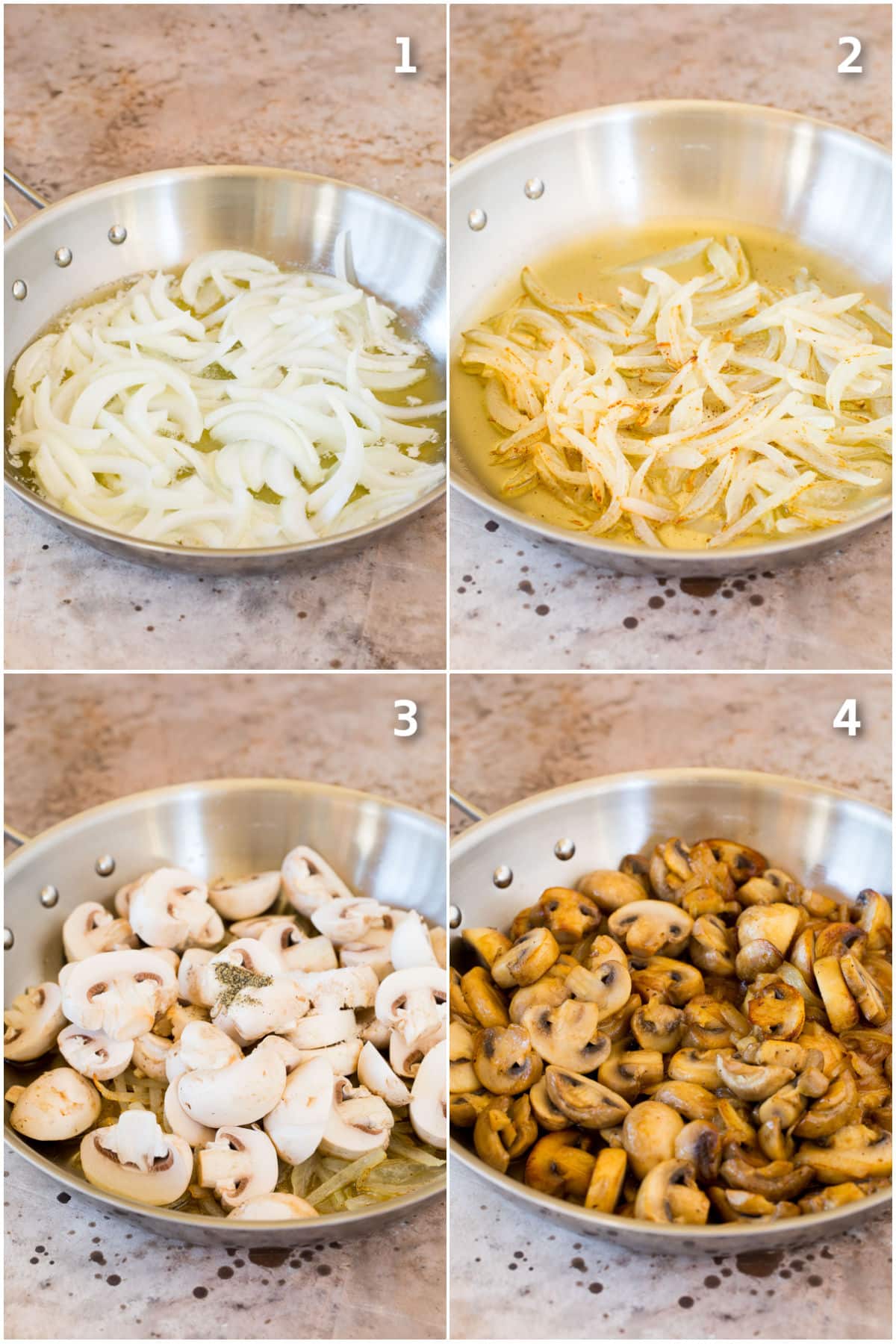 Tips For The Perfect Sauteed Mushrooms And Onions
You can use any variety of mushroom that you like in this dish, or even a blend of different types of mushrooms. I typically use cremini or white button mushrooms, but other great options include chanterelle, oyster, portobello, baby bellas or shiitake mushrooms.
This recipe pairs well with a variety of main course options including turkey meatloaf, crack chicken, Yankee pot roast, cheeseburger meatloaf and bacon ranch chicken.
Sauteed mushrooms and onions will stay fresh in the refrigerator for up to 3 days. Reheat them over low heat in a skillet until everything is warmed through.
For a richer sauce, stir in 1/4 cup heavy cream and 2 tablespoons of grated parmesan cheese.
You can make this recipe vegan by using olive oil instead of butter.
This recipe can easily be doubled or tripled to serve a crowd.
No parsley on hand? Try using fresh thyme, basil or chives instead. You can also use a combination of different herbs.
Quick Tip
Feel free to cut the mushrooms and onions up to 8 hours in advance to save some time at the end of the day when you're trying to get dinner on the table. Or buy bags of pre-chopped onions and mushrooms to make it even easier on yourself!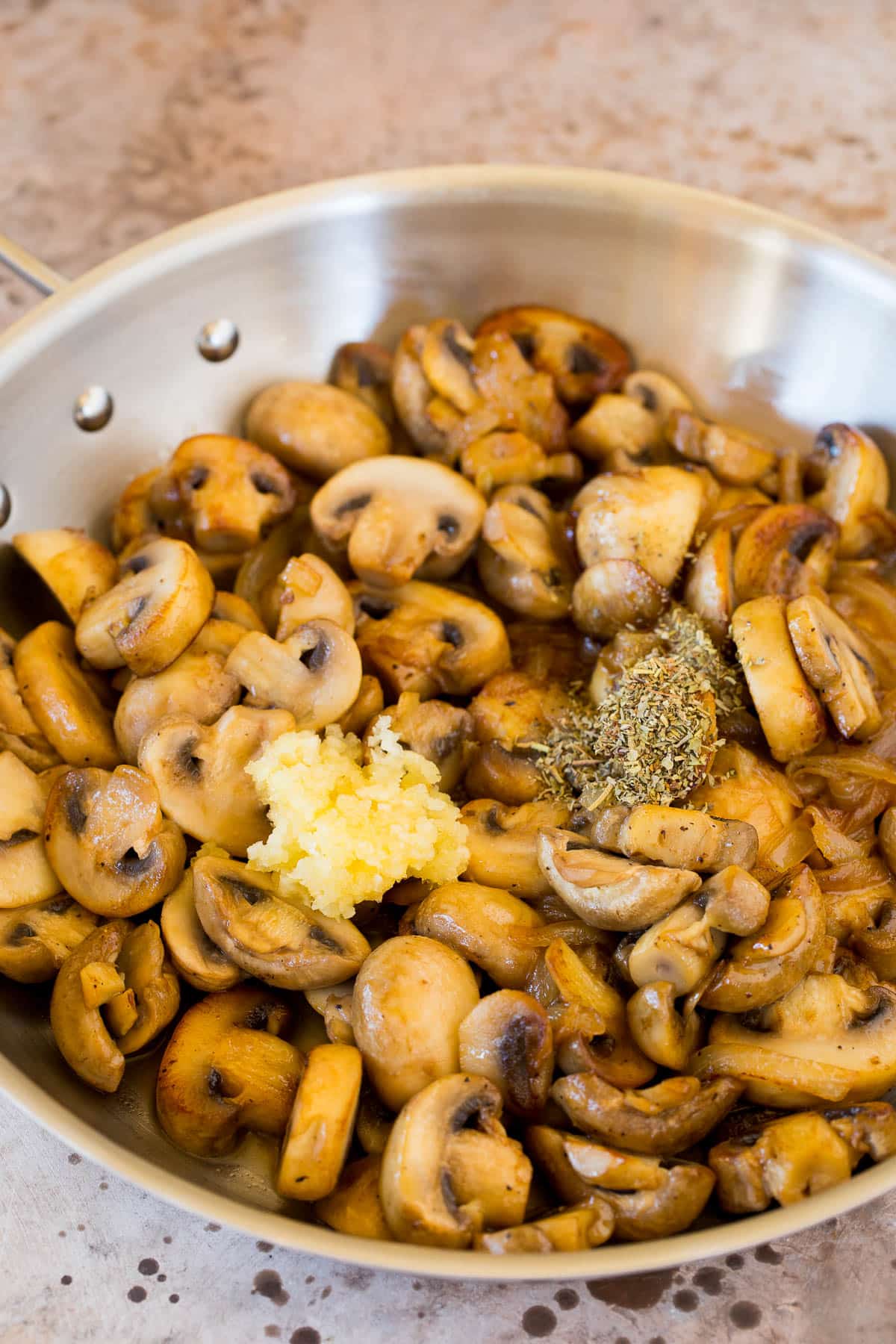 Recipe FAQs
Do you saute onions or mushrooms first?
I prefer to saute the onions first. I find that onions are sweeter and more flavorful when they are caramelized, which can take some time. If you start the onions before the mushrooms, they'll have a chance to caramelize by the time the mushrooms are done cooking.
How long does it take to saute mushrooms?
It typically takes about 6-7 minutes to saute mushrooms over medium heat. If you're cooking your mushrooms at high heat, it will take 4-5 minutes.
How do you saute mushrooms without them getting soggy?
Mushrooms release a lot of liquid as they cook. This can make them soggy if the liquid is not cooked off. It's important to cook your mushrooms for long enough so that the liquid can evaporate and the mushrooms can brown. If you find that your mushrooms are not browning, you can increase the heat to high to help the process along.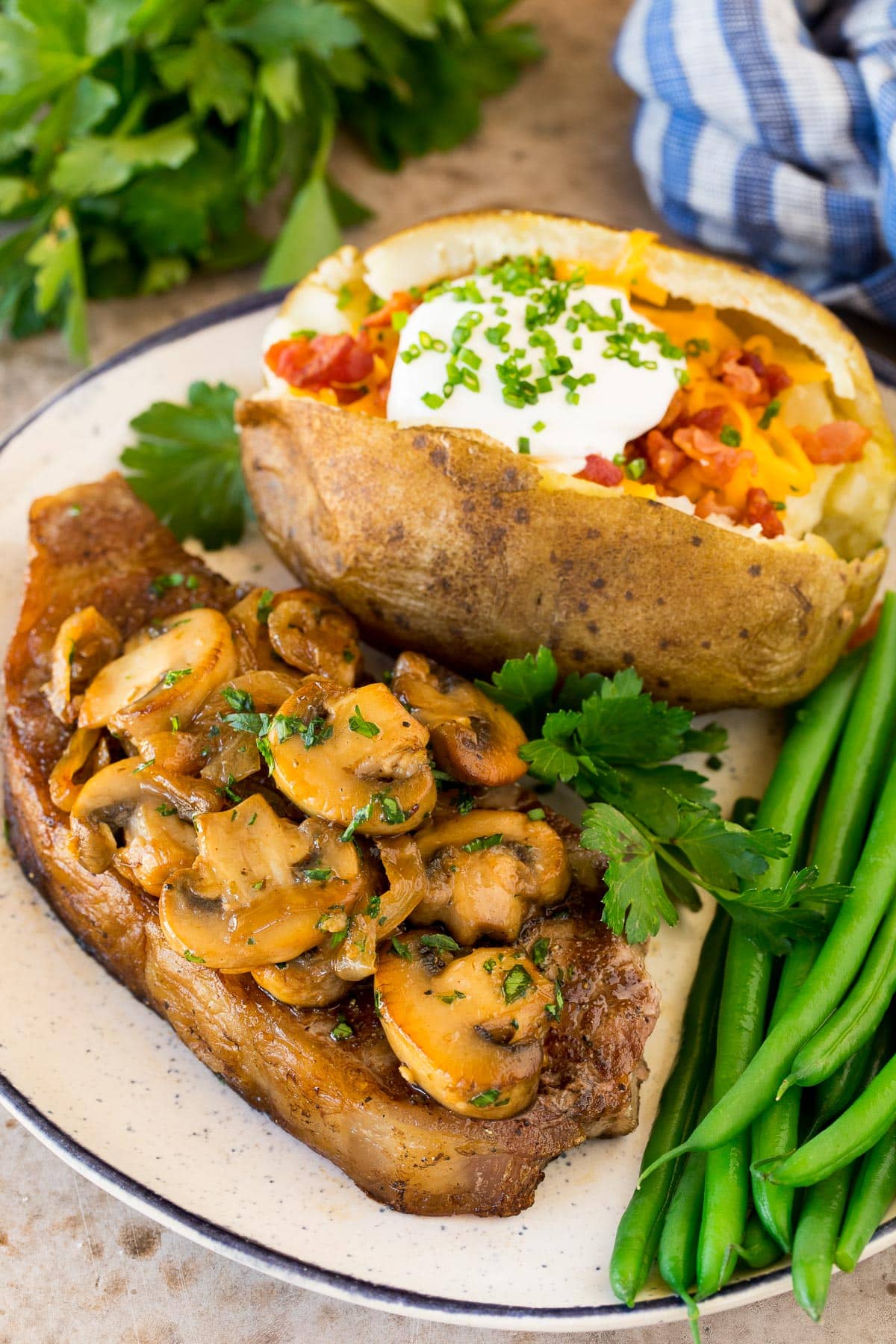 Flavor Variations
While this dish is great as-is, you can add other ingredients that you happen to have on hand.
Vegetables: Feel free to stir in extra veggies such as green beans, bell peppers, spinach or tomatoes.
Protein: Make it a meal by stirring in cooked crumbled, bacon, grilled chicken, smoked sausage or even canned white beans.
Grains: Stir in your favorite grains such as cooked rice, quinoa or barley.
Flavorings: Amp up the flavor with crushed red pepper flakes, lemon juice, balsamic vinegar, olives, sun dried tomatoes, cheddar cheese or even pine nuts.
Sauteed mushrooms and onions makes for a great side dish, but you can even use it as a topping for pizza, stir it into pasta, or serve it over a juicy steak. The possibilities are endless!
More Great Mushroom Recipes
Love This Recipe?
Please leave a 5-star 🌟🌟🌟🌟🌟 rating in the recipe card below & a review in the comments section further down the page.
Sauteed Mushrooms and Onions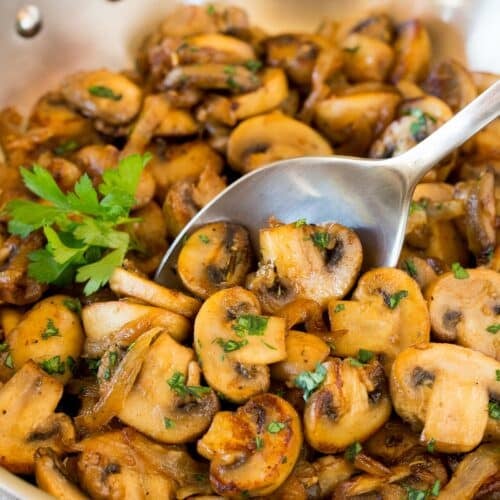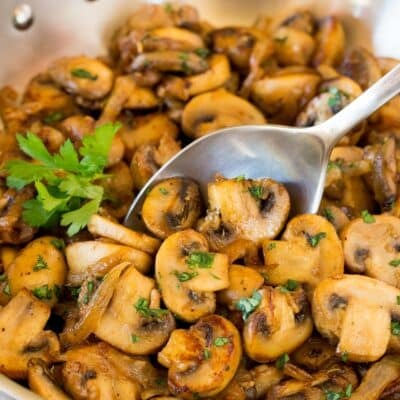 This recipe for sauteed mushrooms and onions is tender vegetables cooked in garlic butter and seasonings until golden brown. A quick and easy side dish that pairs well with steak, pork and chicken.
Ingredients
6

tablespoons

butter

1

cup

onion

sliced

1

pound

mushrooms

thickly sliced

1

tablespoon

minced garlic

1/2

teaspoon

dried Italian seasoning

2

teaspoons

Worcestershire sauce

1

tablespoon

chopped fresh parsley

salt and pepper to taste
Instructions
Melt the butter in a large pan over medium heat.

Add the onions and cook for 6-8 minutes, until onions are soft and beginning to brown.

Add the mushrooms, then season generously with salt and pepper.

Cook, stirring occasionally, until mushrooms are golden brown and tender, about 7 more minutes.

Stir in the garlic, Italian seasoning and Worcestershire sauce, then cook for an additional 30 seconds.

Sprinkle with parsley and serve immediately.
Notes
You can use any type of mushroom. I typically use button or cremini, but oyster, shiitake, chanterelle and portobello mushrooms also work well.
I use a sweet onion such as a Vidalia onion when I can find them. You can also use standard yellow or red onions.
Nutrition
Calories:
157
kcal
|
Carbohydrates:
8
g
|
Protein:
3
g
|
Fat:
11
g
|
Saturated Fat:
7
g
|
Cholesterol:
30
mg
|
Sodium:
205
mg
|
Potassium:
360
mg
|
Fiber:
1
g
|
Sugar:
2
g
|
Vitamin A:
350
IU
|
Vitamin C:
2.8
mg
|
Calcium:
7
mg
|
Iron:
0.6
mg