This post is sponsored by Pacific Gas & Electric (PG&E). Thank you for supporting the brands that make Dinner at the Zoo possible!
This recipe for buckeye balls is the classic peanut butter balls dipped in dark or white chocolate. A holiday treat that's both easy and energy efficient to make! I'm also sharing some ideas for keeping your home energy efficient around the holidays.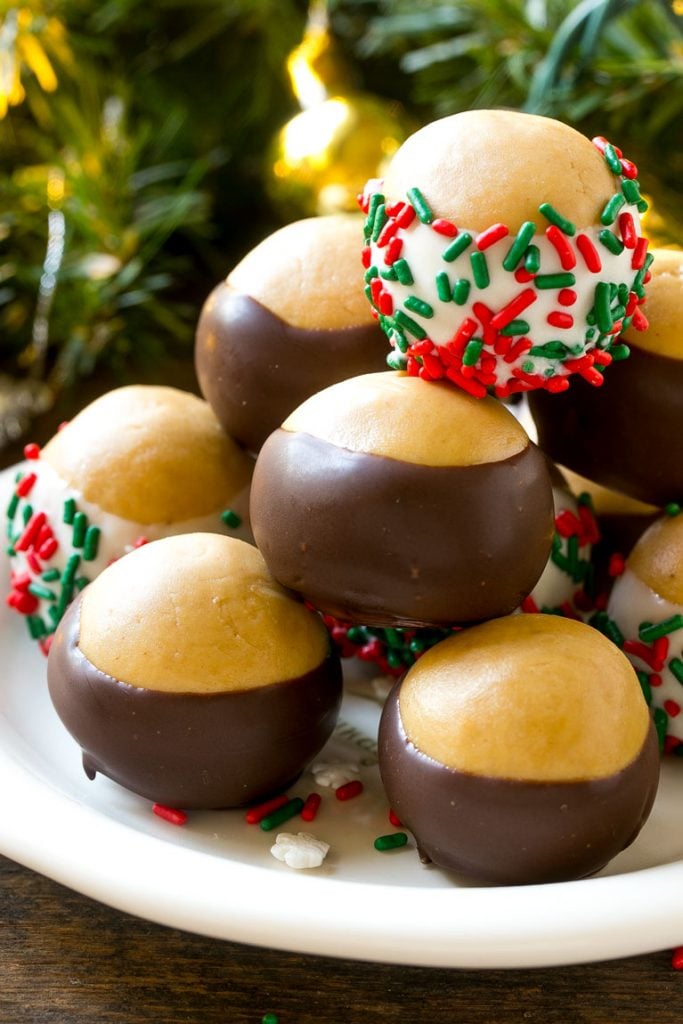 The holidays are here and we are busy decorating, crafting and creating delicious treats! Our lights are up and I've made quite a few batches of these amazing peanut butter buckeye balls to give out to family and friends. One thing I've been focused on this holiday season is energy efficiency. Between all of the cooking and baking, the hundreds of twinkling holiday lights and turning up the dial on the heater, the energy usage can really add up! This year we decided to make the switch to LED lights, both LED string lights for indoor and outdoor holiday lighting, and ENERGY STAR Advanced LED light bulbs for everyday lighting.
I decided to switch to LED lighting in my home primarily because of the energy savings. ENERGY STAR Advanced LED light bulbs use anywhere from 75-90% less energy than incandescent bulbs, and they can last up to 20 years! The LED holiday lights look beautiful in my home, and they're also shatterproof and don't get hot to the touch, which reduces the chance of fire. The LED holiday lights can reduce energy usage by up to 90% and I love that if one burns out the rest of the strand still stays lit! You can find out even more information about the benefits of switching to LED holiday lights on their website.
I recently took the opportunity to switch the incandescent lighting around my home to ENERGY STAR Advanced LED light bulbs. I found my LED lights through the PG&E Marketplace, they have light bulbs of all shapes and sizes that are perfect for every day lighting. I was able to find light bulbs for all of my household lighting needs.
Another way to save energy around the holidays is to be smart with your kitchen appliances when you're doing your cooking and baking. PG&E has lots of great tips and tricks for saving energy while cooking. For example, you can bake multiple pies at the same time to save on energy, cover pots and pans when you're cooking with the stove, and microwaving small servings of foods uses up to 80% less energy than an oven. These peanut butter balls don't use an oven at all, they're a no bake treat where the only energy usage is to heat the chocolate in the microwave for a minute or less!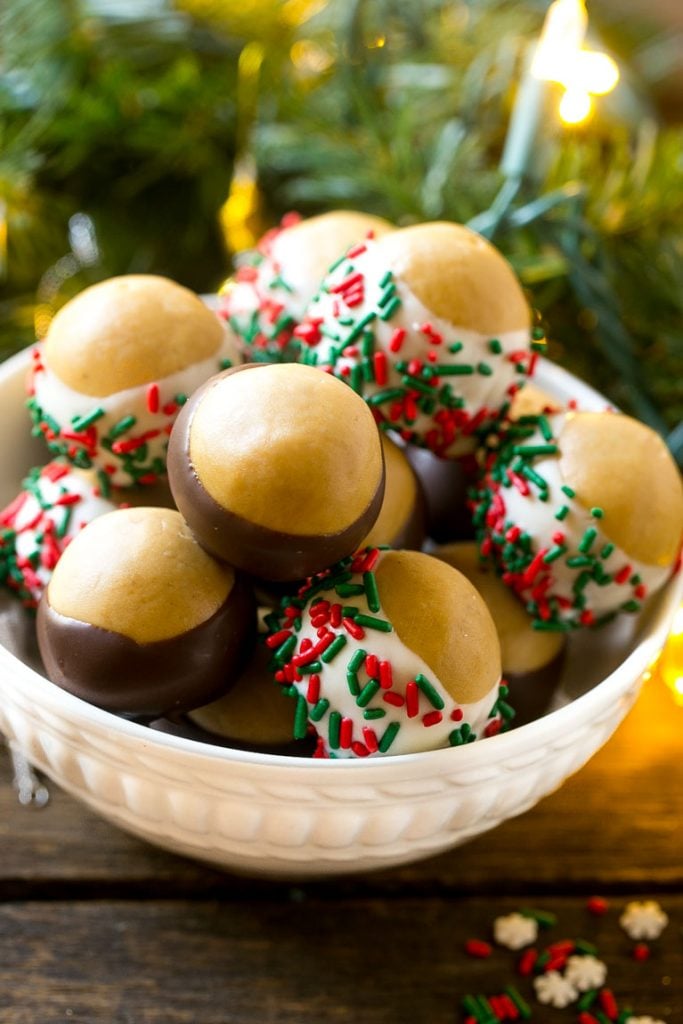 Saving energy this holiday season is really quite easy to do. A few small changes here and there really add up to some big savings! Be sure to check out the PG&E Marketplace for a huge selection of ENERGY STAR Advanced LED light bulbs to keep your home well lit. Using LED holiday lights this winter made me realize just how simple it was to make the switch, and I've carried these changes over to the rest of my house so that I can stay energy efficient all year long. You can now find ENERGY STAR Advanced LED light bulbs in my kitchen, all of our bedrooms and the bathrooms too. I'm looking forward to a 2017 that's filled with energy savings!
These buckeye balls are a classic holiday treat that I make every year. They're a great project to do with the kids, my kids call it "peanut butter play doh" which is actually pretty accurate! All you need for this recipe are a handful of ingredients that you probably already have at home. After the ingredients are initially mixed together, you'll want to knead the peanut butter mixture with your hands to get all the powdered sugar incorporated so that you can form the peanut butter balls. The traditional way to do buckeye balls is to dip them in semisweet chocolate. I decided to mix things up a bit, and dipped half my balls in semisweet chocolate and the other half in white chocolate and holiday sprinkles. You can either use chocolate chips with shortening, or simply use candy melts, no shortening needed!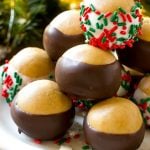 Buckeye Balls
This recipe for buckeye balls is the classic peanut butter balls dipped in dark or white chocolate.
Total Time
1
hour
2
minutes
Servings
20
buckeye balls
Ingredients
1 1/2

cups

creamy peanut butter

1/2

cup

butter

at room temperature

3 1/2

cups

powdered sugar

sifted

8

ounces

chocolate chips or candy melts/almond bark

can be dark chocolate, white chocolate or both

2

tablespoons

vegetable shortening

optional: 1/2 cup holiday sprinkles
Instructions
Place the peanut butter, butter and powdered sugar in a large bowl. Mix until the ingredients are incorporated, then knead with your hands until a smooth dough forms.

Shape the dough into tablespoon sized balls and place on a sheet pan that's been lined with parchment paper.

Refrigerate the peanut butter balls for at least 30 minutes.

Place the chocolate chips and shortening in a medium bowl. If using 2 types of chocolate, place 4 ounces of each chocolate with 1 tablespoon shortening into 2 bowls.

Microwave the chocolate in 30 second intervals or until melted. Stir until smooth and thoroughly combined.

Remove the buckeye balls from the fridge. Use a toothpick to pick up each ball and and dip it into the melted chocolate. Quickly roll the ball in sprinkles if using (optional). Repeat with each ball. Use your finger to smooth over the top of each ball to remove the mark from the toothpick.

Refrigerate for 30 minutes or until set, then serve.
Nutrition Facts
Buckeye Balls
Amount Per Serving
Calories 212
Calories from Fat 117
% Daily Value*
Total Fat 13g 20%
Cholesterol 10mg 3%
Sodium 80mg 3%
Total Carbohydrates 23g 8%
Protein 3g 6%
* Percent Daily Values are based on a 2000 calorie diet.
This is a sponsored conversation written by me on behalf of PG&E. The opinions and text are all mine.