This recipe for tacos al pastor is tender pork in a sweet and savory marinade that is grilled to perfection. The tacos are topped with grilled pineapple, red onion and cilantro for a unique meal that's perfect for Cinco de Mayo!
Taco night is a big hit at my house, especially when tacos al pastor are on the menu. That combination of smoky pork and sweet pineapple just can't be beat! If you're a taco fan, you'll also want to try my steak tacos or carnitas tacos.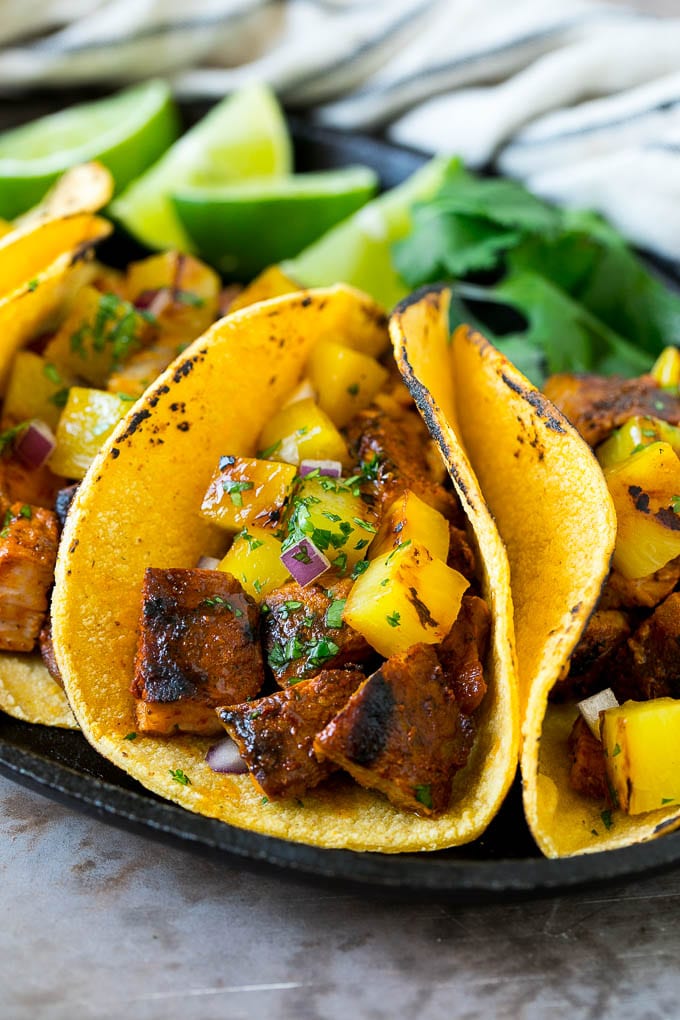 This post is sponsored by Agave In The Raw. Thank you for supporting the brands that make Dinner at the Zoo possible!
I love to order tacos al pastor at my local taqueria, it's one of my all time favorite Mexican dishes. I decided it was time to learn to make these tacos at home, and the end result is fabulous!
What are tacos al pastor?
Tacos al pastor are made with marinated pork that is slow roasted on a spit. The pork typically marinates in pineapple juice, chiles and spices. In this particular case, we're going to grill our pork to make this recipe more adaptable to a home kitchen.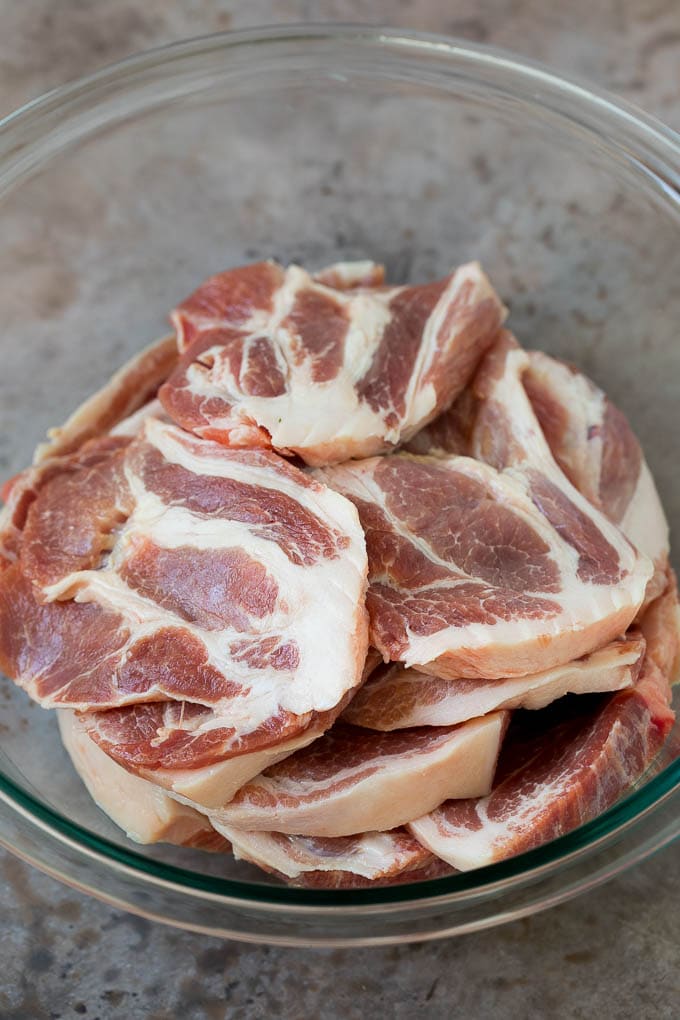 How do you make tacos al pastor?
This recipe starts with a marinade, which contains an assortment of ingredients including dried chiles, pineapple juice and spices. Puree the marinade in the blender, then pour it over slices of pork shoulder. Grill the pork, the chop it and put into tortillas along with grilled pineapple, red onion and cilantro.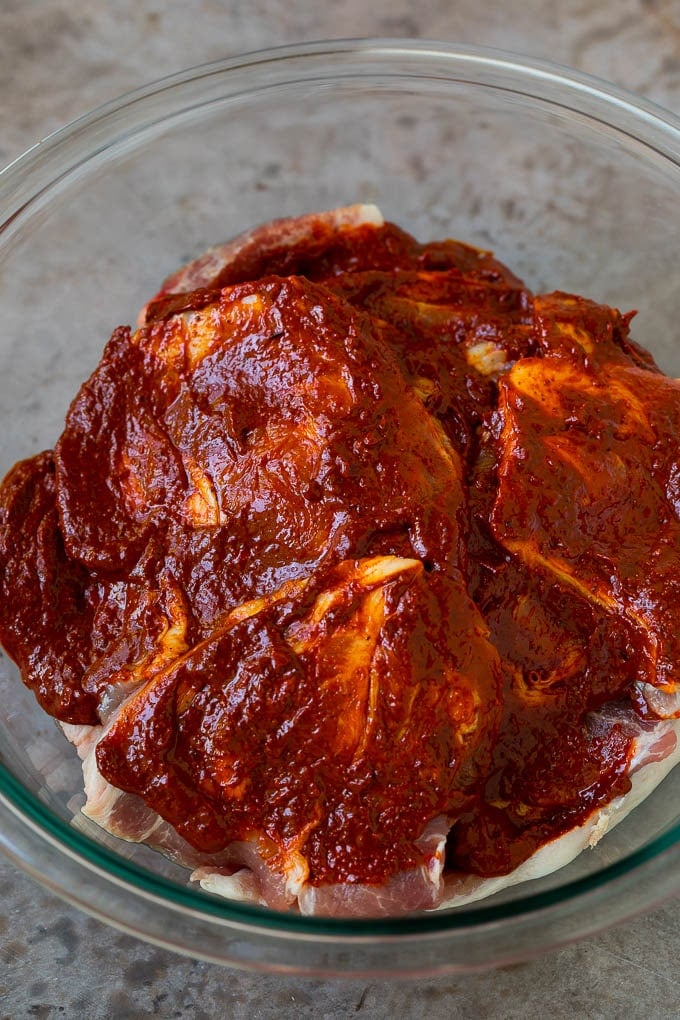 Tips for pork tacos
The easiest way to get thin slices of pork is to partially freeze your pork shoulder roast before you cut it. Chill it for about 30 minutes and you'll be ready to go.
This recipe calls for two specialty ingredients: dried guajillo chiles and achiote paste. If you can't find dried guajillo chiles, you can substitute dried ancho chiles which are available in most grocery stores. Achiote paste comes in a jar in the ethnic foods aisle. It's a colorful and fragrant paste made of annatto seeds and spices, and it gives the meat in this dish its characteristic red color.
I typically use pork shoulder for tacos al pastor because it's tender and juicy. You can also use pork loin, or boneless pork country ribs.
If you don't have fresh pineapple available, you can grill up canned pineapple rings to go on your tacos.
While I often serve these tacos on corn tortillas, flour tortillas are also a great choice.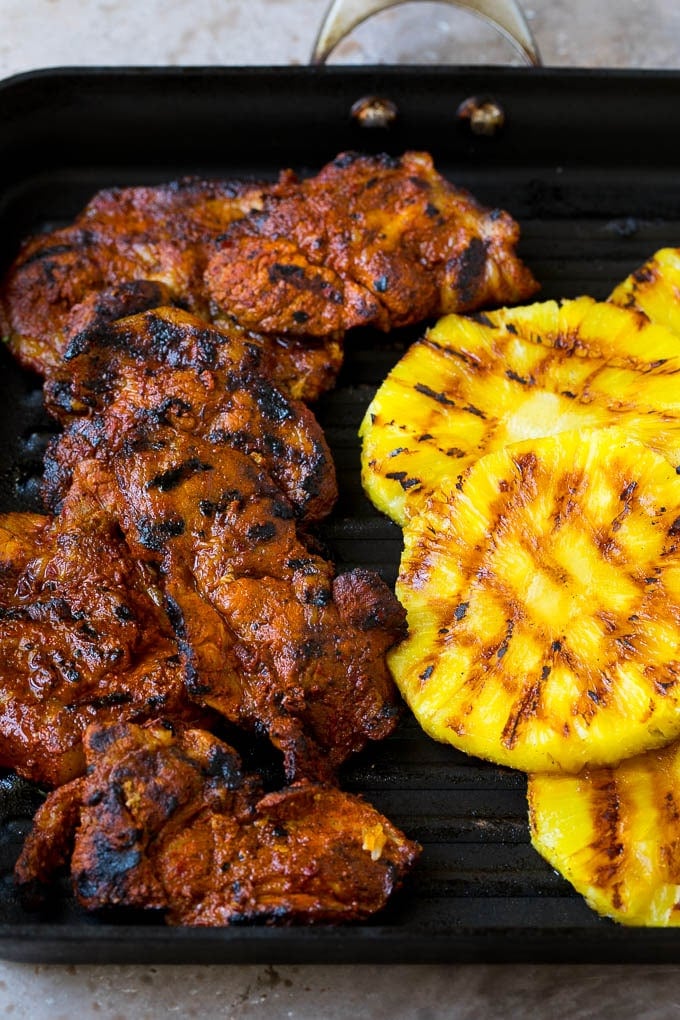 Toppings for tacos al pastor
The traditional way to serve these tacos is with pineapple on top. That being said, there are many other ingredients you can add to your tacos to customize them to your tastes.
Cheese: Try some grated cotija, cheddar or Monterey Jack cheese.
Salsa: These tacos pair perfectly with homemade pico de gallo or salsa verde.
Avocado: Add some sliced fresh avocado or a dollop of Chipotle guacamole.
Greens: These tacos are great with a little shredded green or purple cabbage, or romaine lettuce.
Veggies: Try adding a little fresh corn or some pickled red onions.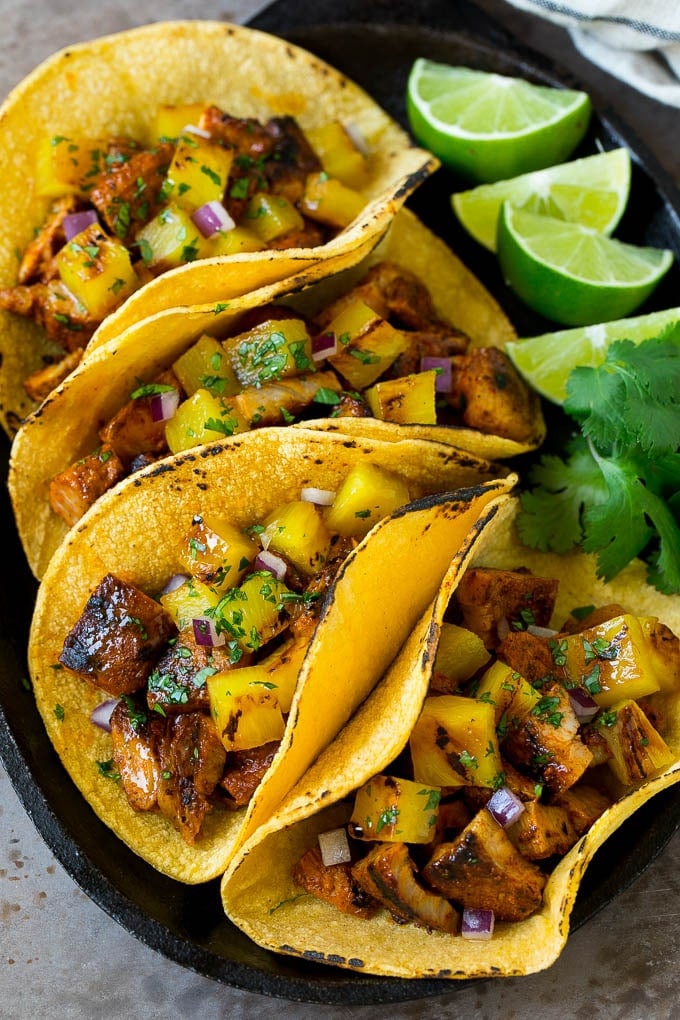 These tacos are a must-have for any Cinco de Mayo gathering. They're the perfect blend of sweet and savory and it's a nice change from the typical chicken or beef tacos. You'll be sure to get rave reviews with this recipe!
MORE GREAT TACO RECIPES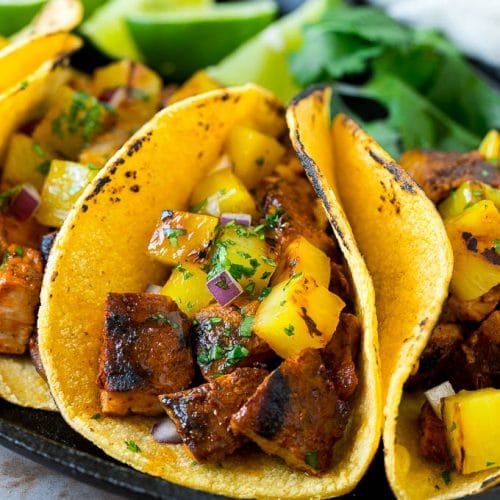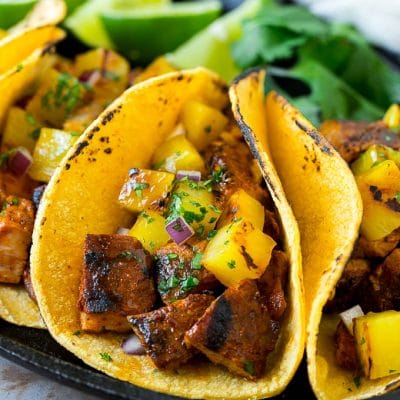 This recipe for tacos al pastor is tender pork that's coated in a sweet and savory marinade, then grilled to perfection. The tacos are topped with grilled pineapple, red onion and cilantro
Ingredients
For the marinade
2

pounds

pork shoulder

cut into 1/4 inch thick slices

2

teaspoons

garlic

chopped

1

teaspoon

dried oregano leaves

1

teaspoon

ground cumin

1

teaspoon

salt

1/4

teaspoon

pepper

4

dried guajillo chiles

seeds and stems removed, then softened in very hot water for 5 minutes

1

tablespoon

liquid agave

or honey

1/4

cup

pineapple juice

1/4

cup

white vinegar

2

tablespoons

achiote paste
For the tacos
12

corn tortillas

warmed

1

pineapple

peeled and cut into 1/2 inch thick slices

1/4

cup

red onion

diced

1/4

cup

cilantro leaves

minced
Instructions
Place the garlic, oregano leaves, cumin, salt, pepper, guajillo chiles, agave, pineapple juice, white vinegar, achiote paste and 1/2 cup water in a small pot. Bring to a simmer.

Cook for 3 minutes, then cool for 10 minutes.

Pour the marinade ingredients into a blender; blend until smooth.

Place the pork in a large bowl and add the marinade. Toss to coat completely. Chill, then refrigerate for at least one hour, or up to 24 hours.

Preheat a grill or indoor grill pan to medium high heat.

Place the pork and pineapple slices on the grill. Cook for 3-4 minutes per side, or until pork is just cooked through.

Coarsely chop the pork and pineapple.

Divide the pork between the tortillas. Top with the chopped pineapple, red onion and cilantro, then serve immediately.
Nutrition
Calories:
338
kcal
|
Carbohydrates:
45
g
|
Protein:
22
g
|
Fat:
8
g
|
Saturated Fat:
2
g
|
Cholesterol:
61
mg
|
Sodium:
678
mg
|
Potassium:
604
mg
|
Fiber:
5
g
|
Sugar:
16
g
|
Vitamin A:
130
IU
|
Vitamin C:
74.8
mg
|
Calcium:
80
mg
|
Iron:
2.4
mg
This post was published on May 2, 2019 and was updated on January 31, 2020 with new content.