This steamed clams recipe is fresh shellfish cooked with garlic, butter, herbs and lemon. An easy and elegant dish that makes for a lighter main course or unexpected appetizer offering.
You can never go wrong with fresh seafood, whether it's grilled lobster, bacon wrapped scallops or these flavorful clams in a butter and herb sauce.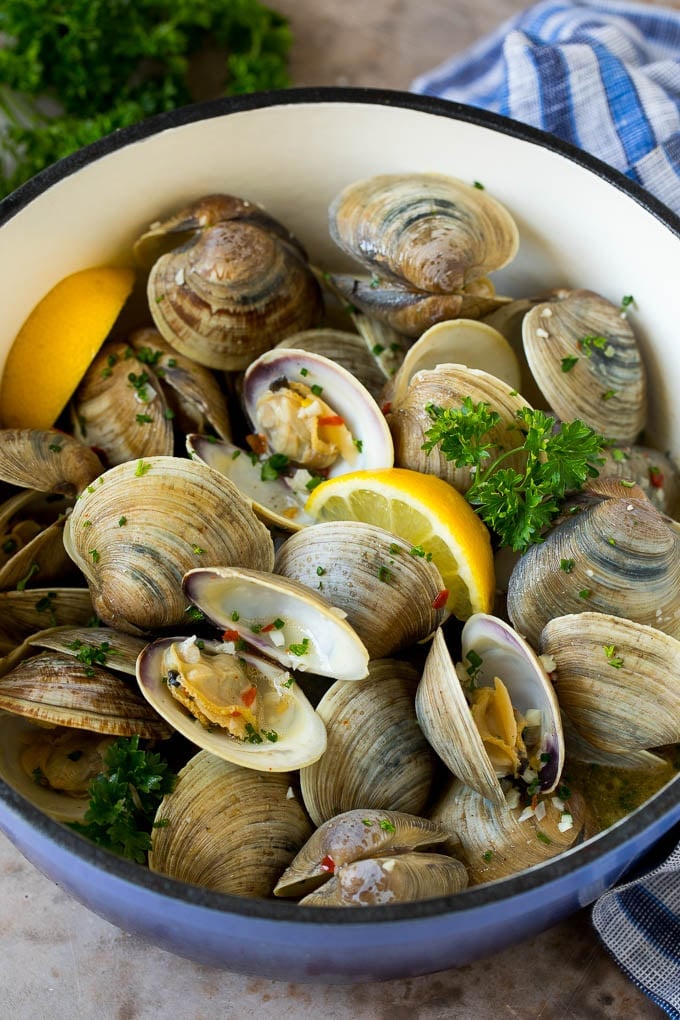 I always order steamed clams as an appetizer when I go to restaurants, but I've learned that this dish is actually super quick and easy to make at home! You'll be pleasantly surprised at how simple it is to put a fabulous and flavorful meal on the table.
How to clean clams
Start by picking through your clams to discard any that are open or chipped. Place the clams in a bowl, then add fresh water to cover. Let the clams sit in the water for 20 minutes. This will allow the clams to expel any sand that may be in their shells. These days, most clams are farmed and typically do not contain much, if any sand. Drain the water, then scrub the clams with a soft brush. At this point, the clams are ready to cook.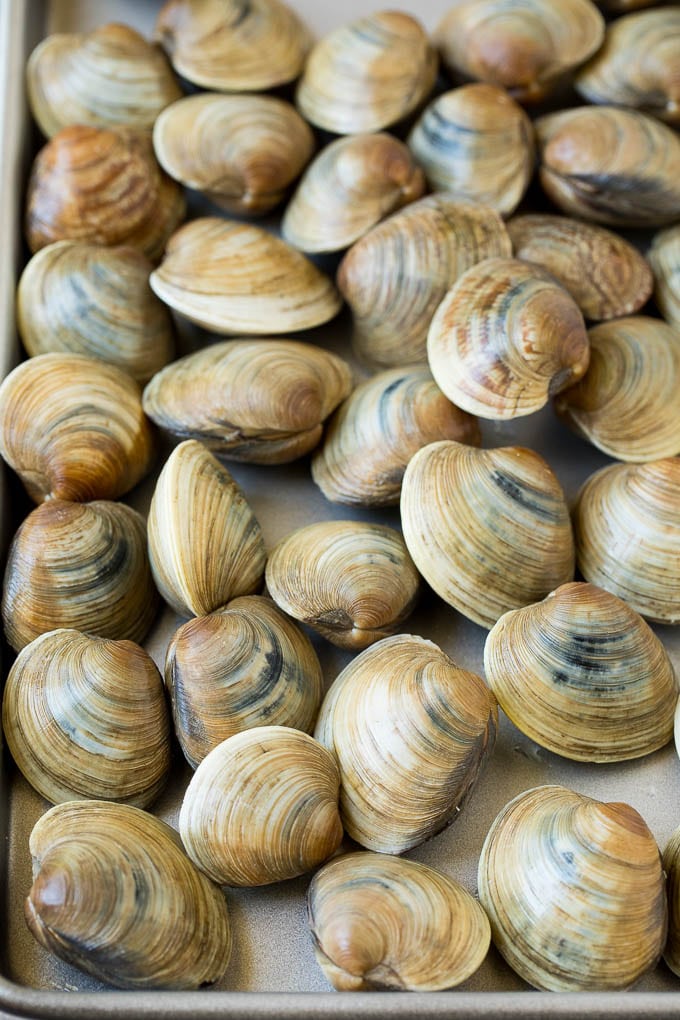 How do you make steamed clams?
Melt butter in a pan, then add a generous amount of garlic and a pinch of red chili flakes. Add a good quality white wine, then bring the mixture to a simmer. Add the clams to the pan, then cover and cook until the clams are open. Season with salt and pepper to taste, add a sprinkle of fresh parsley, then serve immediately and enjoy.
How long does it take to steam clams?
It takes about 7-9 minutes to steam clams. Be sure not to boil the clams or they can become tough, a gentle simmer is all that is needed. The clams are cooked through when the shells have opened.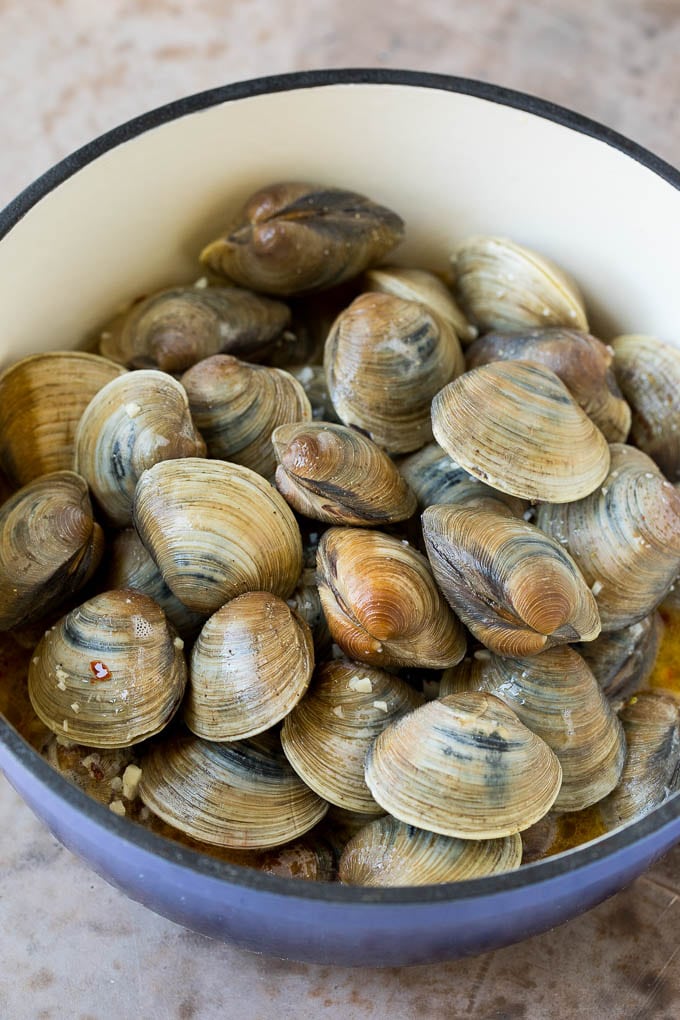 Tips for the perfect steamed clams
I recommend buying your clams the same day that you plan to cook them. If you need to store the clams for a longer period of time, place them in an open container in the refrigerator and cover them with damp paper towels.
Be sure to discard any clams that have not opened during the cooking process, as they are not good to eat.
Plan on purchasing 1 pound of clams per person to serve as a main course, or 1/2 pound per person to serve as an appetizer.
This dish is best when served immediately after cooking. Leftovers will stay fresh in the refrigerator for 24 hours.
I like to serve my steamed clams with a side of bread, but you can also serve this dish over pasta with great results.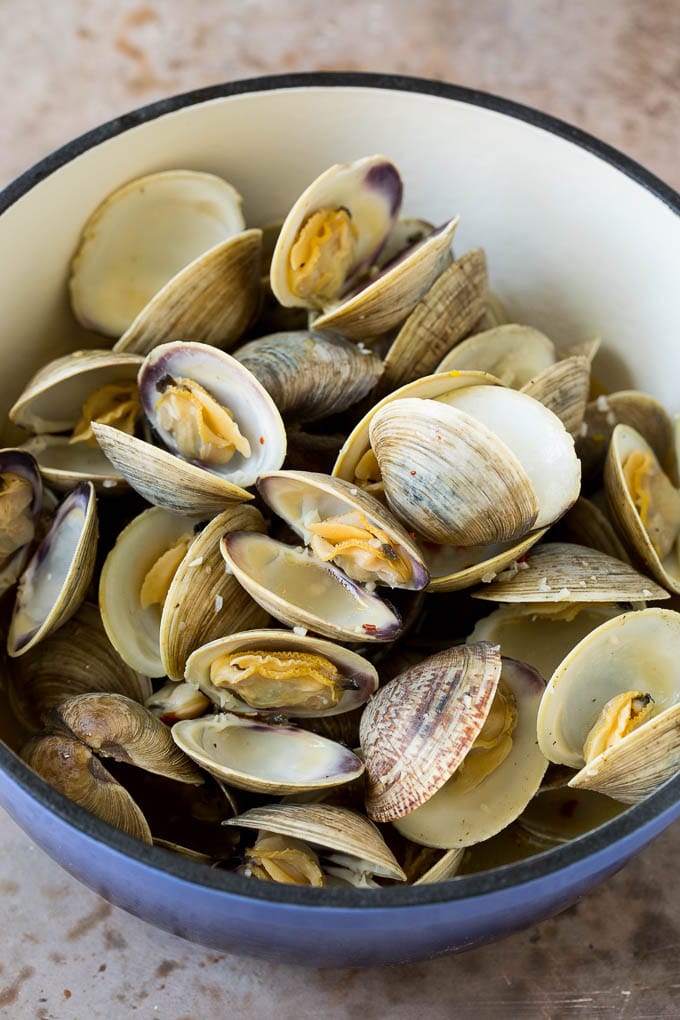 Are clams healthy?
Clams are a great addition to any healthy diet. This type of shellfish is low in calories and carbohydrates, yet high in protein. Clams are rich in omega-3 fatty acids, iron, zinc, magnesium and Vitamin B12. This recipe does contain butter, but you could swap it out with heart healthy olive oil or cut the butter in half if you're watching your calories.
Flavor Variations
This clam recipe is delicious as-is, but you can add other ingredients to the mix to customize the flavors to your tastes.
Shellfish: This recipe also works great with mussels, or you can use a combination of mussels and clams.
Meat: Feel free to add some cooked and diced bacon, spanish chorizo or pancetta to your clams.
Beans: Stir in some canned chickpeas or white beans for a heartier meal.
Vegetables: Add some sauteed vegetables to the clams such as fennel, red bell peppers or thinly sliced red onion. Another great option is fresh or canned diced tomatoes.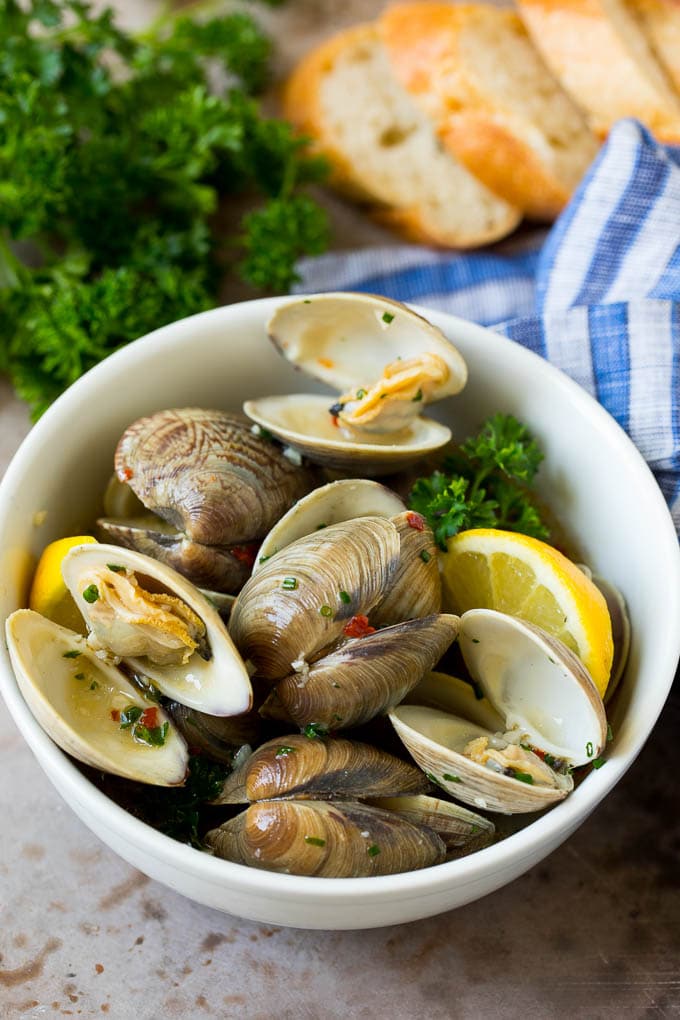 Whenever I have a hankering for a taste of the sea, I whip up a pot of these succulent clams. The seafood lovers in your life will adore this recipe!
More seafood recipes to try
Steamed Clams
Steamed Clams
This steamed clams recipe is fresh shellfish cooked with garlic, butter, herbs and lemon. An easy and elegant dish that makes for a lighter main course or unexpected appetizer offering.
Ingredients
1/4

cup

butter

1

tablespoon

garlic

minced

1/4

teaspoon

red chili flakes

1

cup

white wine

4

pounds

fresh clams

cleaned

salt and pepper to taste

1

tablespoon

lemon juice

1/4

cup

chopped herbs

such as parsley, chives or basil

herb sprigs and lemon wedges for garnish

optional
Instructions
Heat a large pot over medium heat. Add the butter and melt it.

Add the garlic and chili flakes and cook for 30 seconds, stirring constantly.

Add the white wine and bring to a simmer; do not boil.

Place the clams in the pot, then season with salt and pepper to taste. Cover the pot, then simmer for 7-9 minutes or until clams have opened. Discard any clams that are still shut.

Stir in the lemon juice and herbs. Serve immediately, garnished with herb sprigs and lemon wedges if desired.
Nutrition
Calories:
214
kcal
|
Carbohydrates:
5
g
|
Protein:
10
g
|
Fat:
12
g
|
Saturated Fat:
7
g
|
Cholesterol:
51
mg
|
Sodium:
516
mg
|
Potassium:
74
mg
|
Sugar:
1
g
|
Vitamin A:
596
IU
|
Vitamin C:
2
mg
|
Calcium:
39
mg
|
Iron:
1
mg