This air fryer shrimp recipe is jumbo shrimp coated in seasonings and two types of breadcrumbs, then air fried to crispy perfection. An easy way to enjoy the taste of fried shrimp with less calories and fat.
When I'm in the mood for seafood, I turn to favorites such as baked cod, seared scallops and these ultra crispy breaded shrimp. Both kids and adults enjoy this recipe!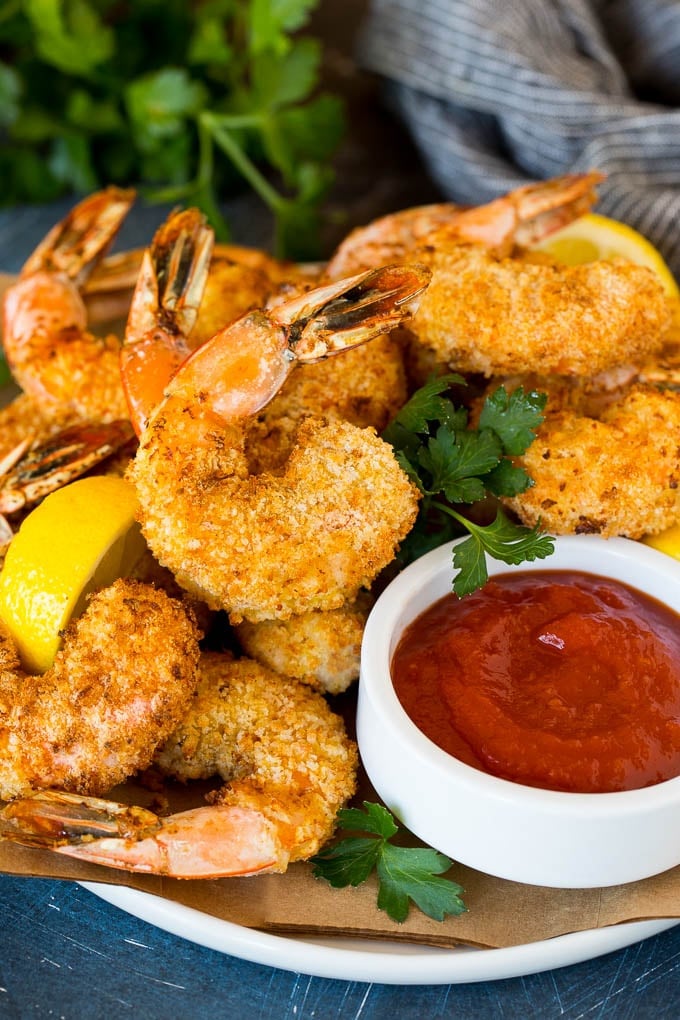 I love the flavor of fried shrimp but don't love all the grease and the mess. Now when I want those crispy little delights, I turn to air fryer shrimp which has the same great taste, but with a healthier profile.
I love to use my air fryer. Along with this shrimp some of my favorite recipes are air fryer salmon, air fryer chicken tenders and air fryer pork chops.
How do you make air fryer shrimp?
To get perfect shrimp, you'll want to dredge them three times. First, the shrimp get coated in seasoned flour. Next, dip the shrimp into beaten eggs. Finally, roll the shrimp through a mixture of panko and regular breadcrumbs. Coat both sides of the shrimp with cooking spray, then place them in a single layer in the air fryer. Cook until golden brown and crispy, flipping the shrimp partway through. You may need to work in batches if all the shrimp don't fit into the air fryer at the same time. Serve immediately with the dipping sauce of your choice!
How to peel shrimp
This recipe calls for peeled raw shrimp. You can remove the tails as well, or leave them on for a nicer presentation like I've done here. To peel the shrimp, start on the leg side and pull the shell off in segments. The shrimp may also need to be deveined. To devein a shrimp, use a small knife or skewer to scrape the black vein out of the top of the shrimp. If you don't see any black lines on the tops of your shrimp, they may have already been deveined before purchase.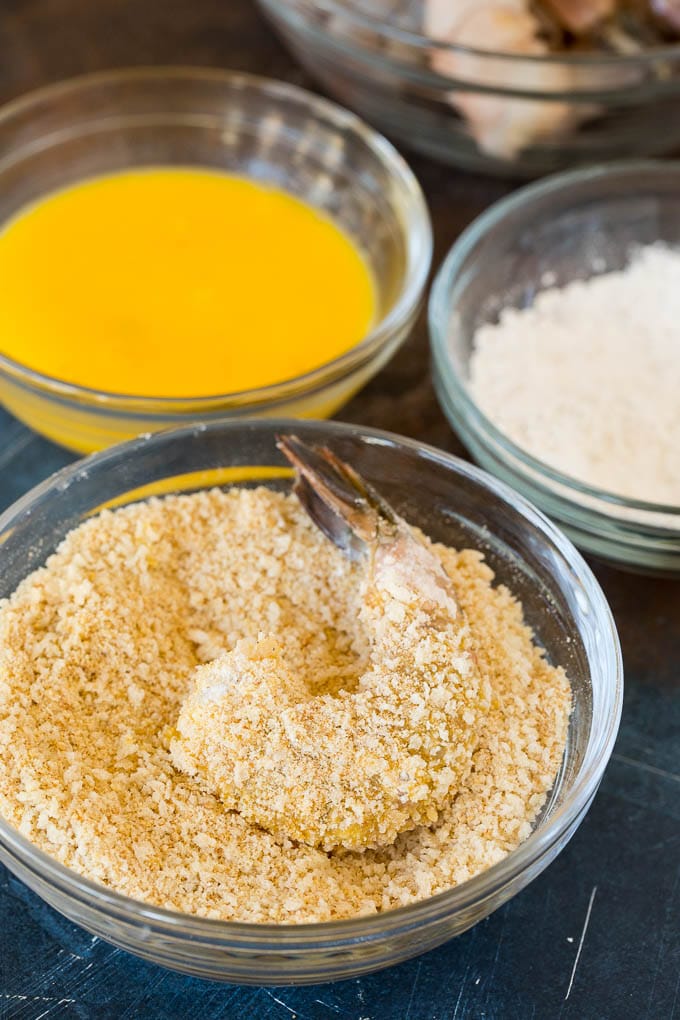 How long do you air fry shrimp?
The cook time for this recipe depends on the size of your shrimp. You will want to air fry medium to large shrimp for a total of about 6 minutes. Jumbo shrimp can take as long as 8 minutes. You want to make sure the coating is crispy and golden brown, yet take care not to overcook the shrimp!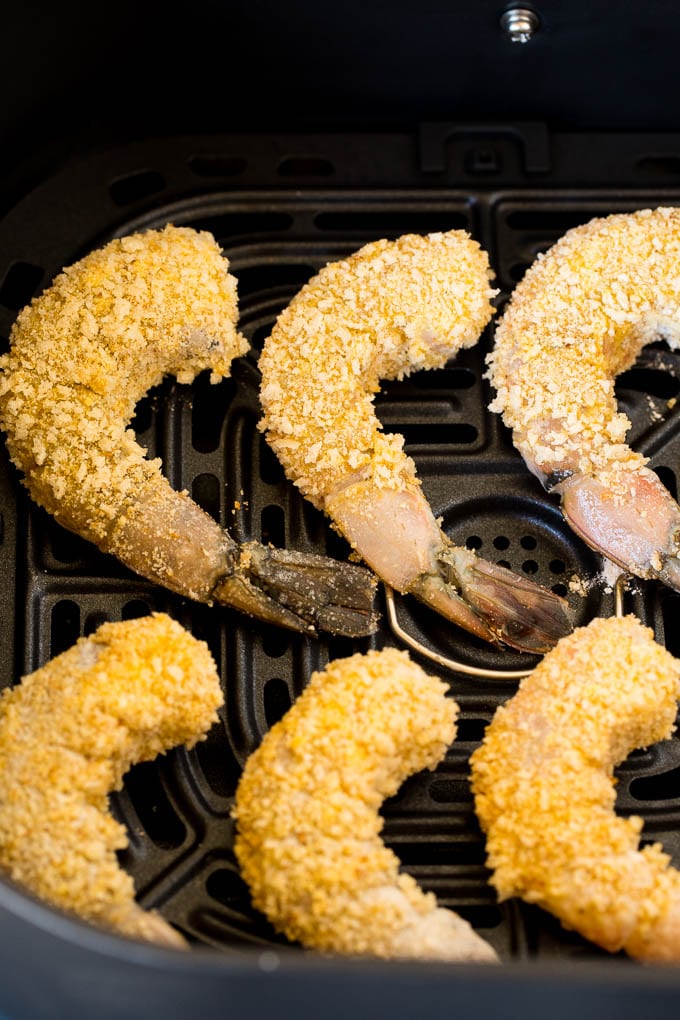 Tips for the perfect recipe
I recommend using the largest shrimp you can find for the best results. I go for under 15 count size whenever possible, but 16/20 and 21/25 sizes both work well too.
Make sure to thaw your shrimp before you proceed with the recipe.
Do not use pre-cooked shrimp, as they can become rubbery in the amount of time it takes for the coating to brown.
Feel free to add other seasonings such as Cajun seasoning, smoked paprika, onion powder or Italian seasoning.
While I often serve air fryer shrimp with cocktail sauce, remoulade sauce is also a great choice.
These shrimp are best served immediately as the coating will soften in the refrigerator. You can store leftovers for up to 2 days, simply reheat the shrimp in the oven until they crisp back up.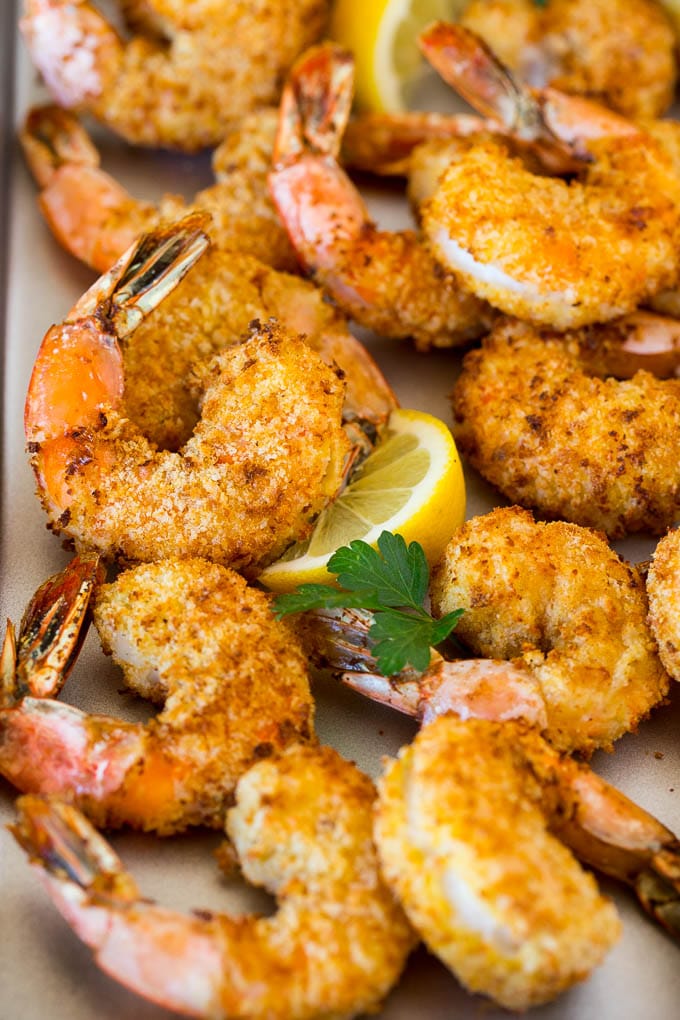 Serve your air fryer shrimp as an appetizer, or pair with rice and fresh vegetables for a memorable meal that will earn you rave reviews!
More shrimp recipes you'll enjoy
Air fryer shrimp video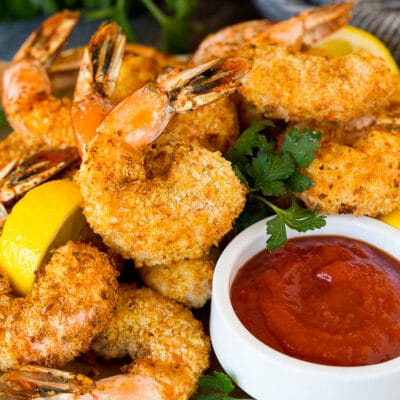 This air fryer shrimp recipe is jumbo shrimp coated in seasonings and two types of breadcrumbs, then air fried to crispy perfection. An easy way to enjoy the taste of fried shrimp with less calories and fat.
Ingredients
1

pound

jumbo shrimp

devein, peel but leave tails on if desired

1/4

cup

all purpose flour

1

teaspoon

salt

1/2

teaspoon

pepper

1/4

teaspoon

garlic powder

2

eggs

beaten

3/4

cup

panko breadcrumbs

1/2

cup

plain breadcrumbs

nonstick cooking spray

lemon wedges and parsley for garnish

optional

cocktail sauce for serving

can also use remoulade
Instructions
Place the flour in a small bowl along with the salt, pepper and garlic powder. Stir until well combined.

Place the eggs in a second bowl. Place both types of the breadcrumbs in a third bowl and stir to combine.

Dip each shrimp into the flour to coat.

Dip the shrimp into the eggs, then dredge in the breadcrumbs to coat evenly.

Place each breaded shrimp on a plate or a sheet pan. Repeat the process until all shrimp are breaded.

Coat both sides of each shrimp with cooking spray.

Preheat an air fryer to 400 degrees F.

Place the shrimp in a single layer in the air fryer, you may need to work in batches.

Cook for 6 minutes, flipping once at the 4 minute mark, or until breading is browned and crispy.

Place the shrimp on a plate. Serve with cocktail or remoulade sauce. Garnish with lemon wedges and parsley if desired.
Nutrition
Calories:
218
kcal
|
Carbohydrates:
14
g
|
Protein:
28
g
|
Fat:
4
g
|
Saturated Fat:
1
g
|
Cholesterol:
368
mg
|
Sodium:
586
mg
|
Potassium:
143
mg
|
Fiber:
1
g
|
Sugar:
1
g
|
Vitamin A:
119
IU
|
Vitamin C:
5
mg
|
Calcium:
197
mg
|
Iron:
4
mg