A comprehensive list of slow cooker soup recipes including bean soup, chicken soup, stews, chowders and potato soup. So many delicious options that are easy to make and perfect for a cold night!
Soup is always a crowd pleaser and many times it's a complete meal in one pot. I love to use my crock pot to make soup – it's quick to put together and then you come home to dinner already done and waiting for you!
Slow cooker soups are my go-to dinner option at least one night a week. There are so many different varieties that we never get bored, and I find that crock pot soups are typically super flavorful because they've had all day to simmer. I often make different varieties of chicken soup in the slow cooker, but sometimes I switch things up with a hearty beef stew or creamy potato soup.
The great thing about slow cooker soups is that you can often freeze the leftovers. I often make a double batch just so I have some extra to put in the freezer! Chili, chicken soup and stews make great candidates for the freezer.
We enjoy a vast variety of slow cooker soup recipes so I want to share them with you. Here is a list of what I consider the top 50 slow cooker soup recipes!
50 Slow Cooker Soup Recipes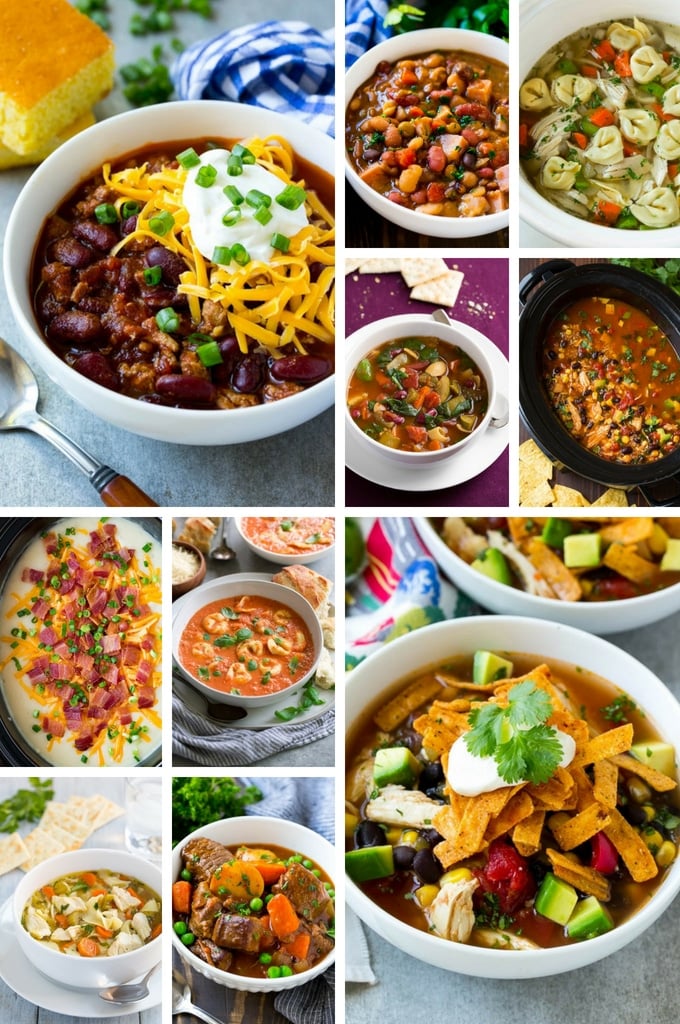 How long does it take to make soup in a slow cooker?
Most crock pot soups can cook for 3-4 hours on HIGH or 6-8 hours on LOW. It's important to consult your specific recipe for exact instructions.