This seafood salad is a blend of imitation crab and shrimp in a creamy dill dressing with fresh vegetables. An easy high protein lunch option that takes just minutes to make!
I love a good salad for lunch, I often whip up a quick orzo salad, ramen noodle salad, or this irresistible seafood salad. This salad can be served in so many different ways and it always gets rave reviews.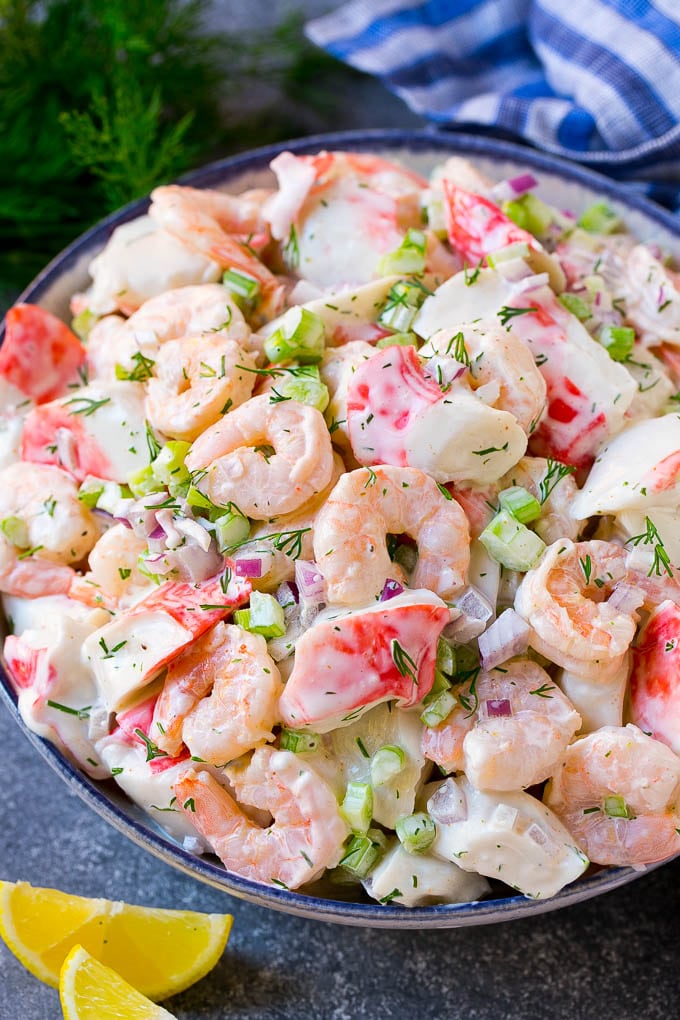 I love a good seafood salad, and it's actually so easy to make at home! I used to stop by my grocery store deli to pick some up, but now I just whip up a batch in minutes whenever the craving strikes.
How do you make seafood salad?
The base of this salad is shrimp and imitation crab meat. The seafood is combined with celery, red onion, fresh dill, Old Bay seasoning, lemon juice and mayonnaise. Everything gets tossed together to make an ultra creamy and flavorful salad.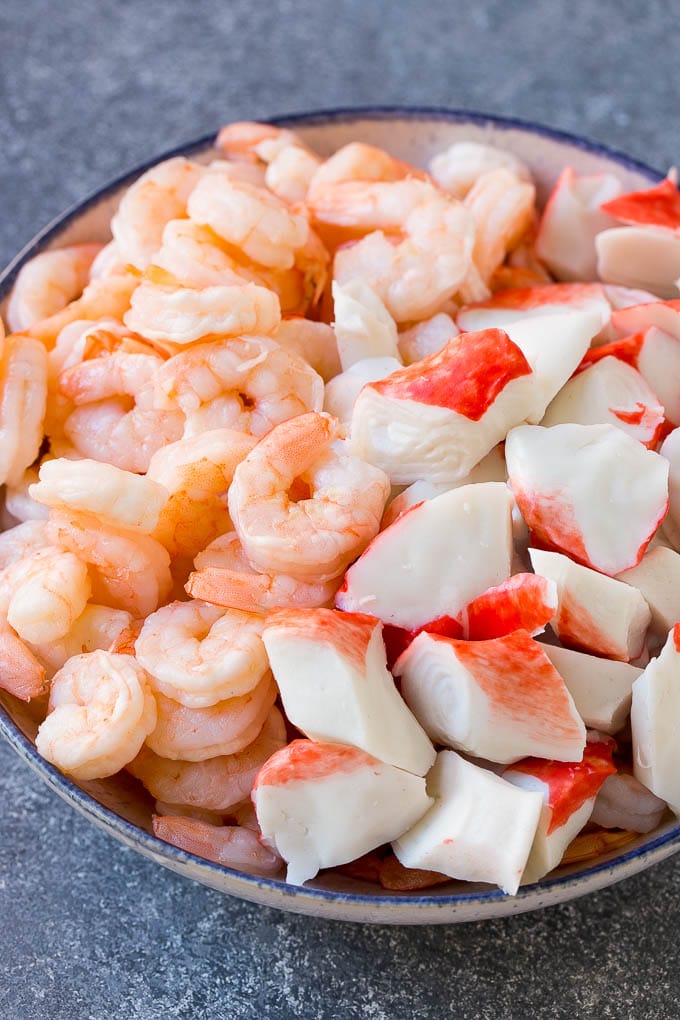 What is imitation crab?
Seafood salad is often made with imitation crab, because it's inexpensive, available year round, and can be found in almost every grocery store. Imitation crab is made of mild white fish, typically Alaskan Pollock, which is blended with other ingredients to form a product that looks and tastes similar to real crab. You can use real crab in your seafood salad if you prefer, but it's definitely easier to go with imitation crab.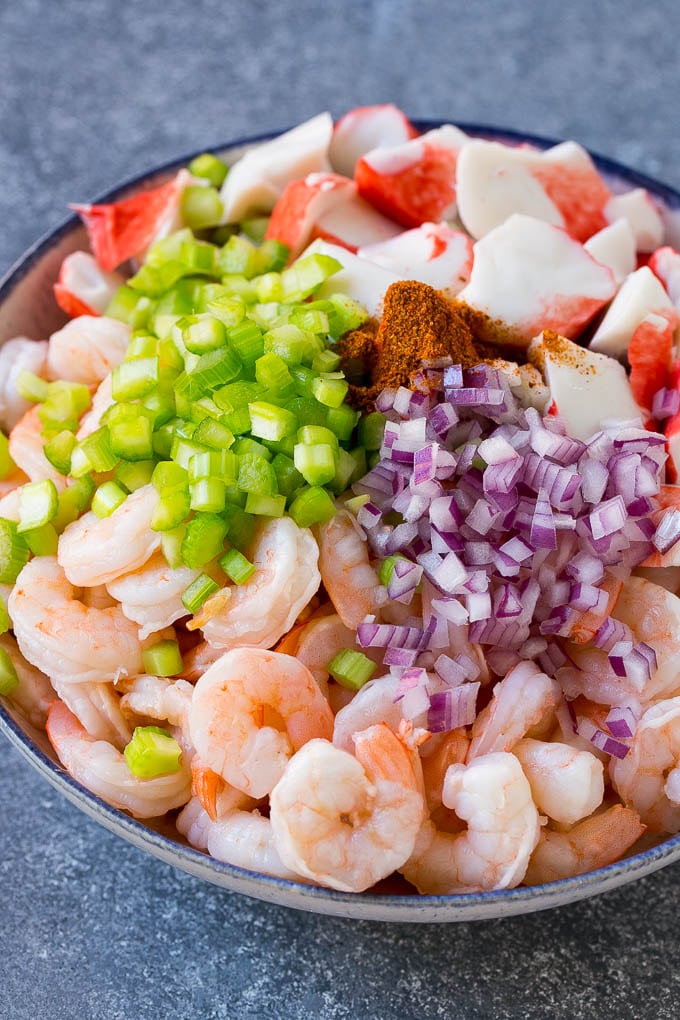 Tips for seafood salad
I use imitation crab flakes because they're already cut into bite sized pieces. You can also buy the stick-style imitation crab and slice it yourself.
I highly recommend using fresh dill, the flavor is superior to dried dill. If you need to use dried dill, you can substitute 1/2 teaspoon of dried for fresh.
You can use low fat mayonnaise if desired.
I like to use small salad sized shrimp so that they're bite sized, look for shrimp that are 51-60 count per pound.
It's best to use raw shrimp which are then briefly boiled and cooled in an ice bath. This will give your shrimp the best flavor and texture. You can use pre-cooked shrimp in a pinch.
I recommend making sure your red onion is finely chopped so that you don't get large pieces in each bite. You can also use sliced green onions instead of red onion for a milder flavor.
This seafood salad can be kept in the fridge for up to 2 days.
You can use any combination of seafood that you like in this salad, just be sure that the total weight is one pound of seafood. Other great options include bay scallops or diced lobster meat.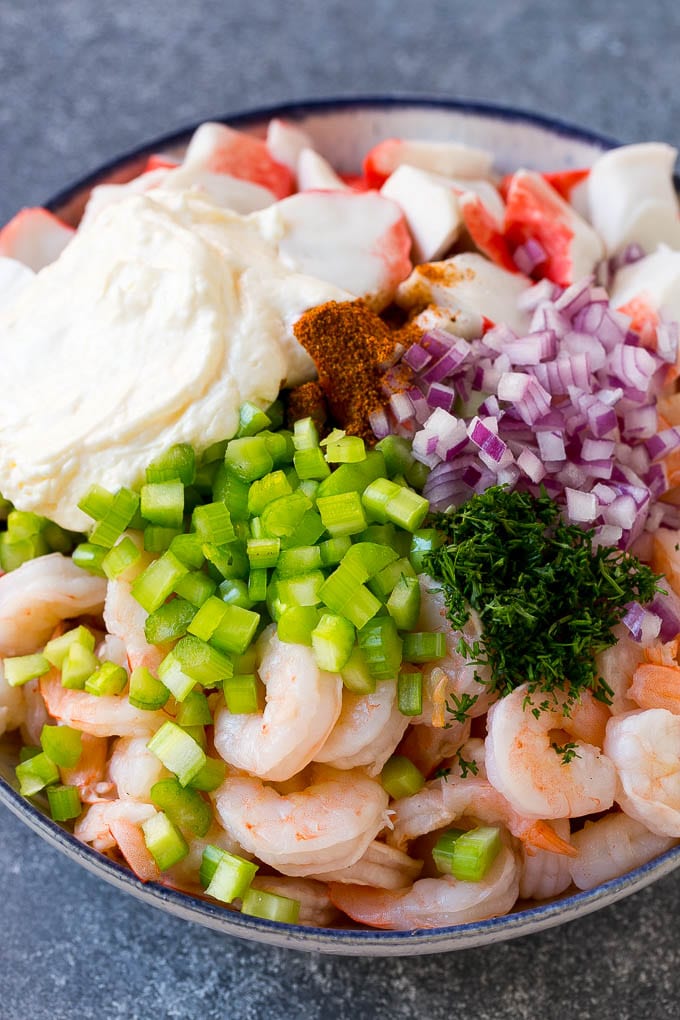 WAYS TO SERVE SEAFOOD SALAD
You can eat this seafood salad as-is, or serve it in a variety of different presentations.
Lettuce: Spoon your salad into a butter lettuce cup.
Crackers: Serve your salad with a side of buttery crackers.
Sandwich: Add your seafood to a toasted and buttered roll along with some green leaf lettuce.
Avocado: Spoon your seafood into an avocado half.
Pasta: Add 8 ounces of cooked short pasta to make a pasta salad.
Cucumber: Spoon onto cucumber slices for an easy party snack.
Puff Pastry: Fill up cooked puff pastry shells with the salad.
Tomato: Hollow out a tomato and fill it with seafood salad.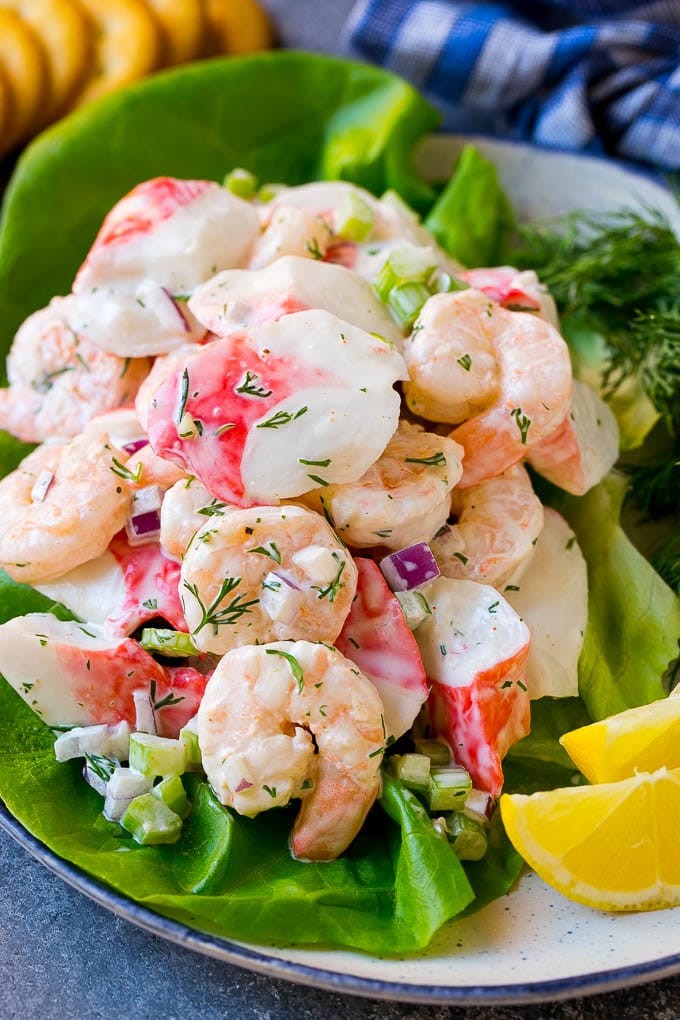 No matter how you serve your crab and shrimp salad, it's sure to be a hit! I always get requests for the recipe when I serve this salad at events, people go crazy over it!
More great salad recipes
Seafood Salad Video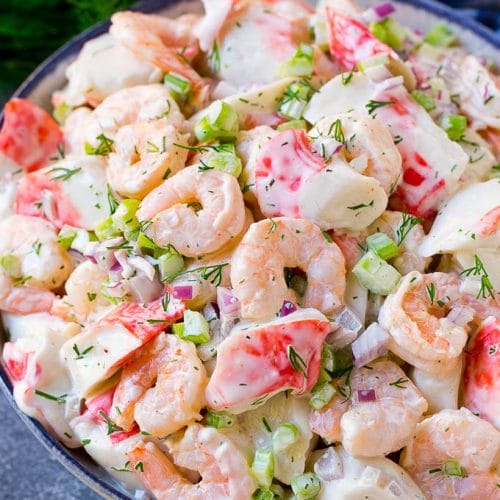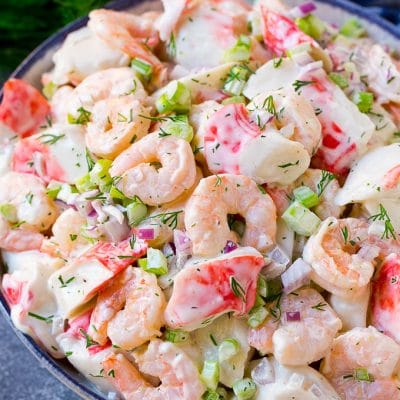 This seafood salad is a blend of imitation crab and shrimp in a creamy dill dressing with fresh vegetables. An easy high protein lunch option that takes just minutes to make!
Ingredients
8

ounces

imitation crab meat

flaked style or sticks cut into slices

8

ounces

raw shrimp

I use 51-60 count for this recipe

1

lemon

quartered

1/2

cup

celery

finely diced

3

tablespoons

red onion

minced

1/2

teaspoon

Old Bay seasoning

2

teaspoons

lemon juice

salt and pepper to taste

1/2

cup

mayonnaise

1 1/2

tablespoons

fresh dill

chopped, plus more for garnish
Instructions
Bring a pot of salted water to a boil. Add the quartered lemon.

Add the shrimp to the pot and cook for 1-2 minutes or until pink and opaque. Transfer the shrimp to a bowl of ice water to stop the cooking process.

Drain the shrimp then pat dry.

Place the shrimp, imitation crab, celery, red onion, Old Bay seasoning, lemon juice, salt, pepper, mayonnaise and dill in a bowl. Toss gently to coat.

Garnish with additional fresh dill and serve, or cover and refrigerate for up to 2 days.
Nutrition
Calories:
317
kcal
|
Carbohydrates:
14
g
|
Protein:
15
g
|
Fat:
18
g
|
Saturated Fat:
3
g
|
Cholesterol:
160
mg
|
Sodium:
648
mg
|
Potassium:
126
mg
|
Fiber:
1
g
|
Sugar:
3
g
|
Vitamin A:
75
IU
|
Vitamin C:
18.6
mg
|
Calcium:
94
mg
|
Iron:
1.5
mg