Try a miniature pumpkin spice cake for the perfect show stopping dessert for your holiday celebration!
It seems like an age old debate: cake or pie? Everyone seems to have a preference one way or another. I am definitely a cake person! I thought it would be fun to serve something a little different for Thanksgiving dessert in lieu of the traditional pumpkin pie. I came up with these fun little pumpkins that actually taste as good as they look! A homemade pumpkin spice cake is the key to the amazing flavors here. They're not difficult to put together either, thanks to some tools that I purchased at Jo-Ann Fabric and Craft Stores.
How to make pumpkin spice cake
This pumpkin spice cake recipe uses traditional ingredients like flour, two types of sugar, pumpkin puree, pumpkin pie spice, applesauce and oil. It makes for a very tender and moist cake. This recipe makes 5 pumpkins, but keep in mind that each pumpkin is actually two cakes put together, so really a serving size is half of one of these cuties unless you have a really big appetite! This cake can also be baked in a 9″x13″ pan or a traditional sized Bundt cake if you're interested in just making a regular pumpkin spice cake. If you choose to do that, you can add a cream cheese frosting or stick with the white chocolate ganache in this recipe.
Tools for making pumpkin spice cake
You'll need a mini Bundt cake pan, fondant, a fondant mold and food coloring to make this recipe. I also purchased some beautiful pumpkin fabric with sunflowers on it to make a table runner for my Thanksgiving table. I'm displaying these pumpkin spice cakes on a cake stand with the table runner and bouquets of fresh fall hued flowers. When you put two Bundt cakes together, it makes a pumpkin shape! I made a white chocolate ganache to "glue" the cakes together and to drizzle over the top of the cakes for a sweet finish.
I used fondant to make the stems and leaves of the pumpkins. If you've never used fondant before, don't worry! It was my first time too and it was surprisingly easy to work with. I used food color from Jo-Ann to dye the fondant a sage green color, and a fondant mold to make the leaves. The stems I made by hand, and I used a toothpick to add the ridges. The stems fit inside the holes of the Bundt cakes for a final product that will be the star of your Thanksgiving dessert table! If you don't have a fondant mold or can't find one, you can simply roll out the fondant and cut out leaf shapes with a sharp knife.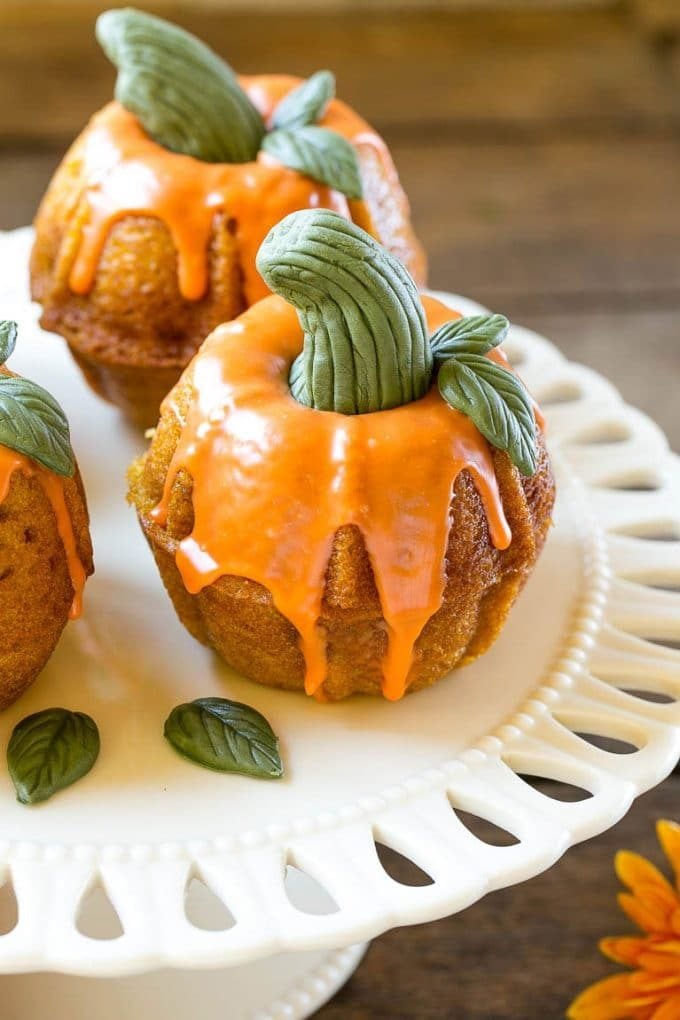 Everyone will be so impressed when you bring these pumpkin spice cakes out for dessert on Thanksgiving. Who needs pumpkin pie when you can have these beautiful little treats instead?
More thanksgiving desserts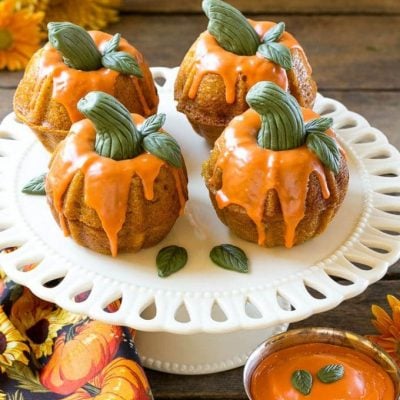 Try a miniature pumpkin spice cake for the perfect show stopping dessert for your holiday celebration!
Ingredients
cooking spray

2

cups

all purpose flour

2 1/2

teaspoons

baking powder

2

teaspoons

pumpkin pie spice

1

cup

granulated sugar

1

cup

brown sugar

packed

3/4

cup

vegetable oil

1/2

cup

applesauce

15

ounce can

pumpkin puree

4

eggs

1 1/2

cups

white chocolate chips

1/2

cup

heavy cream

8

ounces

white fondant

gel food colors in shades of orange and green

I used Wilton Icing Colors in Copper and Juniper Green
Instructions
In a medium bowl, mix together the flour, baking powder and pumpkin pie spice; set aside.


In another bowl, mix together the granulated sugar, brown sugar, applesauce and oil.

Add the pumpkin to the sugar mixture. Mix, then stir in the eggs, one at a time.


Add the flour mixture to the pumpkin mixture and stir until just combined.


Fill each bundt 2/3 of the way full with batter. There will be batter left over for a second batch of cakes.


Bake for 15-20 minutes or until a toothpick inserted into the center of the cakes comes out clean.

Allow the cakes to cool in the pan for 5-7 minutes, then carefully invert the pan onto a cooling rack.


Wipe out the Bundt pan with a paper towel, coat with cooking spray, and repeat the process with the remaining cake batter. There should be enough to fill up 4 more Bundt cakes.


Bake the remaining Bundt cakes, and repeat the same cooling process as above.


For the ganache, heat the heavy cream in a medium bowl in the microwave at 30 second intervals until very hot; cream should not be at a boil. Add the white chocolate chips to the bowl and mix until smooth. You may need to microwave the mixture for 10 seconds more if there are still lumps of chocolate after stirring. Add the copper icing color until desired shade is reached. Allow the ganache to sit at room temperature for 15 minutes, or until slightly thickened.

Spread approximately 2 teaspoons of ganache over the flat part of half of the cakes. Place the other half of the cakes on top to create 5 pumpkin shaped cakes.


Drizzle 1 1/2 tablespoons of ganache over the top of each cake.

Add 1/4 teaspoon of the juniper green icing color to the fondant and knead until thoroughly combined. It is easiest to knead in smaller pieces. Add more icing color until your desired shade of green is reached.

Press teaspoon sized pieces of fondant into a leaf shaped silicone mold for a total of 10 leaves. If you don't have a mold, form the leaves by cutting the shapes with a small sharp knife.

Using your hands, form 5 stem shapes out of the fondant. Each stem should be approximately 2-1/2" tall and 1" wide. Use a toothpick to create ridges on the stems.


Place a fondant stem inside the hole of each bundt cake. Add two fondant leaves at the base of each stem. Store at room temperature until ready to serve. Cakes are best served on the day that they're made.

Nutrition
Calories:
626
kcal
|
Carbohydrates:
82
g
|
Protein:
7
g
|
Fat:
31
g
|
Saturated Fat:
21
g
|
Cholesterol:
87
mg
|
Sodium:
64
mg
|
Potassium:
364
mg
|
Fiber:
2
g
|
Sugar:
59
g
|
Vitamin A:
6895
IU
|
Vitamin C:
2.1
mg
|
Calcium:
150
mg
|
Iron:
2.5
mg
This recipe was originally published on November 21, 2016 and was updated with new and improved content on October 19, 2017.
This post is sponsored by Jo-Ann Fabric and Craft Stores. Thank you for supporting the brands that make Dinner at the Zoo possible!