The most delicious pumpkin meringue pie – the mountain of toasted brown sugar meringue on top is the crowning glory!
You haven't experienced pumpkin pie until you've tried this impressive pumpkin meringue pie. It is a must make for Thanksgiving!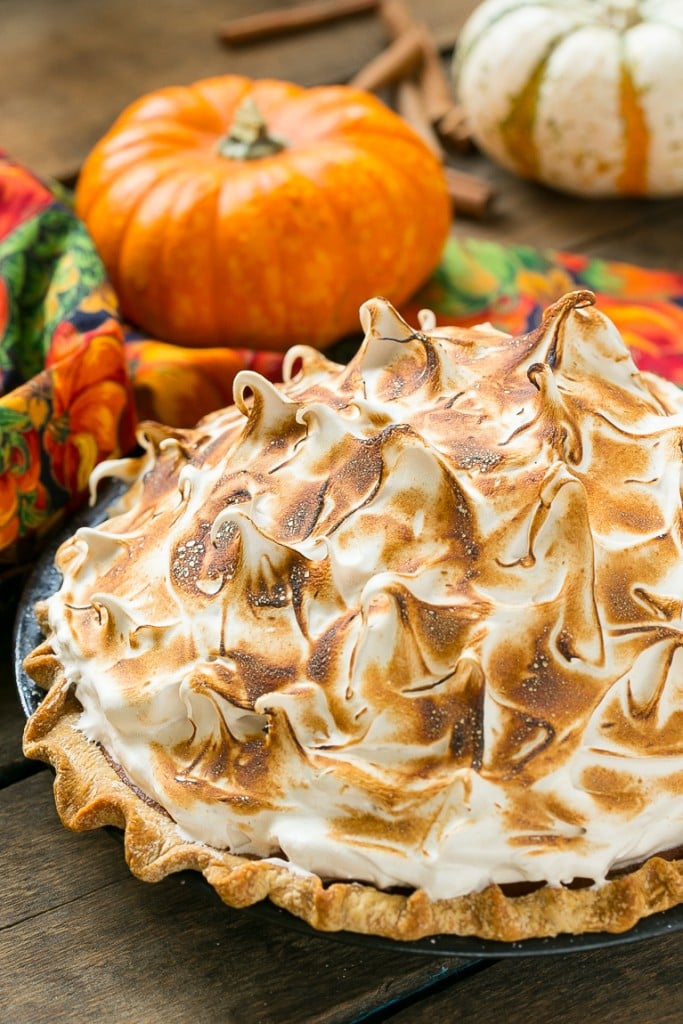 I have a confession to make. I'm not a big fan of standard pumpkin pie – it's just….not very exciting to me. But this pumpkin meringue pie? It's so good you'll want to make it year round. This is an absolute must-have on my Thanksgiving table every year.
Here's confession #2 – I haven't made my own pie crust in ages. I always have such a long cooking to-do list around the holidays that I end up running out of time and buying a pre-made crust. Really, the crust is not the focus of this recipe, it's all about that fluffy brown sugar meringue. If you want to make your own pie crust, that's great. If not, grab a good quality store bought version and you'll still have an amazing pie. This pie does require a few specialty kitchen tools; a candy thermometer and a torch. You don't have to buy one of those expensive culinary torches, any small inexpensive torch from the hardware store will do.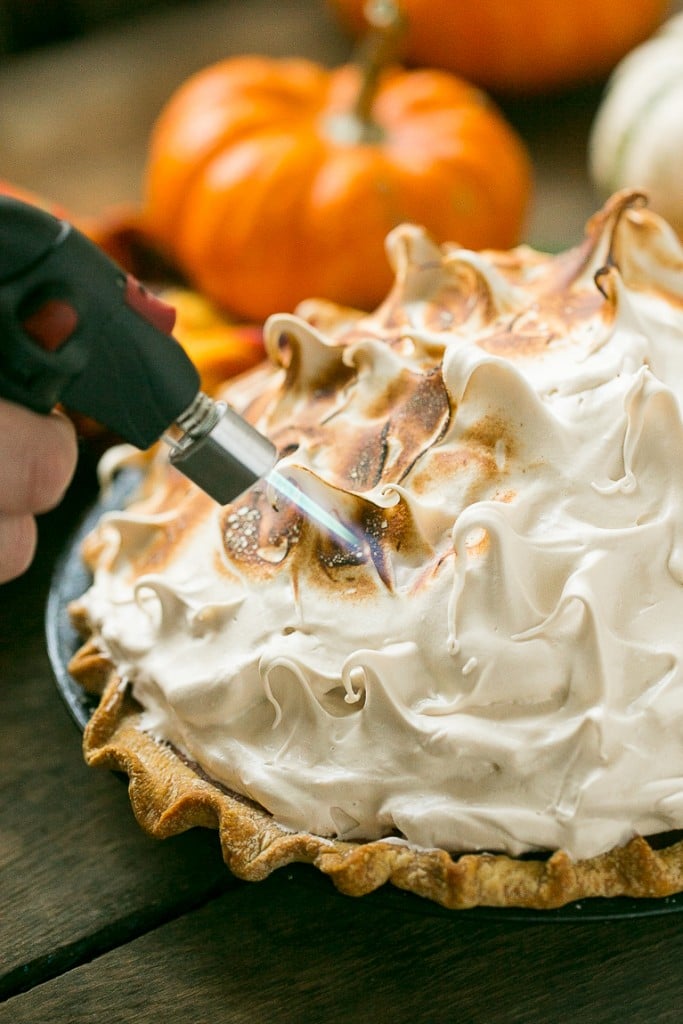 How do you make pumpkin meringue pie?
Clearly this pie is just as much about the meringue as it is the pumpkin filling, but the filling here is extra silky thanks to a special ingredient. While most pumpkin pie recipes use evaporated milk, this one uses cream. In addition, all of the filling ingredients are pureed together in the food processor for the smoothest, creamiest filling.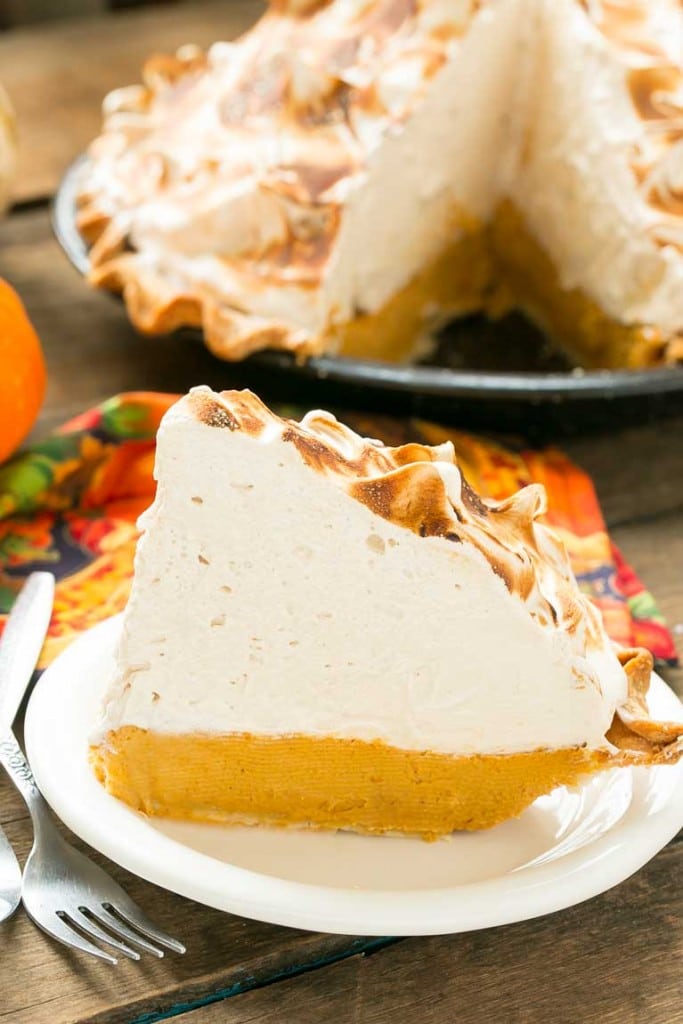 Have I convinced you to put this pie on your holiday table? You'll never go back to regular pumpkin pie after you make this version!
Still hungry? Follow Dinner at the Zoo on Facebook, Twitter, Instagram and Pinterest for more great recipe ideas!
More Thanksgiving recipes
Pumpkin Meringue Pie Video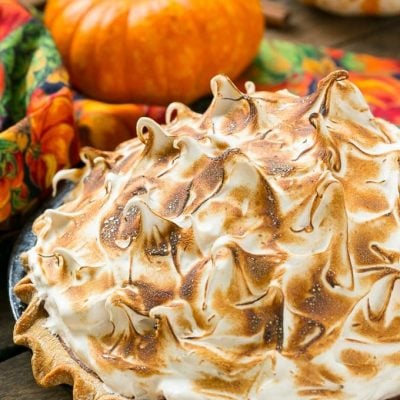 This pumpkin pie is topped with a mountain of toasted brown sugar meringue.
Ingredients
For the pie
Cooking spray

1

pie crust

for a 9 inch pan, homemade or store bought

1 15

ounce

can pumpkin puree

3/4

cup

packed brown sugar

3/4

teaspoon

ground cinnamon

1/4

teaspoon

ground nutmeg

(freshly grated is best)

1/4

teaspoon

kosher salt

1/8

teaspoon

ground cloves

3

eggs

1 1/4

cups

heavy cream
For the brown sugar meringue
3/4

cup

egg whites

1/4

teaspoon

cream of tartar

1 1/2

cups

packed brown sugar
Instructions
For the pie
Preheat the oven to 375°F. Spray 9-inch deep pie dish with cooking spray.

Roll out dough on a floured surface to a 12 inch round. Transfer to prepared dish. Fold the edges under and crimp, forming a decorative border.

Line the crust with foil that has been coated with cooking spray; fill with dried beans. Bake for 15 minutes. Remove the foil and beans. Bake until the edges are light golden brown about 7 minutes. If bubbles form, press the crust gently with the back of a fork if bubbles form. Cool 10 minutes. Reduce oven temperature to 350°F.

Puree pumpkin in processor. Mix in next 5 ingredients. Add eggs 1 at a time, pulsing after each addition. Gradually add the cream in a thin stream, processing just until blended. Process 5 seconds longer.

Pour the filling into the crust. Bake until edges are puffed and center is set, about 1 hour. Cool completely on rack.
For the meringue
Place the egg whites and cream of tartar into a stand mixer fitted with a whisk attachment. Place the brown sugar into a medium heavy saucepan and add just enough water to cover.

Put your candy thermometer on the pan and turn the heat to high. When the sugar reaches 240 degrees, start whipping the egg whites by turning your mixer to high speed; you want the egg whites to be foamy and starting to thicken before you add the sugar syrup.

When the sugar reaches 245 degrees, remove the thermometer from the pan and turn the mixer speed down to medium. Pour the sugar into the egg whites in a thin, steady stream avoiding the moving whisk.

When all the sugar has been added, continue whipping until the meringue reaches the firm peak stage. Quickly spread the meringue over the pie with a large spoon or offset spatula.

Use your torch to brown the outside of the meringue. Store the pie in the fridge for up to 3 hours.
Nutrition
Calories:
413
kcal
|
Carbohydrates:
61
g
|
Protein:
5
g
|
Fat:
16
g
|
Saturated Fat:
8
g
|
Cholesterol:
89
mg
|
Sodium:
204
mg
|
Potassium:
258
mg
|
Fiber:
1
g
|
Sugar:
49
g
|
Vitamin A:
7570
IU
|
Vitamin C:
2.1
mg
|
Calcium:
86
mg
|
Iron:
1.7
mg