This pumpkin pie cheesecake is a graham cracker crust filled with a smooth and creamy pumpkin filling, then baked to perfection. Pumpkin cheesecake is the perfect sweet finish to any holiday meal!
When Thanksgiving rolls around, a pumpkin dessert is a must-have on my dinner table. I often serve pumpkin cupcakes, pumpkin cookies, pumpkin gooey butter cake, pumpkin meringue pie, or this decadent pumpkin pie cheesecake.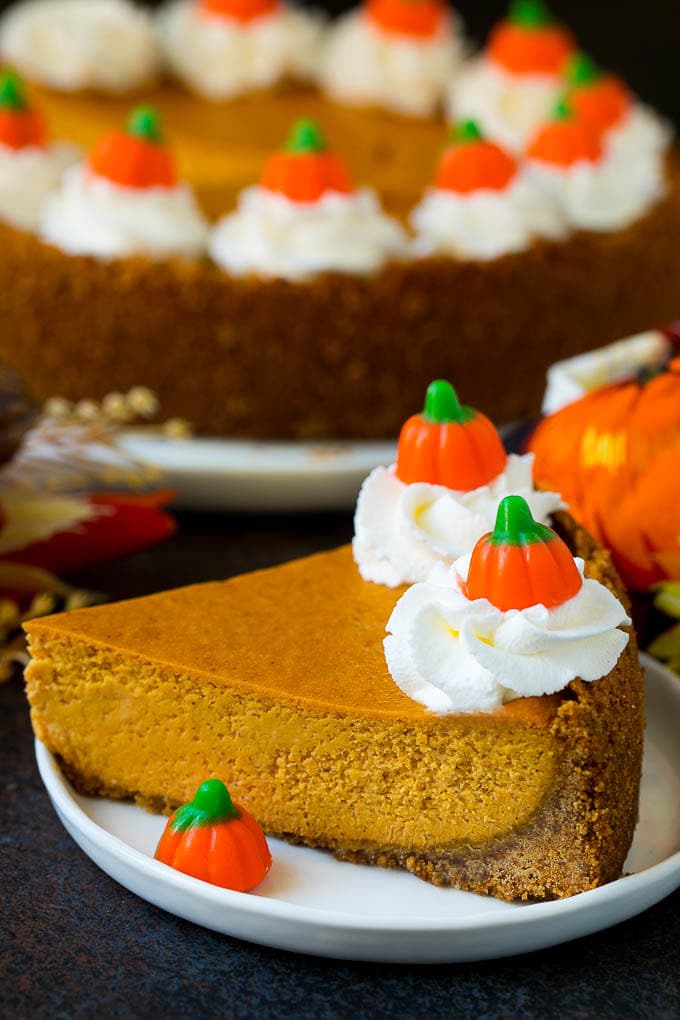 I have to admit, I'm not a huge fan of pumpkin pie. In my opinion, this pumpkin pie cheesecake is so much more flavorful than your traditional pie. It's got the perfect blend of sweetness and spice, and it also happens to be easy to make!
How do you make pumpkin pie cheesecake?
To make a pumpkin pie cheesecake, you only need to make two things, a crust and filling. Make the crust by mixing together crushed graham crackers and melted butter in a bowl. Press that mixture into a springform pan to make the shape of your crust. Put the crust in the oven a few minutes until it's golden brown, and you are ready for the filling.
To make the filling, beat together brown sugar and cream cheese. Mix in eggs, pumpkin puree, flour, vanilla and spices and your filling is complete. Pour the filling in the crust and it is ready for the oven. Cook it in the oven then turn the oven off and let the cheesecake cool slowly in the warm oven. When the cheesecake is done, take it out of the pan and chill in the fridge. Once it is chilled, it is ready to serve with any whipped cream or decorations that you like.
Tips for pumpkin pie cheesecake
Make sure to buy canned pumpkin puree, not pumpkin pie filling. The labels may be similar, so pay attention.
You can use crushed gingersnaps instead of crushed graham crackers for a different, spicier flavor.
When making your graham cracker crust press firmly to get the graham crackers and butter to form a solid crust.
Run your graham crackers through a food processor for fine, evenly sized crumbs.
Cheesecake can be made up to 3 days before you plan to serve it. Decorate your cheesecake right before serving.
You can decorate your cheesecake with whipped cream, candy pumpkins, pecans, sprinkles or a drizzle of caramel sauce.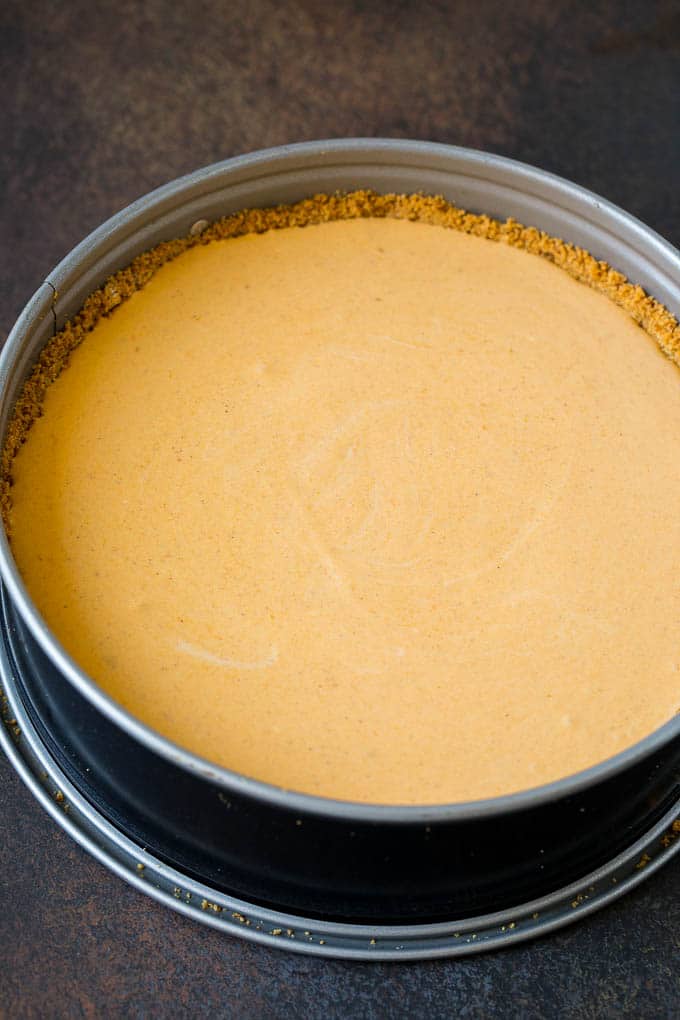 How to prevent cheesecake from cracking
Cheesecakes are notorious for cracking as they bake. Cracking does not affect the taste or texture of the cheesecake, but it doesn't look as good as an unblemished cheesecake. There are some easy ways to avoid or minimize cracking.
Use softened cream cheese to avoid lumps which could cause cracks. You can soften the cream cheese by microwaving it for 20 seconds at a time until it is soft but not melted.
Once you start adding the eggs, mix all the ingredients together at medium speed until the filling is smooth and consistent. Be careful not to over mix the eggs at high speed or you could froth them up which could put air in your filling.
When baking the cheesecake, open the oven door as little as possible. Changes in temperature will cause cracking.
Don't over bake the cheesecake. When you turn off the oven, a little wobble in the center of the cake is fine. You don't want a runny or liquid center.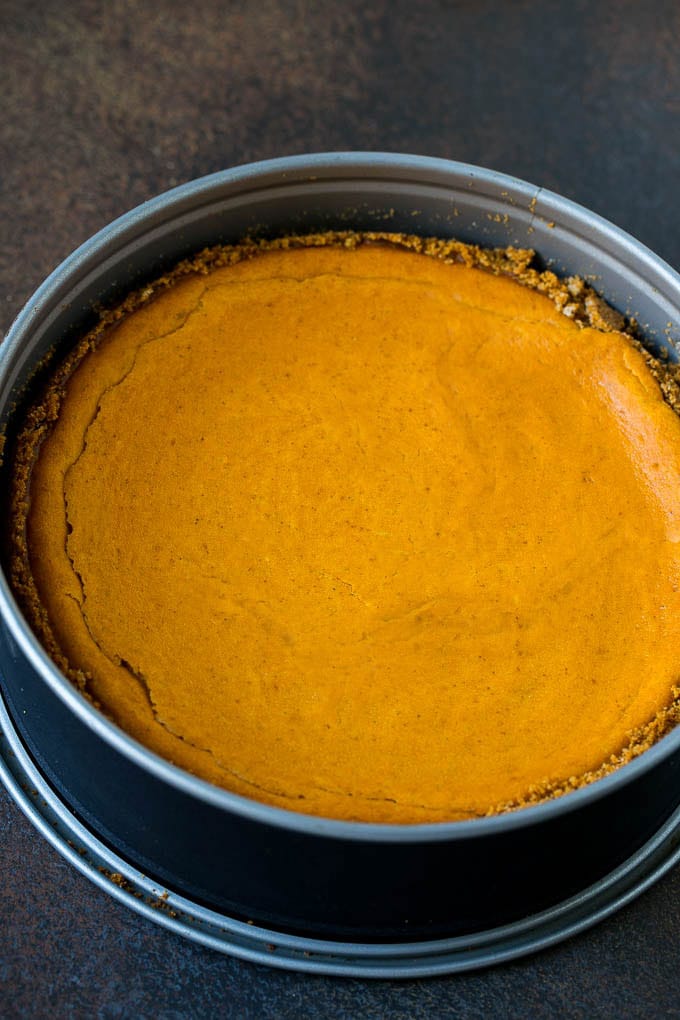 How to fix a cracked cheesecake
For small cracks, you can hide the cracks with strategically placed decorations. Whipped cream and caramel sauce work well to hide cracks. If you have larger cracks you can try to smooth out the cracks with an offset spatula. When the cheesecake is cold run hot tap water over an offset spatula to warm it up. Dry off the spatula and use the still warm spatula to smooth the top of the cheesecake.
Can you freeze cheesecake?
To freeze this cheesecake, leave it uncovered in the freezer for about an hour until it becomes very firm or solid. Place the cheesecake in an airtight container or bag and place it back in the freezer. It stays good in the freezer for about a month. If you want individual servings, feel free to cut up the cheesecake into individual slices first. Simply freeze the slices uncovered for an hour, then individually wrap the slices with plastic wrap and place them in an airtight container or bag.
To thaw the cheesecake, place it in the refrigerator overnight until it is thawed all the way through.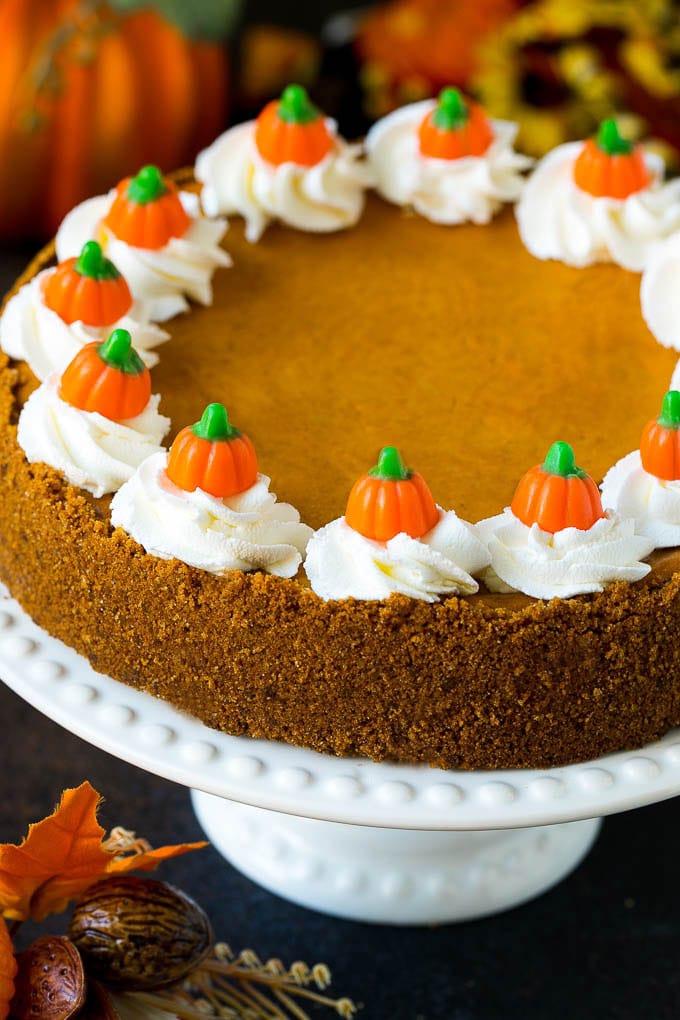 Nothing says fall like pumpkin pie. This recipe gives you the most decadent cheesecake version of a traditional pumpkin pie. This pie turns out smooth, sweet, irresistible and perfect for your holiday table.
More pumpkin recipes you'll enjoy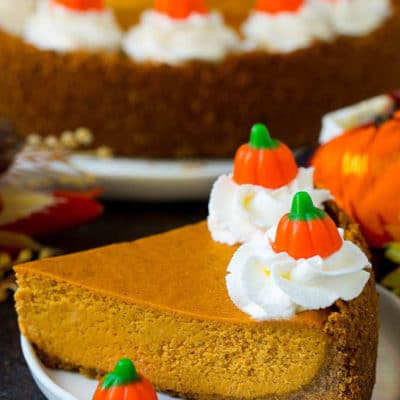 This pumpkin pie cheesecake is a graham cracker crust filled with a smooth and creamy pumpkin filling, then baked to perfection. Pumpkin cheesecake is the perfect sweet finish to any holiday meal!
Ingredients
2

cups

graham cracker crumbs

2

tablespoons

granulated sugar

1/2

cup

butter

melted

16

ounces

cream cheese

softened

1

cup

brown sugar

packed

3

eggs

15

ounce can

pumpkin puree

1

tablespoon

all purpose flour

1 1/2

teaspoons

vanilla extract

1 1/2

teaspoons

pumpkin pie spice

cooking spray

whipped cream and candy pumpkins

optional
Instructions
Preheat the oven to 350 degrees F. Coat a 9 inch springform pan with cooking spray.

Place the graham cracker crumbs, granulated sugar and butter in a bowl; stir until well combined.

Firmly press the graham cracker mixture into the bottom and halfway up the sides of the prepared pan.

Place the crust in the oven and bake for 8-10 minutes or until light golden brown.

Place the cream cheese and brown sugar in the bowl of a mixer. Beat until completely smooth, 2-3 minutes.

Add the eggs, one at a time, beating after each egg is added.

Add the pumpkin puree, flour, vanilla extract and pumpkin pie spice. Mix until just combined.

Pour the pumpkin mixture into the baked crust and smooth the top with a spatula.

Bake for 50 minutes or until top is lightly browned. Turn off the oven and let the cheesecake sit in the oven for another 60 minutes.

Run a thin spatula around the edge of the cheesecake to loosen the sides, then place the cheesecake in the fridge. Chill for at least 6 hours or up to 3 days.

Decorate the cheesecake with whipped cream and candy pumpkins if desired, then cut into slices and serve.
Nutrition
Calories:
339
kcal
|
Carbohydrates:
31
g
|
Protein:
5
g
|
Fat:
22
g
|
Saturated Fat:
12
g
|
Cholesterol:
100
mg
|
Sodium:
293
mg
|
Potassium:
183
mg
|
Fiber:
1
g
|
Sugar:
21
g
|
Vitamin A:
6285
IU
|
Vitamin C:
1.5
mg
|
Calcium:
79
mg
|
Iron:
1.6
mg