This recipe for New Orleans BBQ shrimp is tender and succulent shrimp cooked in a bold and zesty sauce – full of flavor and easy to make! This dish makes for the perfect appetizer or main course option.
Love shrimp? Then you'll definitely want to try my garlic butter shrimp, grilled shrimp skewers and this fabulous BBQ style shrimp.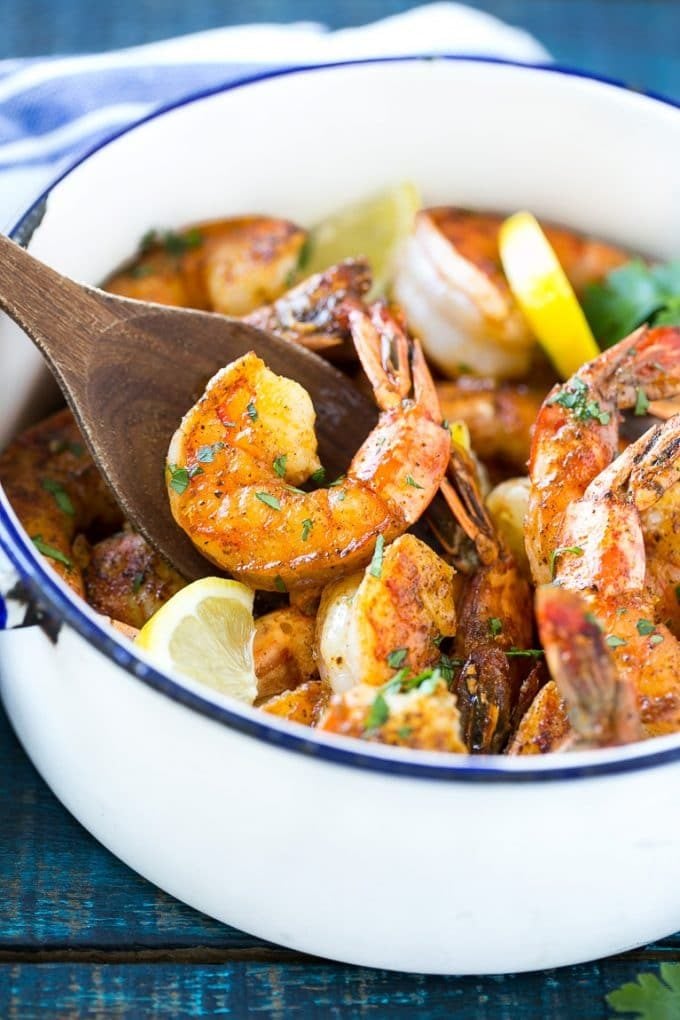 I've never been to New Orleans, but that doesn't stop me from making these New Orleans BBQ shrimp. You probably see the word BBQ here and assume that it means the shrimp are grilled, but they're actually cooked on the stove in a savory butter based sauce. Let me tell you, these shrimp are absolutely amazing, and ready in only 15 minutes! They're great for an appetizer or as part of a meal, but regardless of when or how you eat them, a loaf of crusty bread on the side is a MUST to sop up that sauce.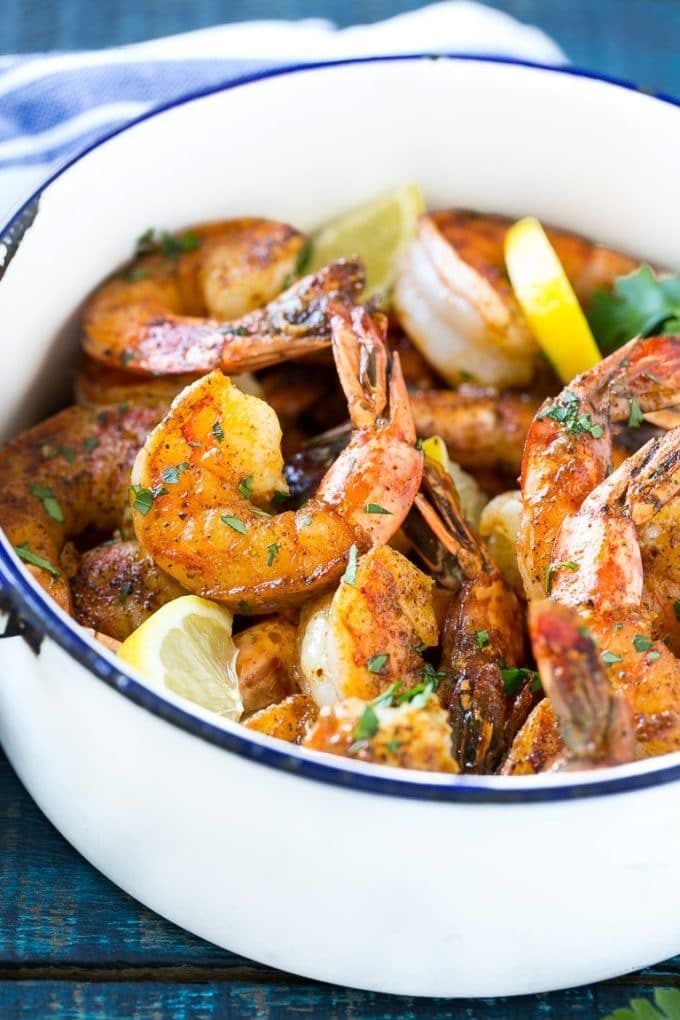 How do you make New Orleans BBQ shrimp?
These New Orleans BBQ Shrimp are super simple to make – the shrimp are cooked in a pan with garlic, butter, lemon and seasonings. I buy the largest, highest quality shrimp I can find for this recipe, I think it really makes a difference in the end product. Of course it'll still be great with smaller shrimp, but if you see the big guys (the ones pictured are the U-15 per pound size), snap them up!
HOW DO YOU KNOW IF SHRIMP IS COOKED?
Shrimp doesn't take long to cook, especially if you buy the pre-cooked kind (they're already pinkish when you buy them at the store). If you buy the greyish shrimp, that means they're uncooked, and once they turn pink and opaque, that's when you know they're done. It typically takes 3-4 minutes to cook average sized shrimp. Be sure to watch your shrimp carefully so that they don't overcook. This recipe calls for uncooked shrimp, if you use the pre-cooked variety they may turn tough during the second cooking process.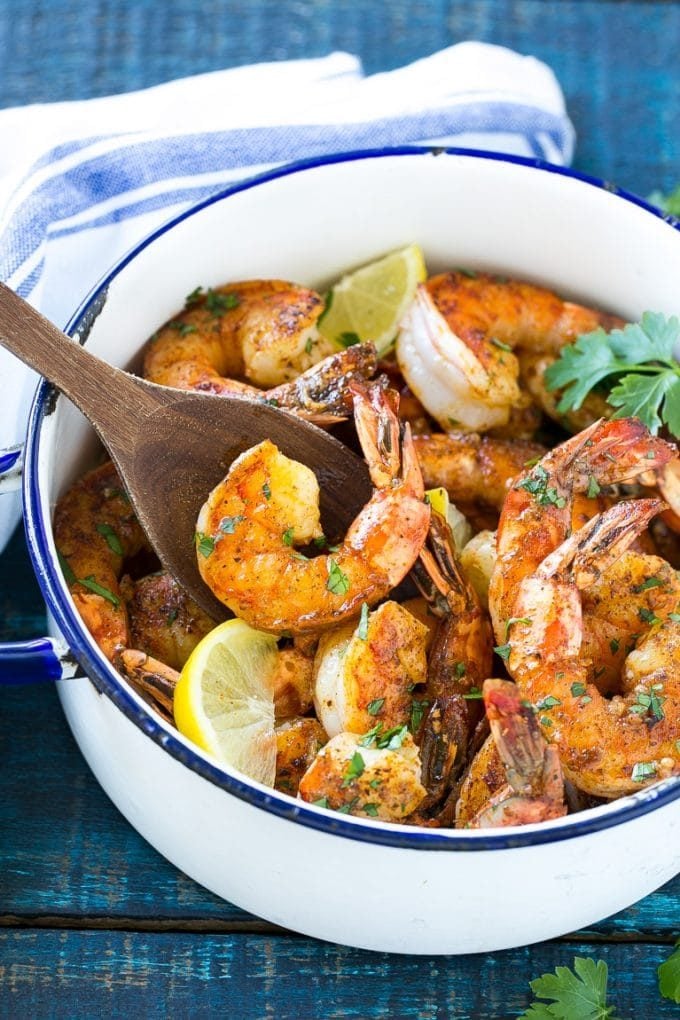 This recipe calls for Cajun seasoning – not all seasoning blends are made equal. Some have more heat, others have more salt, so the amount of Cajun seasoning may vary a bit depending on your particular blend. I would start with the 2 teaspoons and if you feel like it needs a little more, feel free to add it. You can also add a little more heat with a splash of hot sauce or sprinkling of cayenne pepper, but I kept it mild because I was feeding kids.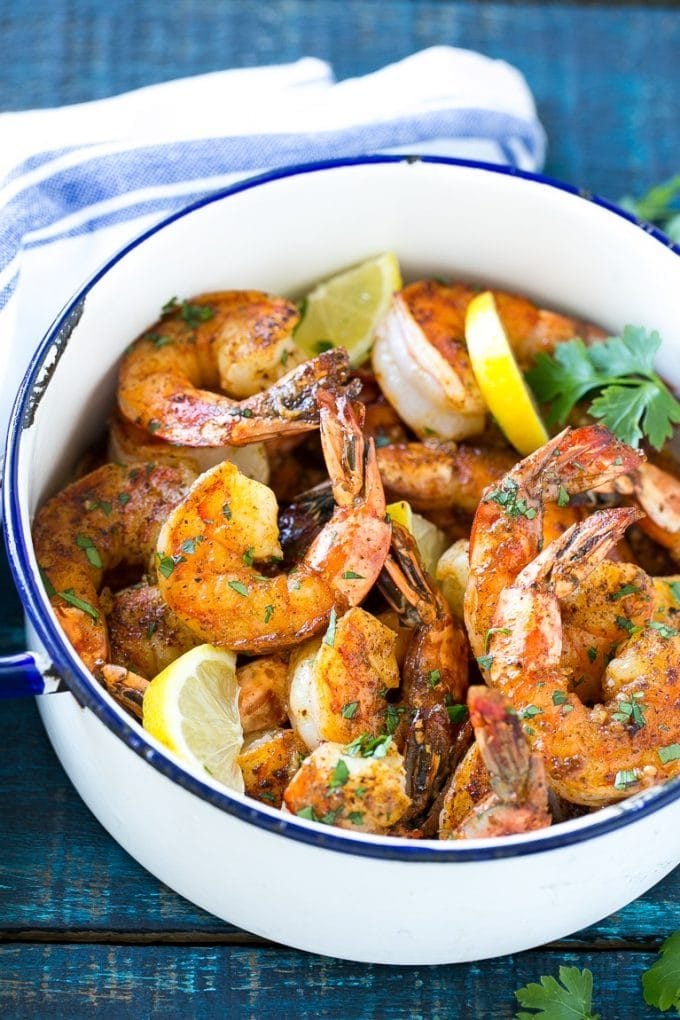 These New Orleans BBQ Shrimp have rocketed to the top of my favorite recipes list along with other classics like Cajun shrimp and sausage pasta, orange shrimp and broccoli, shrimp chow mein and shrimp tacos with mango salsa.
Still hungry? Follow Dinner at the Zoo on Facebook, Twitter, Instagram and Pinterest for more great recipe ideas!
MORE DELICIOUS WAYS TO ENJOY SHRIMP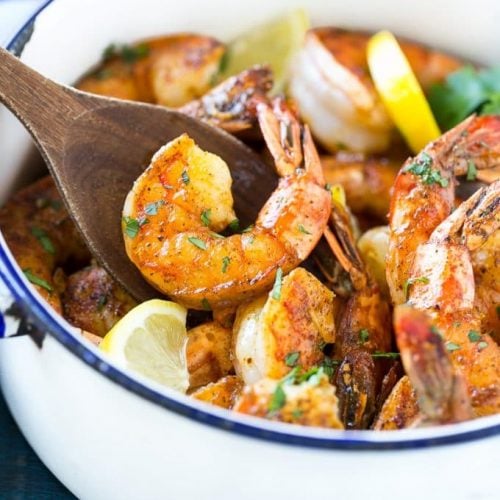 This recipe for New Orleans BBQ shrimp is tender and succulent shrimp cooked in a bold and zesty sauce - full of flavor and easy to make!
Ingredients
1

pound

of large shrimp

peeled and deveined

1

teaspoon

minced garlic

2

teaspoons

Cajun seasoning

5

tablespoons

of butter

2

tablespoons

Worcestershire sauce

1

tablespoon

of lemon juice

salt and pepper to taste

Optional: chopped fresh parsley and lemon wedges
Instructions
Sprinkle the Cajun seasoning on the shrimp; toss to coat evenly.

Melt the butter in a large pan over medium heat. Add the garlic and cook for 1 minute, stirring constantly.

Add the shrimp and cook for 2-3 minutes on each side or until shrimp are pink and opaque.

Stir in the Worcestershire sauce and lemon juice. Season to taste with salt and pepper and serve; garnished with parsley and lemon wedges if desired.
Nutrition
Calories:
200
kcal
|
Protein:
28
g
|
Fat:
14
g
|
Saturated Fat:
9
g
|
Cholesterol:
211
mg
|
Sodium:
910
mg
|
Sugar:
1
g