This is a complete guide on how to cook a turkey. With detailed information on preparation methods, cooking times, turkey flavoring ideas and tips and tricks for success, you'll be able to turn out a perfectly cooked turkey year after year!
When the holidays roll around, I always have a turkey on the table. Whole roasted turkeys are impressive, simple to make, and are popular with both kids and adults alike. Add a few festive side dishes such as slow cooker cranberry sauce, sausage stuffing and bacon green beans, then watch the rave reviews come in.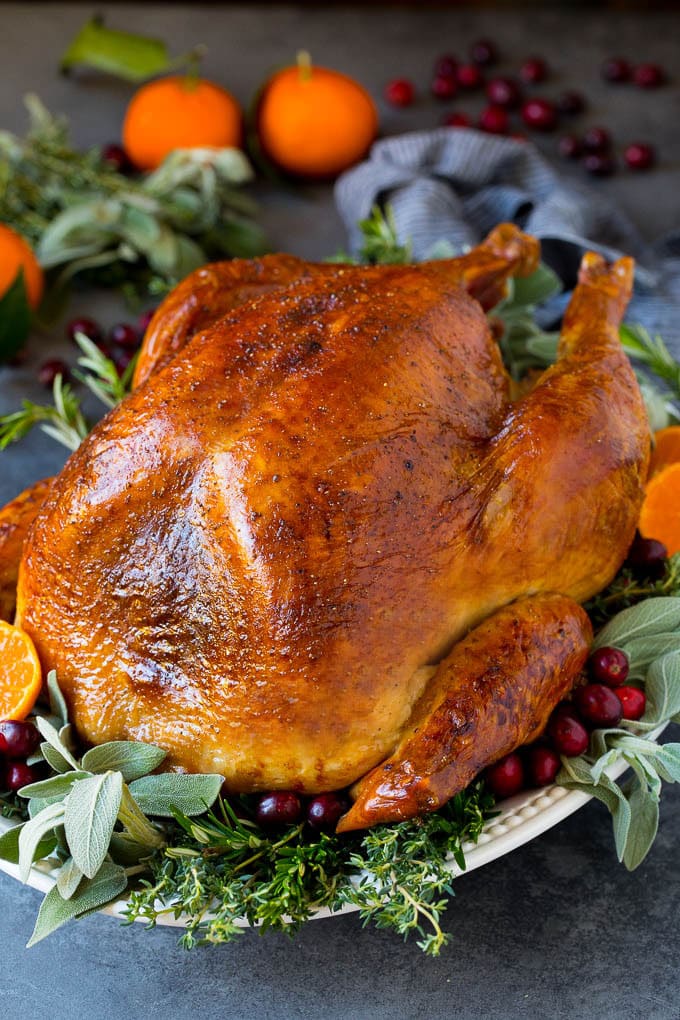 Have you ever cooked a turkey before? It can be an intimidating proposition, but it's actually much simpler than you think. This is the ultimate guide on how to cook a turkey, with plenty of guidance to ensure foolproof results.
How to choose a turkey
Choosing a turkey can seem overwhelming because there are so many options in the stores these days. The first step is to decide whether you'd like to purchase a fresh or frozen turkey. Many stores sell fresh turkeys, and you may need to contact your store to order one in advance. Frozen turkeys are available at pretty much every grocery store. Flavor wise, there's not a huge difference between a frozen and fresh turkey. Frozen turkeys are often less expensive than fresh turkeys. If you buy a fresh turkey, you'll need to use it within 3 days of purchase. If you've selected a frozen turkey, make sure you have enough time to fully defrost the turkey in the fridge before the big day.
Make sure to carefully read the label on whatever turkey you choose. Some turkeys come pre-brined, which means you'll want to skip making your own brine and go easy on the salt when preparing your bird. I typically purchase a fresh or frozen turkey with no salt or brine solution added so that I can control the flavors and the salt level.
How to defrost a turkey
If you've got a frozen turkey, the best way to thaw it is in the refrigerator, but you do need to plan in advance. Typically you'll need to thaw for one day per 4 pounds of turkey. For example, a 15 pound turkey would take about 4 days to thaw. Place the turkey in a large pan to catch any liquid that it may shed as it thaws.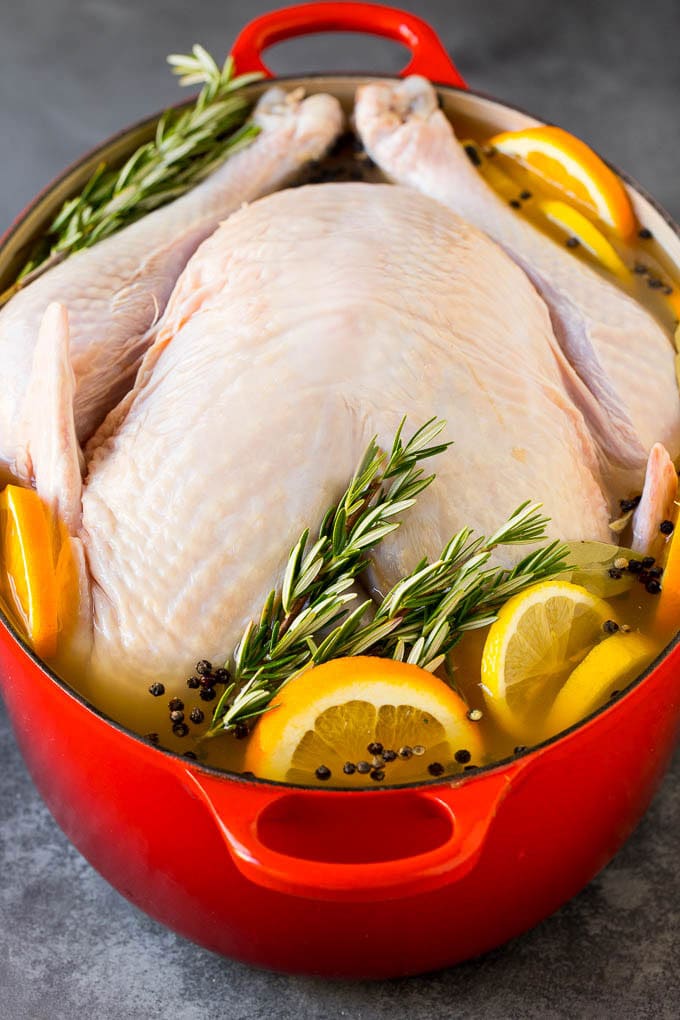 How to prepare a turkey
To prepare a turkey for roasting you'll need to do the following steps:
Remove the neck from the turkey cavity. You can discard it, or use it to make broth for your turkey gravy.
Tie the legs together with kitchen twine. Most grocery stores sell oven safe string that will work for this pupose.
Fold the ends of the turkey wings under your bird. This keeps the tips of the wings from getting overly browned, and brings the wings closer to the body of the turkey so that everything cooks at the same rate.
Remove the giblet bag from the cavity of the turkey. I typically discard the giblet bag.
How much turkey per person?
You will want to plan on 1 1/4 to 1 1/2 pounds of turkey per person. This will allow for a generous serving for each of your guests, plus allow for some leftovers.
How to cook a turkey
The simplest way to cook a turkey is to coat it in a mixture of butter, herbs and spices, then place it on a rack in a roasting pan. Insert a digital thermometer in the thickest part of the bird, which tends to be in the meatiest area of the thigh, or the thickest part of the breast. Bake the turkey, first at a higher temperature to brown the outside, then at a lower temperature to cook the interior. Baste the turkey occasionally with chicken or turkey broth.
When the thermometer indicates the the turkey is done, remove it from the oven. Let it sit for at least 20 minutes to let the juices distribute. Carve the turkey, then serve and enjoy.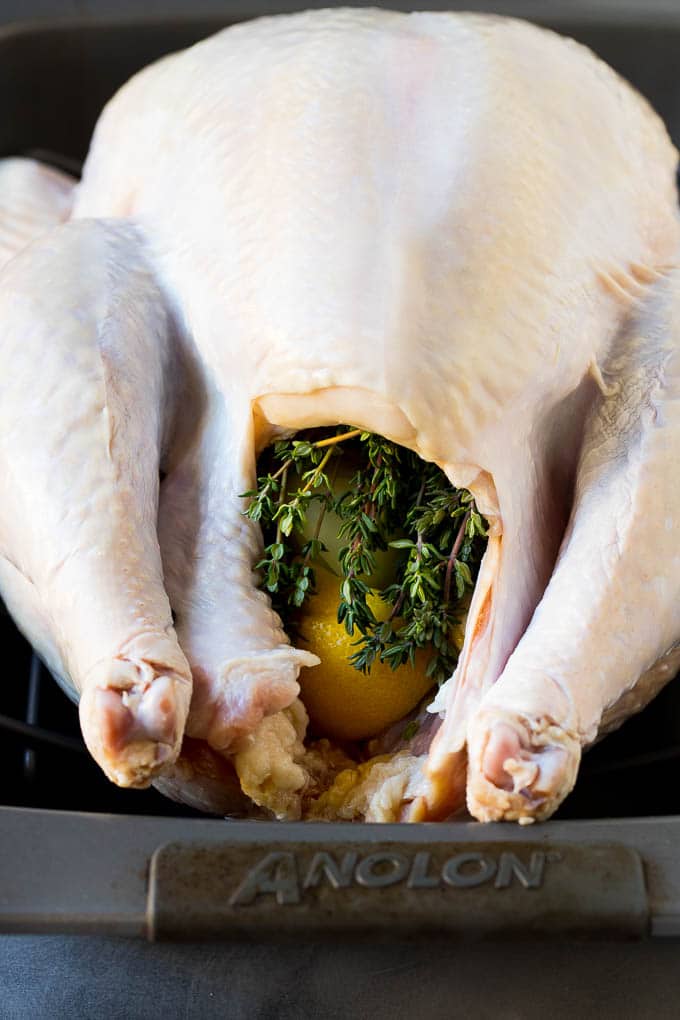 How long does it take to cook a turkey?
Generally speaking, a turkey needs to cook for at 350 degrees F for 15 minutes per pound of bird that you have. This assumes that you're starting with a fresh or fully thawed turkey. The only way to know for sure that your turkey is cooked through is to use a thermometer to check the temperature of the turkey.
How do you know if a turkey is done?
The minimum internal temperature of a turkey should be 165 degrees F. You can check to see if your turkey is done by inserting a probe thermometer into the thickest part of the thigh, I also like to check the breast. Make sure to avoid touching bone as this will give you an inaccurate temperature.
Do you have to brine a turkey?
Brining a turkey is an optional step, but I highly recommend it. A turkey is a naturally lean type of meat which mean it's prone to drying out. When a turkey is placed into brine, it absorbs some of the brine, which helps to both keep it moist and also to season it all the way through. When you're working with a brined turkey, even if you overcook it a bit, it should still come out tender and juicy. Your turkey will need to brine for 18-24 hours before you cook it, so be sure to plan for that added time. Here is my favorite brine recipe. Have more questions about brining? Check out my how to brine a turkey tutorial!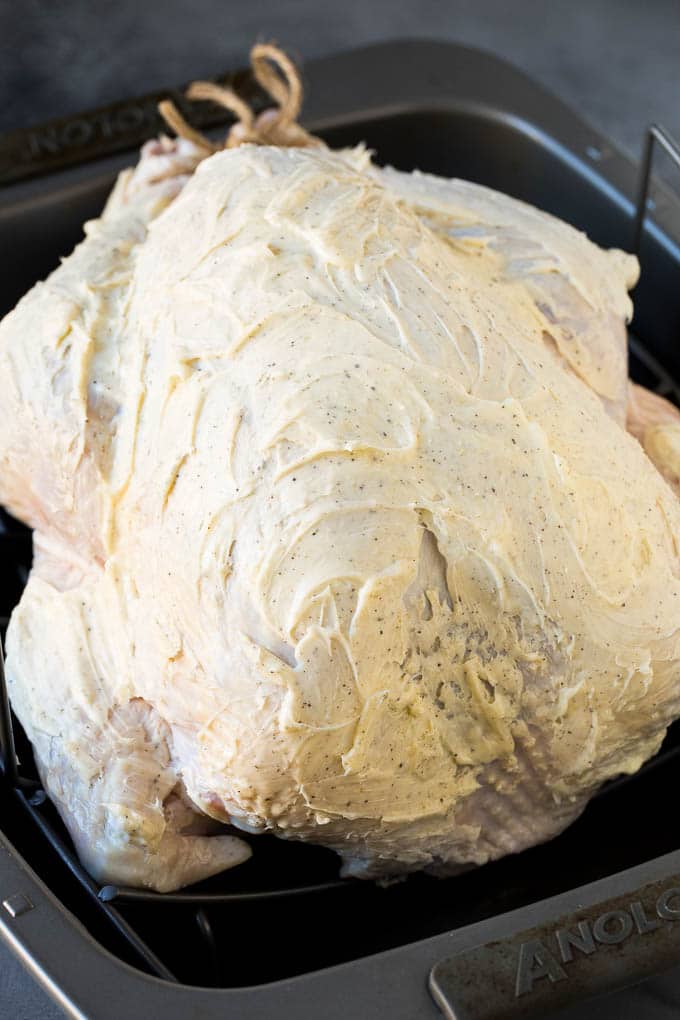 How to reheat turkey
The best way to reheat leftover turkey is to place it in a covered dish, then bake it at 325 degrees F for 20 minutes or until heated through. You can also reheat individual slices of turkey in the microwave, just take care not to overcook it so that it doesn't get tough and dry.
How to cook a turkey in a smoker
Looking to do something a little different this Thanksgiving? Try cooking your turkey in an electric smoker! The turkey is brined, then coated in homemade spice rub and slow smoked until tender and juicy. This is one of my very favorite ways to cook a turkey. Be sure to check out my detailed instructions for the ultimate smoked turkey.
How to cook a turkey in a crockpot
Cooking a turkey in a crockpot is a great way to make a fuss-free main course. The turkey stays moist in the enclosed crockpot and it's a hands off technique. That being said, it's often hard to find a whole turkey that's small enough to fit in a slow cooker! The solution? Make a whole or half turkey breast instead. Here is my recipe for slow cooker turkey breast, this one gets tons of rave reviews.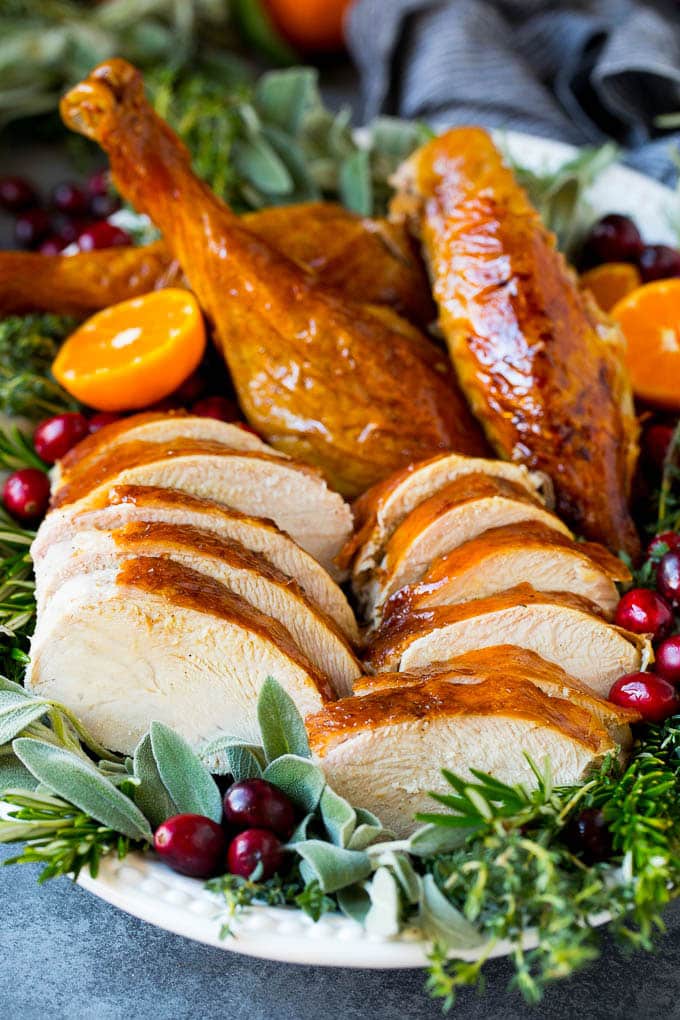 How to cook a turkey in a fryer
Deep fried turkey is a very popular holiday dish, but I feel that this one is not necessarily for beginners. For this turkey, you'll need to purchase a deep fat fryer and be sure to strictly adhere to my safety tips to ensure a good outcome. The end result is totally delectable, so if you decide to try it, you'll most definitely be thrilled with the taste! Here is my recipe for the best ever deep fried turkey.
Leftover turkey ideas
One of the best parts of making turkey is the leftovers! Be sure to check out this post for 40 ideas on how to use up your leftover holiday ham.
Now that you know how to cook a turkey, you're ready for the holidays! Use the recipe below for the absolute best tender, juicy turkey of all time.
Turkey recipes to try
How to cook a turkey video
How to Cook a Turkey - The Best Roasted Turkey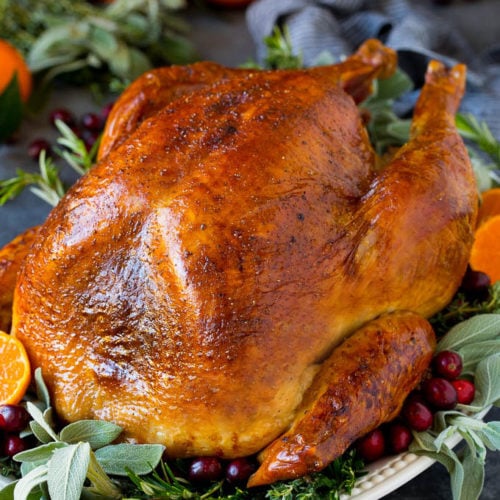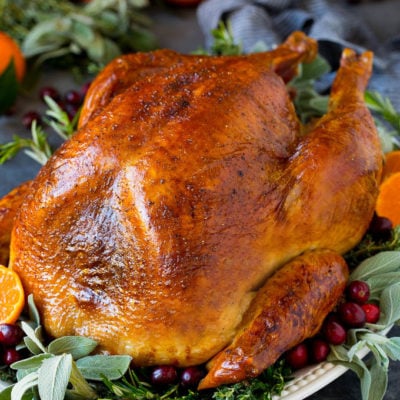 How to cook a turkey in the oven. A tender and flavorful roasted turkey that always gets rave reviews!
Ingredients
1

recipe

turkey brine

optional but highly recommend

12

lb

turkey

giblets and neck removed

1

lemon

quartered

1

onion

peeled and quartered

6

sprigs

fresh thyme

6

cloves

garlic

smashed

8

tablespoons

butter

softened

2

teaspoons

salt

cut down to 1/2 teaspoon if you've brined your turkey

1

teaspoon

pepper

2

cups

chicken or turkey broth

do not use if you've brined your turkey

fresh herbs and fruit for garnish

optional
Instructions
Brine the turkey as directed for 18-24 hours. This is an optional step but I recommend it if you have the time. if you do choose to brine your turkey, cut the salt in this recipe to 1/2 teaspoon and you will not need to baste your turkey with broth.

Preheat the oven to 450 degrees F. Tuck the wings of the turkey under the body.

Stuff the cavity of the turkey with the lemon, onion, thyme sprigs and garlic.

Tie the turkey drumsticks together with kitchen twine, Place the turkey on a rack in a roasting pan.

Place the butter, salt and pepper in a bowl and stir until well combined.

Spread the butter all over the turkey, both on top of and underneath the skin. Season the outside of the turkey with more salt and pepper to taste if desired.

Cook for 30-40 minutes or until turkey has started to turn golden brown.

Reduce the heat to 350 degrees F. Baste the turkey with 1/2 cup chicken broth. If you've brined your turkey, there's no need to baste it.

Bake for another 2 hours, basting every 30 minutes with the chicken broth, or until a thermometer inserted into the thickest part of the thigh reads 165 degrees F. I also check the thickest part of the breast to make sure that it's the correct temperature. If your turkey is getting too dark, you can cover it with foil.

Transfer the turkey to a serving platter and garnish with herbs and fruit if desired. Let the turkey rest for 20 minutes before slicing.
Nutrition
Calories:
335
kcal
|
Carbohydrates:
2
g
|
Protein:
70
g
|
Fat:
16
g
|
Saturated Fat:
9
g
|
Cholesterol:
251
mg
|
Sodium:
633
mg
|
Potassium:
786
mg
|
Vitamin A:
415
IU
|
Vitamin C:
5.9
mg
|
Calcium:
46
mg
|
Iron:
3
mg