This is a complete guide on how to brine a turkey to get the most tender and flavorful bird each and every time. No holiday is complete without a turkey, and brining is the best method to ensure rave reviews!
Even novice cooks can prepare an elegant and delicious meal when following my guides for how to cook a turkey, how to cook a ham, and how to brine a turkey.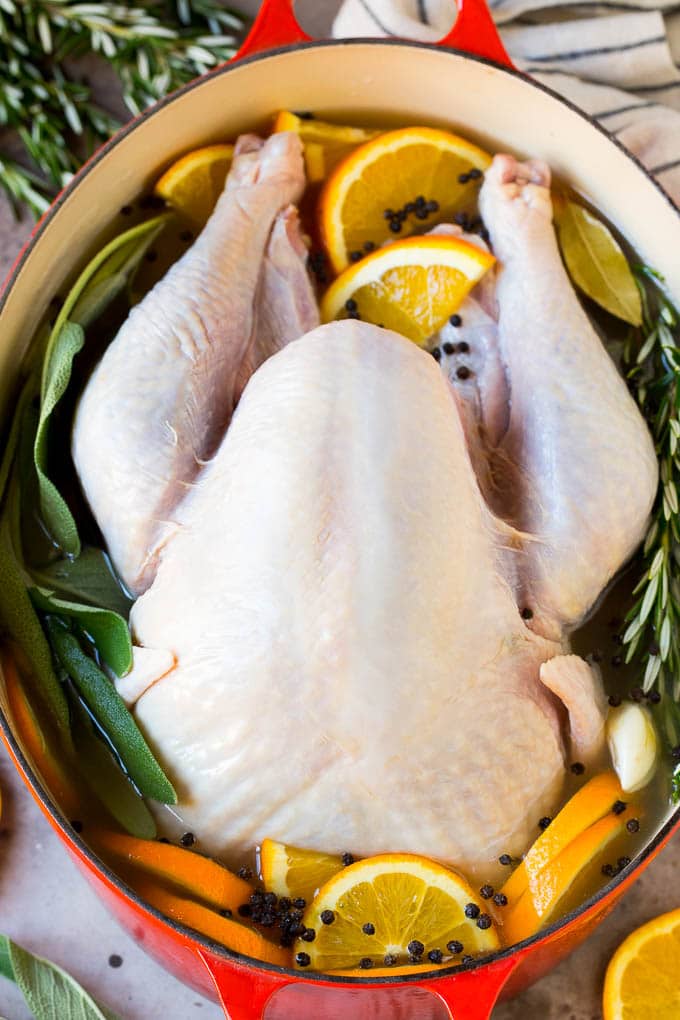 In my opinion, learning how to brine a turkey is critical to a successful Thanksgiving. There are so many benefits to brining, and my turkey brine adds so much flavor. This technique can also be used for smaller cuts of turkey or even chicken.
Is brining a turkey worth it?
Brining a turkey is absolutely worth the effort! A turkey that has been soaked in a salt solution is more flavorful and less likely to dry out. It absorbs some of the liquid, which is why it becomes juicier, and this means if you accidentally overcook the turkey, it will not get overly dry. In addition, the absorption of the brine means that the turkey gets seasoned all the way through, which produces a bird with a complex flavor with the right amount of salt and spices.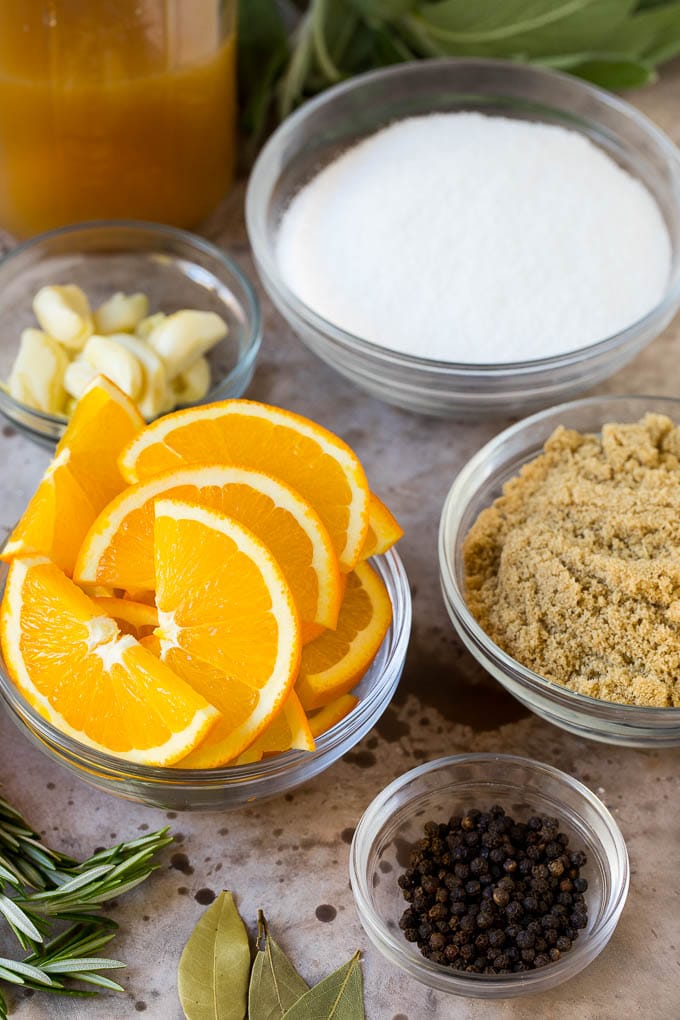 How to brine a turkey
The first step is to prepare your brine. Place apple cider, brown sugar, salt, water, citrus and herbs in a pot, then bring the mixture to a simmer. Cook the mixture for just a few minutes to let the salt and sugar dissolve. Let the liquid cool completely, then place it in a large container or bag that will fit your turkey. Make sure your turkey is submerged, then let it sit in the salt solution. After the turkey has soaked up the brine, remove it from the liquid, pat it dry and cook it using your desired method.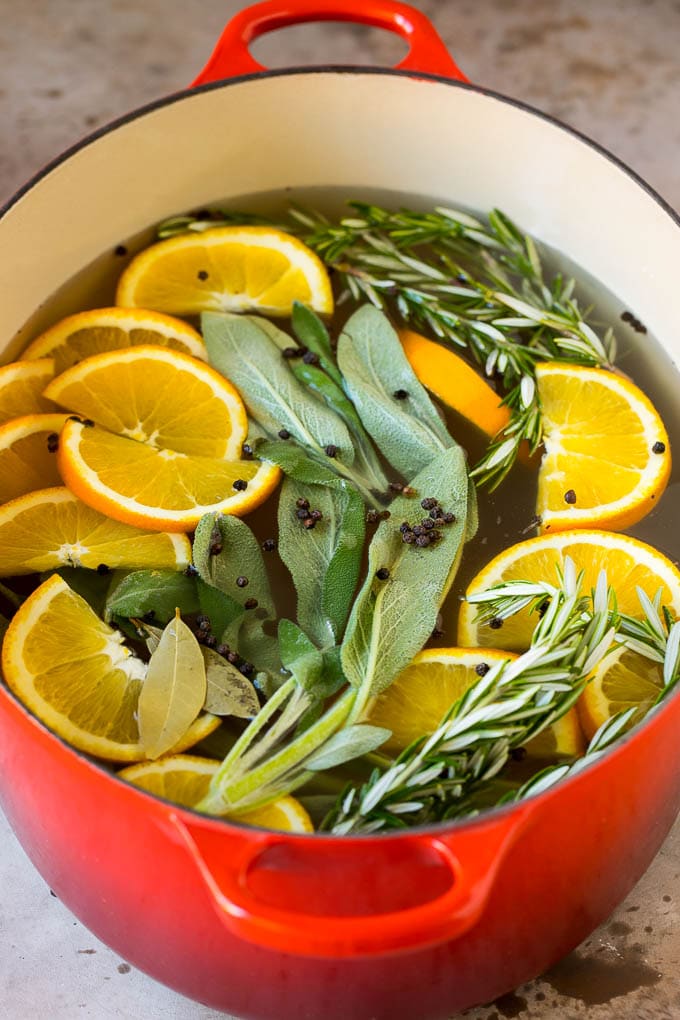 Do you rinse the turkey after brining?
I typically recommend that you rinse your turkey after it comes out of the liquid to remove any excess salt from the surface. Be sure to pat the turkey dry with paper towels so that the skin will crisp up nicely in the oven.
Tips on how to brine a turkey
It's crucial that you let the liquid cool before you add the turkey so that your raw turkey does not come to an unsafe temperature sitting in warm brine. Sometimes when I need to speed up the process, I add a handful of ice cubes to the brine to cool it off quickly.
I find that it can be difficult to find a container large enough to hold a turkey for brining. The easiest way to contain a turkey and brine is to buy brining bags. You can find these bags online or in kitchen stores. The bags seal shut and there is minimal cleanup because they are disposable.
If you're planning to smoke your turkey, try using my smoked turkey brine recipe.
This recipe calls for kosher salt, which can be found in almost all grocery stores. Kosher salt has a more balanced flavor than table salt which is why it is used in the recipe. If you need to use table salt, reduce the amount by 1/3.
Do you season a turkey after brining?
I often coat my turkey in seasonings such as butter, garlic, herbs and spices when it comes out of the salt solution. I typically do not add any extra salt to the turkey, or if I do, it's in a very small amount such as 1/2 teaspoon or less.
Can you brine a store bought turkey?
You can brine a store bought turkey, but read the label to make sure that it's not already brined or injected with salt solution. If the turkey contains added salt, you'll want to skip the brine or the end result will be too salty.
Can you brine a frozen turkey?
You can use a frozen turkey with this technique. A frozen turkey will need to sit in the brining liquid for longer than a fresh turkey so that it has enough time to defrost. You'll want to add an extra day or two onto the brining process depending on the size of your bird.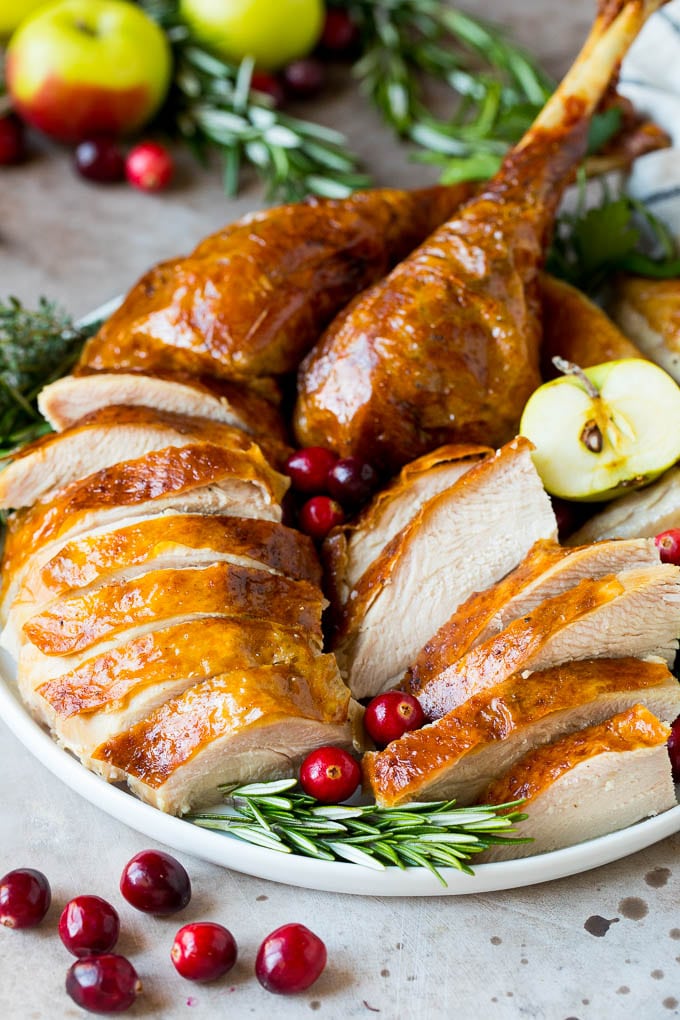 How long to brine a turkey
An average sized fresh or thawed turkey should be submerged in the liquid for 18-24 hours. I typically aim for 24 hours whenever possible.
Turkey brine flavor variations
This is a base recipe that you can alter to customize the flavors to your tastes.
Herbs: Instead of sage and rosemary, try adding other fresh herbs such as parsley, thyme, savory or marjoram.
Sweetener: Swap out the brown sugar for honey or maple syrup for a different flavor.
Spices: Feel free to add other spices such as cinnamon sticks, allspice berries, star anise or fennel seeds.
Once you try a turkey prepared with this technique, you'll never want to make turkey any other way!
Ways to cook your brined turkey
How to Brine a Turkey Video
How to Brine a Turkey - Turkey Brine Recipe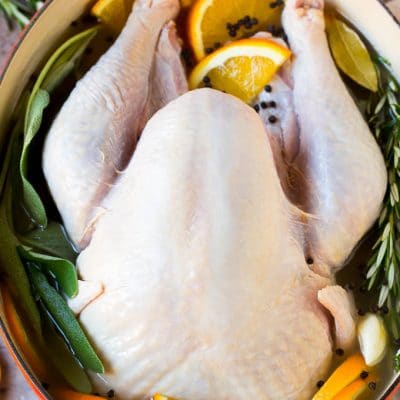 This is a complete guide on how to brine a turkey to get the most tender and flavorful bird each and every time. No holiday is complete without a turkey, and brining is the best method to ensure rave reviews!
Ingredients
2

cups

apple cider

the juice, not apple cider vinegar

2

gallons

cold water

1 1/2

cups

kosher salt

1

cup

light brown sugar

8

cloves

garlic

smashed

2

tablespoons

peppercorns

2

oranges

thinly sliced

5

rosemary sprigs

3

bay leaves

4

sage sprigs
Instructions
Place all the ingredients in a large pot over medium heat, then bring to a simmer.

Cook for 2-3 minutes or until salt and sugar have dissolved, stirring occasionally.

Turn off the heat. Let the brine mixture cool completely.

Pour the brine into a large container or a brining bag.

Place a whole turkey in the brine solution to fully submerge it, then refrigerate for 18-24 hours.

When you're ready to cook your turkey, remove it from the brine and rinse with cool water, then pat dry with paper towels.

Proceed with your normal turkey roasting method.
Nutrition
Calories:
43
kcal
|
Carbohydrates:
11
g
|
Sodium:
461
mg
|
Potassium:
62
mg
|
Sugar:
10
g
|
Vitamin A:
25
IU
|
Vitamin C:
8.7
mg
|
Calcium:
20
mg
|
Iron:
0.3
mg