This cider glazed chicken is the perfect fall dinner for a busy weeknight – it only has 6 ingredients and is ready in 30 minutes! Chicken thighs are cooked with apples in a sweet and savory sauce for an delicious comfort food meal.
When I need a dinner I know the whole family will love, I turn to favorites such as roasted cornish hen, easy baked chicken breast, elegant chicken francese, one pan maple dijon chicken and this comforting cider glazed chicken.
Do you remember over the summer when I told you that this salmon was so good that I bumped it to the top of my recipe queue to share with you immediately? This cider glazed chicken is another one of those show stopping must-make recipes. It's so good that I've made it twice in the past week and my picky eaters ate three servings!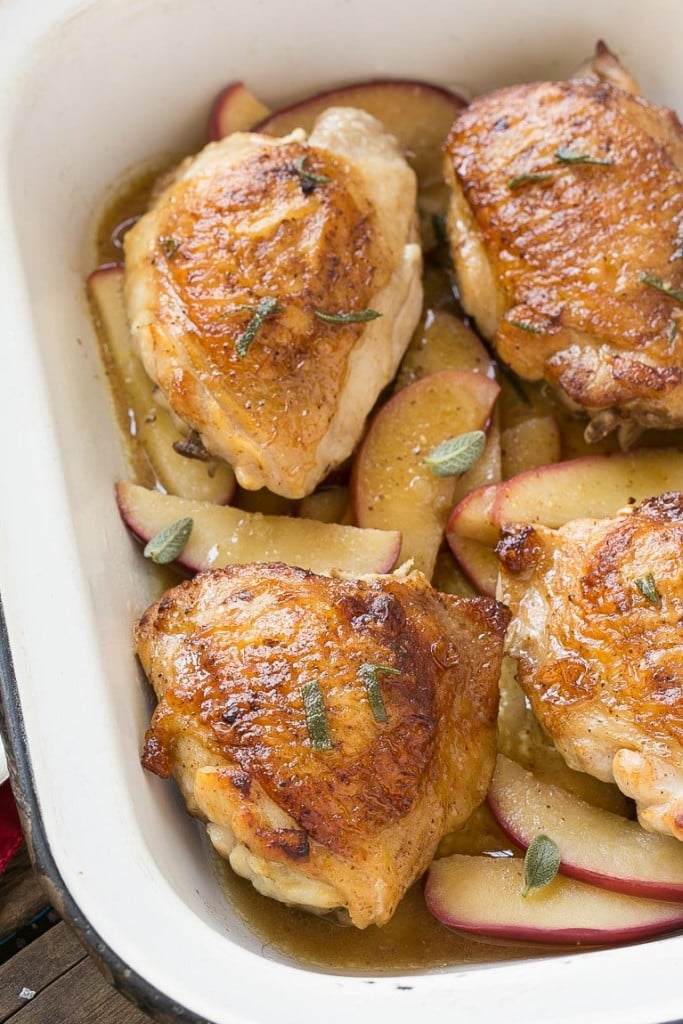 How do you make cider glazed chicken?
This recipe only has 6 ingredients and can be made in 30 minutes, but it looks and tastes like you worked on it all day. The chicken gets browned in some butter – when it's golden and crispy the apple cider gets poured over the top and the pan goes into the oven to roast. While your chicken is roasting it's time to cook up a pile of sliced apples on the stove. After the chicken pan comes out of the oven, mustard and sage get stirred into the cider drippings and you're done!
I know what you're thinking. You're wondering why the apples can't be cooked in the same pan as the chicken. You know I'm all about minimizing dishes whenever possible, but if you put the sliced apples in with the chicken they'll just boil in the cider and get mushy. It's definitely worth the little bit of extra effort to cook them separately. Also, fresh sage is imperative here. If you don't have sage you could also use thyme. I tested this recipe with bone-in skin-on chicken thighs and boneless skinless chicken thighs – the bone-in produce a superior result.
My kids are already asking when we're going to be having "apple chicken" again, and it will definitely be soon. Maybe even tomorrow – because when something is this good and this easy to make, why not eat it all the time?
Still hungry? Follow Dinner at the Zoo on Facebook, Twitter, Instagram and Pinterest for more great recipe ideas!
More great chicken recipes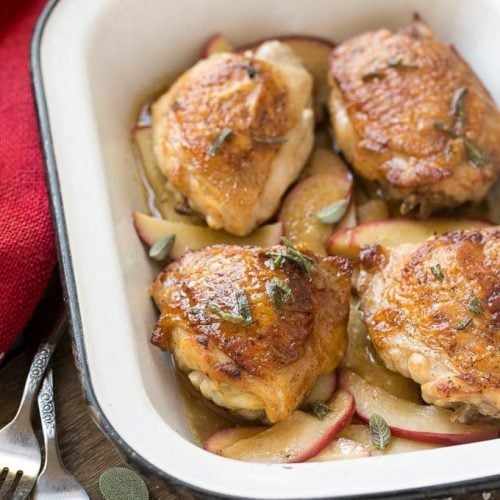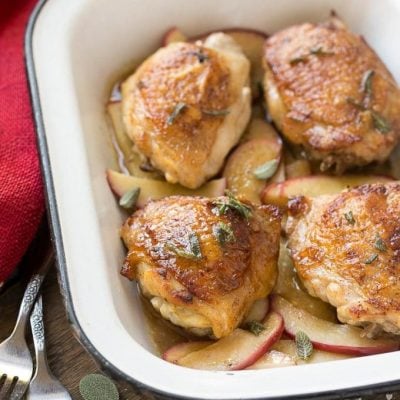 This cider glazed chicken only has 6 ingredients and is ready in 30 minutes.
Ingredients
3

tablespoons

unsalted butter

divided use

4

bone-in

skin-on chicken thighs

3/4

cup

apple cider + 1 tablespoon

divided use

1

tablespoon

Dijon mustard

2

teaspoons

chopped fresh sage

3

apples

cored and thinly sliced

salt and pepper to taste
Instructions
Preheat the oven to 375 degrees.

In a large skillet melt 1 and 1/2 tablespoons of butter over medium heat. Season the chicken generously with salt and pepper; cook, skin-side down, until golden, about 8 minutes.

Turn the chicken, add the cider, then place the pan in the oven and roast for 20 minutes.

After the pan comes out of the oven transfer the chicken to a plate. Whisk the mustard and sage into the cider drippings; season to taste with salt and pepper. Pour the sauce over the chicken.

While the chicken is cooking, In another skillet, cook the apples in the remaining butter over medium-high for 5 minutes. Add the remaining tablespoon of apple cider, turn the heat to high and cook for 1-2 minutes more. Season the apples to taste with salt and serve them alongside the chicken.