The best Italian meatballs with a blend of two types of meat and the perfect amount of herbs and spices. This recipe produces tender and juicy meatballs each and every time!
We eat Italian food at least once a week in my house. Some of our favorites include calzones, baked chicken parmesan, and these easy and versatile Italian meatballs.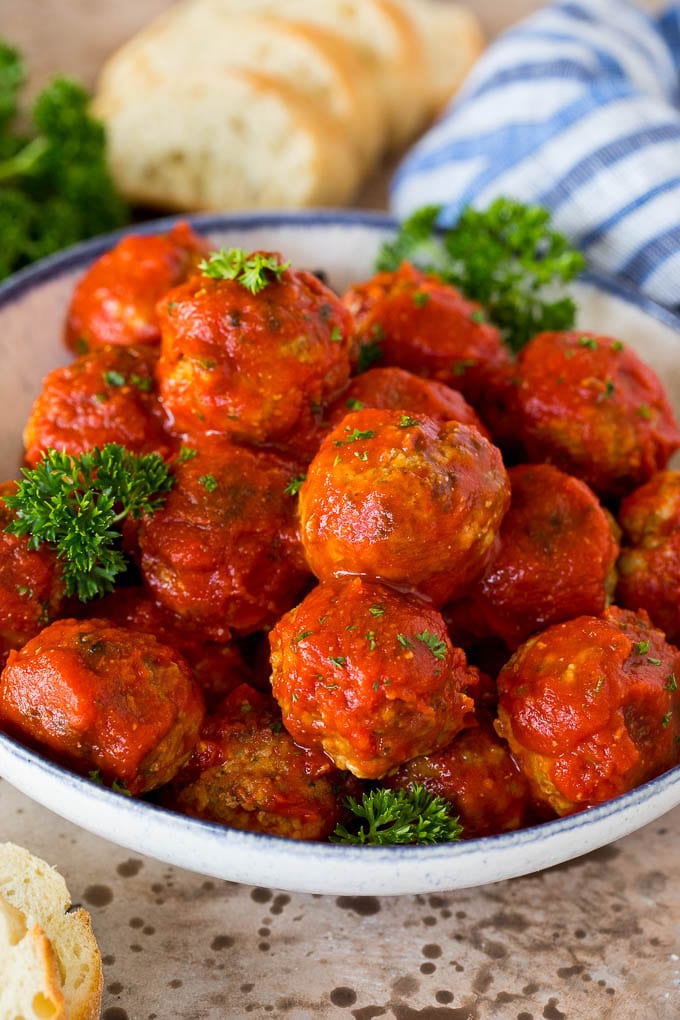 You can never go wrong with homemade Italian meatballs for dinner, this dish is comfort food at its finest! My version of this classic dish is baked instead of pan fried, which means less work without sacrificing on taste.
How do you make Italian meatballs?
Start by soaking pieces of fresh bread in milk. This may sound like an odd step, but it's the trick to getting tender meatballs. Place the bread mixture in a large bowl along with ground pork, ground beef, onions, garlic, herbs, spices and parmesan cheese. Stir everything together, then roll the meat into balls. Arrange the meatballs on a sheet pan and broil until the meatballs are browned and cooked through. Place the balls in a pot of marinara sauce and simmer, then sprinkle with parsley and serve.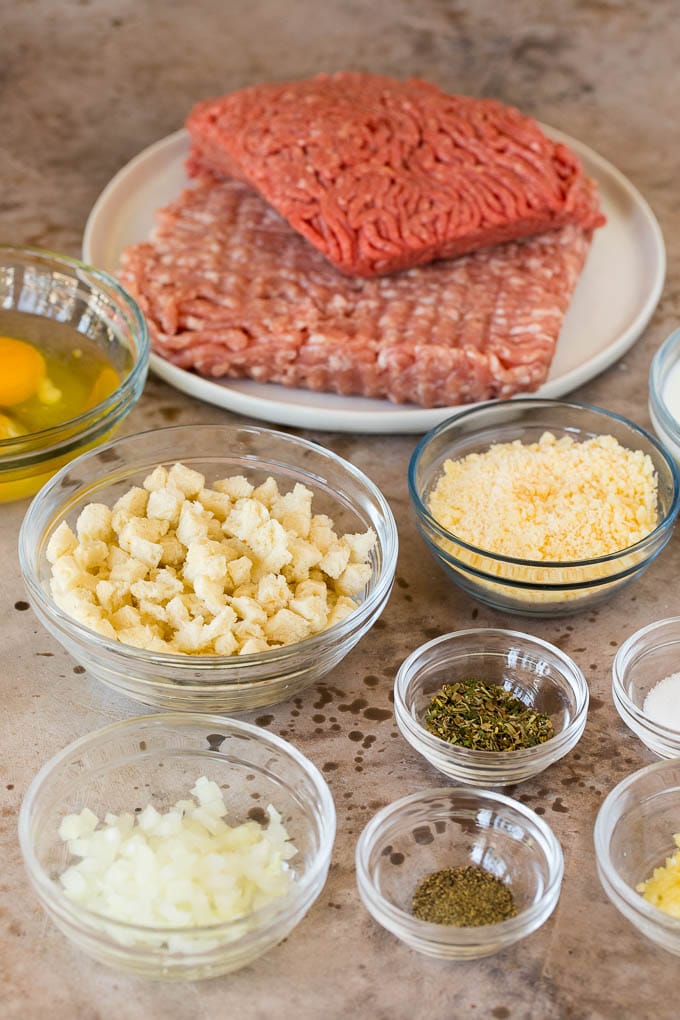 Tips for the perfect dish
The meat mixture can be prepared up to 6 hours before you plan to cook it.
Italian meatballs are the perfect candidate for the freezer. After the meatballs are cooked, place them in an airtight container or resealable bag, then freeze for up to 2 months.
I typically use a high quality store bought marinara sauce to save time, but you can make your own sauce if you prefer.
Serve your meatballs over pasta, in a sandwich, as a pizza topping, or as a hearty appetizer.
If your meat mixture does not easily form into balls, you can stir in a little extra milk to help things along and make a smoother meat paste.
I broil my meatballs because it's less mess than pan frying them, and it's also quicker. If you prefer to brown them on the stove top, that's totally fine too!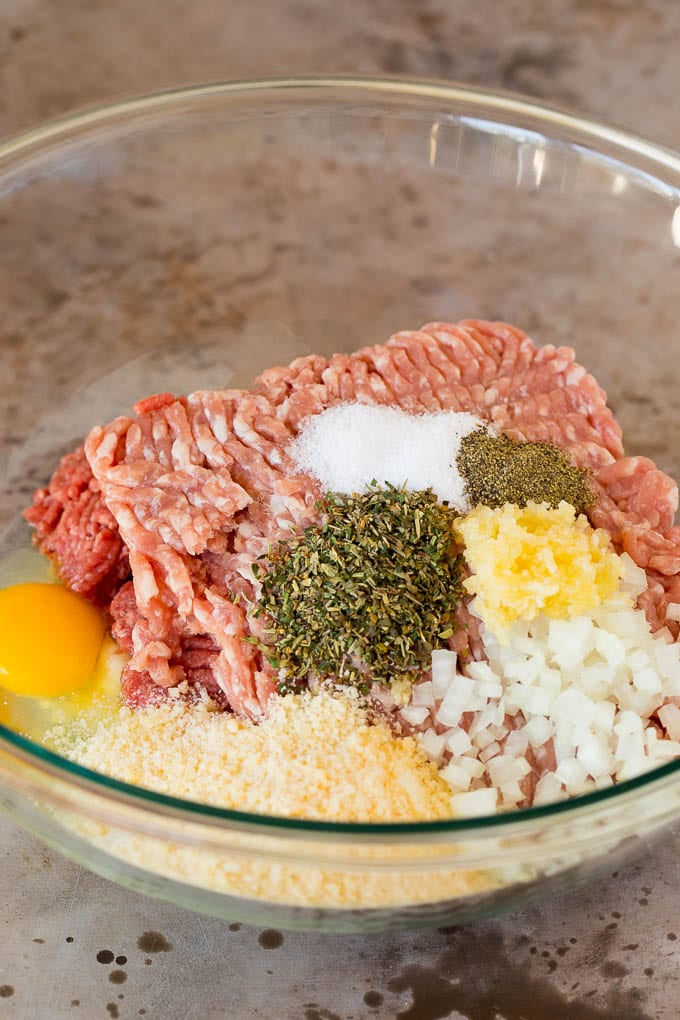 What makes a great meatball?
To get perfect results, you'll want to adhere to these key factors.
Meat: Go for the fattier cuts of meat for the best results. I typically use 80% lean ground beef. Ultra lean ground beef will make your meatballs dry and tough.
Handling: Be careful not to over-mix the meat and seasonings, this can make the meat tough. You also don't want to shape the meat into tightly rolled balls because this can produce the same negative effect.
Panade: This term refers to the the milk and bread mixture that goes into this dish. The panade helps ensure that the meat will stay tender and juicy when it's cooked.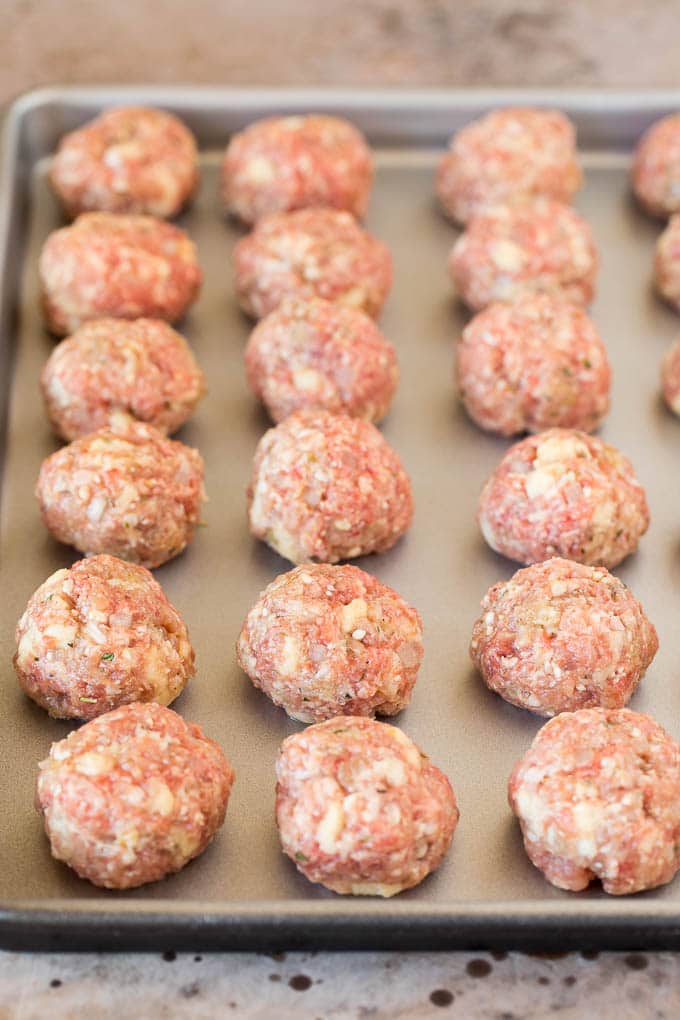 Italian meatballs flavor variations
While this dish is great as-is, you can absolutely add other ingredients to customize the flavors to your tastes.
Protein: This recipe calls for a blend of pork and beef for maximum flavor and texture. You can also use just ground beef, or swap out the pork for Italian sausage.
Cheese: Swap out the parmesan cheese for romano or asiago. You can also place a small piece of mozzarella cheese in the center of each meatball.
Sauce: Try tossing the cooked meatballs in basil pesto, Alfredo sauce, or you can even serve them with a drizzle of garlic butter.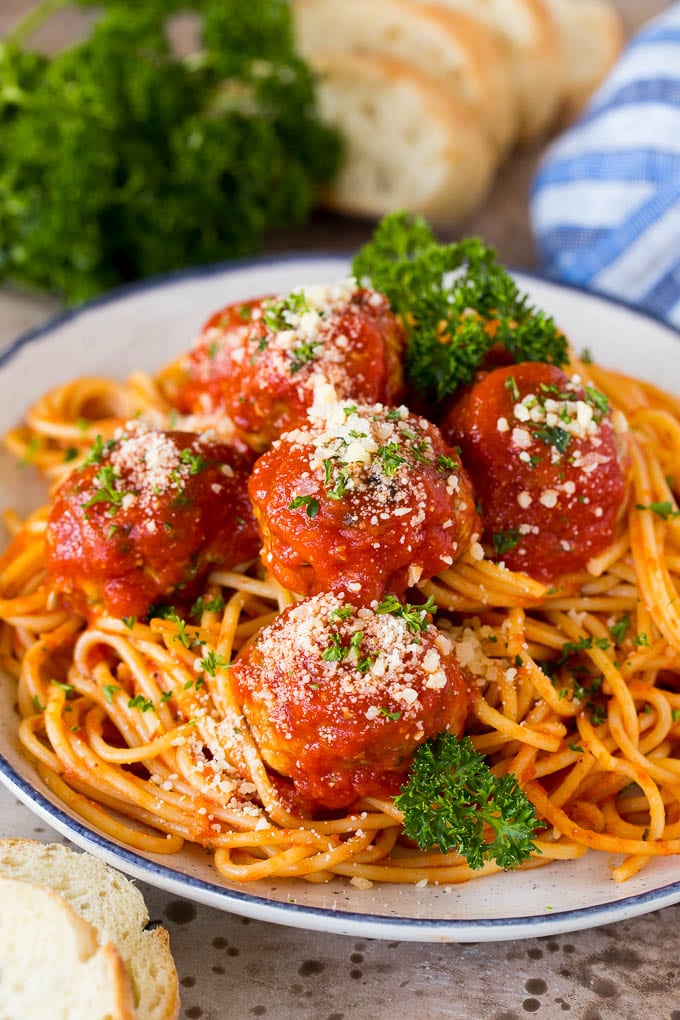 These Italian meatballs are on my regular dinner rotation, they're a huge hit with both the kids and adults!
More Italian recipes you'll enjoy
Italian Meatballs Video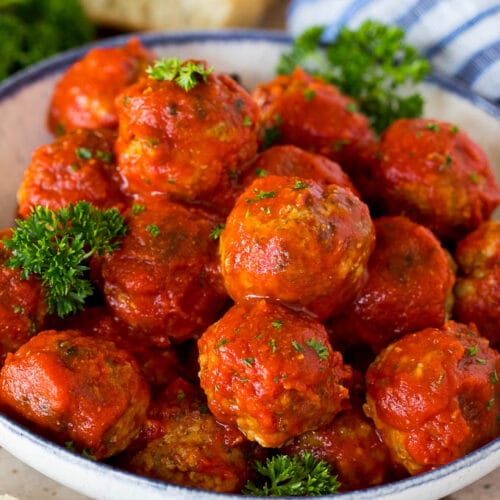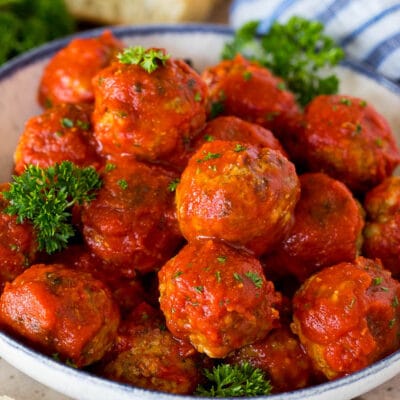 The best Italian meatballs with a blend of two types of meat and the perfect amount of herbs and spices. This recipe produces tender and juicy meatballs each and every time!
Ingredients
1

cup

French bread

or other sturdy white bread, cut or torn into small pieces

1/2

cup

milk

1

pound

ground beef

80% lean

1

pound

ground pork

1/3

cup

onion

finely chopped

1

tablespoon

garlic

minced

1 1/2

teaspoons

kosher salt

1/2

teaspoon

pepper

1 1/4

teaspoons

Italian seasoning

2

eggs

1/3

cup

grated parmesan cheese

cooking spray

28

ounce jar

marinara sauce

8

ounce can

tomato sauce

2

tablespoons

parsley

chopped
Instructions
Place the bread and milk in a large bowl; let stand for 5 minutes.

Add the beef, pork, onion, garlic, salt, pepper, Italian seasoning, eggs and parmesan cheese to the bowl.

Gently stir everything together until it's just combined. You can add a little more milk, 1 teaspoon at a time, if needed to make the ingredients blend better.

Form the meat mixture into 1 inch balls - do not roll them too tightly!

Preheat the broiler. Coat a sheet pan with cooking spray. Arrange the meatballs on the sheet pan.

Broil for 8-10 minutes or until meatballs are cooked through.

Place the meatballs in a pot on the stove over medium heat along with the marinara sauce and tomato sauce. Stir to combine.

Simmer for 10-15 minutes, or longer if you have the time. Sprinkle with parsley, then serve.
Nutrition
Calories:
408
kcal
|
Carbohydrates:
12
g
|
Protein:
35
g
|
Fat:
22
g
|
Saturated Fat:
11
g
|
Cholesterol:
165
mg
|
Sodium:
681
mg
|
Potassium:
1097
mg
|
Fiber:
3
g
|
Sugar:
9
g
|
Vitamin A:
1009
IU
|
Vitamin C:
15
mg
|
Calcium:
148
mg
|
Iron:
5
mg