These cheesecake brownies are a rich and fudgy chocolate brownie topped with a layer of sweetened cream cheese. A show stopping dessert that's easy to make and always gets rave reviews!
You can never go wrong with a good chocolate dessert, some of my favorite include chocolate coconut cake, chocolate peanut butter pie, homemade blondies and these amazing cream cheese brownies.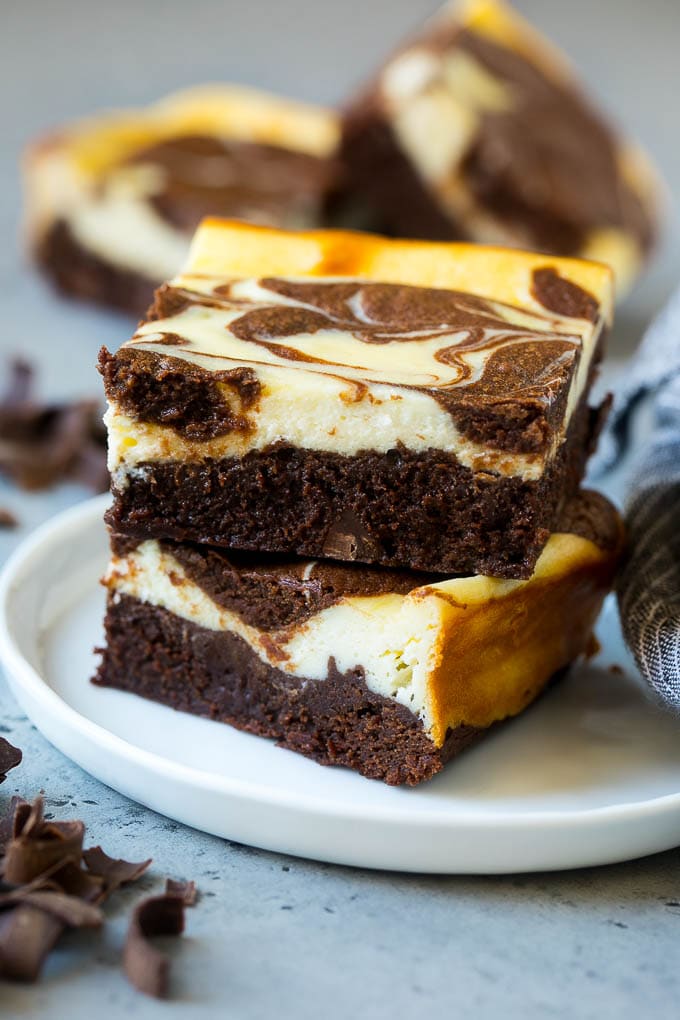 Brownies and cheesecake are both great desserts on their own, but when you combine the two, you get these fabulous cheesecake brownies that are worthy of any special occasion! Looking for more dessert inspiration? Don't miss my Oreo brownies and cake truffles!
How do you make cheesecake brownies?
The first step is to make the batter, which is full of melted chocolate, butter, sugar, eggs, cocoa powder and flour. A generous amount of chocolate chips are also added to the mix. Part of the brownie batter goes into a pan, then a layer of cheesecake is poured over the top. The final step is to add dollops of the remaining brownie batter and swirl it with the cream cheese mixture. Bake your brownies, then cool and enjoy.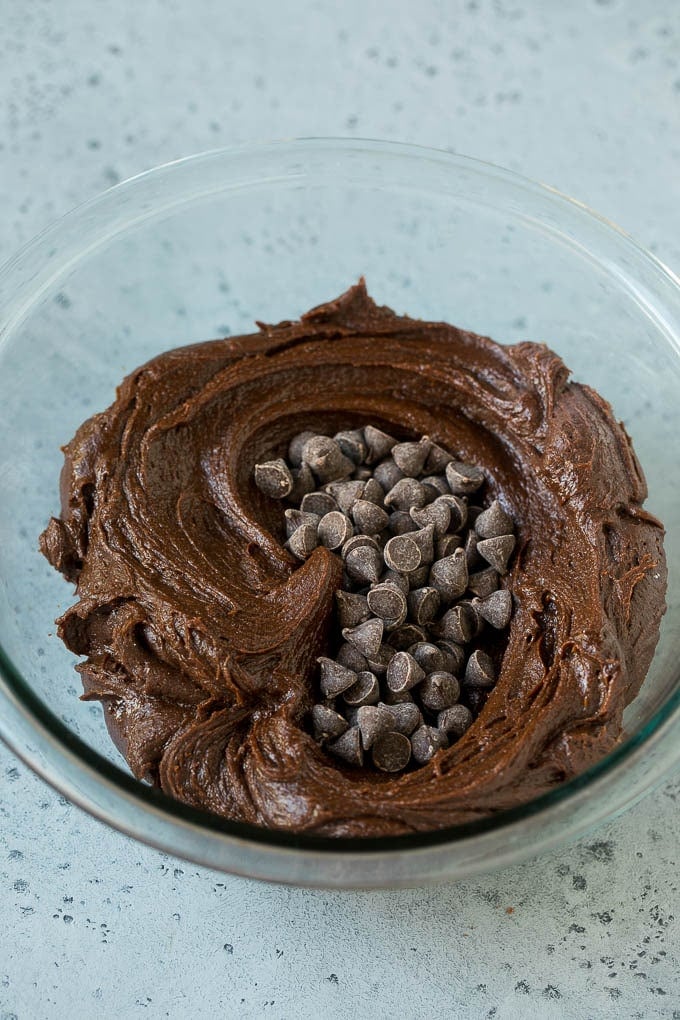 Tips for cheesecake brownies
This recipe uses semisweet chocolate chips as the primary flavoring agent. The chocolate is both melted into the batter and stirred in as chips. Do not use Nestle Toll House chocolate chips for this recipe. Nestle chocolate chips do not melt smoothly and will not work in these brownies. I recommend using Guittard or Ghirardelli chocolate chips.
I use a long wooden skewer to swirl the batters together; a butter knife will also work.
These brownies can be stored in an airtight container at room temperature for up to 5 days.
I recommend cutting these brownies into small pieces as they're quite rich!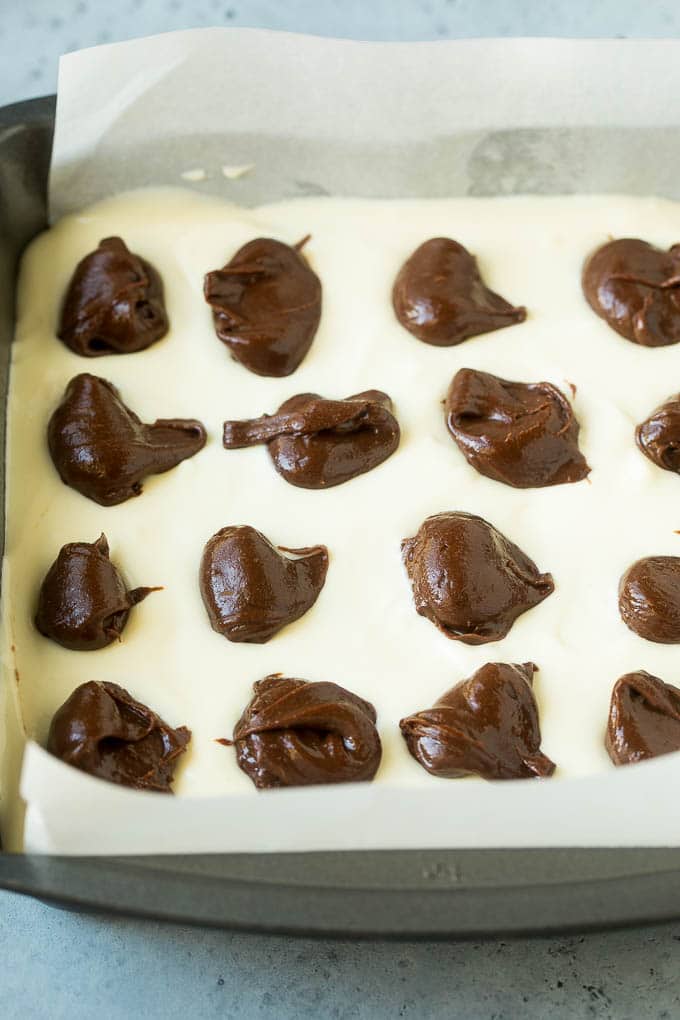 Cheesecake brownie variations
I typically make these brownies as written, but you can add other flavors to the recipe to change up the flavor.
Raspberry: Stir 1/2 cup mashed raspberries into the cheesecake layer.
Mint: Add 1/2 teaspoon mint extract to the brownie layer and a few drops of green food coloring to the cheesecake layer.
Oreo: Sprinkle 3/4 cup of crushed oreos over the top of the brownies before they go into the oven.
Peanut Butter: Add 1/2 cup peanut butter to the cream cheese layer.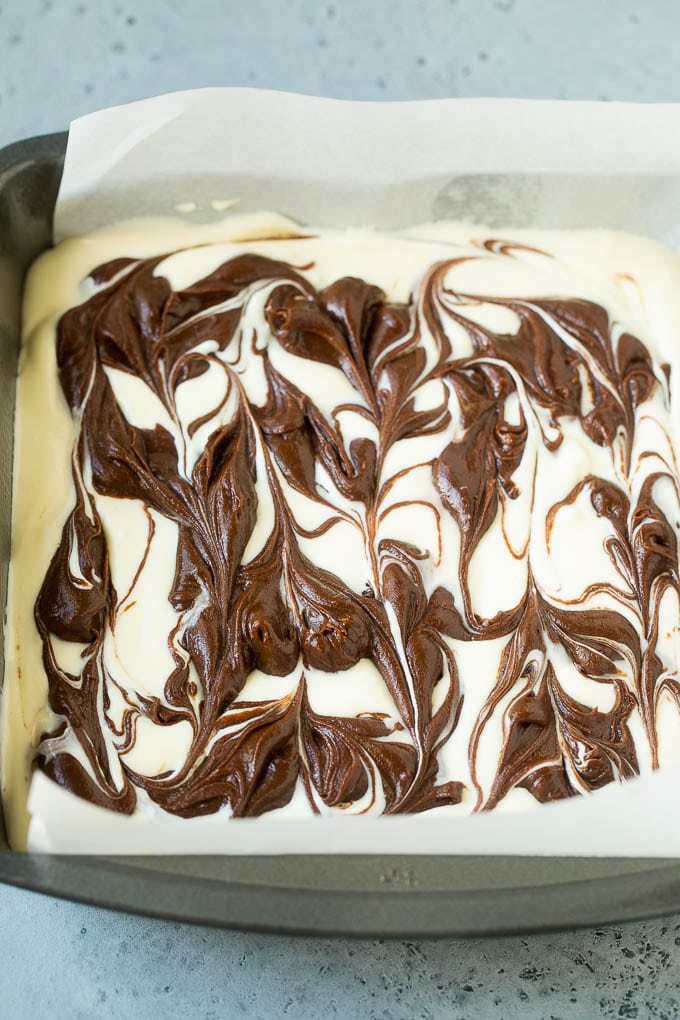 WHAT MAKES BROWNIES FUDGY?
These brownies are of the fudgy variety, which I prefer over the more cake-like brownies. Fudgy brownies have a higher fat to flour ratio, which means they contain more chocolate and butter than the cake style variety. Cake-like brownies also tend to contain more eggs than fudgy brownies.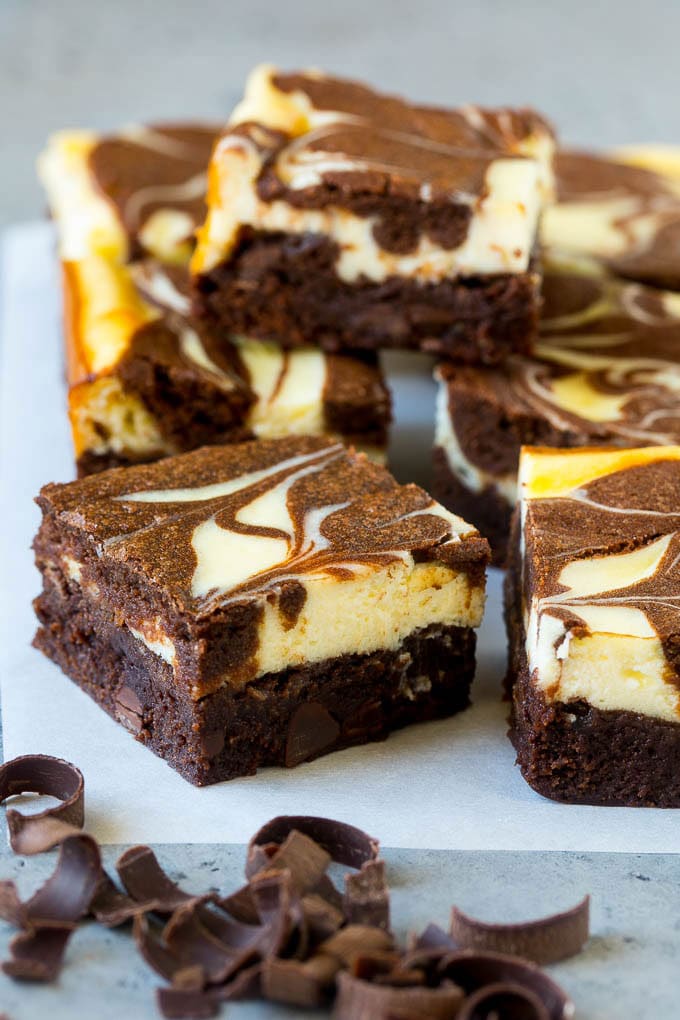 CAN YOU FREEZE BROWNIES?
Cream cheese brownies are a great candidate for the freezer. Simply wrap the bars individually with plastic wrap, then place them in a resealable bag in the freezer for up to 2 months. You can thaw your brownies at room temperature when you're ready to eat them.
These cream cheese brownies have become one of my go-to desserts. They're portable, delicious and look so very impressive! You'll be sure to get rave reviews when you serve up this treat.
More decadent desserts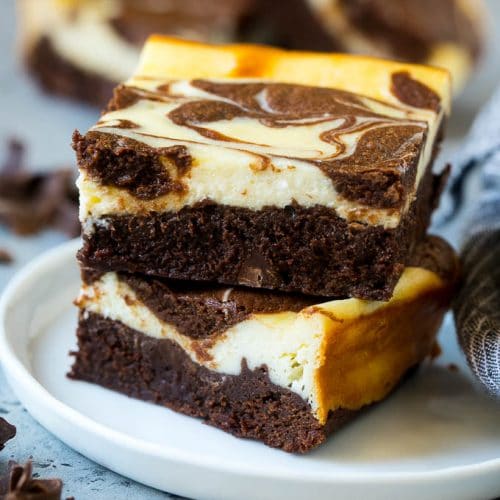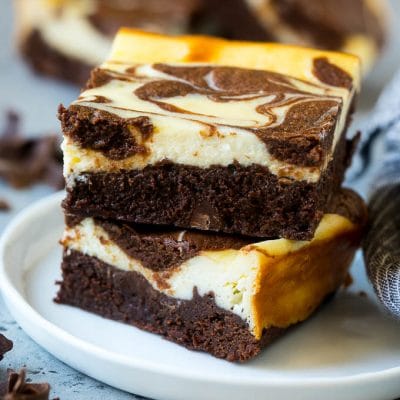 These cheesecake brownies are a rich and fudgy chocolate brownie topped with a layer of sweetened cream cheese. A show stopping dessert that's easy to make and always gets rave reviews!
Ingredients
For the brownie layer
1/2

cup

unsalted butter

cut into cubes

1 3/4

cups

semisweet chocolate chips

divided use, do not use Nestle

1/2

cup

granulated sugar

2

eggs

1 1/2

teaspoons

vanilla extract

3/4

cup

all purpose flour

3

tablespoons

cocoa powder

1/4

teaspoon

salt

cooking spray
For the cheesecake layer
8

ounces

cream cheese

softened

1/4

cup

granulated sugar

1

egg

1/4

teaspoon

vanilla
Instructions
Preheat the oven to 350 degrees F. Line an 8 or 9 inch square pan with parchment paper, leaving an overhang of parchment on both sides. Coat the parchment lined pan with cooking spray.

For the brownies: Place the butter and 1 1/3 cups of chocolate chips into a large bowl. Microwave in 30 second increments until just melted. Stir until smooth.

Let the chocolate mixture cool for 5 minutes. Whisk in the sugar, then whisk in the eggs, one by one. Finally, whisk in the vanilla extract.

Add the flour, cocoa powder and salt to the bowl. Stir gently until just combined.

Reserve 1/4 of of the brownie batter in a separate bowl.

Fold the remaining chocolate chips into the larger amount of the brownie batter.

Spread the larger amount of batter evenly into the prepared pan.

For the cheesecake filling: Place the cream cheese and sugar in a bowl. Beat with a mixer for 2-3 minutes or until smooth and creamy. Add the egg and vanilla extract, then beat until smooth.

Pour the cheesecake mixture over the brownie batter in the pan.

Add 1 tablespoon of very hot water to the reserved brownie batter. Stir until smooth.

Dollop the brownie batter over the cheesecake. Use a skewer or knife to swirl the two batters together.

Bake for 30-35 minutes or until a toothpick inserted into the center of the brownies comes out clean or with just a few crumbs attached.

Cool the brownies completely.

Use the parchment overhang to lift the brownies out of the pan. Cut into squares, then serve.
Nutrition
Calories:
381
kcal
|
Carbohydrates:
33
g
|
Protein:
5
g
|
Fat:
20
g
|
Saturated Fat:
14
g
|
Cholesterol:
83
mg
|
Sodium:
128
mg
|
Potassium:
217
mg
|
Fiber:
2
g
|
Sugar:
22
g
|
Vitamin A:
565
IU
|
Calcium:
46
mg
|
Iron:
2.5
mg