This recipe for beef lettuce wraps is seared steak layered with fresh vegetables and pickled cucumbers inside of cool lettuce cups and finished off with an Asian sauce, chopped almonds and fresh herbs.
If you love the traditional chicken lettuce wraps, you'll love this beefy version that features tender sliced steak!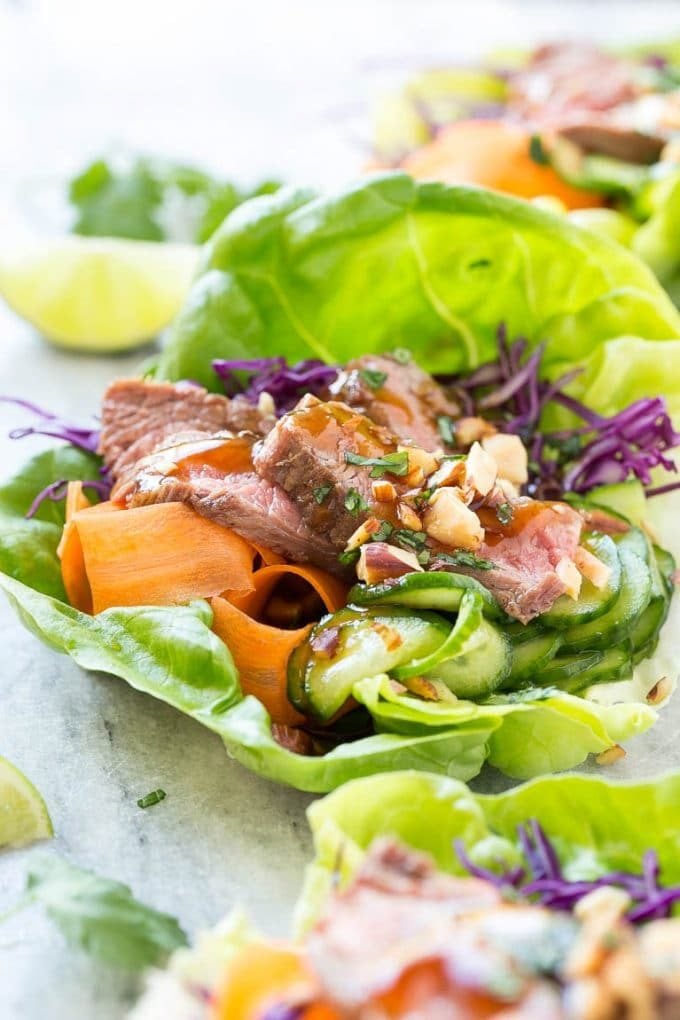 I have lived in California my entire life and am proud to call it my home state. Prior to having my girls I worked as an urban planner in local government offices around the Bay Area and Central Valley regions. In my job I experienced the inner workings of cities and counties in urban, suburban and agricultural areas. One of the amazing things about this state is the sheer diversity, it amazes me that I can drive an hour in any direction and end up in a number of vastly different regions.
When people think of California they often think of things like the beach, San Francisco and Hollywood, but most people don't realize that California also grows nearly half of the fruits, nuts and vegetables in the United States. The food that is grown in California is critical to both the state and the country's economy – it generates more than $100 billion in annual economic activity for the state! I try and buy locally grown products as much as possible at the farmer's market or a family owned grocery store in my town, and these beef lettuce wraps were inspired by a recent trip to the farmer's market.
How do you make beef lettuce wraps?
I love heading over to the farmer's market on the weekend to get inspired, both for recipe development and for my own meals! On this particular day I picked up a gigantic head of butter lettuce which was my starting point for these beef lettuce wraps. I also picked up California grown carrots, herbs, almonds, garlic, olive oil and a great looking piece of beef. Fun fact: California grows 100% of the country's almond supply! I was so excited to see spring produce like strawberries, it's been a long winter full of apples and oranges!
These beef lettuce wraps are crisp butter lettuce leaves filled with shaved carrots, picked cucumbers and cabbage. The veggies are topped with seared steak, a drizzle of an Asian inspired sauce, cilantro and chopped almonds. While these lettuce wraps taste amazing, they're also incredibly colorful!
I used flank steak for this recipe because it looked best at the farmer's market, but you could also use another lean cut like sirloin. These beef lettuce wraps are super easy to assemble and make a great appetizer or light meal. I love them so much that I made some for lunch every day for a week straight!
These lettuce wraps are a great representation of the variety of food items that are produced in California. Farmers can't produce all of this fresh food without water, and unfortunately the state is currently experiencing a drought. My little family has been taking measures to curb our water usage and it's no different for California farmers and ranchers – they are continually looking for innovative ways to use water responsibly. You can learn more about the measures that are being taken to conserve water on the Cultivate California website.
Head on over to your local farmer's market this weekend to pick up the ingredients for these beef lettuce wraps- I will definitely be there doing my part to support the local economy!
More beef recipes you'll love
This recipe for beef lettuce wraps is seared steak layered with fresh vegetables and pickled cucumbers inside of cool lettuce cups and finished off with an asian sauce, chopped almonds and fresh herbs.
Ingredients
For the lettuce wraps
8

leaves

of butter lettuce

12

ounces

of flank sirloin or New York strip steak

2

teaspoons

extra virgin olive oil

1

cup

of shredded red cabbage

1

cup

of shaved or shredded carrots

1/4

cup

chopped cilantro

1/3

cup

chopped roasted almonds

Optional garnish: lime wedges
For the sauce
1/4

cup

soy sauce

1/4

cup

water

1

teaspoon

minced garlic

1

teaspoon

minced ginger

1

teaspoon

lime juice

2

tablespoons

of honey

1

teaspoon

toasted sesame oil

2

teaspoons

cornstarch
For the pickled cucumbers
1

cup

thinly sliced cucumbers

1

teaspoon

salt + more to taste

1/4

cup

rice vinegar

1

tablespoon

sugar
Instructions
For the pickled cucumbers: Place the cucumbers in a colander and sprinkle with teaspoon of salt. Let sit for 5 minutes, then rinse the salt off and drain well.

Whisk together the rice vinegar and sugar. Add the cucumbers along with salt to taste. Refrigerate for at least one hour or up to 24 hours.

For the sauce: Place the soy sauce, water, garlic, ginger, honey and sesame oil in a small pot over medium high heat. Cook for 2-3 minutes, stirring constantly. Turn up heat to high and bring to a boil.

Mix the cornstarch with 1 tablespoon of cold water until dissolved. Add the cornstarch mixture to the sauce and boil for 1-2 minutes or until sauce has thickened. Strain the sauce through a sieve and set aside.

For the steak: Heat a large pan over high heat. Drizzle the olive oil over the meat on both sides and season generously with salt and pepper. Cook for 5-7 minutes on each side or until desired level of doneness is reached. Thinly slice the steak.

To assemble: Drain the pickled cucumbers. Divide the carrots, cucumbers and cabbage evenly among the lettuce leaves. Drizzle approximately 1 and 1/2 teaspoons of sauce over the vegetables.

Top each lettuce leaf with 2-3 slices of steak and drizzle with remaining sauce. Sprinkle chopped almonds and cilantro over the top and serve, with lime wedges on the side if desired.
Nutrition
Calories:
560
kcal
|
Carbohydrates:
48
g
|
Protein:
16
g
|
Fat:
28
g
|
Saturated Fat:
8
g
|
Polyunsaturated Fat:
1
g
|
Monounsaturated Fat:
2
g
|
Cholesterol:
25
mg
|
Sodium:
1876
mg
|
Fiber:
2
g
|
Sugar:
17
g
This post is sponsored by Cultivate California.