A comprehensive list of red, white and blue 4th of July recipes including drinks, cakes, pies, candy, salads and sweets! These patriotic recipes are perfect for the 4th and are also great for Memorial Day celebrations.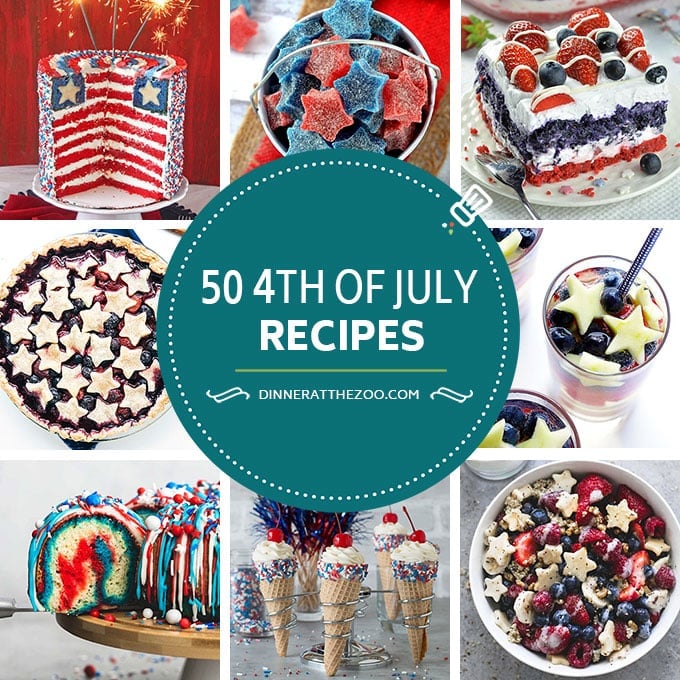 Do you have any traditions for the 4th of July? Usually, around here we have a BBQ and light a few fireworks. I always make sure to cook some fun red, white and blue recipes to make our celebration especially festive.
This huge list of 4th of July recipes is your ultimate guide to patriotic food! Many of these recipes are sweet treats that are perfect for a hot summer day, like popsicles, jello, no bake treats and plenty of red, white and blue fruit desserts. There are also sweet and savory salads, cool and refreshing drinks, and baked goods like cookies, cakes and pies.
4th of July entertaining doesn't have to be complicated and time consuming. Choose a few festive recipes from this list and your guests will be so very impressed!
50 4th of July Recipes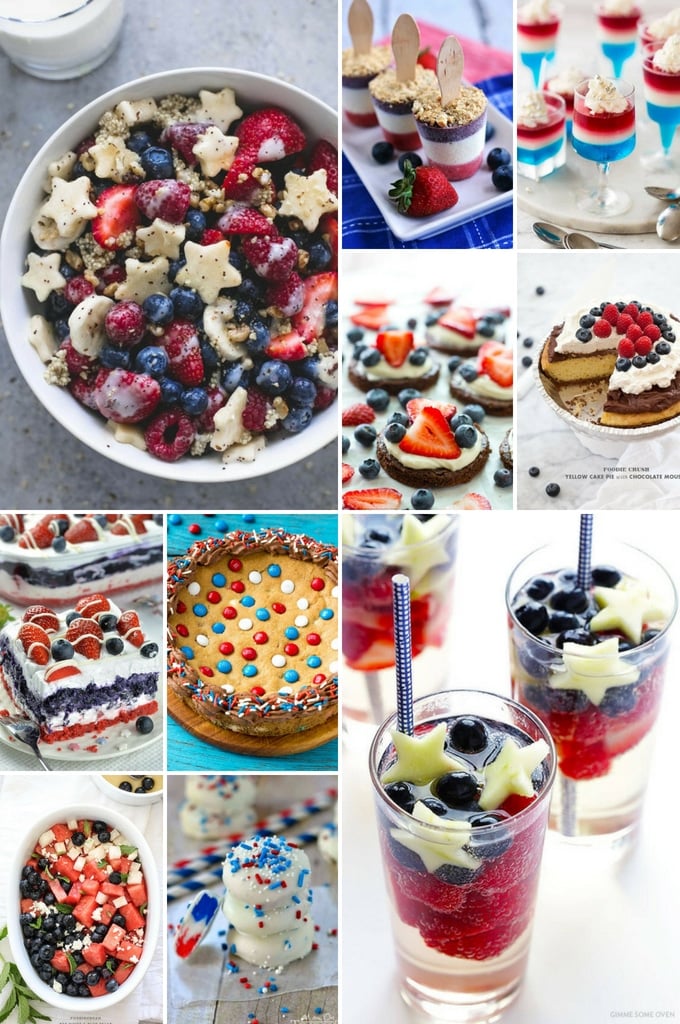 Patriotic Rice Krispy Treats (recipe below!)
Red, White and Blue Drumsticks
These patriotic rice krispy treats are a fun and easy way to dress up this classic sweet for the holiday. All you need are rice krispy treats, candy melts, sprinkles and popsicle sticks to make a fun snack that the kids will go crazy over!
Patriotic Rice Krispy Treats
Serves 12
12 rice krispy treats
3 cups candy melts in red, white and/or blue colors
1/2 cup red, white and blue sprinkles
Push a popsicle stick into each rice krispy treat.
Place each color of candy melt in a bowl. Microwave each bowl in 30 second increments or until candy is melted. Stir until smooth.
Dip each treat into the red, white or blue candy melts. Add sprinkles and set on parchment paper.
Let set until dry, then serve.
This post was originally published on May 25, 2016 and was updated on May 17, 2018 with all new content.