These nutella berry crepes are a foolproof recipe for blender crepes topped with nutella, whipped cream and fresh berries.
There's a story behind these nutella berry crepes. I walked into my grocery store and right in front of me was a display of yellow raspberries. I immediately began racking my brain, what could I make with them? I mean, it's not every day that you come across yellow raspberries. But it was late in the day and I was tired and I couldn't think of anything to make so I left them at the store. When I got home, I mentioned the berries to my husband and he immediately suggested crepes. I turned around, got back in the store and got the raspberries and these crepes were made the next day! 
My go-to crepe recipe is actually made in the blender, it's basically fool proof. The batter can even be made earlier in the day, just stir it well before you use it.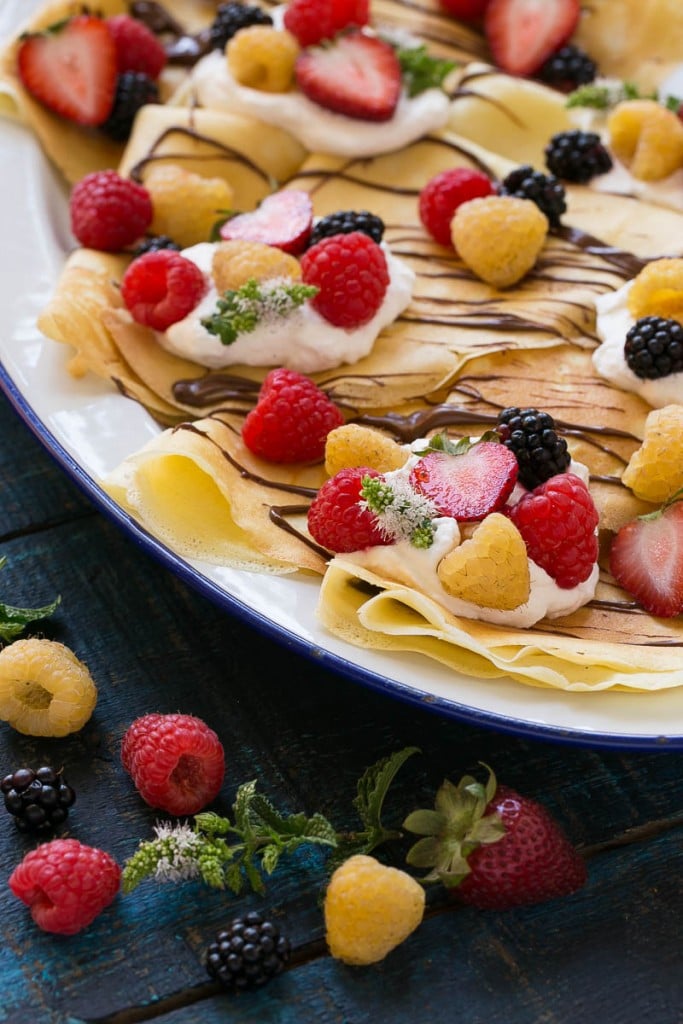 When making crepes, the trick is to use just enough batter to cover the bottom of the pan and work quickly to make sure the batter spreads evenly before it starts to solidify. I folded these crepes into triangles, drizzled them with nutella and added lots of fresh berries.
I can't decide if I prefer these nutella berry crepes for breakfast or dessert, they're amazing either way! You can never go wrong with berries and chocolate, and the dollops of whipped cream are the perfect finishing touch.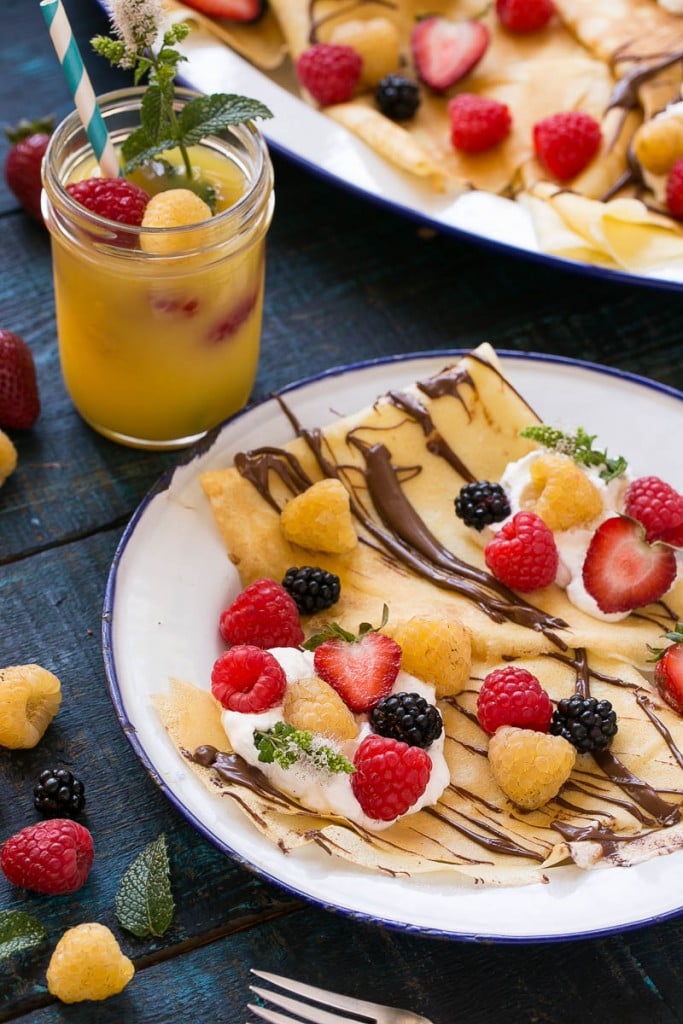 You can use whatever combination of berries that you want – I haven't seen these yellow raspberries again so I can't imagine they'd be easy for you to find either (hint: they taste the same as regular raspberries). But you have to admire my dedication of driving back to the store to get them to bring you a pretty post. Either that or you think I'm crazy!
Still hungry? Follow Dinner at the Zoo on Facebook, Twitter, Instagram and Pinterest for more great recipe ideas!
This post may contain affiliate links. Please see my full disclosure policy for details.
Nutella Berry Crepes
These nutella berry crepes are a foolproof recipe for blender crepes topped with nutella, whipped cream and fresh berries. Crepe recipe adapted from Martha Stewart.
Ingredients
1

cup

all-purpose flour

1

tablespoon

granulated sugar

1/4

teaspoon

kosher salt

1 1/2

cups

milk

(I used 1%)

4

large eggs

3

tablespoons

unsalted butter

, melted + more for pan

1/2

cup

nutella

3/4

cup

heavy cream

1/2

teaspoon

vanilla

1

tablespoon

granulated sugar

1 1/2

cups

mixed berries
Instructions
Pour flour, sugar, salt, milk, eggs, and butter into a blender.

Puree until mixture is smooth, about 30 seconds. Let batter sit for 15 minutes before you use it.

Heat a 12-inch nonstick skillet on medium heat. Lightly coat with butter. Add 1/3 cup batter and swirl to completely cover bottom of skillet. Cook until underside of crepe is golden brown, 2-3 minutes.

Loosen edge of crepe with a spatula, then with your fingertips, quickly flip. Cook 1 minute more. Slide crepe out of skillet and repeat with remaining batter.

Pour the heavy cream into a mixer fitted with the whisk attachment. Beat on medium-high until soft peaks form. Add vanilla and sugar and beat for another 2 minutes or until stiff peaks form.

Fold the crepes into triangles and drizzle with nutella (you may need to warm the nutella first if it's too thick to drizzle). Top with whipped cream and berries. Serve immediately.
Recipe Notes
Make Ahead: The crepe batter can be made earlier in the day and stored in the fridge. Mix it well before use.
Nutrition Facts
Nutella Berry Crepes
Amount Per Serving
Calories 359
Calories from Fat 198
% Daily Value*
Total Fat 22g 34%
Cholesterol 128mg 43%
Sodium 140mg 6%
Potassium 216mg 6%
Total Carbohydrates 33g 11%
Protein 7g 14%
* Percent Daily Values are based on a 2000 calorie diet.
Other Recipes You Might Like