This recipe for microwave caramels is an impressive treat that's ready in just minutes – top the caramels with a generous sprinkle of sea salt to really make them special!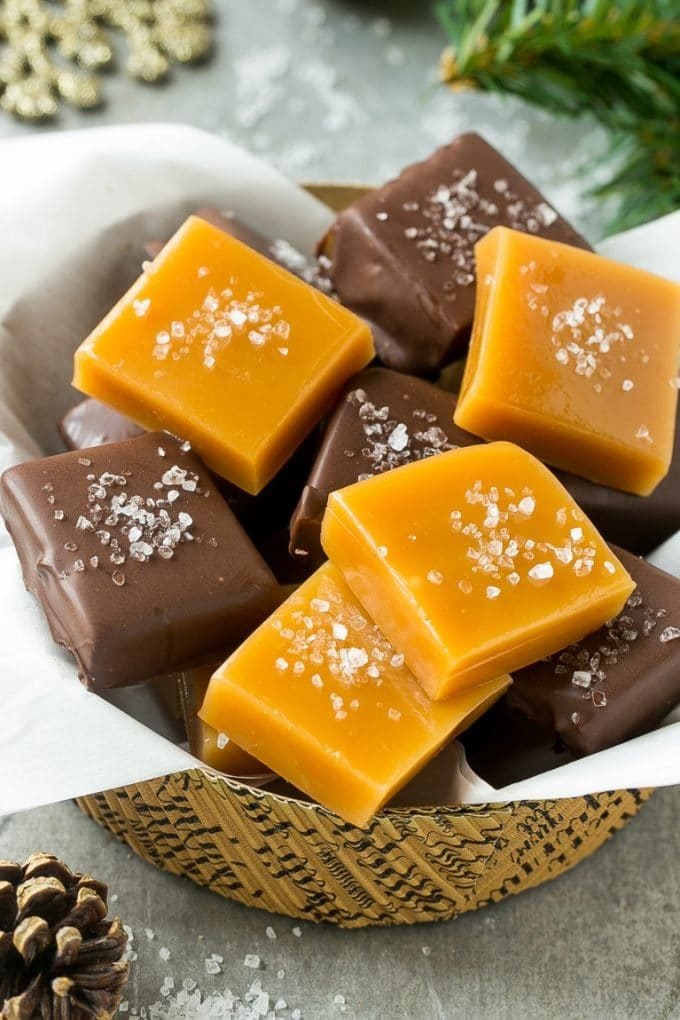 I am so excited to share this recipe for sea salt microwave caramels with you today! I do not consider myself a candy maker by any means, but in a matter of minutes I was able to whip up these beautiful and delicious treats that look like they came straight from the candy store. All you need is a handful of simple ingredients and you too can have perfect caramels without having to use a candy thermometer or other complicated equipment!
These microwave caramels are made with just 7 ingredients, most of which you likely have in the pantry. The ingredients go into a bowl and get microwaved for 6-7 minutes. Pour the resulting mixture into a greased pan and you've got caramels! I couldn't believe how well this works!
How to make microwave caramels
There are a few tricks to ensure that your caramels come out perfectly. First, be sure to use a large bowl, as the caramel mixture will bubble vigorously in the microwave and you don't want it to spill over. In addition, you'll need to stir the mixture every 2 minutes during the cooking process. You'll want to be sure to stir very thoroughly so that the caramels will end up smooth and shiny.
The cook time for this recipe is 6-7 minutes. If you cook your caramels for 6 minutes, they'll be on the softer side, perfect for wrapping in waxed paper. The caramels pictured here were cooked for 7 minutes, they're on the firmer side and can be served as is or coated in chocolate. While the caramels are delicious on their own, there's a special ingredient that takes them over the top: coarse sea salt.
I give my microwave caramels a generous sprinkling of Morton Coarse Sea Salt. This salt has larger crystals that add the perfect finishing touch to so many dishes. I like to add coarse Sea Salt to roasted vegetables, on top of a grilled steak, over avocado toast and on chocolate chip cookies. This salt really enhances the flavor of the caramels by providing a contrast to the sweetness, and I love the added texture from the coarse grains. There are many types of salt that serve different purposes in the kitchen; if you're using standard table salt for all of your cooking then you're missing out on some amazing culinary experiences!
The salt should be sprinkled over the caramels right after they're poured in the pan so that the salt will adhere to the tops. If you're planning to dip your caramels in chocolate, you can simply add the salt immediately after dipping the caramels. I like to do half plain, half dipped in chocolate so that there are options to please everyone.
These microwave sea salt caramels make the perfect holiday gift, and they're a fun and festive addition to any dessert table. Salt is really such a crucial part of cooking, and using the right type of salt can really turn an ordinary dish into something extraordinary.
More holiday candy recipes
Microwave Caramels Video
Microwave Caramels with Sea Salt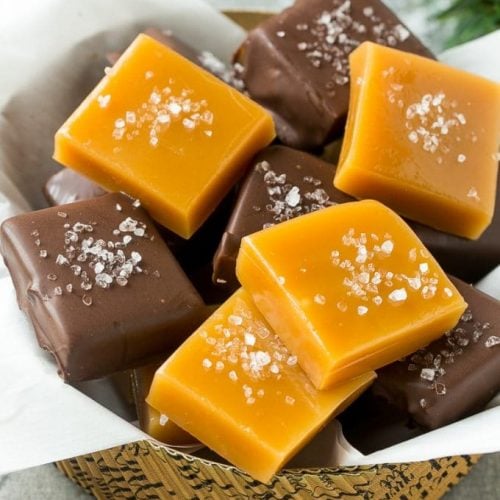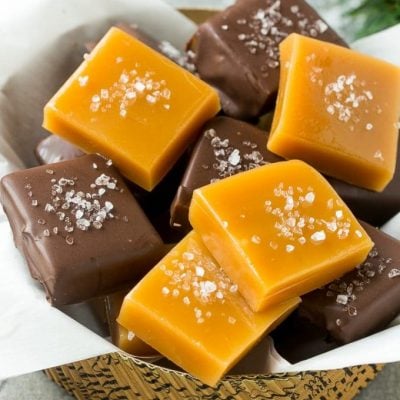 This recipe for microwave caramels is an impressive treat that's ready in just minutes - top the caramels with a generous sprinkle of sea salt to really make them special!
Ingredients
1/4

cup

butter

melted

1/2

cup

packed brown sugar

1/2

cup

granulated sugar

1/2

cup

light corn syrup

1/2

cup

sweetened condensed milk

1/2

teaspoon

vanilla extract

2

teaspoons

Morton Coarse Sea Salt

optional: 1 cup of semisweet chocolate chips or dark candy melts, melted

cooking spray
Instructions
Place the butter, brown sugar, granulated sugar, corn syrup, condensed milk and vanilla in a large microwave safe bowl.

Line an 8 or 9 inch loaf pan with parchment paper and coat the pan with cooking spray.

Microwave for 6-7 minutes, stirring thoroughly every 2 minutes. A 6 minute cook time will produce a softer caramel; 7 minutes will produce a firmer caramel.

Pour the caramel into the prepared pan. Sprinkle the coarse sea salt over the caramel. If you're planning to coat the caramels in chocolate, do not add the salt until later after the caramels have been dipped.

Let the caramel cool until firm. Carefully remove the slab of caramel from the pan and cut into 1 1/2 inch squares.

If desired, dip the caramels in melted chocolate. If you dip the caramels in chocolate, sprinkle the sea salt over the top before the chocolate has set.
Nutrition
Calories:
137
kcal
|
Carbohydrates:
26
g
|
Protein:
1
g
|
Fat:
4
g
|
Saturated Fat:
2
g
|
Cholesterol:
11
mg
|
Sodium:
328
mg
|
Sugar:
26
g
This post is sponsored by Morton Salt. Thank you for supporting the brands that make Dinner at the Zoo possible!
This post was originally published on December 21, 2016 and was updated with new content on September 21, 2017.