These chocolate covered cherries are made with maraschino cherries, a creamy center and plenty of dark chocolate. A homemade version of the classic treat that's impossible to resist!
Chocolate covered cherries are one of my all time favorite candies, along with fudge and peppermint patties. These sweet treats make great holiday gifts, party favors, or a snack to satisfy any chocolate craving.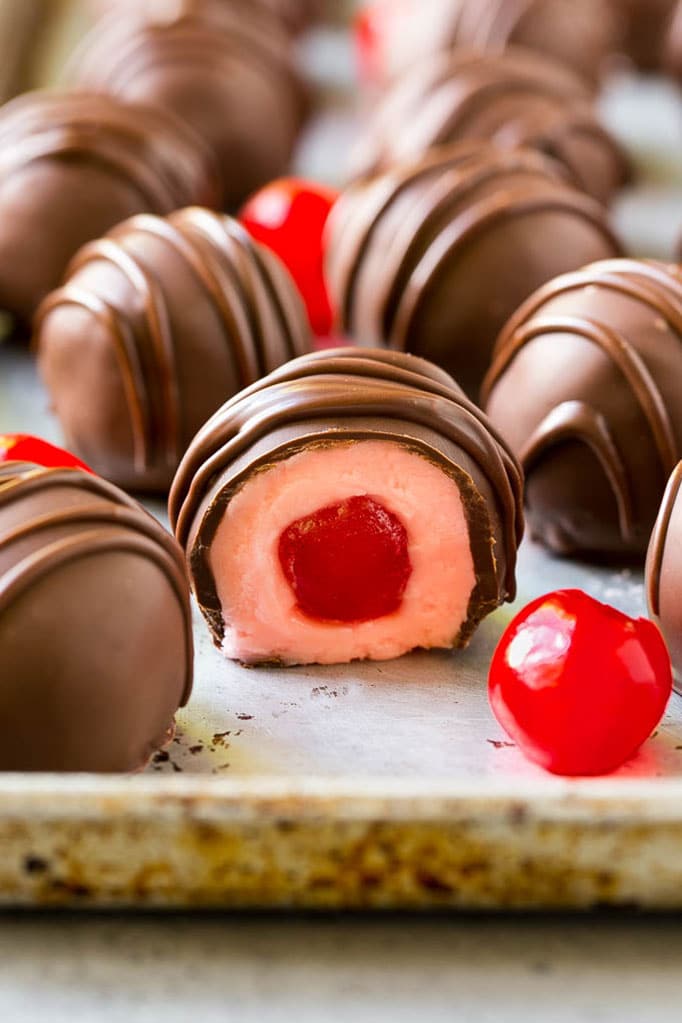 My favorite candy store is See's candy. And every time I go in there, I have to get chocolate covered cherries, they're my all time favorite candy. This homemade version is actually easier to make than it looks, and they are SO delicious. Everyone will be so impressed that you made them yourself!
How do you make chocolate covered cherries?
The first step to making chocolate covered cherries is to make the fondant that goes around the cherries. The fondant is a combination of powdered sugar, butter and maraschino cherry juice, which forms a dough that can be wrapped around individual maraschino cherries.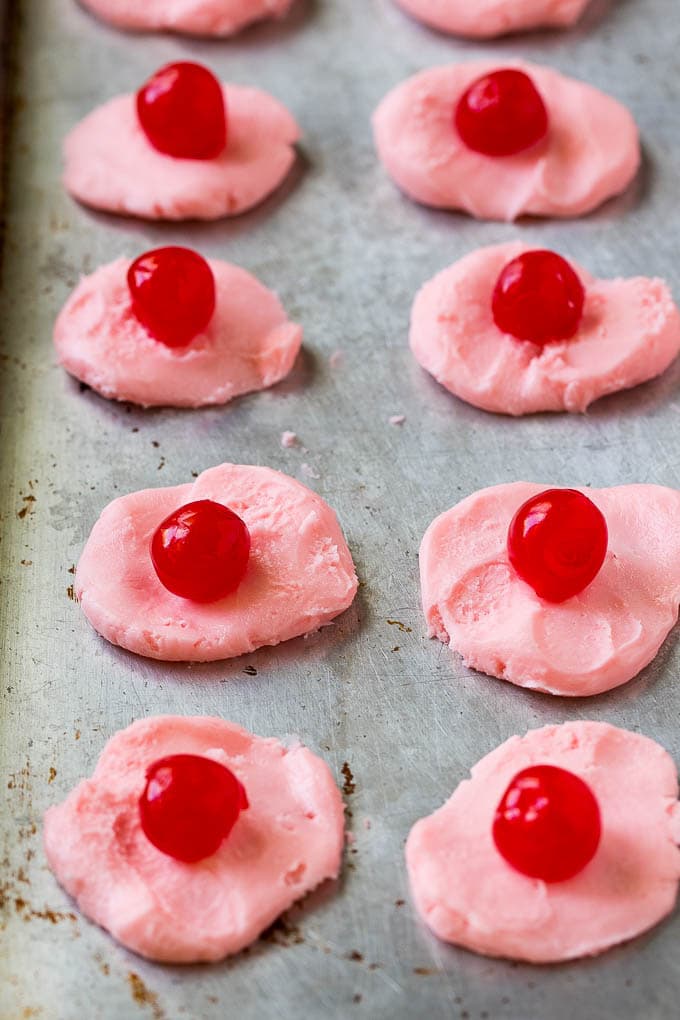 This dough can be a little sticky to work with. I recommend either coating your hands in cooking spray, or adding a little bit of powdered sugar to your work surface so that the dough doesn't adhere to your hands or work space.
It's important to make sure the maraschino cherries are completely dry before you wrap them in fondant, otherwise the fondant will not stick.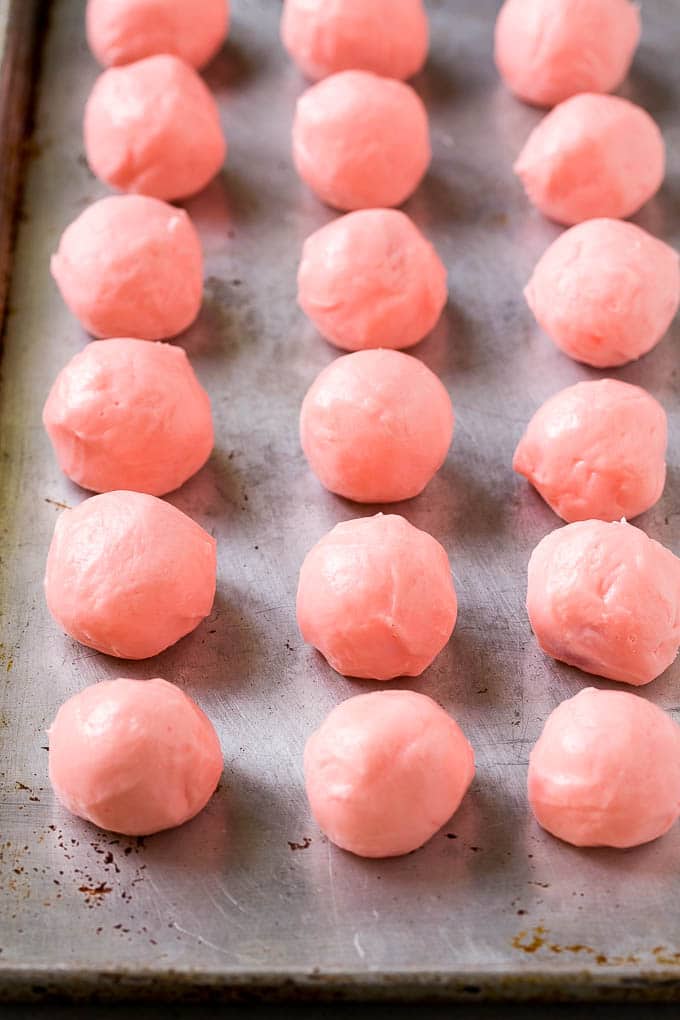 Tips for chocolate covered cherries
After the cherries are wrapped in fondant, they need to be chilled so that they're completely firm before they get dipped in chocolate. Otherwise, your cherries might start to melt and lose their round shape.
I use Ghirardelli Dark Melting Wafers to dip my cherries in. They melt beautifully, are really easy to work with, and create a shiny thin shell on the cherries. You can also use chocolate chips or another brand of candy melts, but you'll likely have to add some shortening to thin the chocolate before you start dipping.
These cherries are best stored at room temperature after dipping so that the centers stay soft. The centers will never fully liquefy, but they'll be rich, creamy and delicious regardless.
While I use dark chocolate for these cherries, you can also use milk chocolate if you prefer.
I personally like my chocolate covered cherries with the stems removed, but you can absolutely leave the stem on if you prefer, it does make for easier dipping!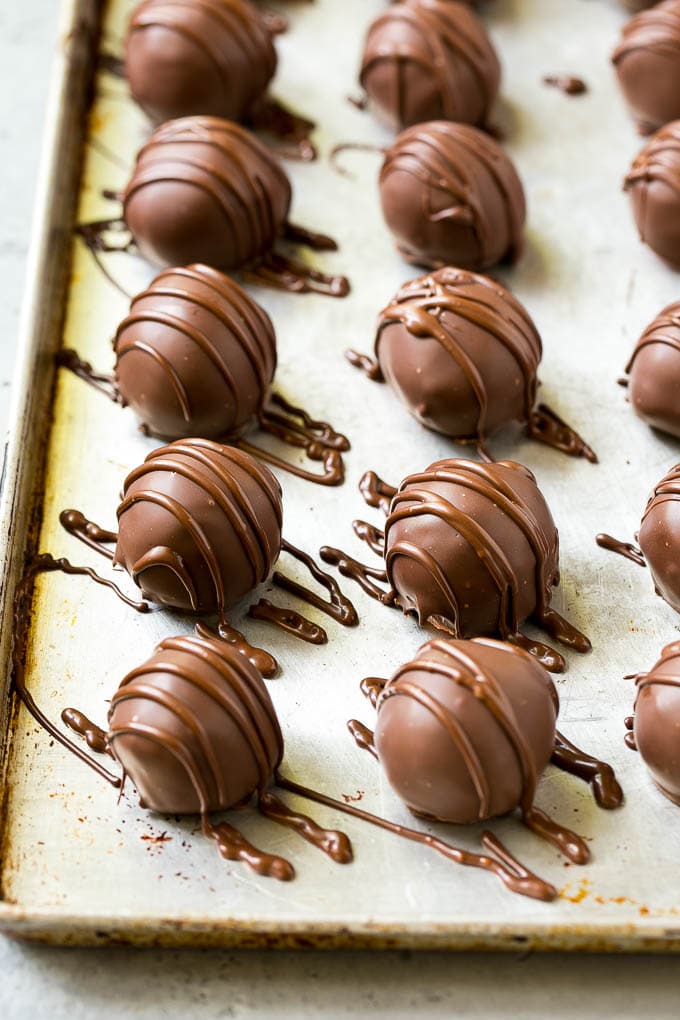 I love to package these chocolate covered cherries in little gift boxes around the holidays to give to family, friends and teachers. No one can believe that we made them ourselves, and I have to say, I think the homemade version is SO much better than store bought.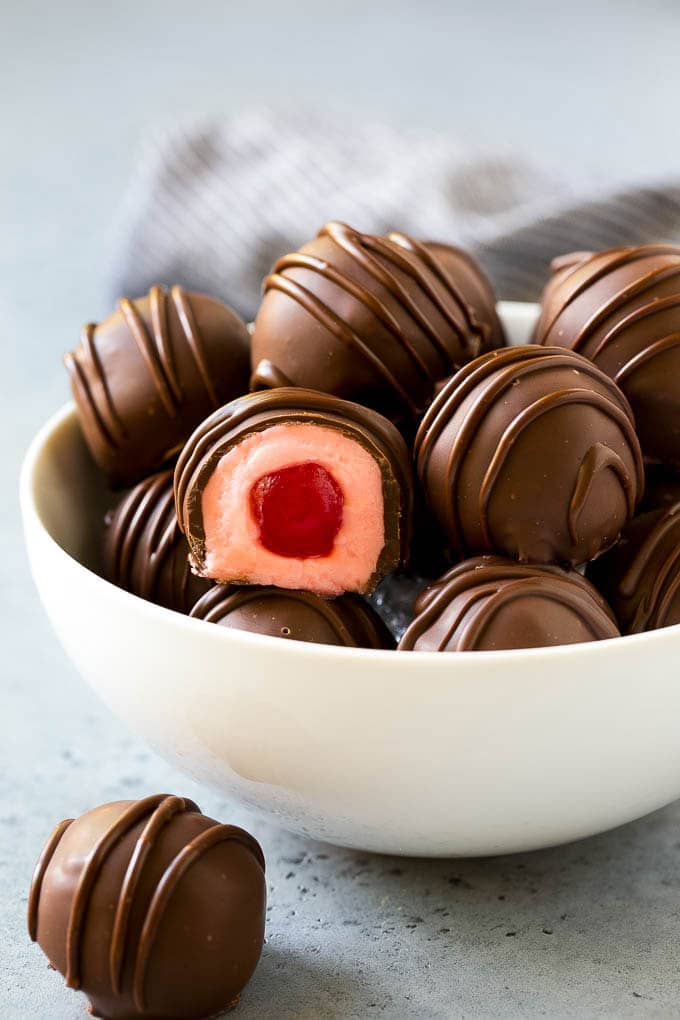 More amazing candy recipes
Chocolate Covered Cherries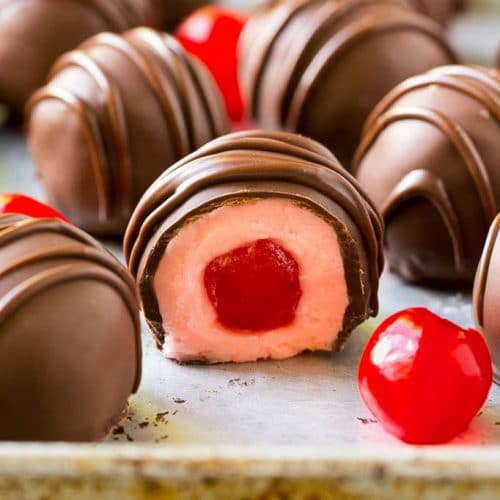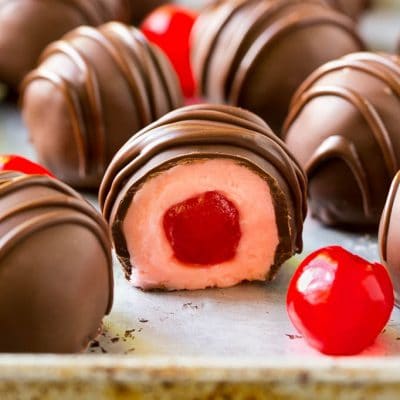 These chocolate covered cherries are made with maraschino cherries, a creamy center and plenty of dark chocolate. A homemade version of the classic treat that's impossible to resist!
Ingredients
10

ounce jar

maraschino cherries

4

tablespoons

butter

softened

3 1/2

cups

powdered sugar

16

ounces

dark candy melts or chocolate chips

if using chocolate chips, you will also need to add 2 teaspoons of shortening to the recipe during the chocolate melting process
Instructions
Drain the cherries, reserving 1/4 cup of the cherry juice.

Place the cherries on paper towels and pat to dry.

Place the powdered sugar, butter and 3 tablespoons of cherry juice in the bowl of a mixer; beat to combine until the mixture forms a dough.

If the mixture seems too wet or sticky, add 1 tablespoon of powdered sugar at a time until desired consistency is reached.

If mixture is too dry, add 1 teaspoon of cherry juice at a time until desired consistency is reached.

Cover the bowl and refrigerate for 20 minutes.

Take two teaspoons of the cherry dough and flatten it into a disc shape.

Place one cherry onto each disc and wrap the dough around the cherry to form a ball. If the dough sticks to your hands, try coating your hands in cooking spray first.

Place the balls onto a sheet pan lined with parchment paper and freeze for 20 minutes.

While the balls are chilling, melt the candy melts by placing them in a microwave safe bowl and cooking them in the microwave for 30 second increments until melted.

Stir the candy melts until smooth.

Place one ball on a fork and use the fork to coat the ball in chocolate. Gently tap the fork against the side of the bowl to remove any excess chocolate.

Place each dipped ball onto a sheet of parchment paper. Repeat the process with the remaining balls and candy melts.

Place some of the melted candy in a resealable bag and snip off one corner of the bag to use as a piping bag.

Use the piping bag to drizzle melted chocolate over the tops of the dipped cherries.

Let the chocolate coating harden, then store the cherries at room temperature for up to one week.
Nutrition
Calories:
209
kcal
|
Carbohydrates:
42
g
|
Protein:
1
g
|
Fat:
7
g
|
Saturated Fat:
4
g
|
Cholesterol:
9
mg
|
Sodium:
36
mg
|
Potassium:
2
mg
|
Fiber:
1
g
|
Sugar:
40
g
|
Vitamin A:
125
IU
|
Vitamin C:
0.2
mg
|
Calcium:
35
mg
|
Iron:
0.4
mg