This London broil marinade is made with a savory blend of olive oil, lemon juice, soy sauce and plenty of herbs and spices. It takes just minutes to put together and produces tender and juicy meat each and every time!
My family loves steak, whether it's a tender steak flavored with teriyaki marinade, skirt steak marinade, rib eye with garlic butter, steak fajitas or a succulent London broil steak prepared with this easy marinade.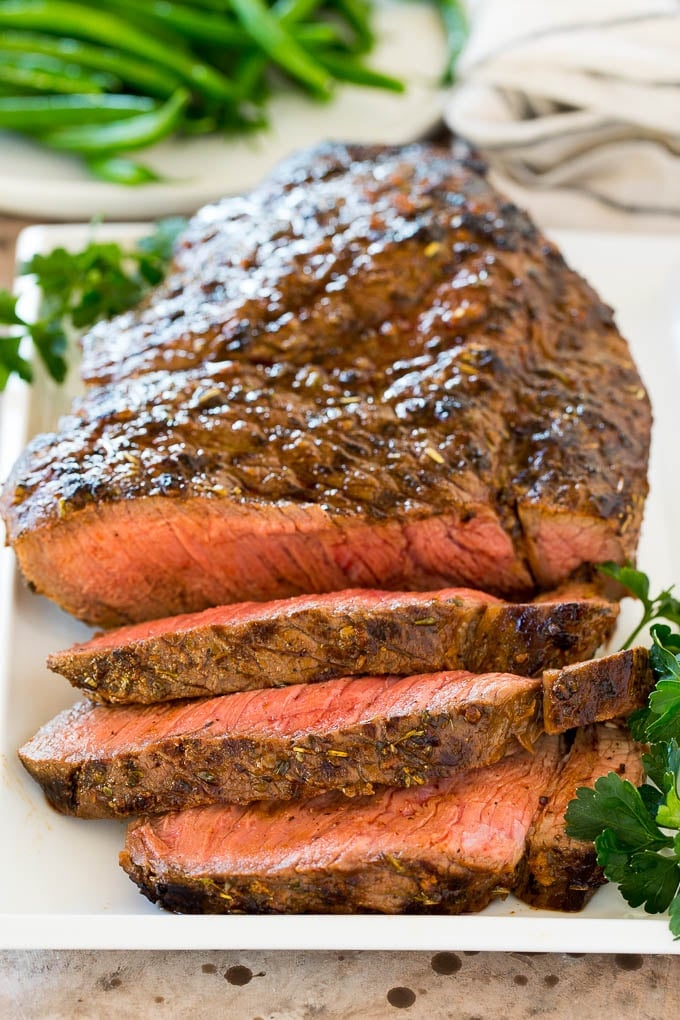 London broil is a versatile and flavorful cut of meat that's great for feeding a crowd. My favorite way to prepare this cut is with this super flavorful London broil marinade. You'll never want to prepare steak any other way again!
What is London broil?
Many people think that London broil is a specific cut of meat, but it's actually a method of preparation that involves marinating a roast, then either grilling or broiling it and cutting it into thin slices. Some of the types of meat that may be labeled as London broil include top round, flank steak or sirloin. These cuts are not always the most tender, which is why it's important to marinate the meat to tenderize it and be careful not to overcook it.
How do you make London broil marinade?
This marinade is a blend of soy sauce, olive oil, lemon juice, Worcestershire sauce, garlic, Italian seasoning and a variety of spices. Whisk everything together in either a large bowl or a gallon sized freezer bag. Add your meat, then let it marinate and cook as desired.
Tips for the perfect marinade
This marinade can be stored in the fridge for up to 5 days, which makes it perfect to prepare in advance if you're entertaining. You can even freeze your marinade for up to 2 months if need be! If you make the marinade ahead of time, the olive oil may solidify in the fridge. Simply remove the marinade from the fridge about 20 minutes before you plan to use it, and the olive oil will liquefy again.
Feel free to swap in a low sodium soy sauce if you're watching your salt intake. You can also use tamari sauce if you're gluten free.
Italian seasoning is a prepared blend of dried herbs that can be found in the spice aisle of most grocery stores. This seasoning is typically a mixture of dried basil, parsley, garlic and oregano. If you can't find Italian seasoning, you can stir together your own combination of dried herbs in equal amounts.
This marinade works well with other cuts of beef including flank steak, New York strip, rib eye, sirloin or filet mignon.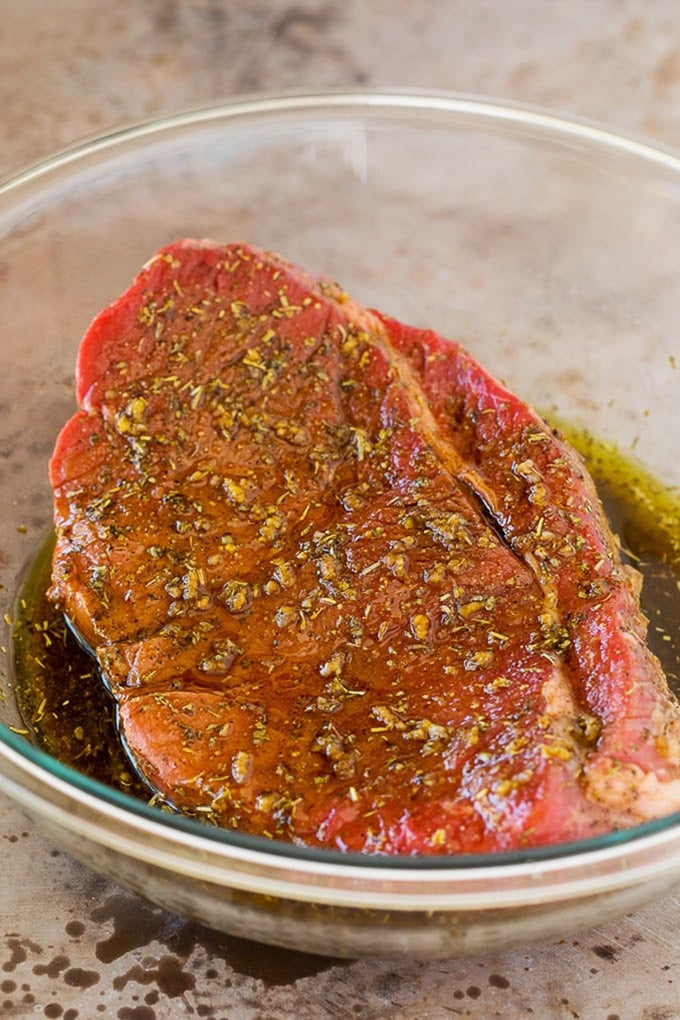 How long do you marinate London broil?
I recommend marinating your meat for a minimum of one hour, and a maximum of 24 hours. If you marinate the meat for longer than 24 hours, the lemon juice can break down the steak and change the texture.
Flavor variations
While this marinade is great as-is, you can absolutely add other flavors to the mix to make your own creation.
Sweet and Savory: Add 2 tablespoons of sweetener such as maple syrup, brown sugar or honey.
Herb Lover's: Omit the Italian seasoning. Add 1/4 cup of fresh chopped herbs such as basil, chives, oregano, thyme and rosemary.
Garlic Lover's: Double the fresh garlic and add 1/2 teaspoon of garlic powder.
Spicy: Stir in sriracha or hot sauce to taste, or add 1 teaspoon of crushed red pepper flakes.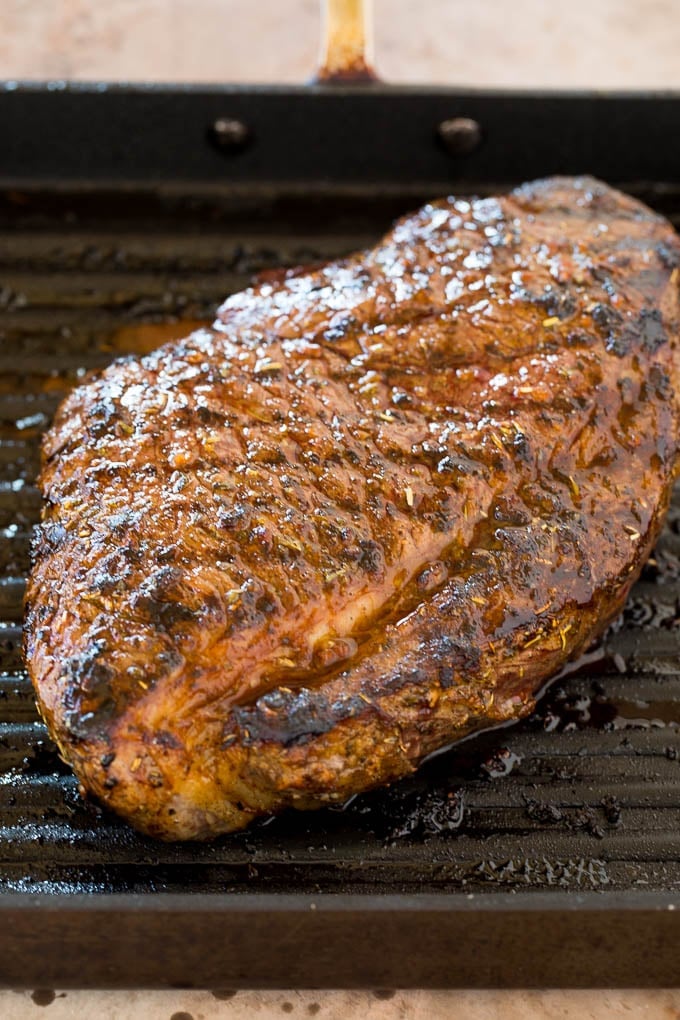 STEAK TEMPERATURES
The best way to gauge when your London broil is done is to use a digital thermometer. You can insert a thermometer into the thickest part of the meat to determine whether the steak is at your preferred level of doneness. I recommend cooking London broil to medium for the best flavor and texture.
Your meat should rest for at least 5 minutes before you cut into it. It's best to take the London broil off the heat a few degrees before you reach your desired temperature, as it'll continue to cook as it rests.
Rare: 130 degrees F
Medium-Rare: 135 degrees F
Medium: 145 degrees F
Medium-Well: 150 degrees F
Well Done: 160 degrees F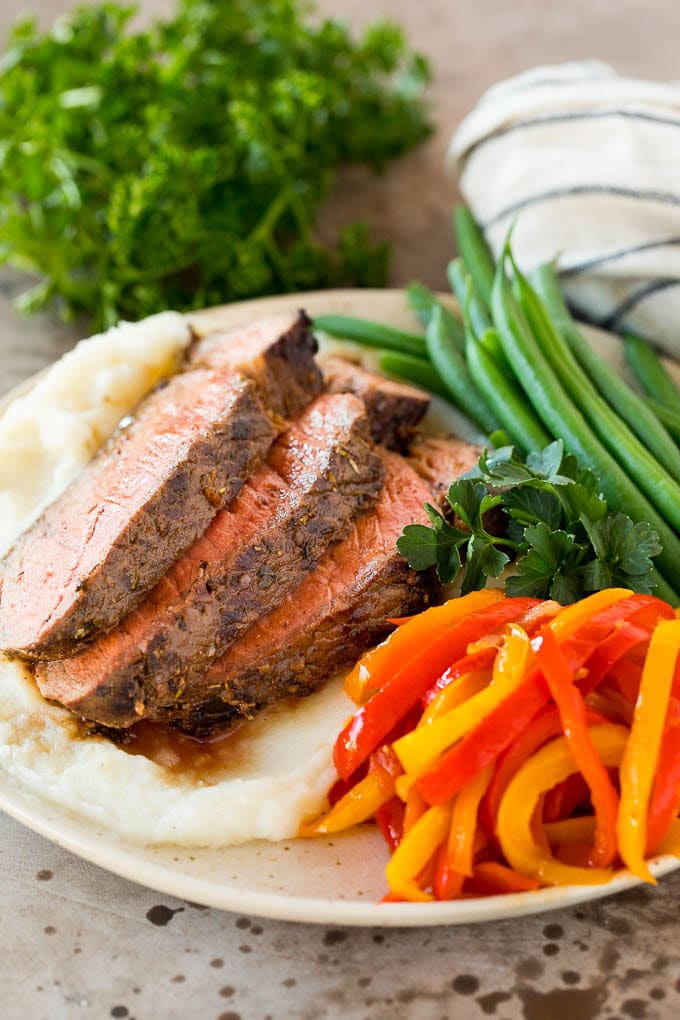 I love that this London broil marinade takes just minutes to put together for a memorable meal!
More steak recipes to savor
London Broil Marinade Video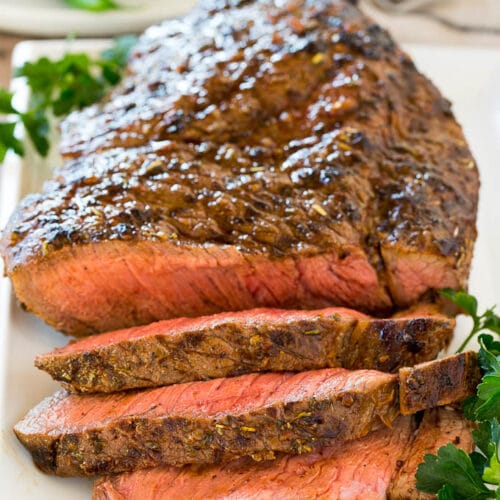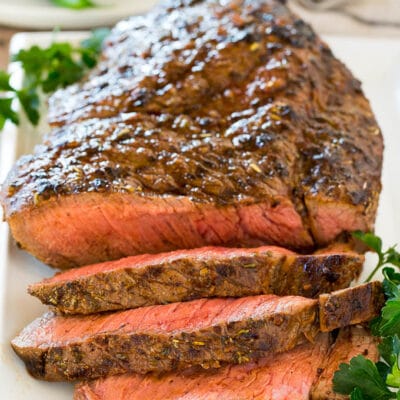 This London broil marinade is made with a savory blend of olive oil, lemon juice, soy sauce and plenty of herbs and spices. It takes just minutes to put together and produces tender and juicy meat each and every time!
Ingredients
1/3

cup

soy sauce

low sodium is fine

1/4

cup

lemon juice

freshly squeezed

1/2

cup

olive oil

1/4

cup

Worcestershire sauce

2

teaspoons

Dijon mustard

1

tablespoon

minced garlic

1

tablespoon

dried Italian seasoning

1

teaspoon

black pepper

1/2

teaspoon

kosher salt
Instructions
Place all the ingredients in a bowl or in a resealable gallon sized freezer bag. Mix to combine.

Add up to 2 pounds of London broil to the marinade. Marinate the meat for at least 1 hour, or up to 24 hours.

Grill or broil the meat to your desired level of doneness. Let the meat rest for 5 minutes, then thinly slice against the grain and serve.
Nutrition
Calories:
83
kcal
|
Carbohydrates:
4
g
|
Protein:
1
g
|
Fat:
8
g
|
Saturated Fat:
2
g
|
Sodium:
627
mg
|
Potassium:
139
mg
|
Sugar:
1
g
|
Vitamin A:
25
IU
|
Vitamin C:
5.8
mg
|
Calcium:
30
mg
|
Iron:
1.4
mg