This post may contain affiliate links. Please see my full disclosure policy for details.
This zucchini fettuccine alfredo features a healthier remake of the classic sauce (no cream!) with the addition of grilled zucchini, cherry tomatoes and pine nuts.
It's that time of the year again: zucchini time! We decided not to go crazy with a big garden this year because we started late and there's a drought here in California which means that water prices are sky high. I had a handful of seed packets that I had picked up for 10 cents each and we ended up planting the seeds to see if they'd sprout and then bought a couple of tomato plants. Turns out ALL the seeds sprouted, we've got green beans, a pumpkin vine, snow peas, carrots and of course zucchini and summer squash. This zucchini fettuccine alfredo is a great way to use your garden bounty and I've lightened up the sauce too – no cream! Because really, a ton of heavy cream would negate the impact of eating the fresh vegetables. 
Let's talk about the pasta first. The lighter alfredo sauce is made with low fat milk and flavored with plenty of freshly grated parmesan cheese – you can't use the green can of cheese for this recipe! Plain old fettuccine alfredo, while delicious, can also be a little boring. I've livened this version up with grilled zucchini, cherry tomatoes, basil and pine nuts.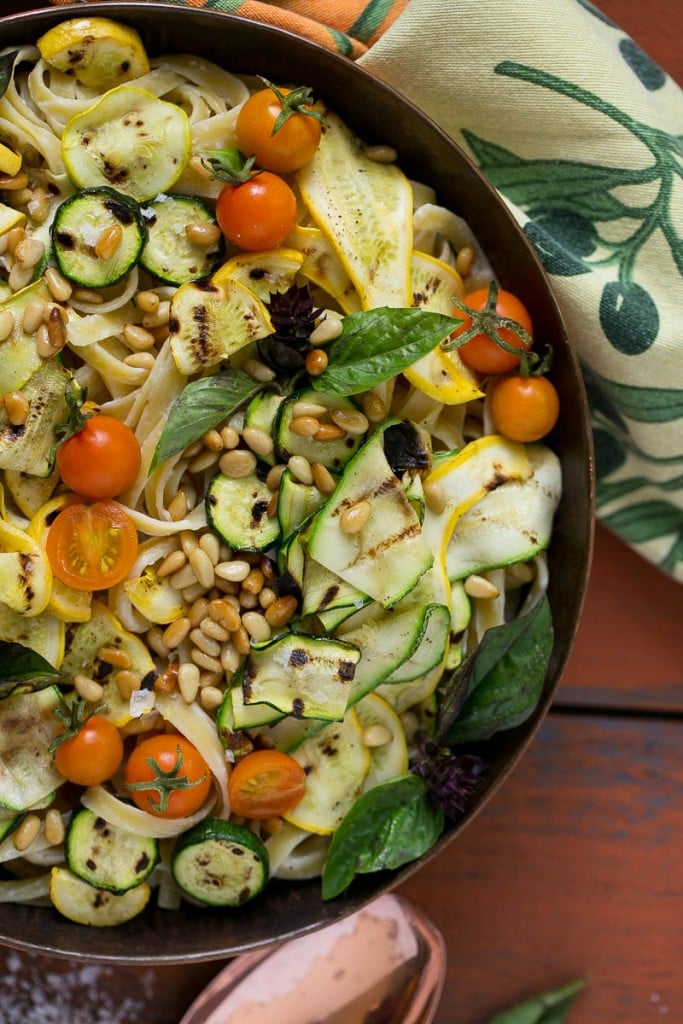 I went with a variety of zucchini and summer squash – I like all of the different colors and I cut the squash in a variety of ways for more texture. I grilled my zucchini, but you can always roast or saute it if you don't want to heat up the grill. I actually grilled my squash the day before when we already had the grill going for that night's dinner.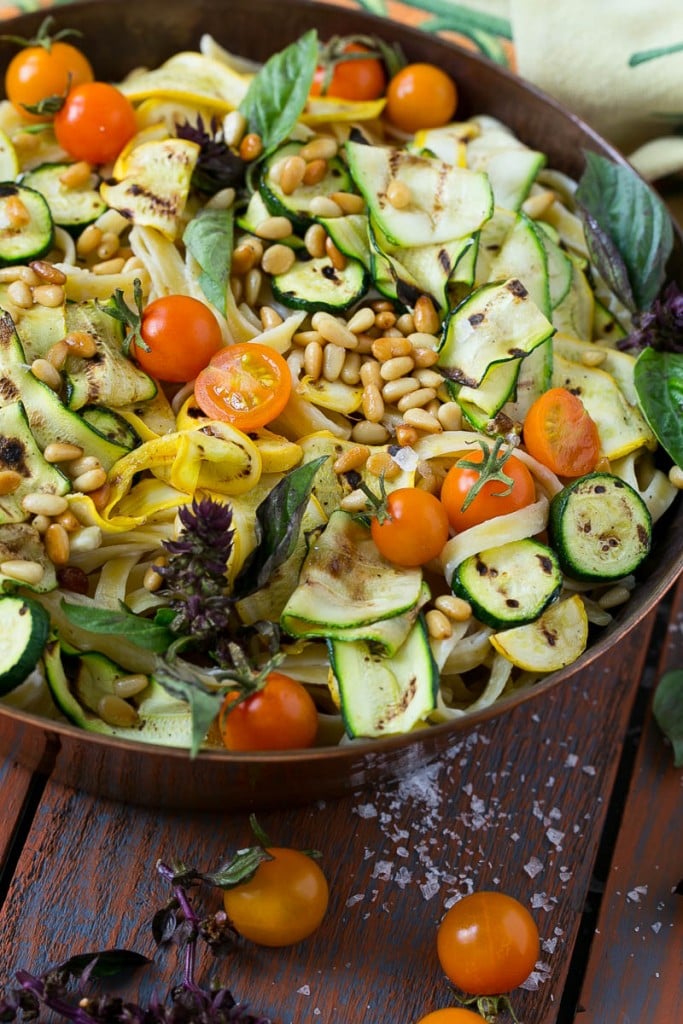 After the pasta is cooked and tossed with the alfredo sauce, the grilled zucchini gets mixed in along with cherry tomatoes, basil and some toasted pine nuts. Pretty easy right? It looks more complicated than it actually is. This recipe is a quick one too, it's ready in about half an hour and it's really a complete meal, no sides needed!
Now I can see how some of you may be wondering how this meal is kid friendly. I did serve this to my girls in a deconstructed form – they had the plain fettuccine alfredo with the zucchini and tomatoes served on the side and everyone was happy with that. Lately I've been cooking in a way where I can easily customize everyone's food without having to actually make a separate meal for the pickier eaters. This zucchini fettuccine alfredo is an example of a dinner that can be gourmet for the adults and more basic for the kids. Even if you don't have a bumper crop of zucchini in your yard, it's definitely worth picking some up to make this dish.
Still hungry? Follow Dinner at the Zoo on Facebook, Twitter, Instagram and Pinterest for more great recipe ideas!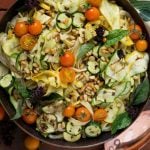 Zucchini Fettuccine Alfredo
This zucchini fettuccine alfredo uses a lightened up sauce (no cream!) and features plenty of zucchini, cherry tomatoes, basil and pine nuts. Sauce recipe adapted from www.foodnetwork.com
Ingredients
1

tablespoon

unsalted butter

1

clove

garlic

minced

2

teaspoons

all-purpose flour

1

cup

low-fat milk

2%

Kosher salt and ground black pepper

2

tablespoons

low fat cream cheese

3/4

cup

freshly grated parmesan cheese

12

ounces

uncooked fettuccine pasta

3

cups

of zucchini and summer squash

seasoned, thinly sliced and grilled, roasted or sauteed

2

cups

cherry tomatoes

halved

1/4

cup

toasted pine nuts

1/4

cup

thinly sliced basil leaves

additional grated parmesan for serving

optional
Instructions
Bring a large pot of salted water to a boil; cook the fettuccine according to the package directions. While the pasta is cooking, make the sauce.

For the sauce: Melt the butter in a pot over medium heat. Add the garlic and cook for 1 minute. Add in the flour and cook, stirring with a wooden spoon,1 minute. Whisk in the milk, 3/4 teaspoon salt and 1/2 teaspoon pepper and cook, whisking constantly, until just thickened, about 3-5 minutes. Gradually add the cream cheese parmesan cheese; whisk until melted, about 1 minute.

Drain the pasta and return it to the large pot. Add the alfredo sauce and toss to coat thoroughly. Stir in the zucchini, tomatoes, pine nuts and basil. Serve immediately with additional parmesan cheese on top if desired.
Recipe Notes
Make Ahead: The zucchini can be grilled up to 3 days in advance.
Nutrition Facts
Zucchini Fettuccine Alfredo
Amount Per Serving
Calories 560
Calories from Fat 171
% Daily Value*
Total Fat 19g 29%
Cholesterol 100mg 33%
Sodium 397mg 17%
Potassium 781mg 22%
Total Carbohydrates 72g 24%
Protein 24g 48%
* Percent Daily Values are based on a 2000 calorie diet.