This recipe for berry chantilly cake is a light and tender yellow cake with plenty of fresh berries and a fluffy melt-in-your-mouth frosting. The perfect cake for a celebration!
Chantilly cake is a popular dessert sold at Whole Foods – now you can skip the bakery and make this delicious treat at home for a fraction of the cost.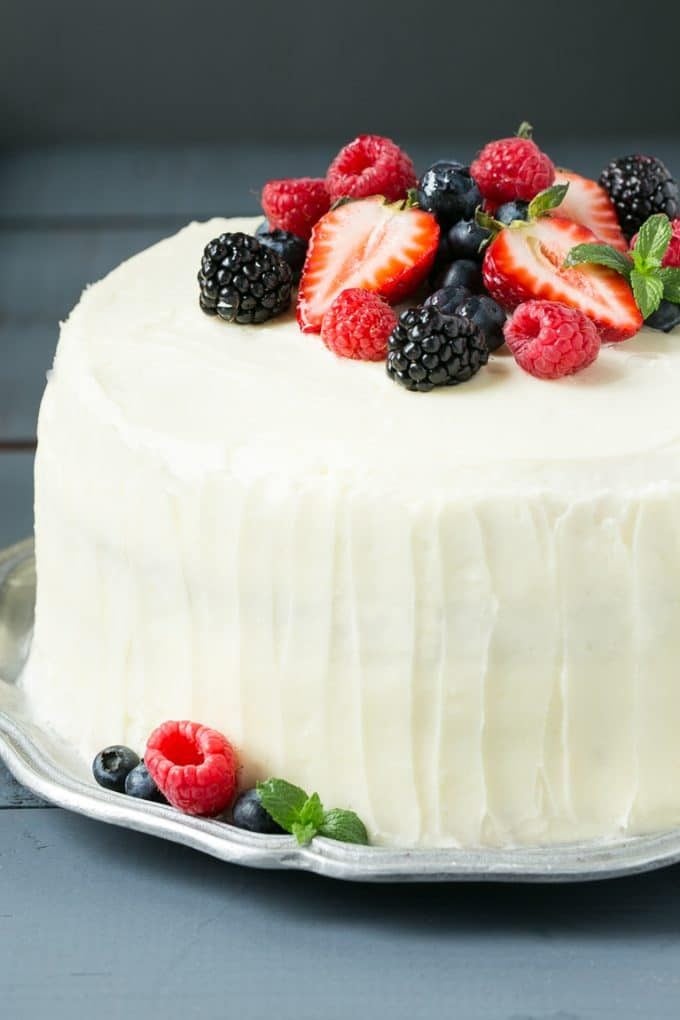 Easter is almost upon us and I can't think of a better way to usher in the holiday than this berry chantilly cake. Each year I host Easter at my house and my girls are already so excited! Of course their favorite part is hunting for Easter eggs but I enjoy spending time with the family and of course creating a fabulous holiday meal.
I always make a ham with a variety of side dishes and a showstopping dessert. One of my favorite Easter desserts is this chantilly cake which is a copy cat of a Whole Foods recipe. This cake has four layers of yellow cake, plenty of fresh berries and the fluffiest frosting I've ever had that literally melts in your mouth.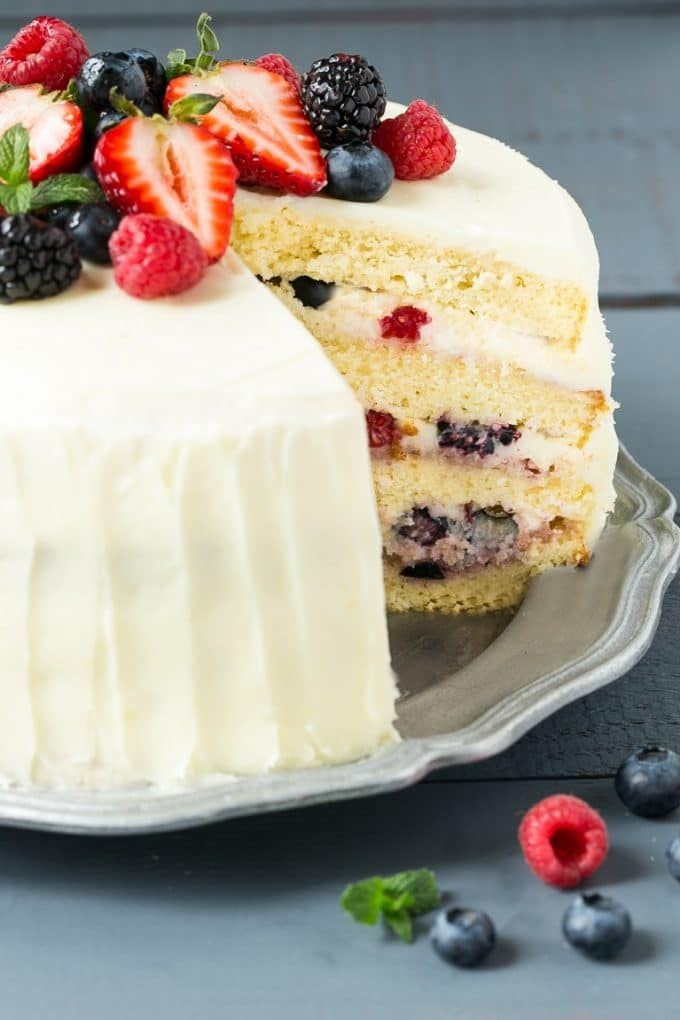 How to make chantilly cake
The first step in the process for this recipe is to make the cake layers. This is a fairly standard yellow cake recipe that produces a light and fluffy cake with plenty of flavor.
After you've baked your cake layers, you'll need to slice them in half. I use a cake slicing tool for this, but you can also just use a long serrated knife. The cake layers get brushed with an easy berry syrup made from raspberry jam and then are finished off with frosting and lots of fresh berries.
I am not exaggerating when I say that this is some of the best frosting that I've ever tasted. The frosting is made with cream cheese, mascarpone cheese and whipped cream and is delightfully fluffy. Top this chantilly cake with an assortment of fresh berries and you've got an Easter dessert that everyone will love!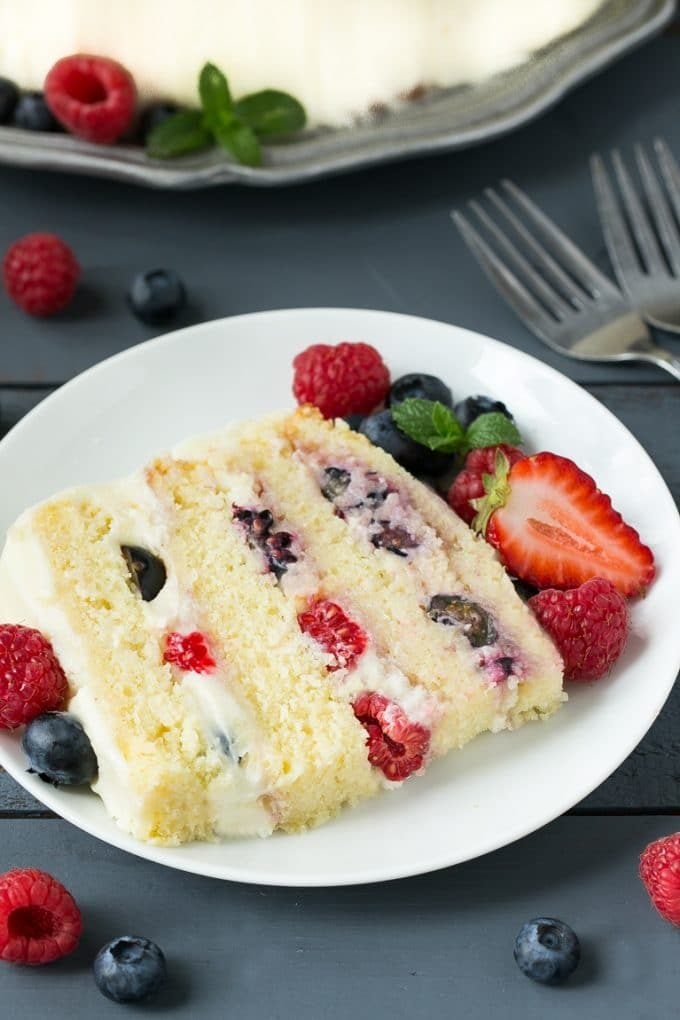 So tell me, what's on your Easter menu this year? I'm still working on finalizing my menu but one thing's for sure, I'm excited to make this berry chantilly cake again to share with my family and friends.
More delicious dessert recipes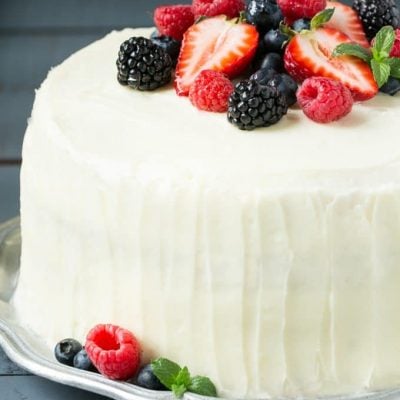 This recipe for berry chantilly cake is a light and yellow cake with plenty of fresh berries and a unique fluffy whipped cream frosting. The perfect cake for a celebration!
Ingredients
For the cake layers:
cooking spray

1

cup

unsalted butter

at room temperature

2

cups

granulated sugar

4

large eggs

2

large egg yolks

1

teaspoon

kosher salt

3

teaspoons

baking powder

3

cups

Bob's Red Mill Organic Unbleached All Purpose White Flour

2

cups

buttermilk

1 1/2

teaspoons

vanilla extract
For the berry syrup:
1/4

cup

raspberry jam

2

tablespoons

water
For the frosting:
1

cup

heavy cream

8

ounces

mascarpone cheese

at room temperature

8

ounces

cream cheese

at room temperature

2 1/2

cups

powdered sugar

sifted

1

teaspoon

vanilla extract

1/4

cup

butter

at room temperature

2

cups

mixed berries

plus more for garnish

Optional garnish: Mint sprigs
Instructions
Preheat oven to 350º F. Coat 2 9-inch cake pans with cooking spray and line the bottom of the pans with parchment paper cut into rounds.

Place the butter and sugar in the bowl of a mixer fitted with a paddle attachment and beat for about 2-3 minutes or until light and fluffy.

Add eggs, one at a time, beating after each addition.

Add egg yolks, one at a time. Stir in the vanilla.

Stir together salt, baking powder, and flour in a large bowl. Pour half of the flour mixture into the butter mixture and beat until just combined. Add half of buttermilk, then add the remainder of the flour mixture followed by the remainder of the buttermilk. Do not over mix.

Divide the cake batter evenly between the pans.

Bake for 30-35 minutes until a toothpick inserted into the center comes out clean.

Remove from the oven, place the pans on a wire rack and allow the cakes to cool for 10 minutes. Then, turn the cakes out on the cooling rack to cool completely.

For the berry syrup:

Combine the raspberry jam and water; heat in the microwave for 20 second increments or until melted. Press through a sieve to remove seeds.

For the frosting:

With a mixer fitted with the whisk attachment, beat heavy cream and vanilla extract until stiff peaks form. Transfer the whipped cream to a bowl.

Put the mascarpone cheese, cream cheese, butter and confectioners' sugar in the mixing bowl and beat until very smooth.

Gently fold whipped cream into mascarpone mixture until completely incorporated. Use immediately.

To assemble the cake:

Split each layer in half so that you have 4 layers. Place the first layer on your serving plate.

Brush the berry syrup over the cake layer then add a layer of frosting (approximately 1/2 cup).

Arrange 2/3 cup of berries over the frosting layer; if you're using larger berries such as strawberries, cut them in half first.

Place the second cake layer on top. Brush the second layer with syrup and repeat the process from the first layer of adding the frosting and berries.

Add the third layer of cake, brush with syrup, spread with frosting and arrange the remaining berries on top.

Place the final layer of cake on top. Use the remaining frosting to cover the cake, smoothing the frosting with an offset spatula.

Arrange additional berries and mint sprigs on top. Cake can be refrigerated for one day. Bring to room temperature before serving.
Nutrition
Calories:
619
kcal
|
Carbohydrates:
94
g
|
Protein:
10
g
|
Fat:
35
g
|
Saturated Fat:
27
g
|
Cholesterol:
209
mg
|
Sodium:
377
mg
|
Potassium:
276
mg
|
Fiber:
1
g
|
Sugar:
66
g
|
Vitamin A:
1600
IU
|
Vitamin C:
1.4
mg
|
Calcium:
173
mg
|
Iron:
2
mg
This berry chantilly cake recipe is sponsored by Bob's Red Mill. This post was originally published on March 14, 2016 and was updated on February 20, 2018.