This bacon wrapped pork loin roast is brushed with a sweet and savory glaze, then covered in bacon and grilled to perfection. The ultimate easy and elegant holiday meal!
Bacon makes everything better, and this pork loin is no exception. When you wrap a pork roast in bacon, you end up with a delectable main course that's as beautiful as it is delicious. This pork loin is a fantastic way to enjoy bacon along with some of my other favorite bacon wrapped dishes like bacon wrapped chicken and bacon wrapped meatloaf.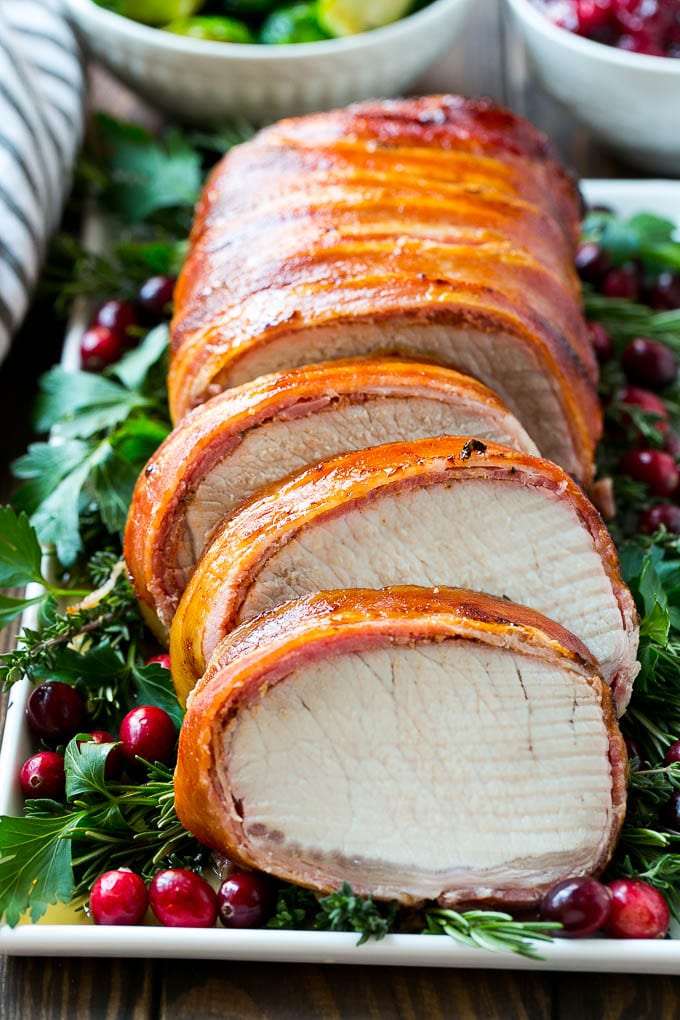 The holidays are here, and that means plenty of family time, entertaining and cooking! I always have family and friends over for the holidays. I love to craft holiday menus that are practical, yet special.
This time of year I spend a lot of hours in my kitchen. One thing that's always at a premium is oven space. I never seem to have enough of it! This bacon wrapped pork loin is cooked on the grill. Cooking on the grill means you have plenty of room in your oven for side dishes, desserts and more.
If you are looking for grilled side dishes perfect for the holidays, try my grilled sweet potatoes, grilled zucchini and grilled potatoes in foil. If your grill is big enough you could cook your whole meal over an open flame!
How to make bacon wrapped pork loin
This recipe starts with a pork loin roast. A pork loin roast can be easily located at all major grocery stores. Pork loins can range in size from 3-4 pounds. I used a 3 lb roast here. If your pork loin is a little bigger that's completely fine. It just may need more time on the grill.
The pork gets brushed in a sweet and savory mixture of ketchup, brown sugar, Worcestershire sauce and spices to then get fully wrapped in bacon. You're going to want to use a regular cut of bacon here. If you use thick cut bacon it will prolong the cooking time. I wrap each slice of bacon tightly around my pork. Then I secure the bacon on the underside of the roast with a few toothpicks.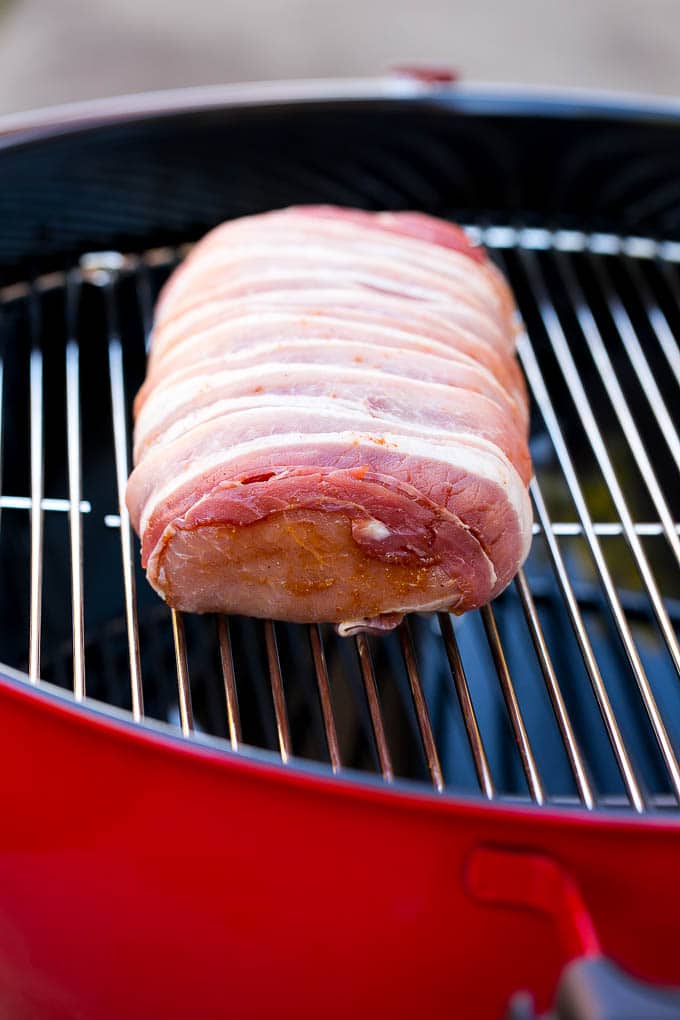 How to grill a pork loin
A pork loin is a larger cut of meat for the grill, which means you'll want to use indirect heat.
A 3-pound roast will take about an hour to cook through on the grill, but the best way to determine if the meat is done is to use a thermometer. Your pork loin should reach a minimum internal temperature of 145 degrees F before you take it off the grill. Be sure to let it rest before you slice it!
While the pork is cooking on the grill, you'll have plenty of time to prepare your side dishes inside. Some of my favorite side dishes to pair with this pork are sweet potato casserole, slow cooker glazed carrots, green bean bundles and pomegranate brussels sprouts.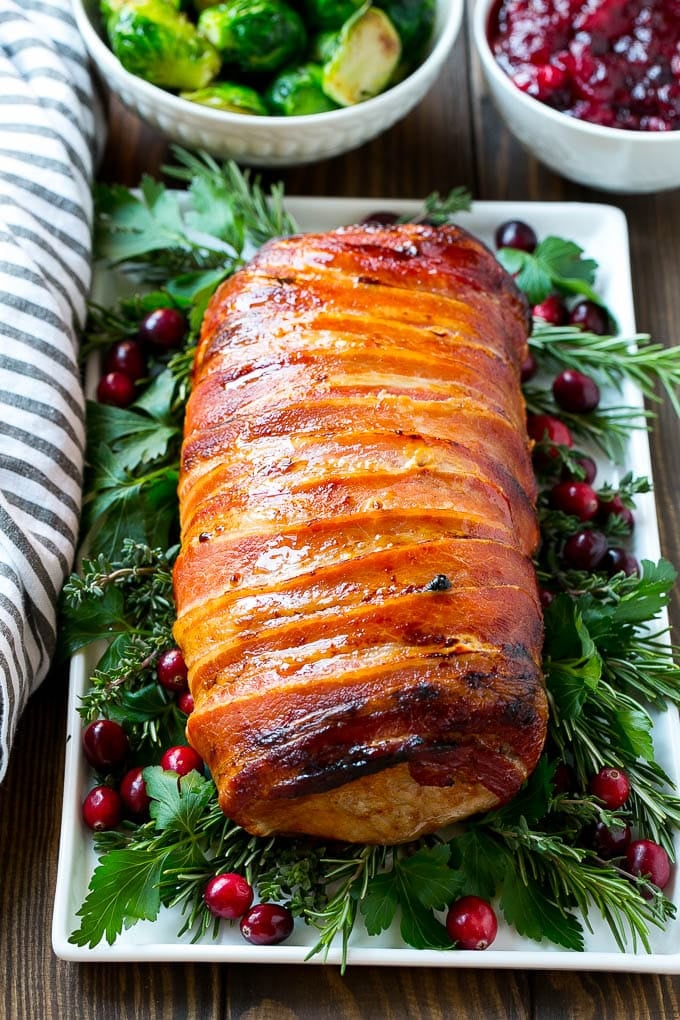 This bacon wrapped pork loin will be the star of your holiday meal! It cooks to tender, juicy perfection on a grill. This pork is sure to become a family favorite for years to come.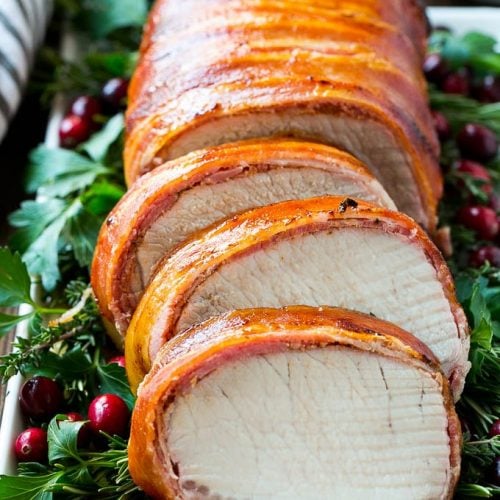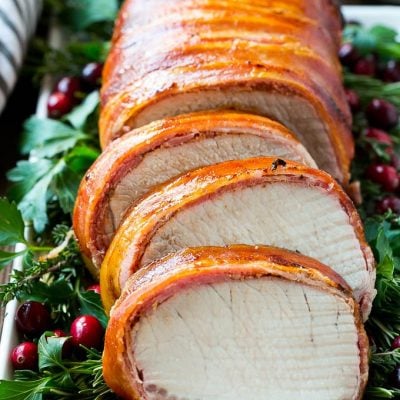 This bacon wrapped pork loin roast is brushed with a sweet and savory glaze, then covered in bacon and grilled to perfection. The ultimate easy and elegant holiday meal!
Ingredients
1

3 lb

pork loin roast

1

lb

sliced bacon

1/4

cup

ketchup

2

tablespoons

brown sugar

1

teaspoon

onion powder

1

teaspoon

garlic powder

salt and pepper to taste

1

tablespoon

worcestershire sauce
Instructions
Prepare the charcoal your Weber® Kettle Premium Grill for the indirect cooking method. Instructions are provided in the Charcoal Grill Owner's Guide that comes with the grill.

In a small bowl, whisk together the ketchup, brown sugar, onion powder, garlic powder, salt, pepper and worcestershire sauce.

Brush the sauce all over the meat, and wrap the bacon strips around the roast, one at a time.

Secure the bacon at the bottom of the roast with toothpicks.

Place the pork on the grill and cover the grill.

Cook for one hour or until internal temperature reaches at least 145 degrees F and bacon is crispy.

Remove from grill. Cover with foil and let rest for 15 minutes.

Remove toothpicks. Cut the meat into slices and serve.
Notes
Do not use thick cut bacon, it will take longer to crisp up!
The minimum internal temperature for a pork loin roast is 145 degrees F, which will leave you with meat that has a pink center. If you prefer your pork to be cooked to well done, grill it until the thermometer registers 160 degrees F.
I find that using a serrated knife is the best way to get neat slices of this roast.
Nutrition
Calories:
367
kcal
|
Carbohydrates:
6
g
|
Protein:
32
g
|
Fat:
19
g
|
Saturated Fat:
8
g
|
Cholesterol:
108
mg
|
Sodium:
521
mg
|
Potassium:
581
mg
|
Sugar:
4
g
|
Vitamin A:
60
IU
|
Vitamin C:
0.6
mg
|
Calcium:
13
mg
|
Iron:
1
mg