This Thai fried rice is loaded with chicken, egg and vegetables, all stir fried together in a savory sauce. A copy of the take out favorite that can be made at home in less than 30 minutes!
I often make my favorite Thai restaurant dishes at home such as Thai cucumber salad, peanut noodles, and this simple yet satisfying chicken fried rice.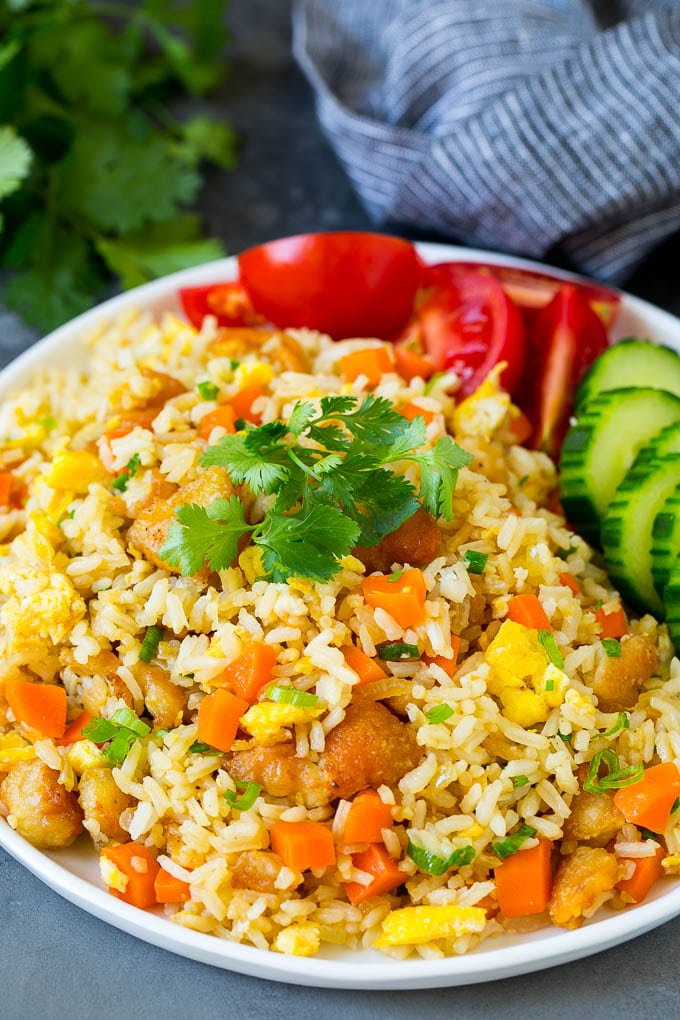 I happen to love Thai food, especially Thai fried rice. It's got such a unique flavor and can contain so many great ingredients from shrimp to pineapple and everything in between. My version is loaded with crispy bites of chicken, carrots, scrambled eggs and fresh herbs. It's the perfect side dish or main course that can be on the table in 30 minutes!
How do you make Thai fried rice?
Thai fried rice is surprisingly easy to make. First coat some chicken breast slices in cornstarch, salt and pepper and cook them in a pan. Remove the chicken and cook your veggies in the same pan. Next use the pan to cook up a layer of scrambled eggs. Add the chicken and veggies to the pan with some cooked rice. Stir in some flavor with a little soy sauce, fish sauce and sugar and mix it all together. Serve the rice with sliced green onions on top, and garnish with sliced cucumber and tomato.
Tips for fried rice
The best way to thinly slice chicken breasts is to freeze the chicken for about 30 minutes. The firm cold chicken is much easier to slice into small pieces.
Fried rice works best with cold rice, so this is the perfect way to re-purpose leftover rice. With cold rice, the grains are all separated and firm, and you'll get a better texture than you would with fresh cooked rice. Fried rice made with just-cooked rice will be softer and won't have those crispy little bits.
For a creamier fried rice, partially cook the eggs so that they are a little runny when you add the rice, chicken and veggies. The egg will bind with the rice and continue to cook with the rest of the dish.
Short on time? Use a bag of frozen vegetables to save on some prep time. I've seen this rice made with peas and carrots, or also a frozen medley of corn, carrots, green beans and peas.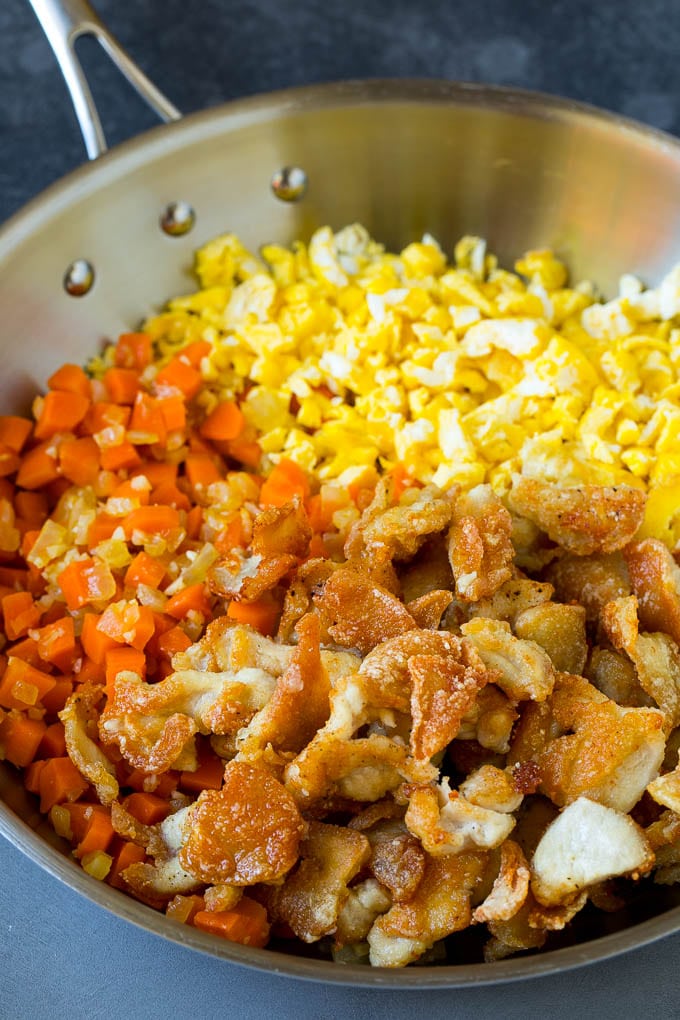 Fried rice variations
Thai Basil Fried Rice: You can make this popular variation on Thai fried rice by adding 2 tablespoons of oyster sauce to the dish and when the rice finishes cooking, take it off the heat and quickly add a 2 cups of sweet Thai basil leaves. Stir in the basil and the leaves will wilt in the hot rice and be ready to eat.
Pineapple Fried Rice: I have a great recipe for pineapple fried rice. The sweetness of pineapple brings out a lot of flavor in the fried rice.
Protein: Try cooked shrimp or cubed tofu instead of chicken. You can also use thinly sliced flank steak.
Vegetables: You can add other vegetables to the mix such as broccoli, green beans, corn, bell peppers or tomatoes.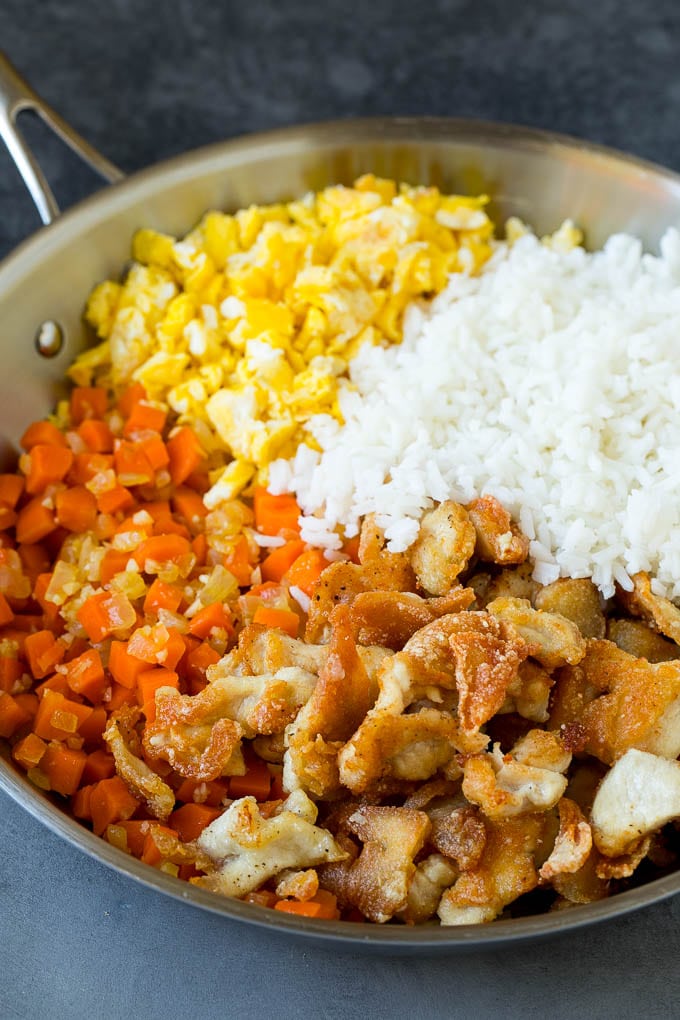 What is the difference between Chinese fried rice and Thai fried rice?
Thai fried rice and Chinese fried rice are very similar dishes featuring protein, egg, rice and veggies. The major differences is that Thai fried rice is flavored with fish sauce, and the main flavoring agent in Chinese fried rice is soy sauce. Chinese fried rice also often contains more vegetables.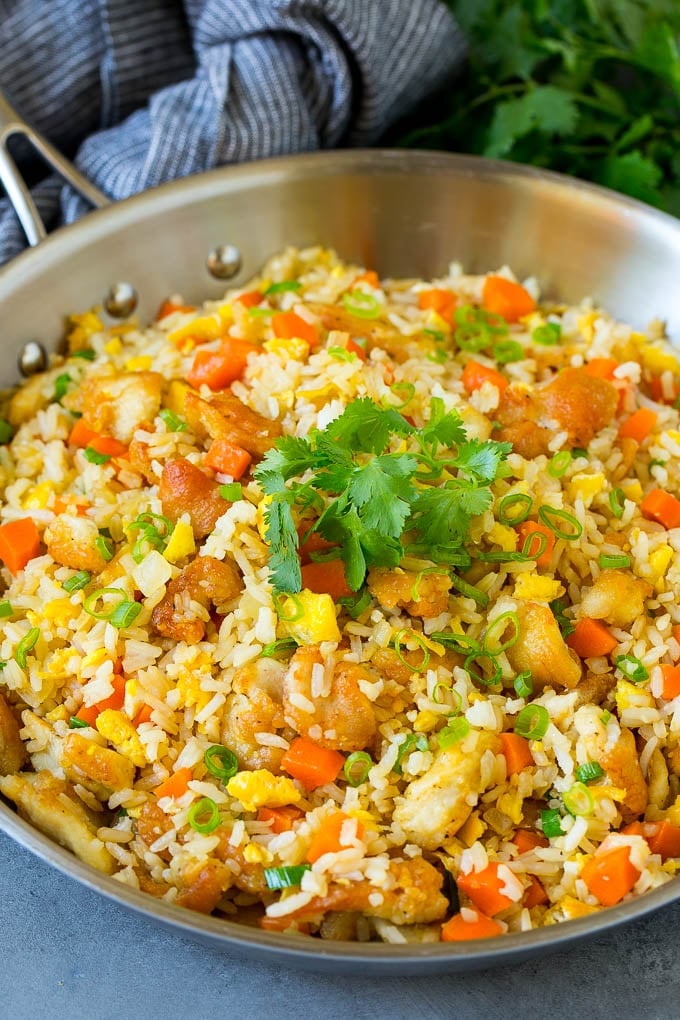 The next time you're in the mood for take out, whip up a batch of this fried rice instead of picking up the phone for take out. You won't regret it!
More recipes you'll enjoy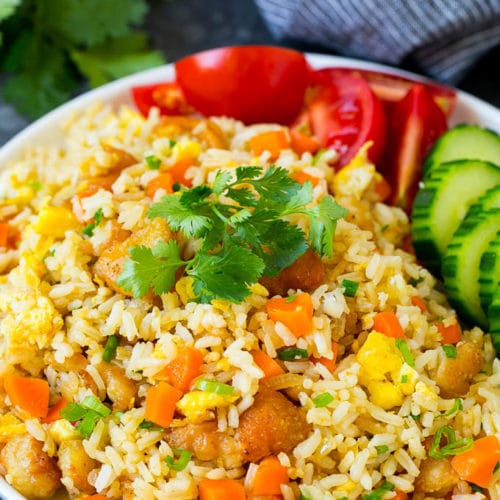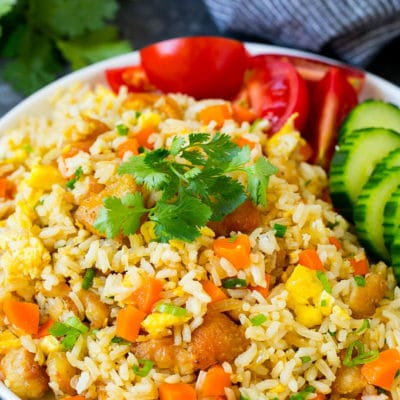 This Thai fried rice is loaded with chicken, egg and vegetables, all stir fried together in a savory sauce. A copy of the take out favorite that can be made at home in less than 30 minutes!
Ingredients
2

tablespoons

+ 2 teaspoons vegetable oil

divided use

3/4

pound

boneless skinless chicken breasts

thinly sliced

2

tablespoons

corn starch

1/2

cup

onion

finely chopped

1/2

cup

carrots

peeled, quartered and sliced

2

teaspoons

minced garlic

2

eggs

lightly beaten

3

cups

cooked white rice

long grain works best

3

tablespoons

fish sauce

2

tablespoons

soy sauce

1

teaspoon

sugar

salt and pepper to taste

1/4

cup

green onions

sliced

sliced cucumbers, cilantro leaves and tomato wedges for garnish
Instructions
Heat 2 tablespoons of oil in a large pan over medium high heat. Place the chicken in a bowl with the corn starch and toss to coat. Season the chicken pieces with salt and pepper to taste.

Place the chicken in a single layer in the pan. Cook for 3-4 minutes per side or until chicken is browned and cooked through. You may need to work in batches.

Remove the chicken from the pan and cover with foil to keep warm.

Add 1 teaspoon of oil to the pan, along with the onion and carrots. Cook for 4-5 minutes or until veggies are softened.

Add the garlic and cook for 30 seconds.

Remove the vegetables from the pan, then cover with foil to keep warm.

Pour the remaining teaspoon of oil into the pan; add the eggs and cook, stirring occasionally and breaking up with a spatula, until the eggs are scrambled and cooked through. Season the eggs with salt and pepper.

Add the rice, chicken, and reserved cooked veggies to the pan. Stir in the fish sauce, soy sauce and sugar, and mix gently until everything is thoroughly combined and warmed through, 3-4 minutes.

Sprinkle green onions over the top of the rice mixture, then serve. Garnish with cilantro leaves, sliced cucumber and tomatoes.
Nutrition
Calories:
330
kcal
|
Carbohydrates:
38
g
|
Protein:
25
g
|
Fat:
8
g
|
Saturated Fat:
4
g
|
Cholesterol:
296
mg
|
Sodium:
1460
mg
|
Potassium:
266
mg
|
Fiber:
2
g
|
Sugar:
2
g
|
Vitamin A:
2855
IU
|
Vitamin C:
7.1
mg
|
Calcium:
165
mg
|
Iron:
2.9
mg