This spanakopita recipe is sauteed spinach, feta cheese and seasonings, all wrapped up in phyllo dough and baked until golden brown and crisp. A savory and hearty appetizer or main course option that always gets rave reviews!
I love to prepare Mediterranean food, including classics such as chicken souvlaki, Greek salad and this simple yet totally satisfying spanakopita.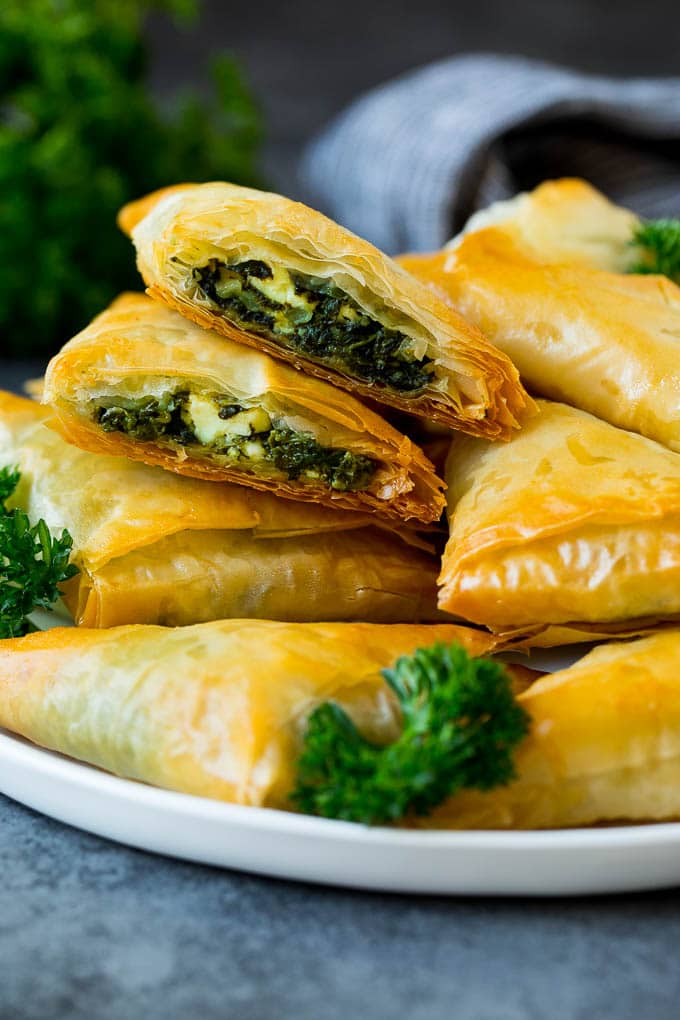 I always order spanakopita when I go out to eat, it's one of my all time favorite dishes. I've learned to recreate this restaurant favorite at home, and I have to say, my version is the best ever! It's the perfect blend of spinach, cheese, onions and herbs.
How do you make spanakopita?
This recipe starts with plenty of fresh spinach, which is cooked until wilted. The spinach goes into a bowl along with sauteed onions, garlic, herbs and feta cheese. Mix everything together to make the filling for your pastry triangles. Layer the sheets of phyllo and brush them with butter, then cut the phyllo dough into strips. Place a small scoop of filling at the end of each pastry strip, then fold them up into triangular pockets. Bake the spanakopita until golden brown, then serve and enjoy.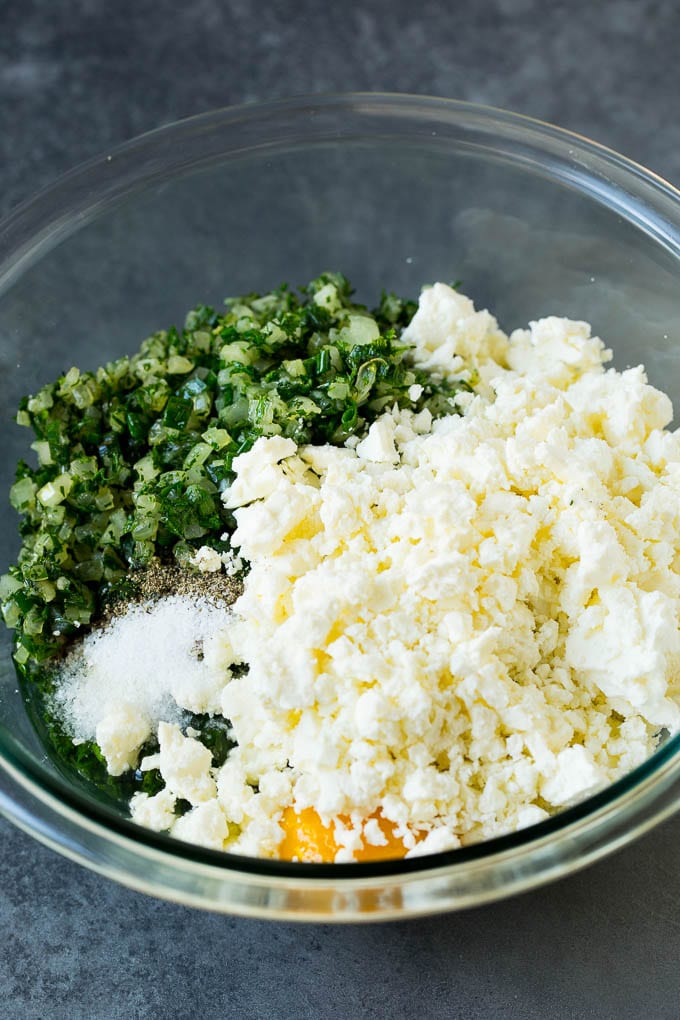 Tips for the perfect dish
I think this recipe tastes best with fresh spinach. You can substitute frozen spinach if you prefer, just use 2 10-ounce boxes. Be sure to thaw the spinach and squeeze out any excess water.
It's imperative that you squeeze as much liquid as possible out of the cooked spinach so that your filling isn't watery. I use a potato ricer to press the liquid out, you can also use your hands or a thin kitchen towel to gather the spinach and wring out the liquid.
I buy a block of feta cheese and crumble it instead of using a tub of pre-crumbled cheese. The flavor of the block is better, and the pre-crumbled variety often is coated with anti caking agents and preservatives.
Be sure to very lightly brush the butter over your pastry. You don't want to add too much butter or your spanakopita can come out greasy.
Phyllo dough is found in the freezer section of most grocery stores. The dough needs to be thawed before use, so plan accordingly!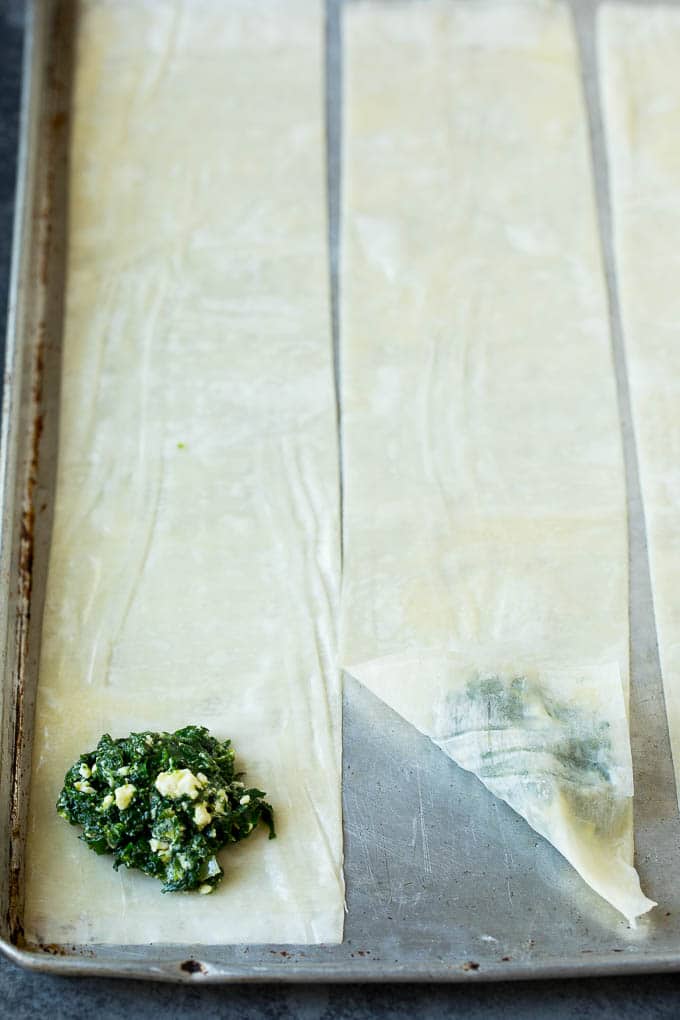 Can you make spanakopita in advance?
You can assemble your spanakopita up to 8 hours before you plan to bake it. Store the trays of appetizers loosely covered in the fridge. You may need to add a few extra minutes to the baking time. You can also bake your triangles, then store them in the refrigerator for up to 3 days. Reheat these snacks in the oven at 350 degrees F until they're crispy.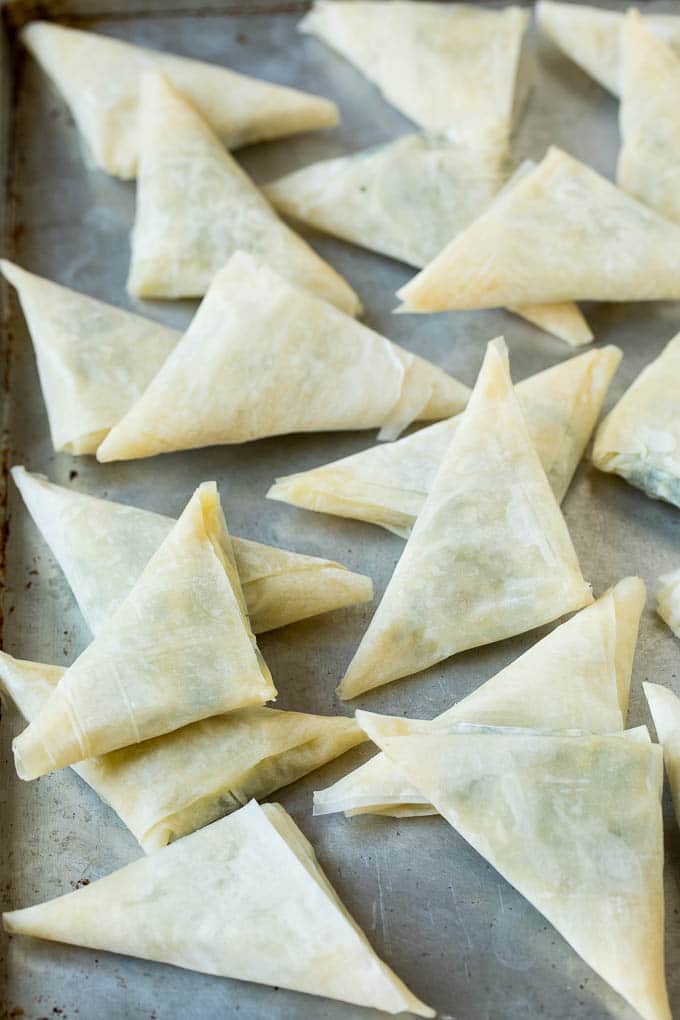 Can you freeze phyllo triangles?
This recipe can be frozen for up 2 months. Place the individual pieces on a parchment lined sheet pan and freeze until firm. Place the frozen spanakopita in a resealable bag. Bake from frozen at 350 degrees F for 10-15 minutes or until heated through and crispy.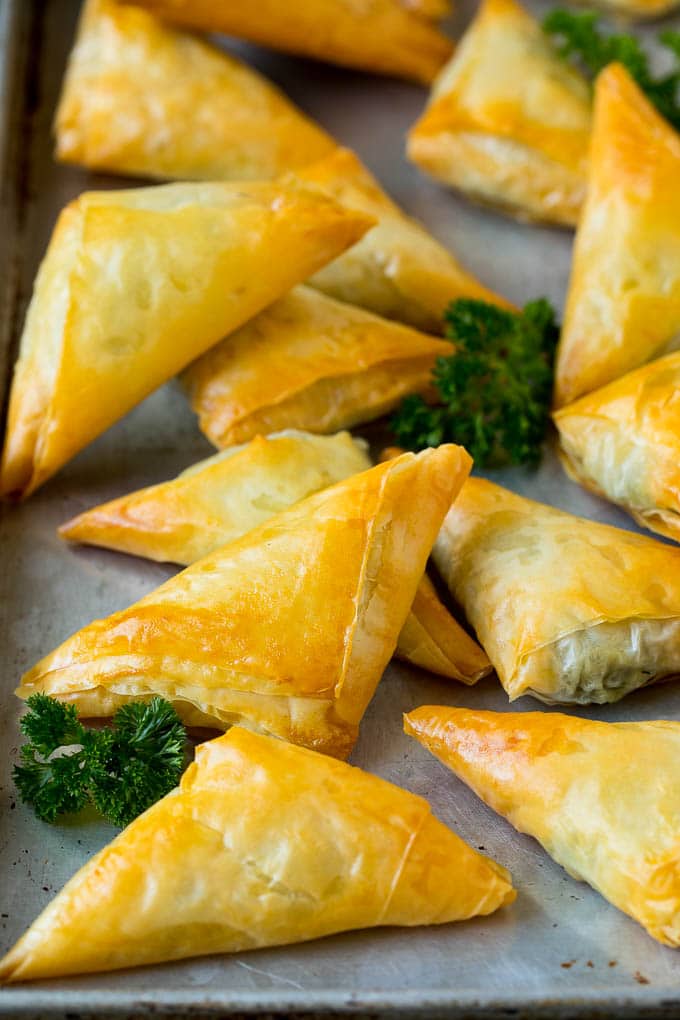 This homemade version of spanakopita is the best I've ever had – WAY better than any restaurant. It takes a little bit of effort to assemble, but the end result is totally worth it.
More fabulous appetizer options
Spanakopita Video
Spanakopita
This spanakopita recipe is sauteed spinach, feta cheese and seasonings, all wrapped up in phyllo dough and baked until golden brown and crisp. A savory and hearty appetizer or main course option that always gets rave reviews!
Ingredients
2

tablespoons

olive oil

divided use

2

pounds

fresh spinach leaves

1/2

cup

onion

finely chopped

1/2

cup

green onions

thinly sliced

1

teaspoon

minced garlic

2

tablespoons

chopped fresh parsley

2

tablespoons

chopped fresh dill

8

ounces

feta cheese

crumbled

1

egg

lightly beaten

salt and pepper to taste

1

pound

phyllo dough sheets

thawed

3/4

cup

butter

melted
Instructions
Preheat the oven to 375 degrees F. Line 2 sheet pans with parchment paper.

Heat 1 tablespoon of olive oil in a large pan over medium heat. Add half the spinach to the pan and cook until wilted. Add the remaining spinach to the pan.

Cook for 3-4 minutes until all of the spinach is wilted.

Remove the spinach from the pan and let it cool. Wring out excess water. Coarsely chop the spinach.

Wipe out the pan with a paper towel. Heat the remaining tablespoon of olive oil over medium heat.

Add the onion and cook for 3-4 minutes or until softened. Stir in the green onions, garlic, parsley and dill and cook for 30 seconds.

Transfer the onion mixture to a bowl along with the chopped spinach, feta cheese and egg. Season generously with salt and pepper to taste. Stir until thoroughly combined.

Take the phyllo dough out of the package and unroll it onto a flat surface. Keep the phyllo covered with plastic wrap or a damp towel when you're not working with it.

Lay out one sheet of dough with the long end facing you. Brush the melted butter over the dough.

Add a second layer of dough on top of the first, then brush the second layer with butter.

Cut the dough vertically into 3 inch wide strips.

Place 1 1/2 teaspoons of filling on one end of the dough strip. Fold one corner of the dough over the filling to make a triangle shape.

Fold the strip of dough over itself the same way you'd fold a flag until you reach the end. Brush a little melted butter over the top and place the triangle on the prepared sheet pan.

Repeat the process with the remaining dough and filling.

Arrange the triangles 1 1/2 inches apart on the sheet pans. Bake one pan at a time for 18-20 minutes or until golden brown. Serve immediately.
Nutrition
Calories:
72
kcal
|
Carbohydrates:
1
g
|
Protein:
1
g
|
Fat:
7
g
|
Saturated Fat:
4
g
|
Cholesterol:
24
mg
|
Sodium:
127
mg
|
Potassium:
16
mg
|
Sugar:
0.5
g
|
Vitamin A:
198
IU
|
Vitamin C:
0.5
mg
|
Calcium:
41
mg
|
Iron:
0.1
mg