This slow cooker pork tenderloin is simmered in a garlic and herb gravy and produces perfect results every time. An easy crock pot dinner that the whole family will love.
Pork tenderloin in an inexpensive cut of meat that's tender and full of flavor. It gets even better when you slow cook it with plenty of seasonings. Slice and serve for an amazing meal! I serve my pork tenderloin with a side of homemade Rice-A-Roni and roasted carrots for a complete dinner.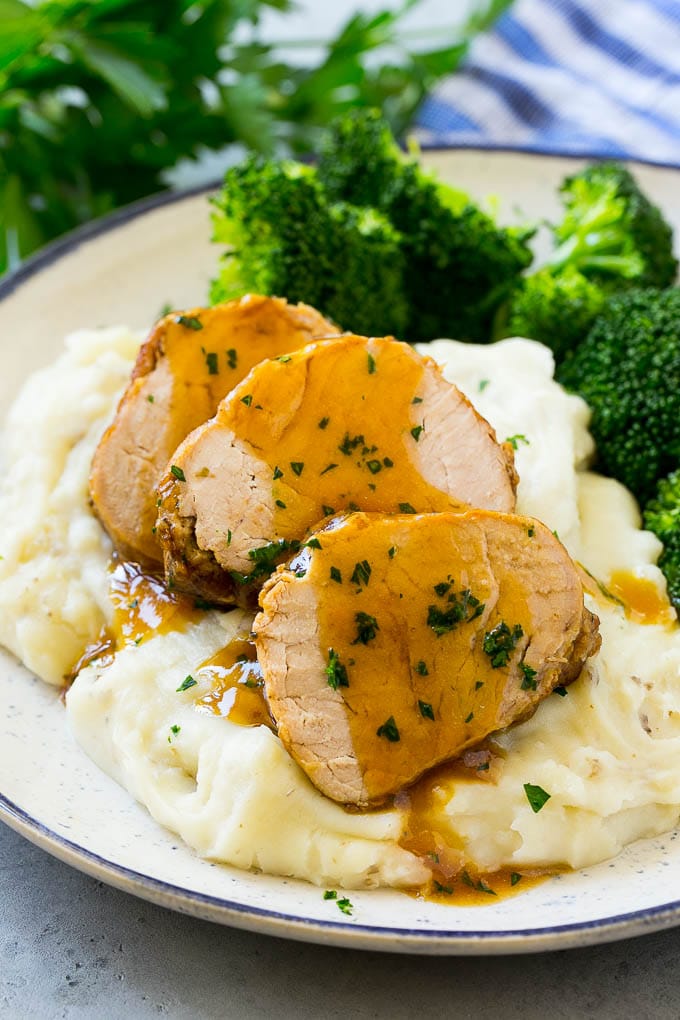 I know that pork tenderloin can be a little intimidating if you've never made it before. However, this slow cooker pork tenderloin recipe will make it seem like it's any other classic dish you've made a thousand times. It's much easier than it first appears.
HOW DO YOU MAKE SLOW COOKER PORK TENDERLOIN?
The first step is to season your meat and give it a good sear before placing it in the crock pot. If you're short on time and don't want to brown your pork first, you can place directly in the slow cooker and skip this step. I think it's really worth the extra effort though because it adds so much more flavor.
The pork goes into the slow cooker with a whole bunch of flavorings like garlic, brown sugar, soy sauce, chicken broth and herbs. This forms the base of the gravy. The gravy is thickened at the end of the cooking time and fortified with a little butter to give it some richness. I serve my slow cooker pork tenderloin over rice or mashed potatoes to make the most out of all that delicious gravy.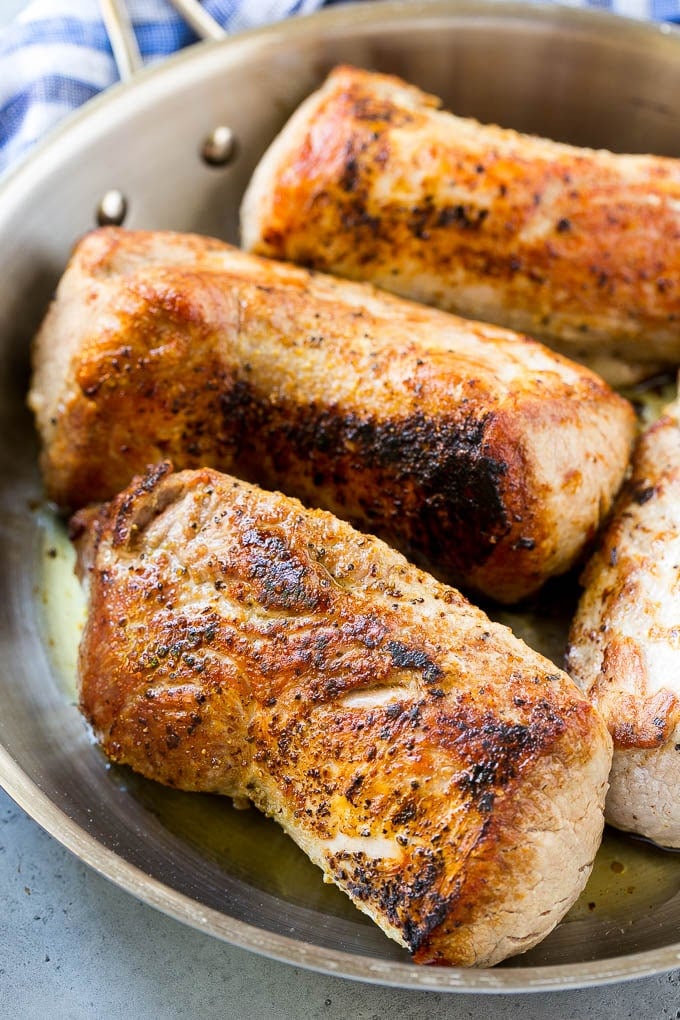 Tips for Slow Cooker Pork Tenderloin
This crock pot pork tenderloin recipe calls for 2 tenderloins, but can easily be halved to feed a smaller group. You can cut the pork in half to fit into the crock pot as needed, or you can use an oval shaped slow cooker.
Make sure that you're using pork tenderloin, not pork loin. They are two different cuts of meat.
You can add some vegetables like carrots and potatoes to the crock pot. Just be sure to cut them in large pieces so that they don't get overly soft after the long cooking time.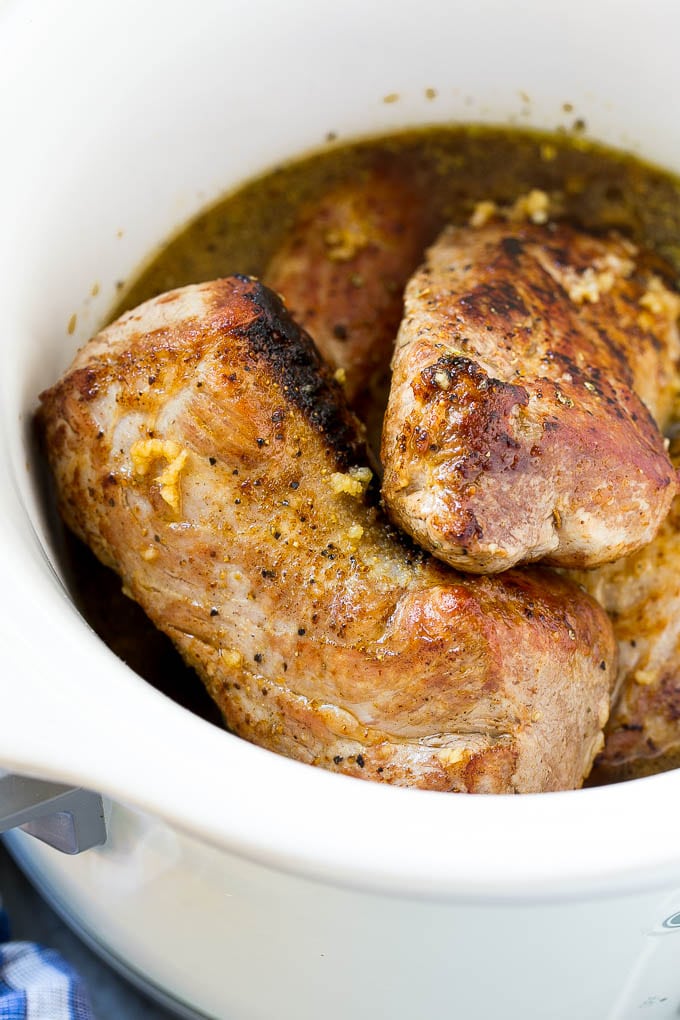 HOW LONG DO YOU COOK A PORK TENDERLOIN?
The amount of time you cook a pork loin depends on the weight of the meat. Most often, it averages about two hours of slow cooker time per 1 pound of pork tenderloin.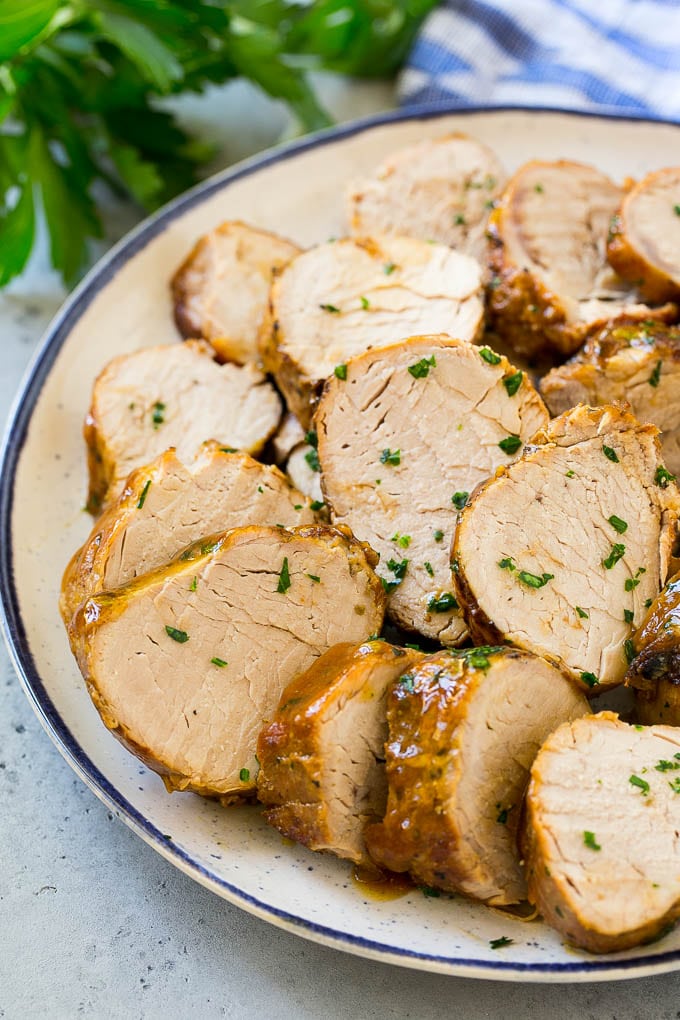 WHY SEAR THE PORK TENDERLOIN BEFORE SLOW COOKING?
It's definitely not a must that the pork tenderloin needs to be seared before it is slow cooked. However, when the meat is seared, it allows for more complex flavors to be released when the slow cooking process is in progress. If a portion of meat is sear with a coating of flour before slow cooking, this helps thicken the sauce in the crock pot dish.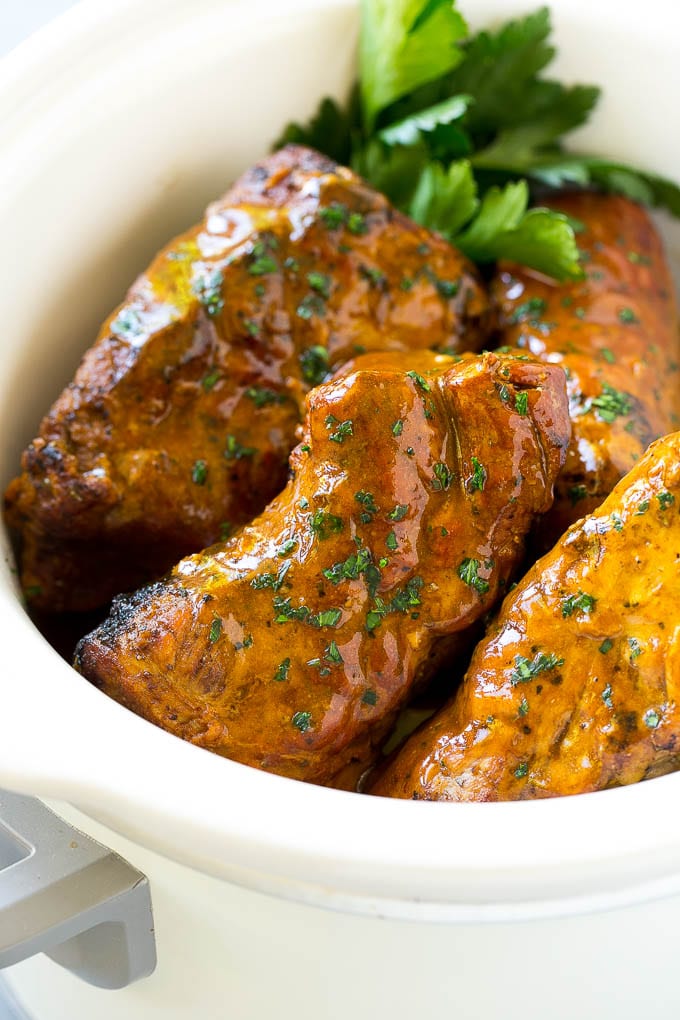 Back in the day, I had no idea how to cook a pork tenderloin and didn't even know where to start. Now, it's one of the easiest dishes I make and the entire family loves it. I have no doubt you will thoroughly enjoy it as much as we did.
MORE PORK RECIPES YOU'LL LOVE
Slow Cooker Pork Tenderloin Video
Slow Cooker Pork Tenderloin
This slow cooker pork tenderloin is simmered in a garlic and herb gravy and produces perfect results every time. An easy crock pot dinner that the whole family will love.
Ingredients
2

tablespoons

olive oil

divided use

2

pork tenderloins

approximately 2 1/4 lbs total

salt and pepper to taste

2

teaspoons

Italian seasoning

1

cup

chicken broth

1/4

cup

soy sauce

2

tablespoons

balsamic vinegar

2

tablespoons

brown sugar

2

teaspoons

minced garlic

2

tablespoons

cornstarch

1

tablespoon

butter

2

tablespoons

chopped parsley
Instructions
Heat 1 tablespoon of olive oil in a pan over medium high heat.

Season the pork tenderloins on all sides with the salt, pepper and Italian seasoning. Cut the pork tenderloins in half if needed to fit into your slow cooker.

Sear the pork for 5-6 minutes per side, or until golden brown.

Place the pork in a slow cooker.

In a small bowl, mix together the remaining tablespoon of olive oil, chicken broth, soy sauce, balsamic vinegar, brown sugar and garlic.

Pour the sauce over the pork. Cover the slow cooker and cook on LOW for 6-8 hours, or HIGH for 4 hours.

Remove the pork from the slow cooker and place on a plate; cover with foil to keep warm.

Pour the liquid from the slow cooker into a pot. Heat the pot over medium heat and bring the sauce to a simmer.

Mix the cornstarch with 1/4 cup of cold water. Add the cornstarch to the pot and bring to a boil.

Cook for 1 minute, or until sauce has just thickened.

Add the butter to the pot and stir until melted. Remove the pot from the heat.

Slice or shred your pork and pour the sauce over the top. Sprinkle with parsley and serve.
Notes
If you're short on time, you can skip browning the meat and simply season your pork and add it straight to the slow cooker.
Nutrition
Calories:
318
kcal
|
Carbohydrates:
7
g
|
Protein:
26
g
|
Fat:
18
g
|
Saturated Fat:
9
g
|
Cholesterol:
398
mg
|
Sodium:
617
mg
|
Potassium:
2442
mg
|
Sugar:
4
g
|
Vitamin A:
80
IU
|
Vitamin C:
2.7
mg
|
Calcium:
55
mg
|
Iron:
6.5
mg