These BBQ pork chops are bone-in pork chops brined in garlic and spices, then grilled to perfection and basted with barbecue sauce. An easy dinner option that's perfect for summer entertaining.
When I have friends over during the summer, I always serve these barbecued pork chops. They're a little more unique than your standard BBQ chicken and are packed with tons of flavor. Add a side of dill potato salad and dinner is served!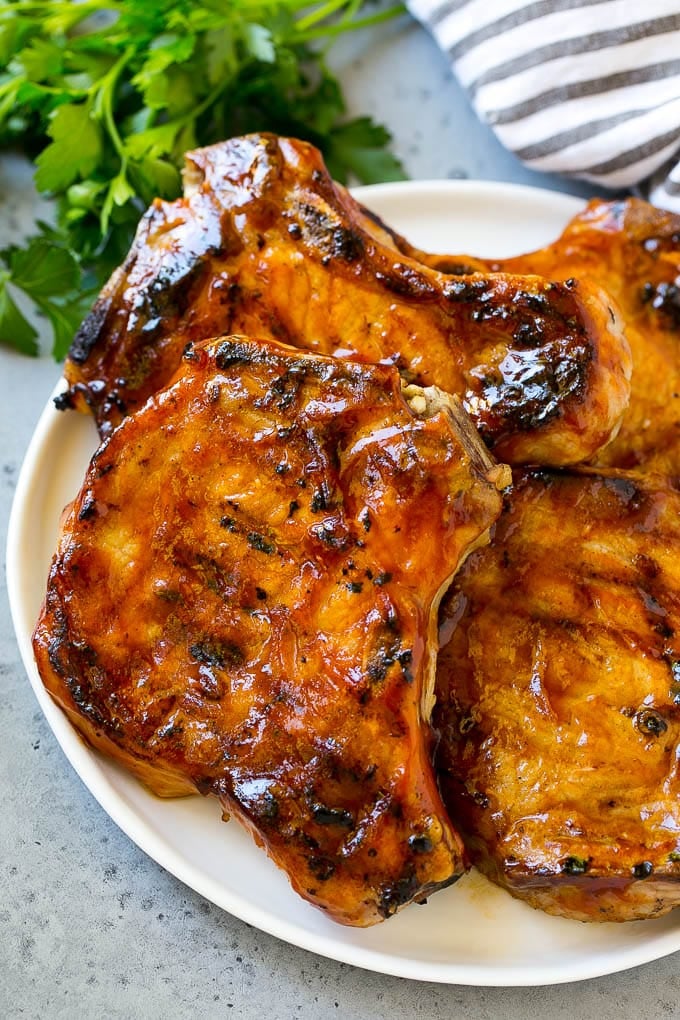 Summer holds so many of my favorite activities and barbecuing is at the top of my list. These BBQ pork chops quickly made it onto our rotating dinner schedule because they're too delicious to forget about. They take a bit of prep but are worth every minute of it.
HOW DO YOU MAKE BBQ PORK CHOPS?
These barbecue pork chops are brined in garlic and spices for just the right amount of time then grilled to perfection. During the grilling process, the chops are basted with barbecue sauce to add the perfect amount of flavor. Once the pork chops are removed from the grill, allow them to sit for 5-10 minutes so they continue to soak up all those delicious flavors before serving.
I use store bought barbecue sauce for this recipe because it's just so convenient. You can use whatever brand you prefer for these BBQ pork chops.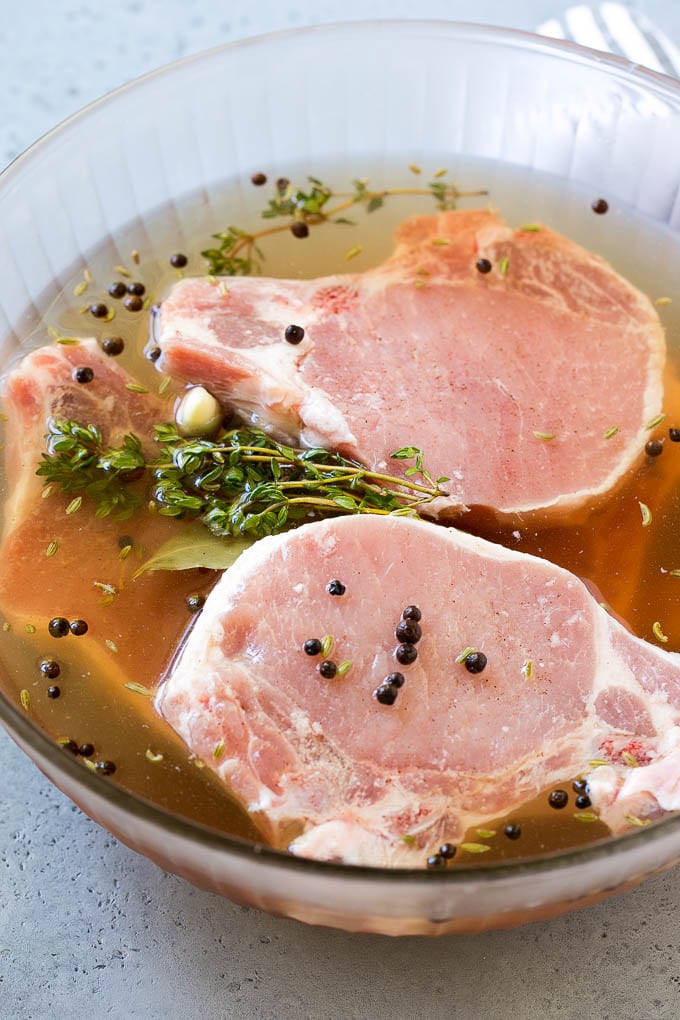 I suggest using bone-in pork chops as they have a lot more flavor and are less likely to dry out during the cooking process. You can either prepare these barbecue pork chops on an indoor grill pan or on an outside grill, they turn out great either way. Your cook time may vary depending on the thickness of your pork chops. I typically buy pork chops that are about one inch thick.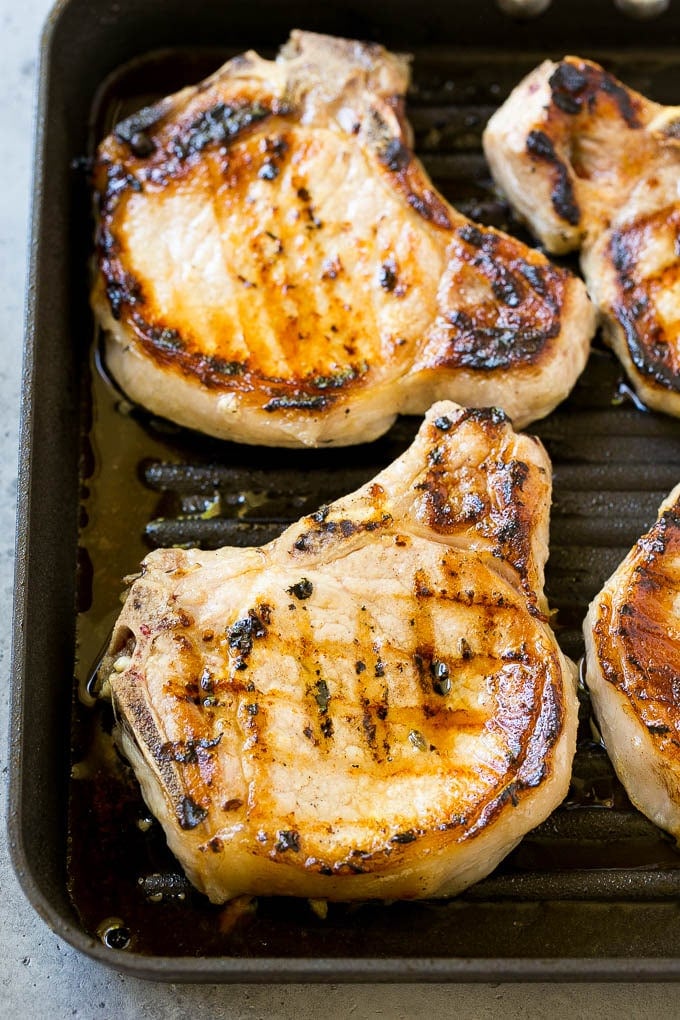 It's important the kosher salt is used for this recipe and not regular table salt. Kosher salt measures differently than table salt and you can easily end up over-salting your BBQ pork chops if you go with table salt. Kosher salt should be easy to find at most markets.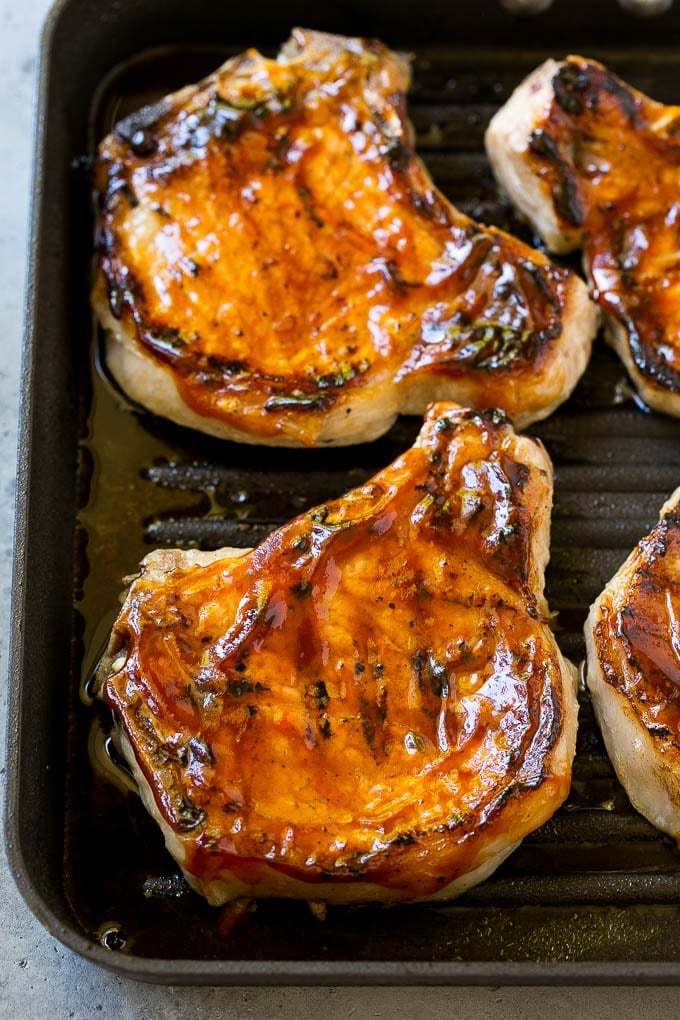 WHAT IS BRINING?
Brining is very similar to marinating. However, instead of creating a sauce type marinade, brining utilizes salt water, often times with other added spices, in order to add a nice flavor to otherwise, bland meat. Brining is commonly used with many types of meat including chicken and pork.
WHAT ARE THE BENEFITS OF BRINING?
Brining is a great way to add flavor to meat. Not only that, but it adds tenderness to the meat which is great for meats that can dry out quickly when being cooked. Brining also reduces cooking time which is a nicely added bonus. This brine contains a bit of sugar which means you'll get a nice golden brown crust on your chops when you go to grill them.
For this barbecue pork chops recipe, it's important that you don't brine them for longer than 24 hours. If you do, they could be overly salty. With any recipe where you utilize brining, it's a good idea to check suggest brining times in order to get the meat just right.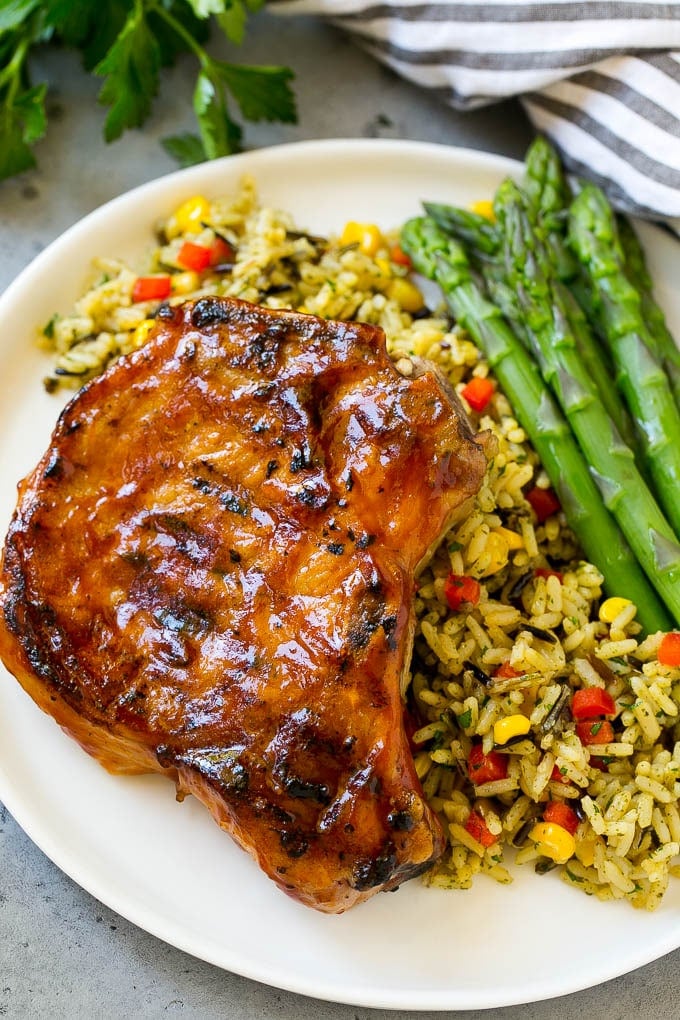 The only thing that can make these BBQ pork chops any better is the perfect side dish. Rice, vegetables, grilled vegetables, or a nice salad would really add the finishing touches to this delicious summer dinner. I personally love rice and veggies the most as does the rest of the family.
MORE PORK CHOP RECIPES YOU'LL LOVE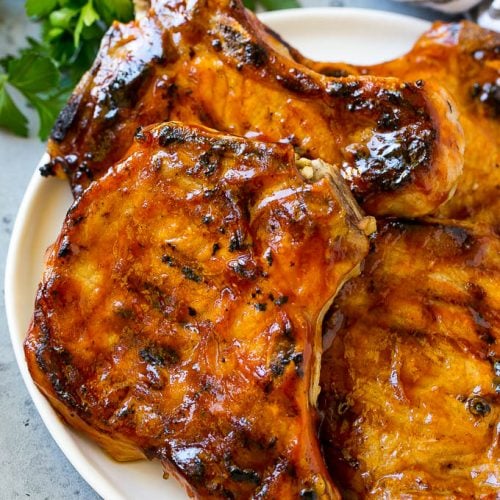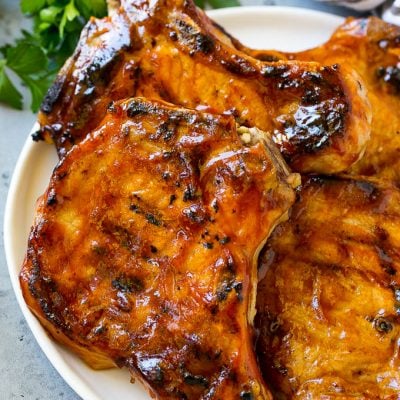 These BBQ pork chops are bone-in pork chops brined in garlic and spices, then grilled to perfection and basted with barbecue sauce. An easy dinner option that's perfect for summer entertaining.
Ingredients
4

bone in pork chops

8

cups

water

divided use

1/4

cup

kosher salt

3

tablespoons

sugar

1/2

teaspoon

ground allspice

2

teaspoons

fennel seeds

lightly crushed

2

teaspoons

whole peppercorns

1

bay leaf

2

cloves

garlic

crushed

3

sprigs

fresh thyme

or 1 teaspoon dried thyme

1/2

cup

barbecue sauce
Instructions
Pour 1 cup of boiling water into a large bowl that will fit all of the pork chops. Make sure the bowl will fit into your refrigerator.

Add the salt and sugar to the water and stir until dissolved.

Add the allspice, fennel seeds, peppercorns, bay leaf, garlic and thyme to the bowl.

Add 7 cups of very cold water to the bowl and stir to combine.

Place the pork chops in the bowl, making sure that they're completely submerged. You can add more water if needed.

Cover the bowl and place it in the refrigerator for at least 6 hours, or up to 24 hours.

Remove the pork chops from the brine and pat dry with paper towels.

Preheat a grill or grill pan to medium high heat.

Place the chops on the grill and cook for 6-8 minutes per side, or until desired level of doneness.

Brush the barbecue sauce all over the pork chops. Cook for 1 minute more on each side.

Remove the pork chops from the grill. Let the chops rest, covered, for 5-10 minutes, then serve.
Nutrition
Calories:
397
kcal
|
Carbohydrates:
26
g
|
Protein:
35
g
|
Fat:
15
g
|
Saturated Fat:
5
g
|
Cholesterol:
116
mg
|
Sodium:
560
mg
|
Potassium:
710
mg
|
Fiber:
1
g
|
Sugar:
20
g
|
Vitamin A:
115
IU
|
Vitamin C:
2.1
mg
|
Calcium:
91
mg
|
Iron:
1.9
mg