This slow cooker corned beef and cabbage is seasoned corned beef cooked with potatoes, carrots and cabbage. A crock pot meal that's perfect for St. Patrick's Day!
Whether you're looking to celebrate the Irish holiday or simply want a hearty yet easy meal, this crock pot corned beef is a great choice. Complete your holiday meal with a loaf of Irish soda bread and a Shamrock Shake for dessert!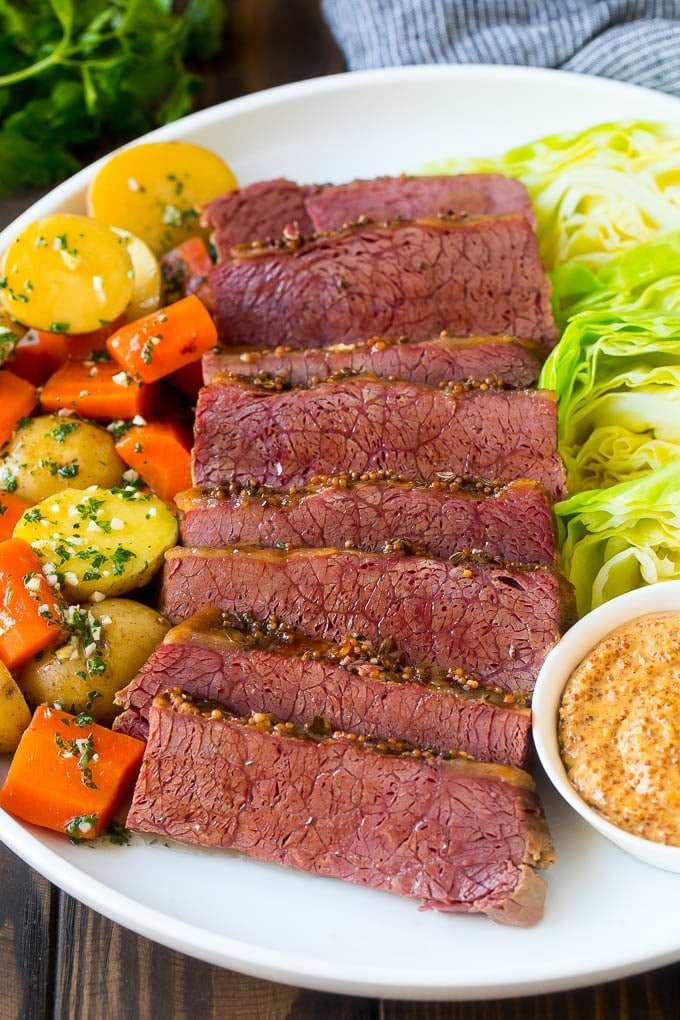 St. Patrick's Day is the one day a year that many people flock to the grocery store in search of ingredients for a corned beef dinner. This slow cooker corned beef and cabbage only has a few minutes of active prep work, and produces a festive and delicious meal that the whole family will love!
What is corned beef made of?
Corned beef is a beef brisket that soaks in brine and then cures with salt and seasonings. This cut of meat has a distinctive pink color from sodium nitrate which is an ingredient in the curing process. Corned beef comes in multiple cuts, and it's always best to cook corned beef for a long period of time so that it becomes tender. Typical cooking methods include boiling, slow cooking or oven roasting the meat.
How do you buy corned beef?
The first step to this recipe is to choose your meat. Most stores sell pre-seasoned corned beef, especially in March. There are a few different cuts of corned beef to chose from, including corned beef round roast, flat cut brisket, and point cut brisket. The round roast tends to have the least fat, but is also much more prone to drying out for that same reason.
Flat cut brisket and point cut brisket tend to be the better corned beef options. I used a flat cut brisket for these photos, as you can see by the uniform size and shape of the slices. Point cut brisket is the fattiest cut, but can also sometimes be the most tender. So it's really up to you which cut you use!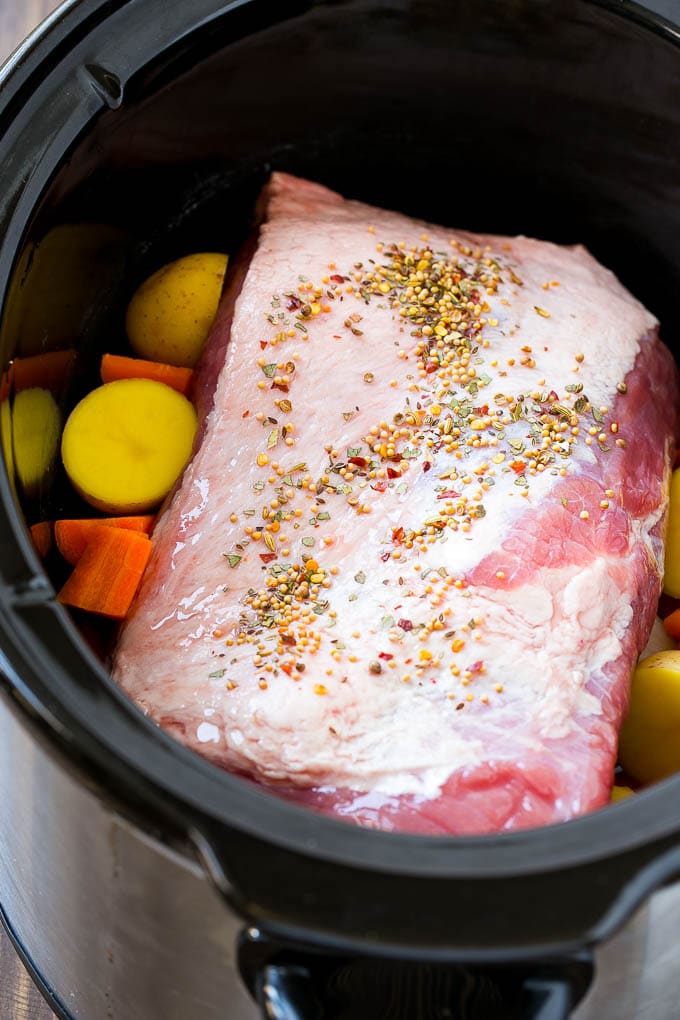 How do you make slow cooker corned beef?
Corned beef comes pre-brined and pre-seasoned, so all you have to do is put it in a slow cooker with carrots and potatoes, then walk away. I add the cabbage during the last part of the cooking process so that it doesn't get overly soft. Slice your beef, then serve it on a platter with the potatoes, carrots and cabbage.
Crock Pot Corned Beef Tips
This recipe really works best on the low heat setting. I know the temptation is there to crank up the heat and have your meal done in half the time, but you run the risk of a tough corned beef if you do that. I recommend putting your meat in the crock pot first thing in the morning to ensure perfection by dinner time.
The potatoes and carrots get quite soft from cooking all day in the crock pot. If you prefer your veggies on the firmer side, try adding them halfway through the cooking time.
Corned beef makes for great leftovers, it's great in sandwiches, hash or in a reuben dip.
Be sure to slice the meat against the grain for the most tender bites of beef.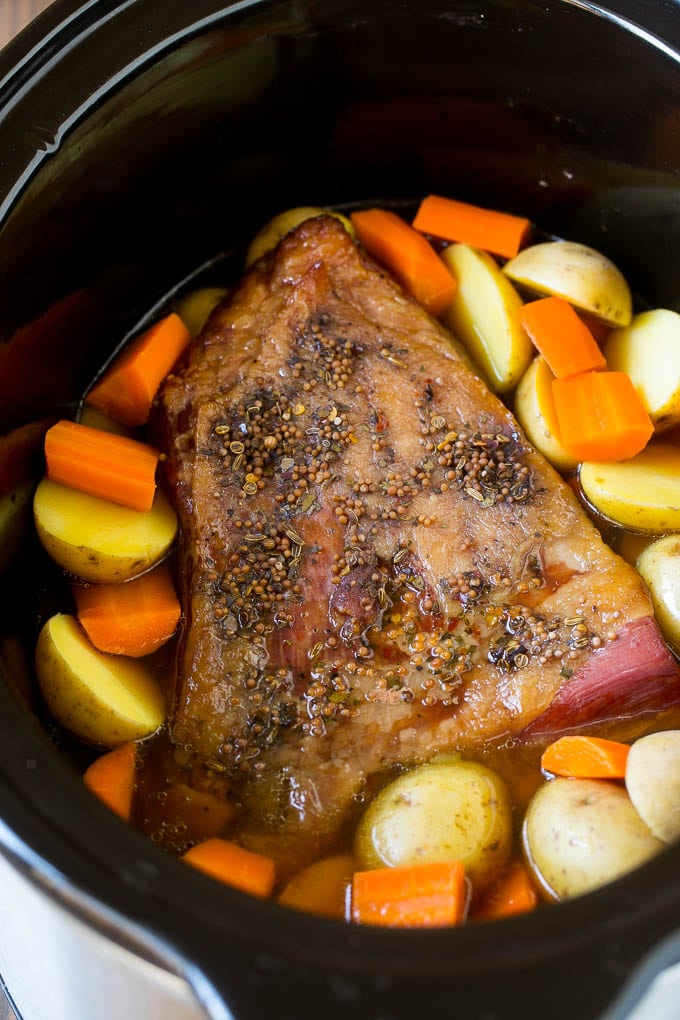 You don't need to add any extra seasoning to your crock pot other than the packet that comes with the corned beef; the meat is plenty salty to flavor the potatoes and vegetables. However, I prefer to add a little drizzle of garlic and herb butter over the top of the veggies. It adds a nice finishing touch that you typically don't see with corned beef meals.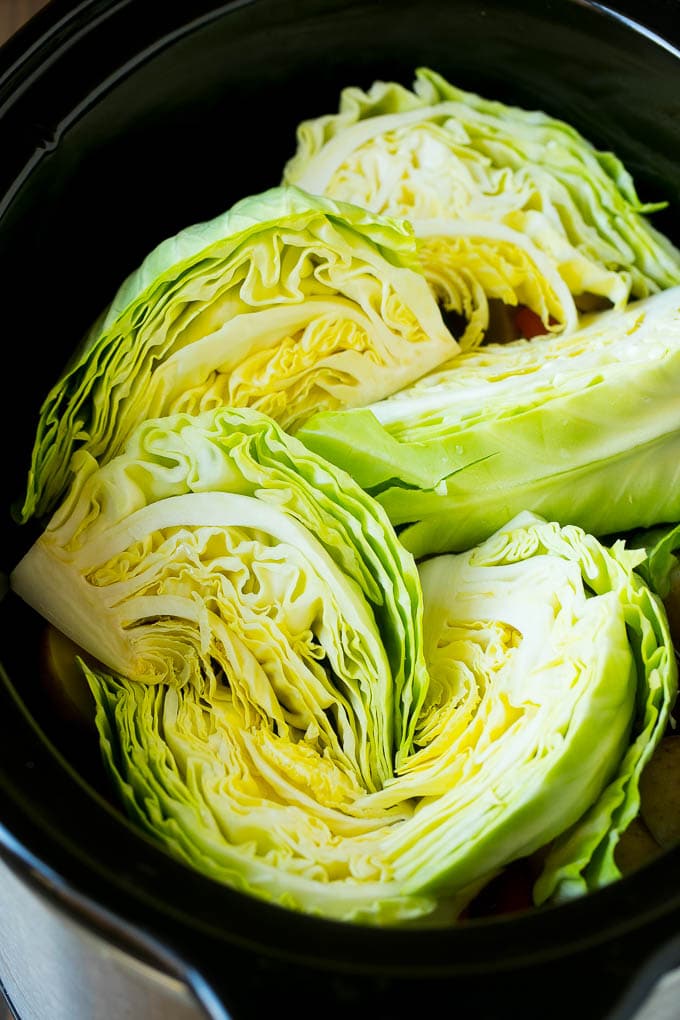 This slow cooker corned beef is on our table every St. Patrick's Day and we always look forward to it!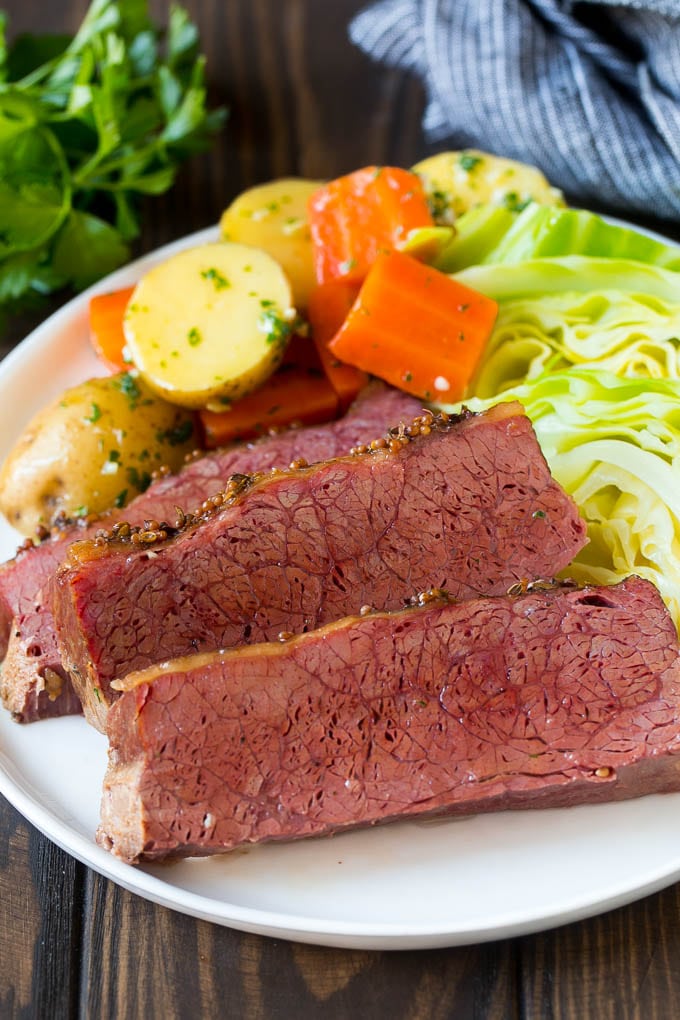 More St. Patrick's Day favorites
Slow Cooker Corned Beef Video
Slow Cooker Corned Beef and Cabbage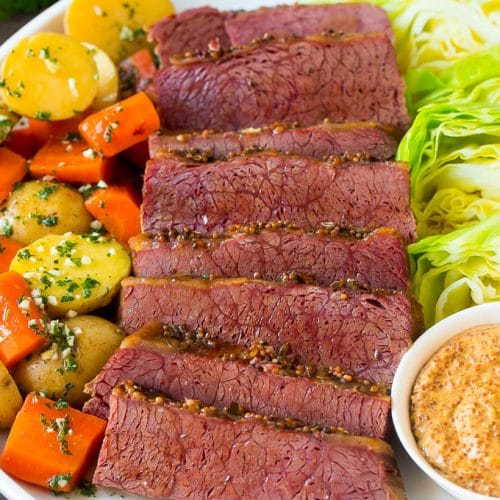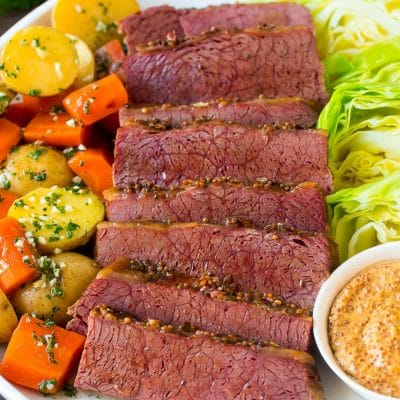 This slow cooker corned beef and cabbage is seasoned corned beef cooked with potatoes, carrots and cabbage. A crock pot meal that's perfect for St. Patrick's Day!
Ingredients
1

corned beef brisket

3-5 lbs

3

carrots

peeled and cut into large chunks

3/4

lb

small yellow potatoes

halved

1/2

head

green cabbage

cut into wedges

3

tablespoons

butter

1

clove

garlic

minced

1

tablespoon

chopped parsley

salt and pepper to taste

grainy mustard for serving

optional
Instructions
Remove the corned beef from the package. Rinse with cold water and pat dry with paper towels.

Place the corned beef brisket (fat side up), carrots and potatoes in a slow cooker. Add 3 cups of water to the slow cooker, plus the seasoning packet that comes in the corned beef package.

Cover and cook on LOW for 6 hours.

Add the cabbage on top of the corned beef and cook on LOW for another 2 hours.

Remove the cabbage, corned beef, potatoes and carrots from the slow cooker. Slice the corned beef against the grain.

Place the butter, garlic, parsley and salt and pepper in a small bowl. Microwave in 30 second increments or until melted.

Drizzle the garlic butter over the carrots, potatoes and cabbage. Place the meat, potatoes and vegetables on a platter and serve with mustard on the side if desired.
Notes
The potatoes and carrots will get quite soft being cooked all day in the crock pot. If you prefer firmer veggies, add them halfway through the cook time.
Nutrition
Calories:
564
kcal
|
Carbohydrates:
14
g
|
Protein:
36
g
|
Fat:
29
g
|
Saturated Fat:
14
g
|
Cholesterol:
137
mg
|
Sodium:
987
mg
|
Potassium:
1133
mg
|
Fiber:
4
g
|
Sugar:
3
g
|
Vitamin A:
5345
IU
|
Vitamin C:
97.4
mg
|
Calcium:
75
mg
|
Iron:
6.1
mg
This post was originally published on February 19, 2018 and was updated on February 19, 2020 with new content.