A comprehensive listing of slow cooker chili recipes including options for beef chili, chicken chili, turkey chili, pork chili and vegetarian chili. These chili recipes are easy to make and perfect for a cold day!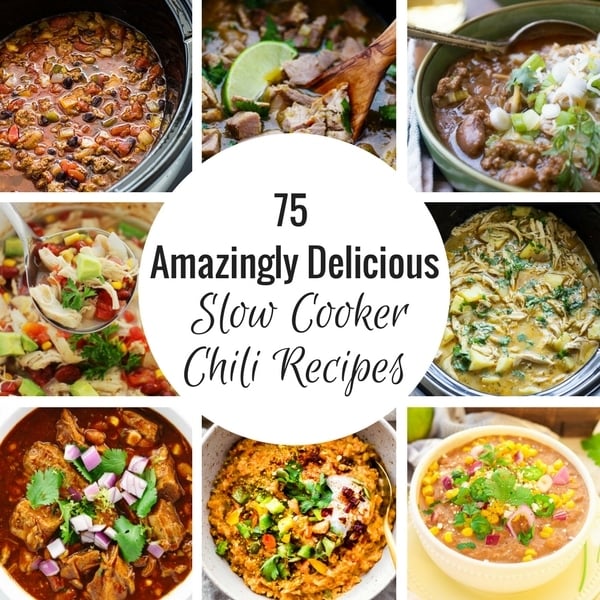 It's fall, y'all! This means cozying up with a great book and a fantastic bowl of slow cooker chili. There are literally thousands of ways to whip up slow cooker chili recipes and many have been handed down from generation to generation. Whichever way you like your chili to be, it's a tasty meal for those fall evenings and your house will smell amazing! I've got a selection of slow cooker chili recipes that are tried and true, everything from the traditional beef chili to the more unique sweet potato and quinoa chili.
Slow Cooker Beef Chili Recipes
These beef slow cooker chili recipes are a great way to go if you're looking for a more classic chili. Many of these recipes call for ground beef, but there are some that use beef stew meat for a heartier meal. We've got chili with beans, chili without beans, chili with beer and even chili with bacon! You'll love these slow cooker chili recipes!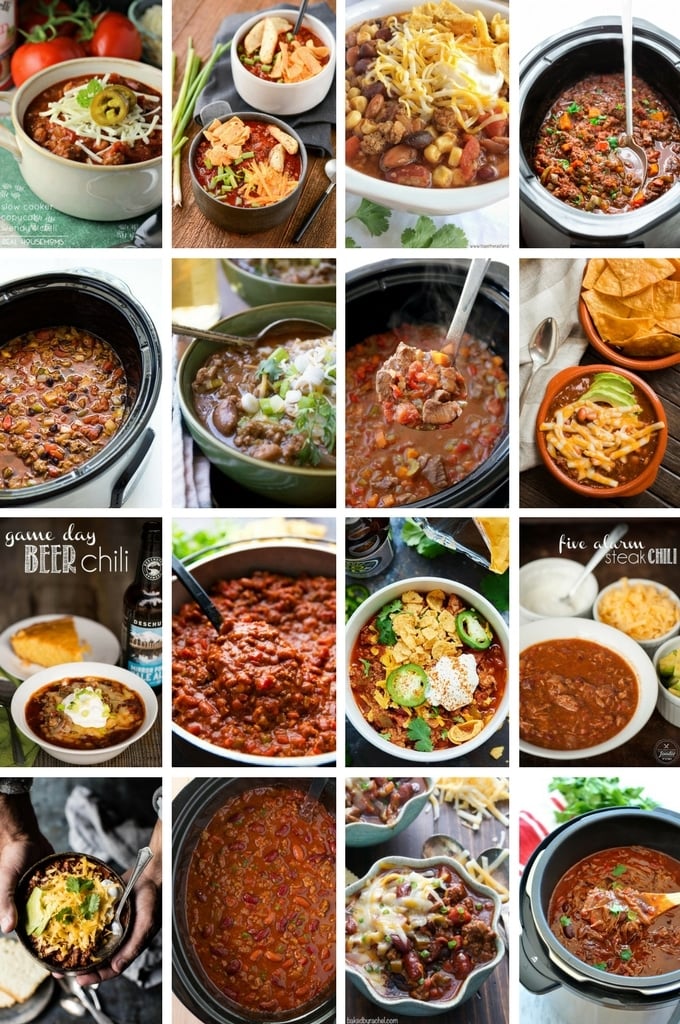 Try these recipes:
Slow Cooker Chicken Chili Recipes
Sometimes I want my chili a little bit on the lighter side, which is when I turn to my collection of slow cooker chicken chili recipes. We've got everything here from chicken taco chili, to classic white chili and the more unique buffalo chicken chili. I can't wait to try them all!
Try these recipes:
Slow Cooker Pork Chili Recipes
Pork chili recipes range from a more classic red chili that contains pulled pork instead of beef, to Mexican inspired pork chili verde. You can serve up these pork slow cooker chili recipes with the classic toppings like cheese and sour cream, or add a side of tortillas for a little different twist.
Try these recipes:
Slow Cooker Turkey Chili Recipes
I often make turkey chili recipes for my family; they've got a similar taste and texture as beef chili, but they're a little bit lighter. These slow cooker turkey chili recipes contain everything from chickpeas to pumpkin and are sure to please any crowd!
Try these recipes:
Slow Cooker Vegetarian Chili Recipes
Sometimes you just don't feel like meat or are looking for a healthy dinner option. These slow cooker vegetarian chili recipes use beans, lentils, sweet potatoes, quinoa and other wholesome ingredients that are big on nutrition and flavor!
Try these recipes:
Ways to use Leftover Chili
Leftover chili is never a bad thing, especially when you can repurpose it and make one of these amazing recipes! With leftover chili you can make nachos, chili dogs, chili fries, cheesy dips, the list goes on and on!
Try these recipes: