This shrimp salad is a blend of tender shrimp, fresh vegetables, dill and seasonings, all coated in a creamy dressing. An easy make-ahead lunch option that's high in protein and easy to make!
I love a good shrimp dish, I can never turn down shrimp Alfredo or Mexican shrimp cocktail. This creamy shrimp salad is one of my favorite ways to enjoy shrimp, and it's so simple that even my kids can make it.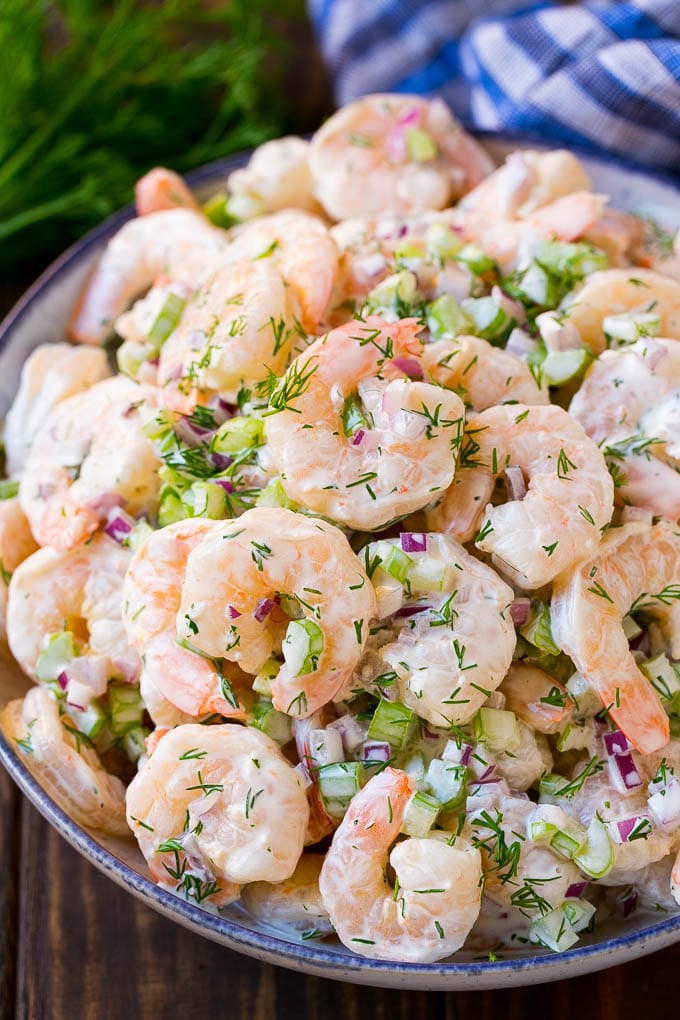 This classic shrimp salad is an easy recipe that should be part of every home cook's repetoire. It's quick to prepare, can easily be doubled for a crowd, and always gets rave reviews!
How to peel shrimp
This recipe calls for raw shrimp which are cooked in seasoned boiling water. I typically buy my raw shrimp with just the tail attached, but many shrimp also come still in the shell. If your shrimp have shells on them, you can easily remove them by pulling the main part of the shell off with your fingers, then removing the tail end of the shell. You may also need to devein your shrimp. If you see a dark line running across the top of the the shrimp, you can remove it by using a paring knife to cut a slit along the top of the shrimp, then use a knife or wooden skewer to remove the vein.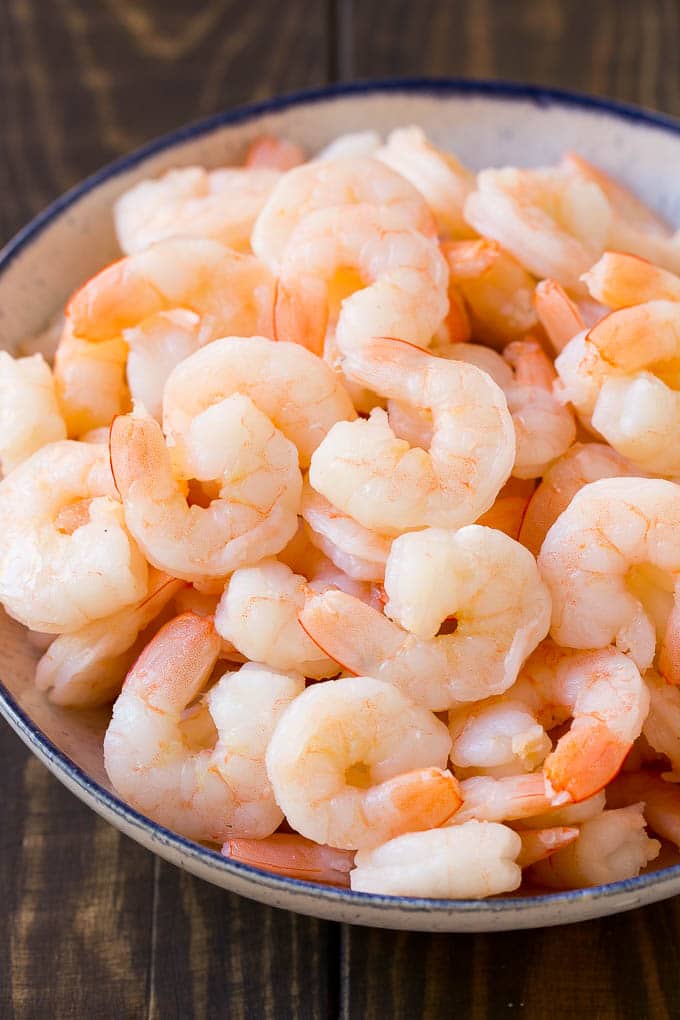 How do you make shrimp salad?
This recipe is a combination of shrimp, celery, red onion, dill, mustard, mayonnaise, lemon juice, salt and pepper. All the ingredients are tossed together, then you're ready to eat! You can serve your shrimp salad immediately, or cover it and store it in the refrigerator for up to 1 day.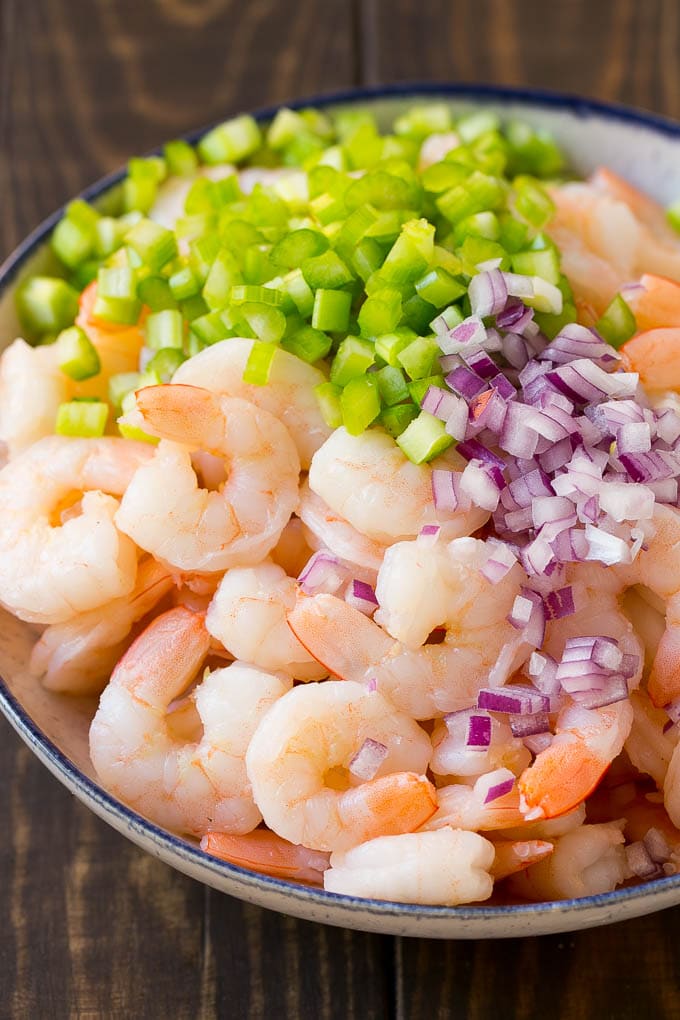 Tips for shrimp salad
I use 31-40 count shrimp for this recipe because they're bite sized. If you prefer, you can use larger shrimp, and serve them whole or cut into pieces.
I recommend making sure your red onion is finely chopped so that you don't get large pieces in each bite. You can also use sliced green onions instead of red onion for a milder flavor.
It's worth it to get fresh dill for this recipe, the flavor is superior to dried dill. If you need to use dried dill, you can substitute 1/2 teaspoon of dried for fresh.
You can use low fat mayonnaise if desired.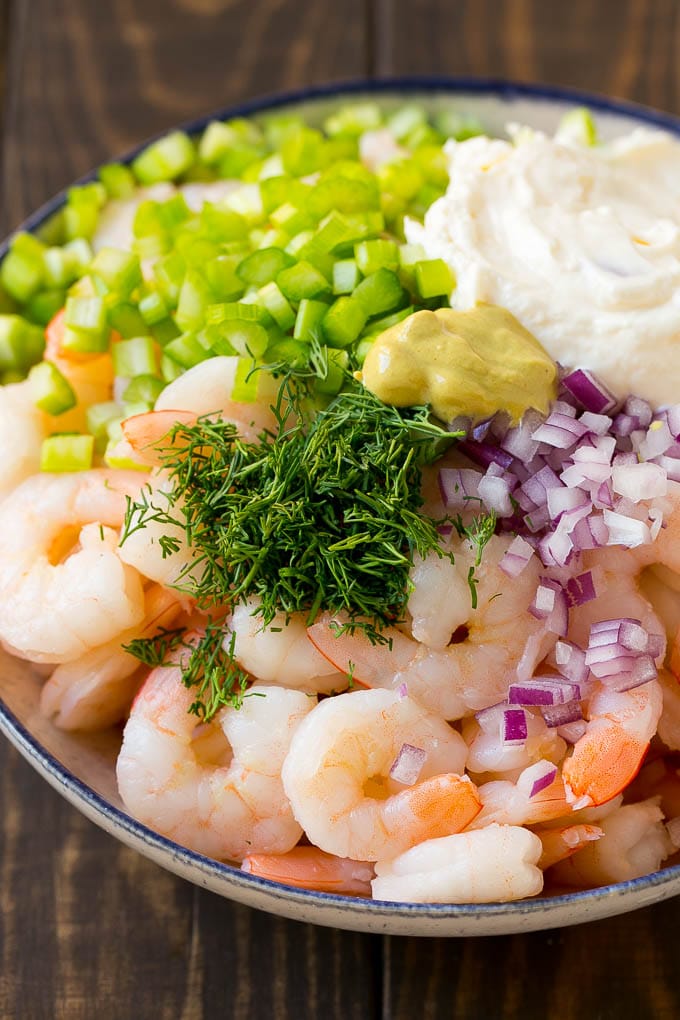 WAYS TO SERVE SHRIMP SALAD
You can eat this shrimp salad as-is, or serve it in a variety of different presentations.
Lettuce: Spoon your salad into a romaine lettuce leaf.
Crackers: Serve your salad with a side of buttery crackers.
Sandwich: Add your shrimp salad to a toasted and buttered roll along with some green leaf lettuce.
Avocado: Spoon your shrimp into an avocado half.
Pasta: Add 8 ounces of cooked short pasta to make a pasta salad.
Cucumber: Spoon onto cucumber slices for an easy party snack.
Puff Pastry: Fill up cooked puff pastry shells with the salad.
Tomato: Hollow out a tomato and fill it with shrimp salad.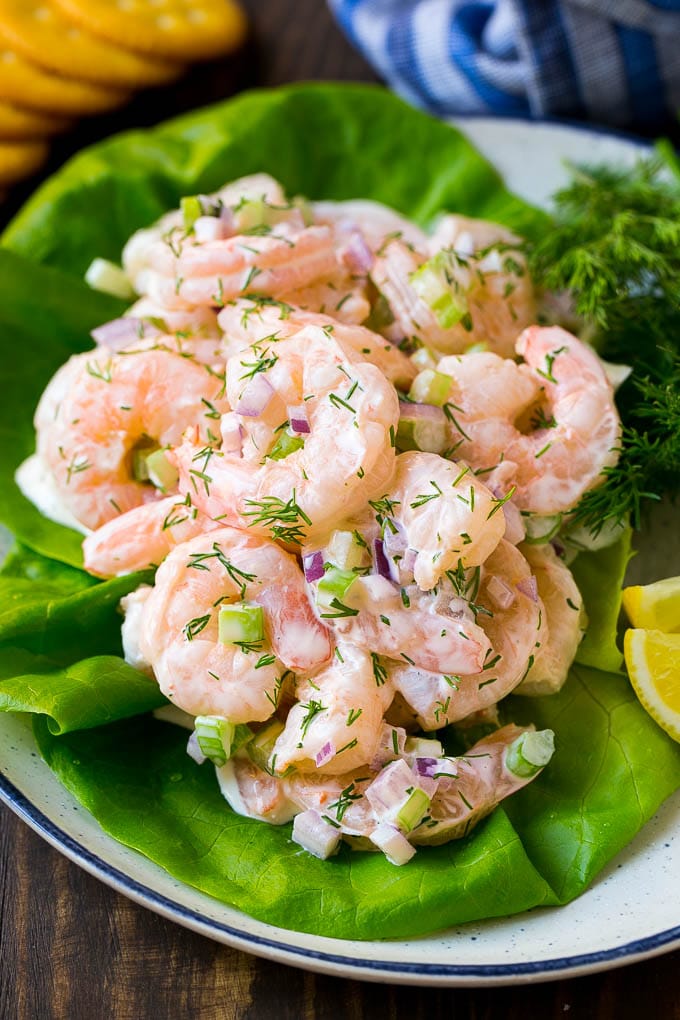 Once you try this shrimp salad you'll find yourself making it all the time! It's one of my go-to options for a simple yet satisfying meal.
More great salad recipes
Shrimp Salad Video
Shrimp Salad
This shrimp salad is a blend of tender shrimp, fresh vegetables, dill and seasonings, all coated in a creamy dressing. An easy make-ahead lunch option that's high in protein and easy to make!
Ingredients
1

pound

shrimp

peeled and deveined

1

lemon

quartered

1/2

cup

celery

finely diced

3

tablespoons

red onion

minced

2

teaspoons

lemon juice

salt and pepper to taste

1/2

cup

mayonnaise

1

teaspoon

Dijon mustard

1 1/2

tablespoons

fresh dill

chopped, plus more for garnish
Instructions
Bring a pot of salted water to a boil. Add the quartered lemon.

Add the shrimp to the pot and cook for 2-3 minutes or until pink and opaque. Transfer the shrimp to a bowl of ice water to stop the cooking process.

Drain the shrimp then pat dry.

Place the shrimp, celery, red onion, lemon juice, salt, pepper, mayonnaise, mustard and dill in a bowl. Toss gently to coat.

Garnish with additional fresh dill and serve, or cover and refrigerate for up to 1 day.
Nutrition
Calories:
318
kcal
|
Carbohydrates:
4
g
|
Protein:
23
g
|
Fat:
16
g
|
Saturated Fat:
3
g
|
Cholesterol:
297
mg
|
Sodium:
684
mg
|
Potassium:
171
mg
|
Fiber:
1
g
|
Sugar:
1
g
|
Vitamin A:
75
IU
|
Vitamin C:
20.9
mg
|
Calcium:
176
mg
|
Iron:
2.6
mg