A comprehensive list of peanut butter recipes including cookies, cakes, pies, smoothies, candy and more. There are plenty of peanut butter dessert ideas to satisfy any craving.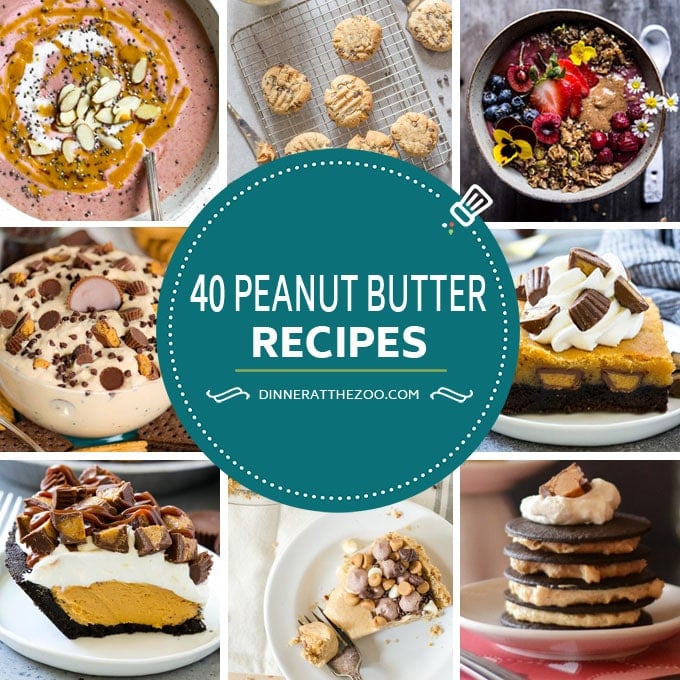 Peanut butter is one of those ingredients that can be used from dinners to desserts. It's so versatile and it definitely never disappoints. Of course, like most people, I have to say that peanut butter desserts are my favorite way to utilize peanut butter outside of a classic PB&J sandwich.
I've never had a peanut butter recipe I didn't love. In fact, there was a peanut butter pie I had not long ago that became my favorite dessert because it was just so rich and decadent. However, there are so many varieties of peanut butter recipes that it's hard to love just one.
The great thing about peanut butter is that it's high in protein which makes it feel a little better when using it as an added ingredient or as a main ingredient, even. It's a great addition to breakfast or even as an after workout snack.
These peanut butter recipes are a little bit of everything – some decadent desserts and healthier smoothie options included. I can't wait to try them all!
40 PEANUT BUTTER RECIPES
This post was originally published on February 27, 2017 and was updated on September 13, 2018 with new content.