These Easter Peeps Recipes are a fun and colorful collection of treats that are perfect for spring! There's everything from peeps cupcakes to s'mores, pies and brownies!
Peeps are a ubiquitous Easter treat. While they're fun to eat on their own, they're even more fun to turn into creative desserts to delight your friends and family.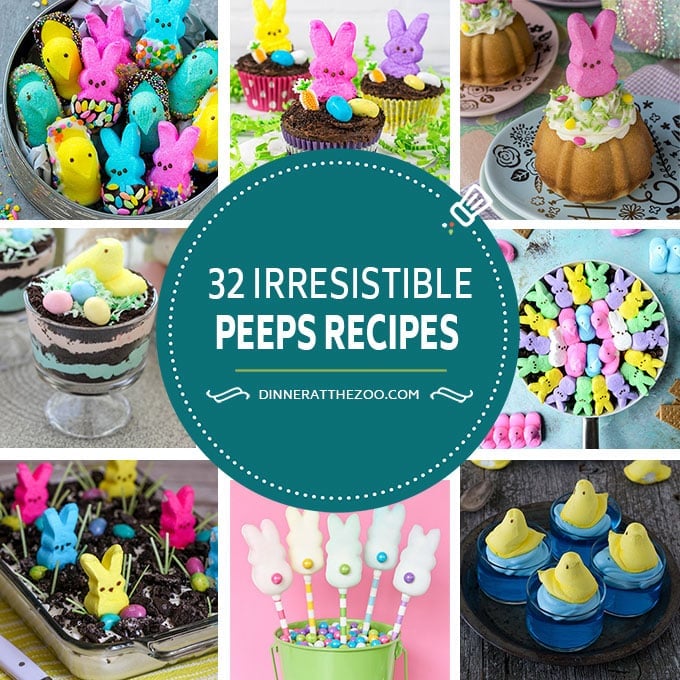 Peeps are kind of a fun treat, aren't they? I have known people to either really love them or really hate them, there isn't really an in-between. If you are a lover of peeps you will be over the moon with these Easter peeps recipes. Beautifully and uniquely put together, there is a peeps recipe for everyone.
From simple desserts, your kids can make with you to the more artistic and detailed treats, you would not believe what can be done with peeps. We made chocolate covered peeps this year and it was so much fun.
I'm surprised there is anything left to show you since I could not get my kids to leave them alone! If it wasn't the peeps they were stealing, it was the sprinkles we used. I have the recipe for our peeps at the bottom here for you.
If you love these adorable and colorful candies, you'll love this comprehensive list of peeps recipes!
32 Irresistible Peeps Recipes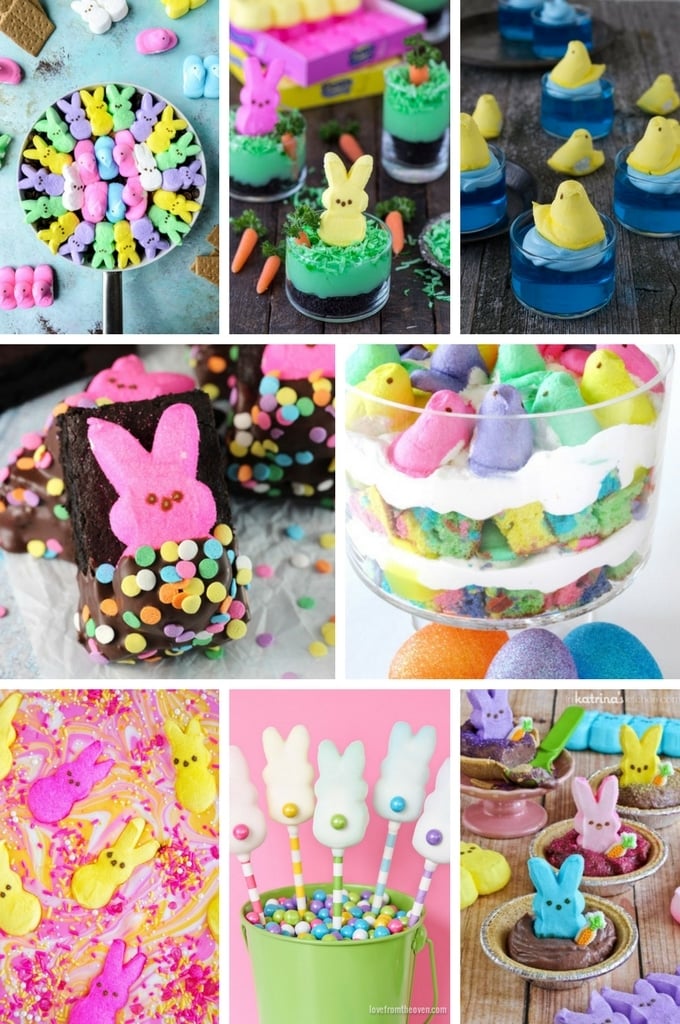 Are peeps available year round?
It used to be that you could only find peeps around Easter time. Nowadays, you can almost always find peeps in the store. Peeps are sold for all the major holidays like Halloween, Christmas and Valentine's Day.

Do peeps melt?
Yes, you can melt peeps like you would a regular marshmallow. The texture is somewhat different because of the sugary coating on the outside, but the centers turn into that familiar ooey gooey texture of a standard marshmallow.
Do peeps come in different flavors?
The original Easter peeps and bunnies all taste the same, just in different colors. There are also specialty Peeps that come in a wide variety of flavors from chocolate to sour watermelon! Be sure to carefully consult the peeps recipe you choose to make sure you buy the correct variety.
Chocolate Covered Peeps (Recipe below)
How to make chocolate covered peeps
These chocolate covered peeps are a fun and easy way to dress up your favorite peeps! I like to use a variety of colors and shapes, but you can use whichever you like best. The peeps get a quick dip in dark or white chocolate and are finished off with a coat of pastel sprinkles. My kids LOVED helping me make these peeps, and they also happen to taste delicious.
You can either use chocolate chips or candy melts for this recipe. I find that candy melts are often easier to work with as the candy melts smooth and thin and doesn't clump up on the peeps when you dip them. My favorite brand to use is Ghirardelli Melting Wafers, it tastes just like real chocolate but melts like a dream!
Chocolate Covered Peeps
Makes 12
12 peeps
1 cup candy melts (white, dark or both)
1/2 cup pastel sprinkles
Place the candy melts in a bowl and microwave in 30 second increments until melted; stir until smooth. Dip part of each peep into the candy melts, scraping off any excess. Add sprinkles to the dipped part of the peep. Place the dipped peeps on a sheet of parchment paper, then let sit until dry. Repeat the process with the remaining peeps.