This post has been sponsored by Google Express. Thank you for supporting the brands that make Dinner at the Zoo possible!

This recipe for Greek lemon chicken is marinated chicken that's been grilled to perfection and topped with a bright and delicious tomato and olive relish. The perfect dish for entertaining!
This post may contain affiliate links. Please see my full disclosure policy for details.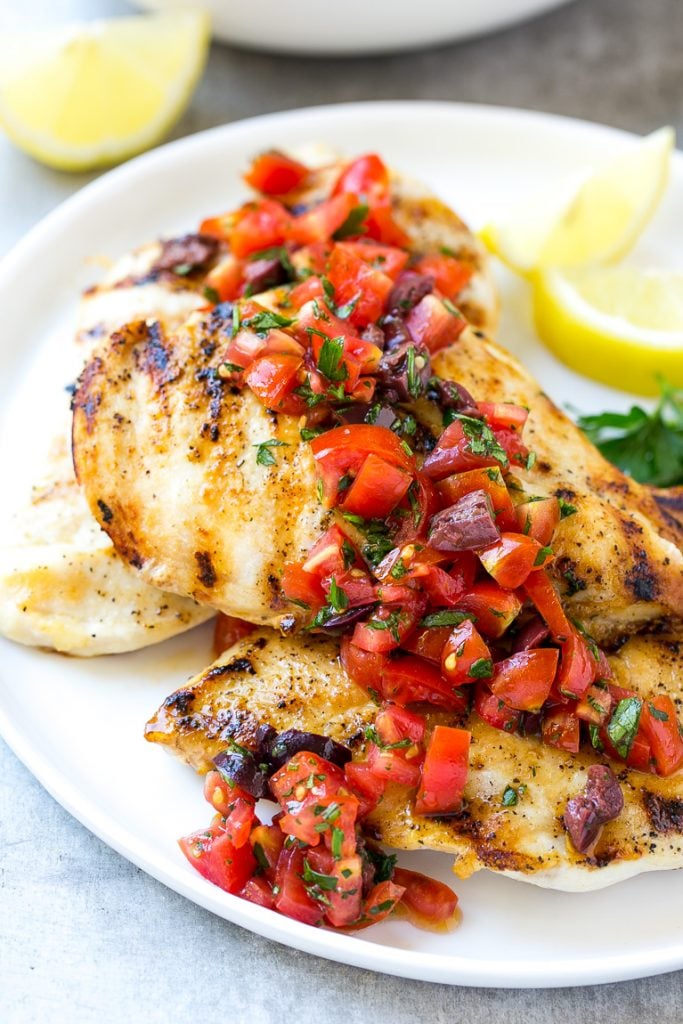 This Greek lemon chicken has got to be my new favorite meal for company! The chicken is packed with lemon and herb flavor, and the 5 minute tomato relish just adds so much extra flavor. Best of all, it's ridiculously easy to make; add a few simple sides and you've got a Greek feast fit for any occasion! As much as I love to entertain, I feel like so much of my weekend is taken up by chores. Sometimes it feels like it's hard to squeeze in any fun between the endless errands and grocery runs. Rather than spending my entire weekend shopping, I signed up for Google Express to have groceries and other necessities delivered right to my door.
MY LATEST VIDEOS
I wanted to have friends over for dinner, but didn't want to spend the entire day at the grocery store getting ingredients, so I placed an order with Whole Foods through Google Express. I love the convenience of the speedy shipping and the ability to order from multiple stores through one service – I have also been ordering from Costco and Target through Google Express, there are 30 different stores to choose from that carry everything from clothes to electronics to pet products – a full shopping experience right from your own home!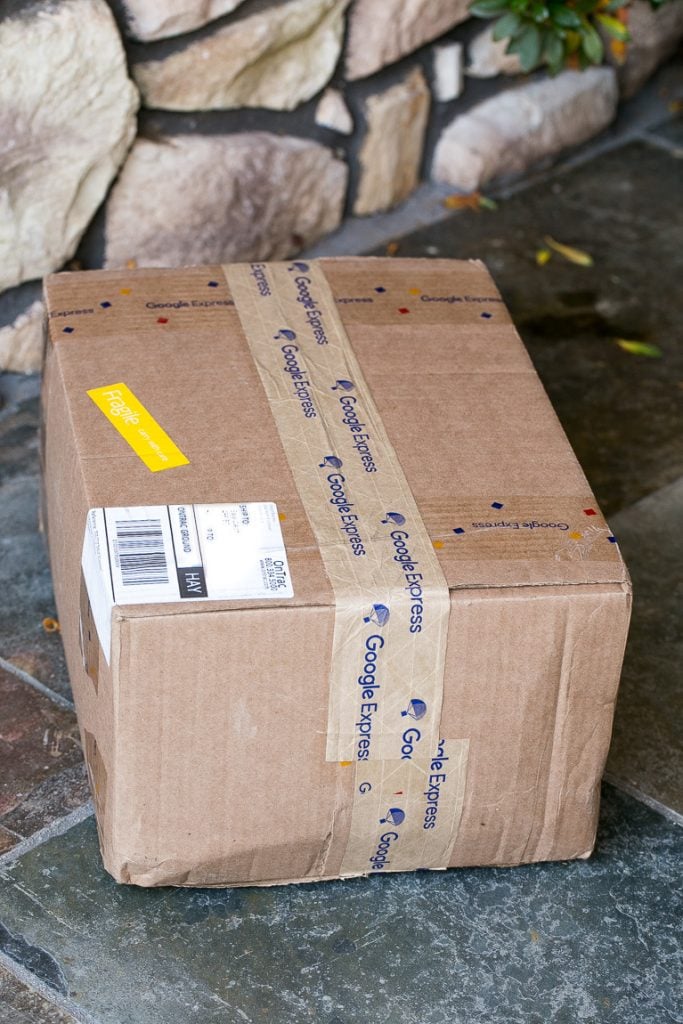 I was thinking Greek food, so I perused Whole Food's selections and bought some great ingredients. Normally I would go from store to store looking for ingredients, which can take hours. With Google Express, I was able to order everything and have it on my doorstep in no time!
I got an assortment of olives, roasted peppers, pita bread, chickpeas, olive oil, couscous and a few other ingredients that transformed my Greek lemon chicken idea into a full meal that was fit for company.
Let's talk about the star of the show first – the chicken. The chicken is marinated in a combination of olive oil, lemon juice and zest, garlic, and oregano, then grilled to perfection. If you don't feel like firing up the grill, you can cook the chicken in a pan on the stove with great results. I topped my Greek lemon chicken with a mixture of diced tomatoes, olives and parsley for added flavor and color.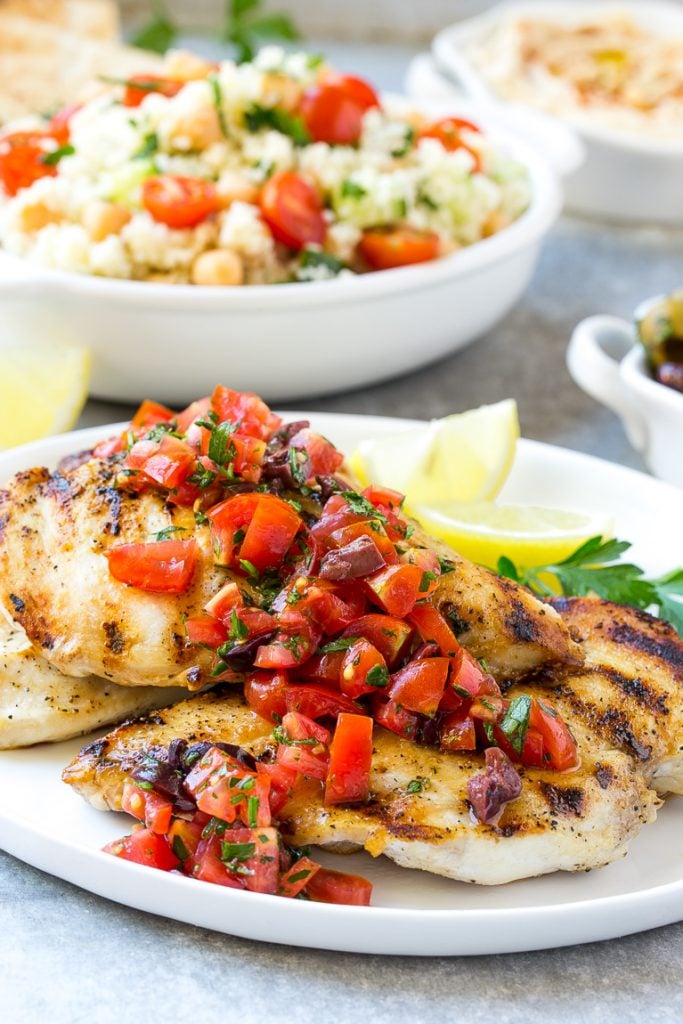 I added some store bought staples to round out the meal like hummus, pita bread and olives that I marinated with roasted peppers and olive oil. I also put together a quick couscous dish with chickpeas, vegetables, and more lemon and olive oil flavors. The meal was a huge hit – we had a fun and relaxing meal at home with our friends. I wasn't at all stressed and didn't spend the entire day at the grocery store thanks to the convenience of Google Express. I was SO happy to not have to rush around getting everything purchased and ready for my friends – I even spent some time relaxing with a book instead of shopping!
Ready to give Google Express a try? I find that I'm using the service every week, it is SO much easier than loading all of the kids in the car to run errands each day. And best of all, you can start enjoying your Saturdays again. Show me how you spent your Saturday by leaving me a comment or a photo with the hashtags #MyNewSaturday and #GoogleExpress. Happy shopping!
Still hungry? Follow Dinner at the Zoo on Facebook, Twitter, Instagram and Pinterest for more great recipe ideas!
Greek Lemon Chicken
This recipe for Greek lemon chicken is marinated chicken that's been grilled to perfection and topped with a bright and delicious tomato and olive relish. The perfect dish for entertaining!
Ingredients
For the chicken:

11/4

pounds

thin boneless skinless chicken breasts

1/2

cup

olive oil

the zest of 1 lemon

1/4

cup

lemon juice

1

teaspoon

sugar or honey

2

teaspoons

minced garlic

1

teaspoon

dried oregano

salt and pepper to taste
For the tomato relish:

1

cup

of seeded and diced tomato

1/4

cup

chopped kalamata olives

1

tablespoon

olive oil

1

teaspoon

lemon juice

2

tablespoons

chopped parsley

salt and pepper to taste

Optional garnishes: lemon wedges, parsley sprigs
Instructions
For the chicken:

In a large resealable bag combine the olive oil, lemon zest, lemon juice, sugar, garlic, oregano and salt and pepper to taste. Seal the bag and shake to mix all of the ingredients together.

Add the chicken to the bag and marinate for at least 30 minutes or up to 4 hours.

Heat a grill or grill pan over medium high heat. Add the chicken and cook for 4-5 minutes per side or until cooked through. Cook time will vary depending on the thickness of your chicken breasts.

For the tomato relish:

Combine all of the ingredients in a medium bowl and stir until thoroughly combined. This can be made up to 4 hours in advance.

To serve:

Place the chicken on a platter and spoon the tomato relish over the top. Serve with lemon wedges and parsley sprigs for garnish if desired.
Nutrition Facts
Greek Lemon Chicken
Amount Per Serving
Calories 351
Calories from Fat 171
% Daily Value*
Total Fat 19g 29%
Cholesterol 82mg 27%
Sodium 126mg 5%
Total Carbohydrates 10g 3%
Protein 34g 68%
* Percent Daily Values are based on a 2000 calorie diet.