This crab rangoon recipe is real crab meat mixed with cream cheese and seasonings, then folded into wontons and cooked to golden brown perfection. You can either bake or fry your crab rangoon for a restaurant quality result!
I cannot resist the appetizers at my local Chinese restaurant, I always order egg rolls, lettuce wraps and these delicious crab rangoon. My homemade version of rangoon is just as good, if not better than, the restaurant recipe.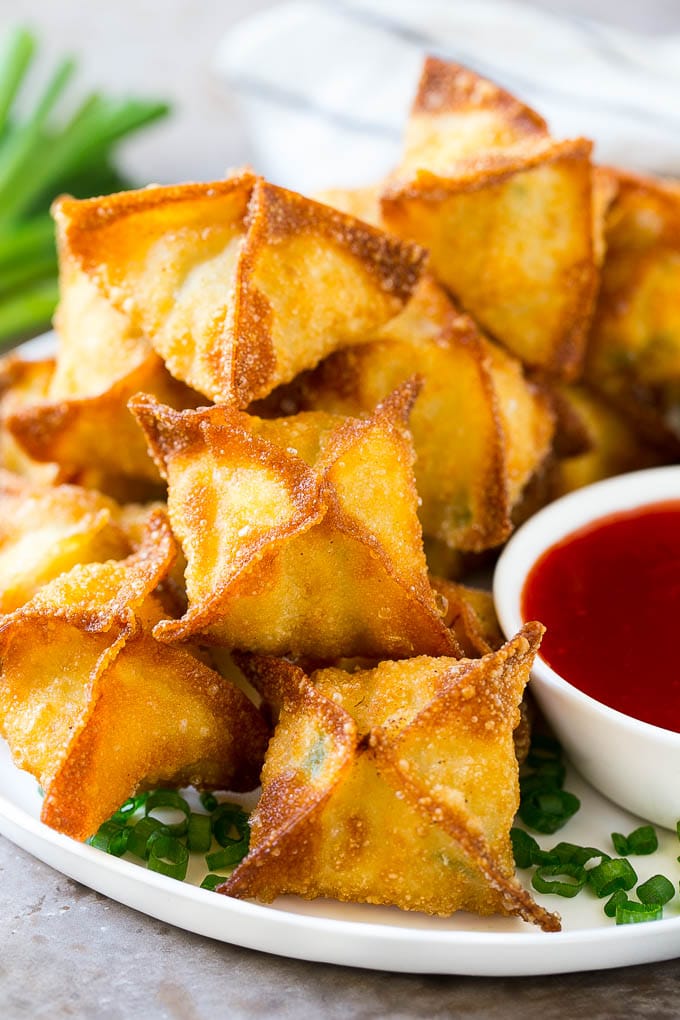 One day I ordered crab rangoon at a restaurant, and ever since then I've been hooked. Who could possibly resist crispy wontons stuffed with cream cheese and crab? Now that I've learned to make crab rangoon at home, I can skip the take out, and my family is just as happy with my version.
What is in a crab rangoon?
Crab rangoon consists of wontons stuffed with a mixture of crab, cream cheese, garlic powder, green onions and Worcestershire sauce. The wontons are either baked or fried until golden brown and crispy and are often served with a dipping sauce.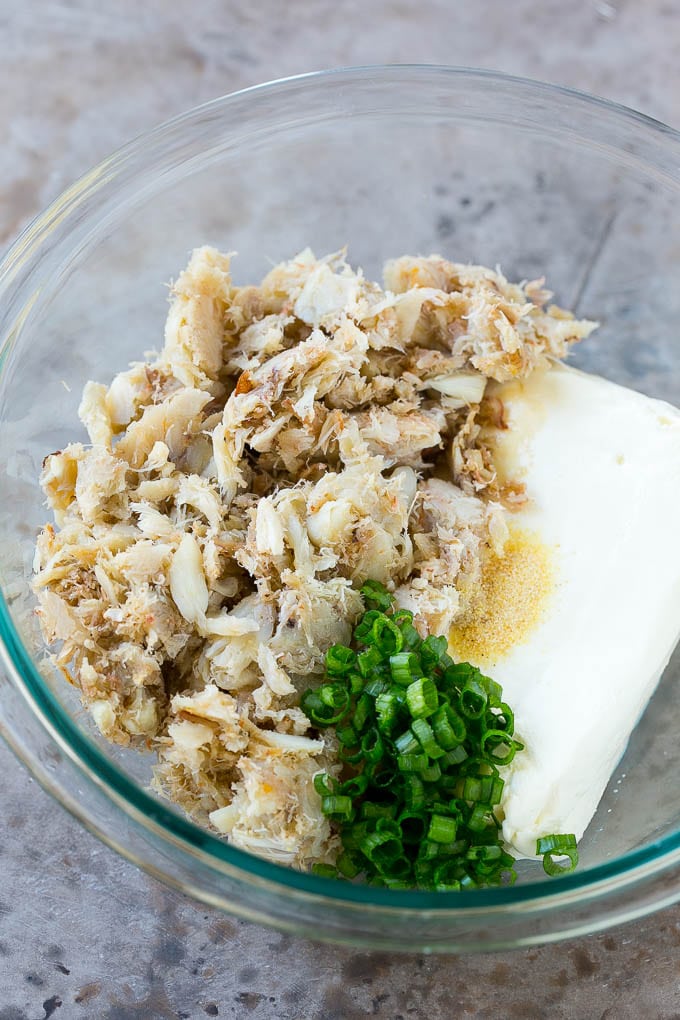 How do you make crab rangoon?
The first step is to mix together your filling ingredients. The filling is dropped onto square wonton wrappers, which are folded up, then baked or fried. I prefer to fry my wontons because they get a deep golden brown color and crunch that can't exactly be replicated in the oven.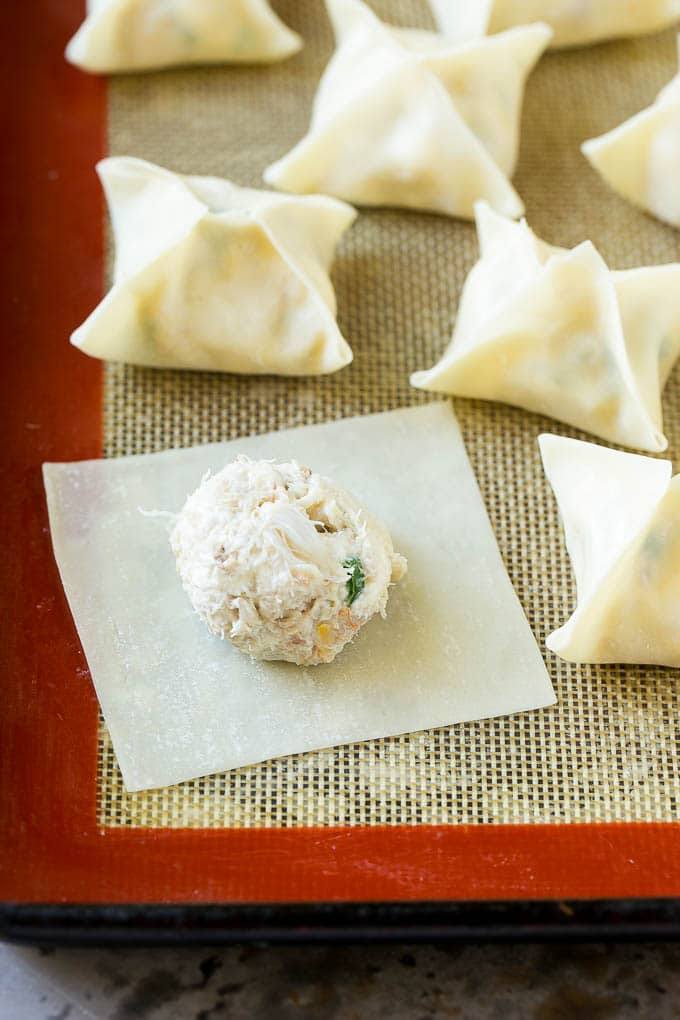 Can you make crab rangoon in advance?
You can assemble your wontons up to 4 hours in advance, then store them loosely covered in the fridge until you're ready to bake or fry them.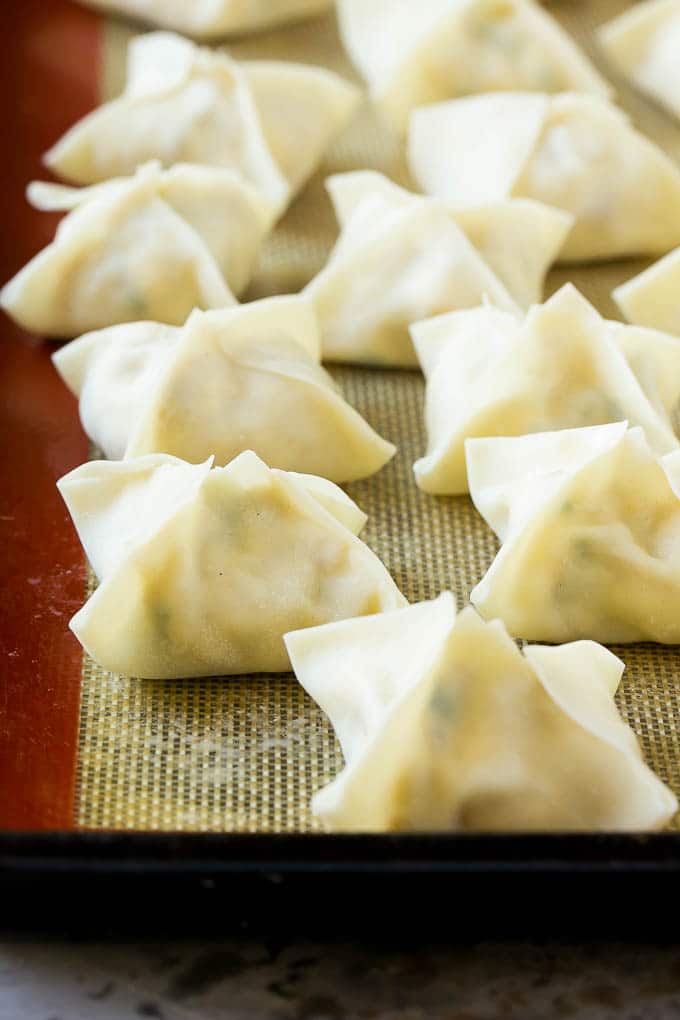 Tips for crab rangoon
I prefer using real crab meat for my rangoon. In this case I used frozen crab meat, but you can also purchase fresh crab meat at your local grocery store's seafood counter. You can also use finely chopped imitation crab meat if you prefer.
Wonton wrappers are often found in the refrigerated area in the produce section.
You can fold your wontons any way you like. I typically just pinch them together to make these little squares because it's easy, looks nice, and you can fit a lot of filling into this shape.
Be sure to use a thermometer to bring your oil to the correct temperature for frying. The oil should be in the 350-375 degrees F range. If the oil is too hot, the wontons may burn. If the oil is too cold, the wontons can absorb too much oil and be overly greasy.
These wontons are best eaten freshly made. If you need to reheat leftovers, use the toaster oven to re-crisp them up.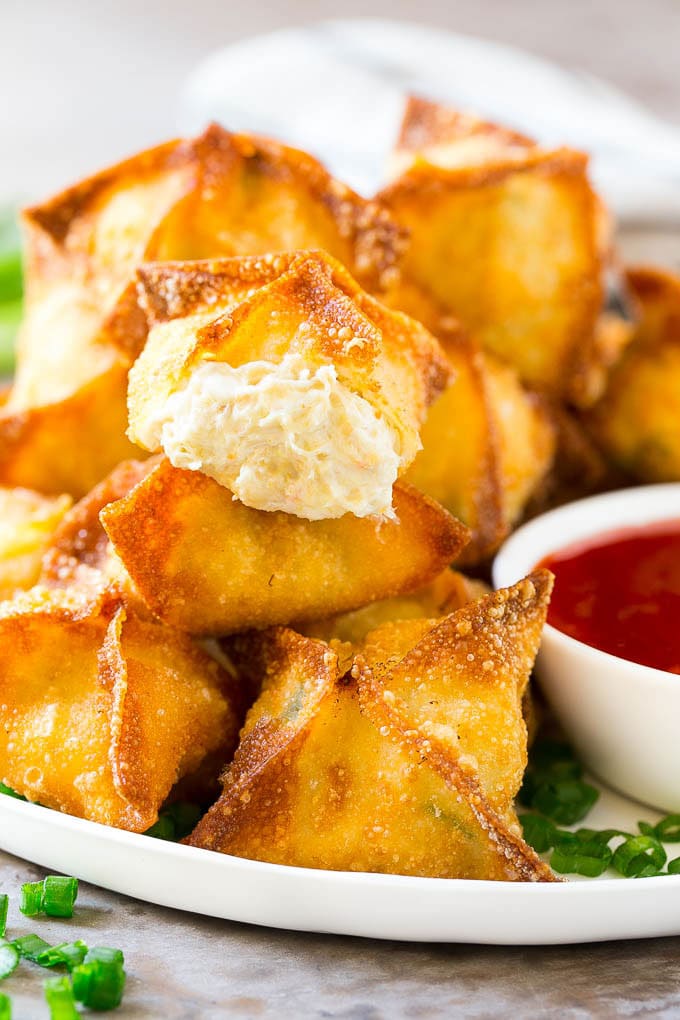 Baked Crab Rangoon
While this dish is traditionally deep fried, you can also bake your rangoon in a 400 degrees F oven for 12-15 minutes. They won't get that same crunchy exterior, but it's a good option if you're looking to save on a few calories.
I like to serve my crab rangoon with a side of sweet and sour sauce and a garnish of sliced green onions. Sweet Thai chili sauce is also another great dipping option.
Crab rangoon are a fun party snack and pair perfectly with other Asian favorites like beef and broccoli and fried rice. Once you see how easy they are to make at home, you'll never be tempted to order the take out version again!
More take out favorites
Crab Rangoon
This crab rangoon recipe is real crab meat mixed with cream cheese and seasonings, then folded into wontons and cooked to golden brown perfection. You can either bake or fry your crab rangoon for a restaurant quality result!
Ingredients
8

ounces

crab meat

or chopped imitation crab

8

ounces

cream cheese

softened

1

teaspoon

Worcestershire sauce

1/2

teaspoon

garlic powder

3

tablespoons

sliced green onions

plus more for garnish

20

wonton wrappers

1

egg

beaten

oil for frying

dipping sauce for serving
Instructions
Place the crab meat, cream cheese, Worcestershire sauce, garlic powder and green onions in a bowl. Stir to combine.

Place a wonton wrapper on a flat surface and drop 2 teaspoons of the crab mixture into the center. Brush the edges of the wonton with the egg.


Bring 2 opposite corners together in the middle of the wonton and pinch. Repeat with the other 2 corners and pinch to form a package shape.


Repeat with the remaining wontons and crab mixture until all are filled.


Heat 4 inches of oil in a deep pan to 350 degrees F


Fry 5-6 wontons at a time, turning them as needed to make sure they brown evenly. This process should take about 3-5 minutes.


Drain the cooked wontons on paper towels and repeat the frying process with remaining wontons.


Serve immediately with dipping sauce of choice and garnish with more sliced green onions.

Notes
For baked crab rangoon, assemble the wontons as directed then coat the tops with cooking spray. Bake at 400 degrees F for 12-15 minutes or until lightly browned.
Nutrition
Calories:
73
kcal
|
Carbohydrates:
4
g
|
Protein:
3
g
|
Fat:
4
g
|
Saturated Fat:
2
g
|
Cholesterol:
26
mg
|
Sodium:
180
mg
|
Potassium:
50
mg
|
Vitamin A:
165
IU
|
Vitamin C:
0.8
mg
|
Calcium:
21
mg
|
Iron:
0.4
mg