These Christmas tree brownies are an easy and adorable treat that's the perfect addition to any holiday gathering. Kids and adults alike will love these Christmas brownies!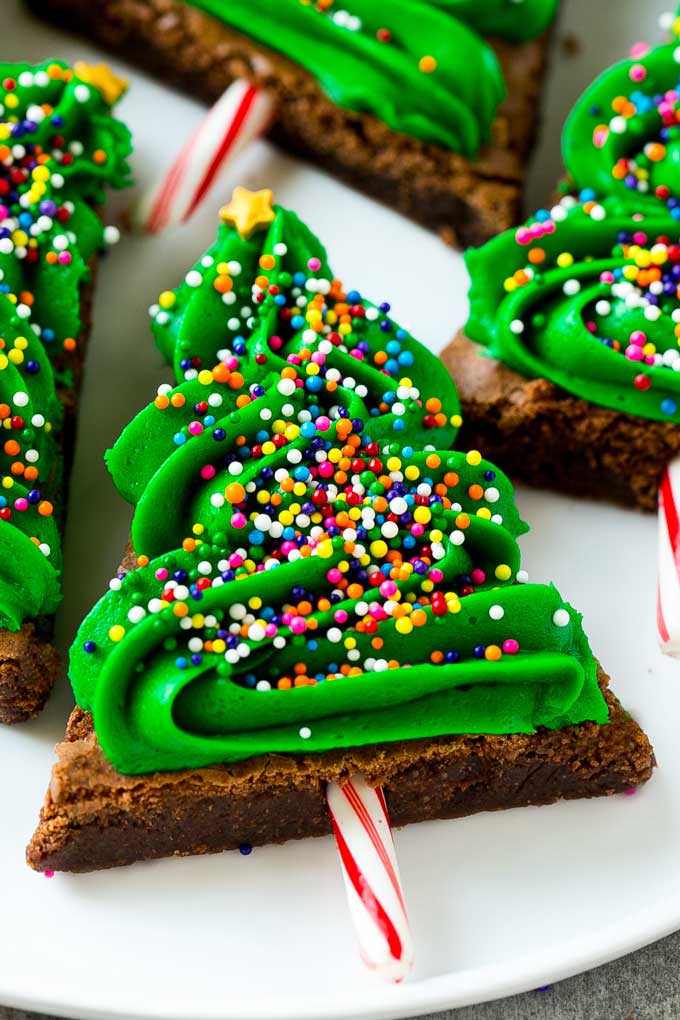 The holidays are almost here, and I'm celebrating with these fun and festive Christmas tree brownies! People can't help but smile when they see these colorful treats, and the best part is, these brownies taste as good as they look! We've got homemade brownies, green tinted frosting, candy canes and rainbow sprinkles, all hallmarks of an awesome holiday recipe. Best of all, these Christmas brownies are actually super easy to make, and the brownies only use a single bowl.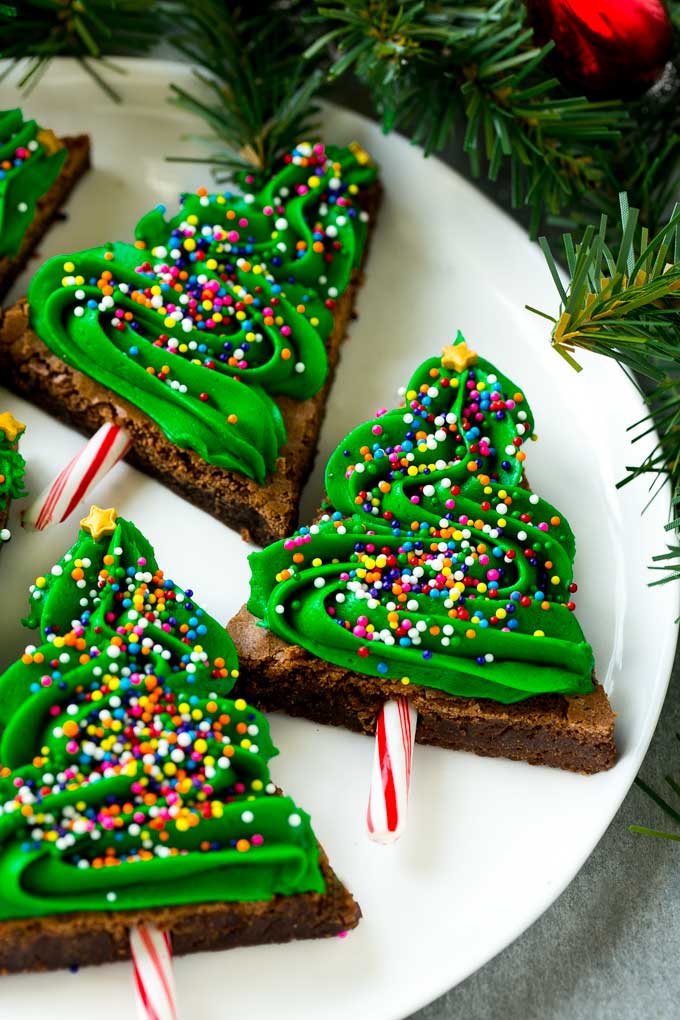 How to make christmas tree brownies
The brownie base for this recipe is my all time favorite way to make brownies. These brownies are perfect in my opinion, they're fudgy with a crackly top and are absolutely loaded with chocolate flavor. You'll need a handful of ingredients to prepare these brownies, like chocolate chips, butter and Eggland's Best eggs. I choose Eggland's Best eggs for my holiday recipes because they are more nutritious than ordinary eggs. Eggland's Best eggs have six times more Vitamin D, 10 times more Vitamin E, double the omega-3s, and more than double Vitamin B12. I love that I can get more vitamins into my family this way. Eggland's Best eggs also have 25% less saturated fat than regular eggs, always important when you're trying to maintain a healthy lifestyle. These eggs taste great, and they even stay fresh longer than standard eggs! You can learn more about the nutritional benefits of Eggland's Best eggs on their website.
Tips for cooking with Eggland's Best Eggs
When it comes to baking, it's best to use your Eggland's Best eggs at room temperature. Adding cold eggs to batters such as these brownies can sometimes re-harden the butter and chocolate, which makes the batter appear curdled and can sometimes affect the texture of the final product.
Your Eggland's Best eggs should be added one at a time to the brownie batter. Be sure to mix thoroughly before adding the next egg. Adding the eggs slowly allows for the batter to thicken and emulsify between additions and makes for a better brownie.
I find that it's best to use a whisk to mix the eggs into this batter, it does a great job with incorporating the eggs quickly and efficiently.
I bake my brownies in a 9″x13″ pan for this recipe. You'll end up with a slab of brownie that's perfect for cutting into triangles to make Christmas trees. The brownies will be easier to cut if you chill them first. You will have a few leftover scraps as you cut your brownies into tree shapes, my kids wait impatiently to snatch those up!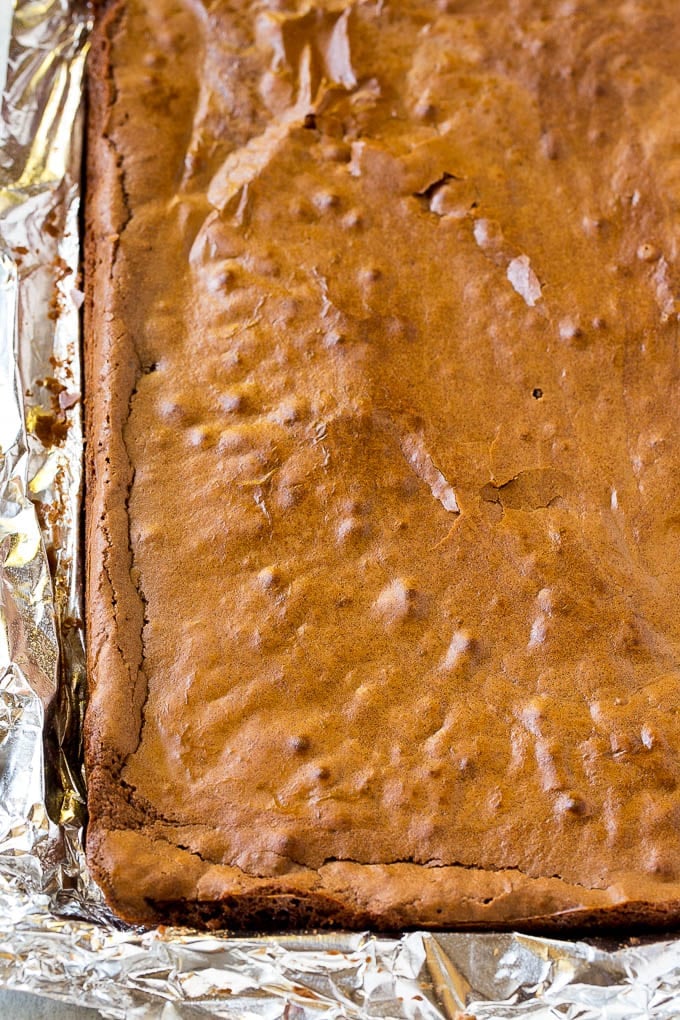 You can make your brownie trees as big or as small as you like; I typically cut my trees so that they're about 3 inches long. To make the tree trunk, you'll simply snap off the crooked end of mini candy canes and insert them into the bottom of the brownies.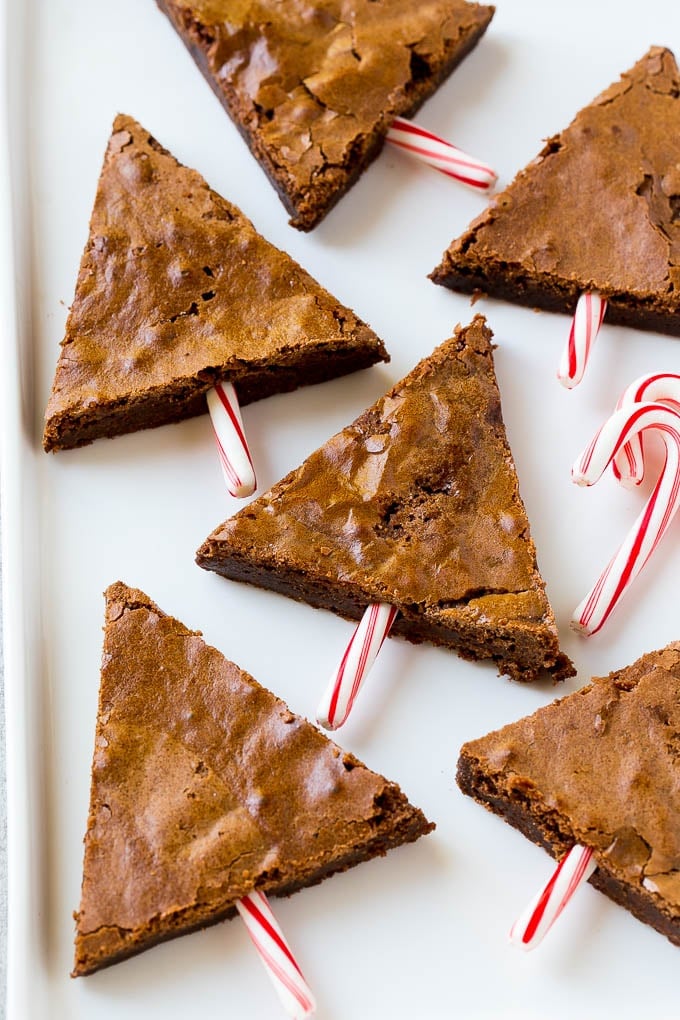 After that, you're ready to decorate! You can either make your own buttercream frosting, or buy a can of frosting for this part. During the holidays many stores sell frosting that's already dyed green, you can pick that up, or add some food color to a can of white frosting. I've also included a simple buttercream recipe below. I use a piping bag with a closed star tip to pipe the Christmas tree design. If you don't have a piping bag, simply load some frosting into a gallon sized resealable bag and snip one of the corners to create a makeshift piping bag. I like the design that the star tip provides, but if you pipe straight from a resealable bag it will still look festive!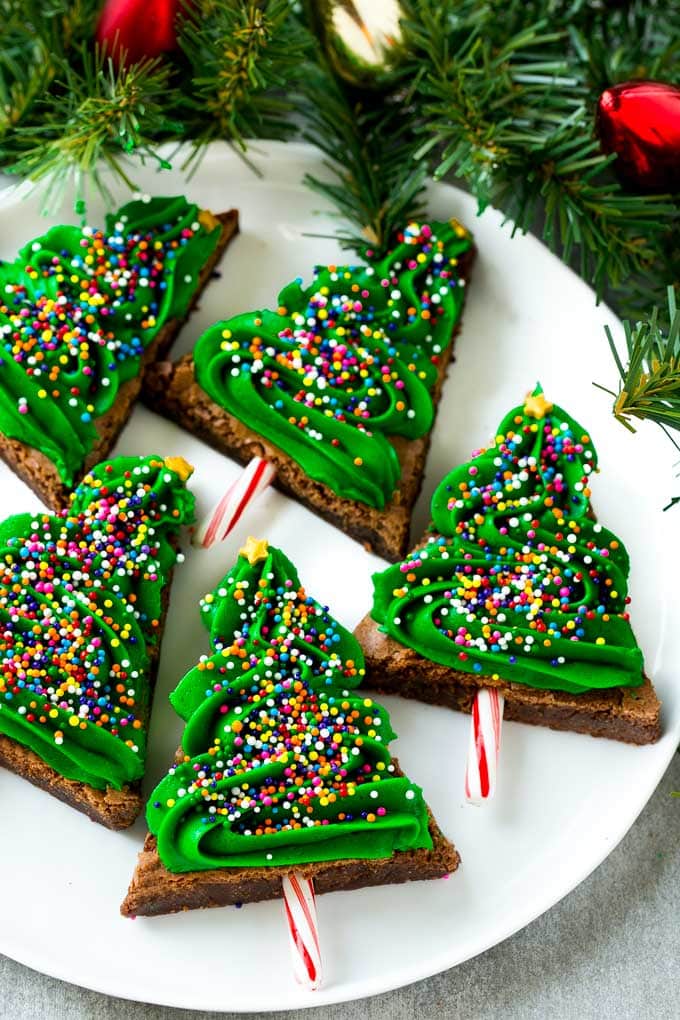 The final step in the process is the decorations. I add a gold star sprinkle at the top of each tree, these sprinkles are sold at most major craft stores and online. If you can't find the stars, a little silver ball sprinkle would also look like. I like the multicolored rainbow sprinkles to represent holiday lights, but you can really use whatever sprinkles you prefer, get creative here!
Make Ahead Instructions
If you'd like to prepare these Christmas brownies in advance, you can bake the brownies, cut them into shapes, and freeze them for up to one month before you plan to use them. Simply thaw the brownies, add the decorations and you're ready to go. These brownies can also be fully prepared and decorated, then stored in the fridge in a covered container for up to one day before you plan to serve them.
These Christmas tree sweets made with Eggland's Best eggs make what could be an ordinary brownie into something extraordinary. Be sure to check out the Eggland's Best website and follow them on Facebook, Twitter, Instagram and Pinterest for more information about their products, great recipe ideas and more!
Other Recipes You'll Love
Christmas Tree Brownies Video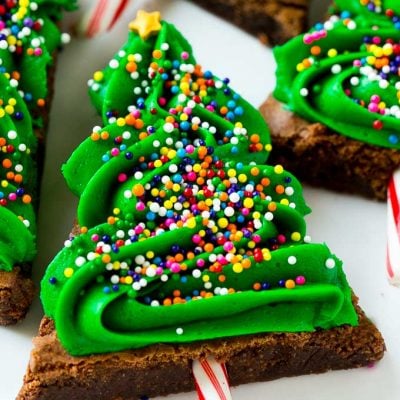 These Christmas tree brownies are an easy and adorable treat that's the perfect addition to any holiday gathering. Kids and adults alike will love these Christmas brownies!
Ingredients
For the brownies:
cooking spray

1/2

cup

butter

8

ounces

semisweet chocolate chips

1 1/2

cups

granulated sugar

4

Eggland's Best eggs

1

teaspoon

vanilla extract

1/2

teaspoon

salt

3/4

cup

all purpose flour
For the decorations:
16

small candy canes

16

gold star sprinkles or candies

1/3

cup

rainbow sprinkles

2

cups

green frosting

homemade or store bought, a basic homemade frosting recipe is provided in the notes section
Instructions
Preheat the oven to 350 degrees. Line a 9"x13" pan with foil and coat with cooking spray.

Place the butter and chocolate chips into a large bowl. Melt in microwave - heat for 30 second intervals and stir between each interval until butter and chocolate are melted and thoroughly combined.

Stir in the sugar, then stir in the eggs, one at a time, whisking until smooth after each addition.

Stir in the vanilla extract. Gently fold in the salt and flour.

Pour the batter into the prepared pan and bake for 25-30 minutes or until a toothpick inserted into the brownies comes out clean.

Cool the brownies to room temperature, then chill for at least 30 minutes.

Using the edges of the foil, remove the slab of brownie from the pan. Using a sharp knife, cut the brownies into 16 triangles.

Snap the curved parts off the candy canes and insert the straight parts of the candy canes into the bottom of the brownies.

Place the frosting in a piping bag fitted with a plain or star tip, or resealable plastic bag with the tip snipped off. Pipe approximately 1 1/2 tablespoons of frosting onto each brownie.

Place a star sprinkle at the top of each brownie, then add rainbow sprinkles all over each brownie.

Serve, or store, covered, in the refrigerator for up to one day.
Notes
Basic Buttercream Recipe:
1 cup unsalted butter, softened. 3 1/2 cups powdered sugar, 2 teaspoons vanilla extract, 2-3 tablespoons milk or cream, green food coloring gel.
Beat butter with a mixer until light and fluffy, 2-3 minutes. Turn mixer to low speed and gradually add powdered sugar. Add vanilla extract and 2 tablespoons of milk or cream, beat until smooth and creamy. You can add more powdered sugar if you desire a thicker consistency, or add more milk for a thinner consistency. Add green food coloring until desired shade is reached.
Nutrition
Calories:
257
kcal
|
Carbohydrates:
33
g
|
Protein:
2
g
|
Fat:
12
g
|
Saturated Fat:
7
g
|
Cholesterol:
57
mg
|
Sodium:
68
mg
|
Potassium:
101
mg
|
Fiber:
1
g
|
Sugar:
27
g
|
Vitamin A:
245
IU
|
Calcium:
18
mg
|
Iron:
1.4
mg
This festive Christmas tree brownies recipe has been sponsored by Eggland's Best. Thank you for supporting the brands that make Dinner at the Zoo possible!