This creamy parmesan carrot risotto (carrot rice) is full of vegetables and can be a complete meal in one pot.

I know what you're thinking. You're thinking "Seriously? I don't have time to sit and continuously stir a pot while my kids dismantle the entire house." This parmesan carrot risotto (carrot rice) does not require constant stirring and best of all, it's got tons of carrots so it can count as a grain and a vegetable all in one. I feel like there's a certain standard for risotto when you see it made on TV – it must be just the right consistency for the experts to consider it good. But you know what? I'm not trying to be the next Top Chef, I'm just trying to feed my family. I use a basic short grain rice instead of the authentic Italian rices and I cook it to whatever consistency I like, which means I don't stir it constantly to get that "perfect" texture. It is still super delicious and my kids love it. This is a great candidate to make in advance too, in fact I made it while the twins were at preschool and then served it for dinner and it was totally delicious.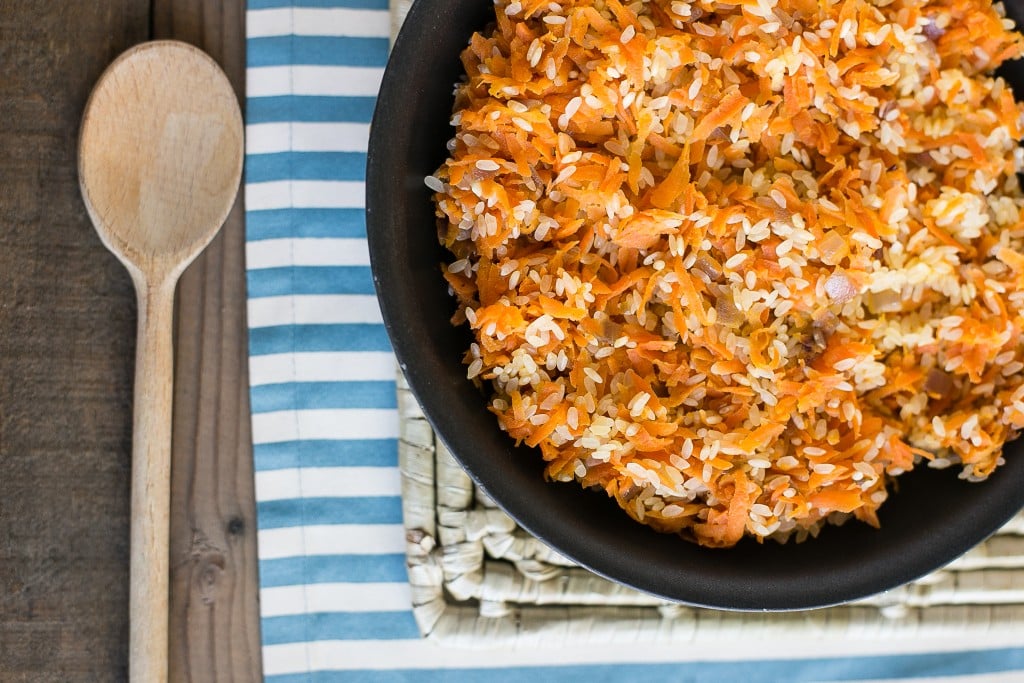 As you can see, this recipe is as much about the carrots as it is about the rice. Some red onion and the shredded carrots are cooked in the pan and then the rice is added and simmered in chicken stock. If you want to make this vegetarian just use vegetable stock. I add about a cup of stock at a time and then let it simmer at medium heat. You want to make sure the heat isn't too high so that it won't burn if the liquid cooks down before you come back to add more.
You do have to stir this some – I'd say check it every 5 minutes to make sure there's still some liquid in the pot so that it doesn't burn. After about 25 minutes you've got yourself a creamy pot of rice with a hint of sweetness from the carrots and a savory flavor from the parmesan. It may look soupy at first but will continue to absorb the stock and thicken as it starts to cool. My kids call this "orange rice", I don't even think they notice that the carrots are there. You can serve this carrot rice as a meatless main course, add some cooked chicken or shrimp at the end or serve it as a side dish to a roasted chicken. I garnished with carrot shavings but that's totally optional, especially if you're trying to convince a vegetable-hater to try it!
Still hungry? Follow Dinner at the Zoo on Facebook, Twitter, Instagram and Pinterest for more great recipe ideas!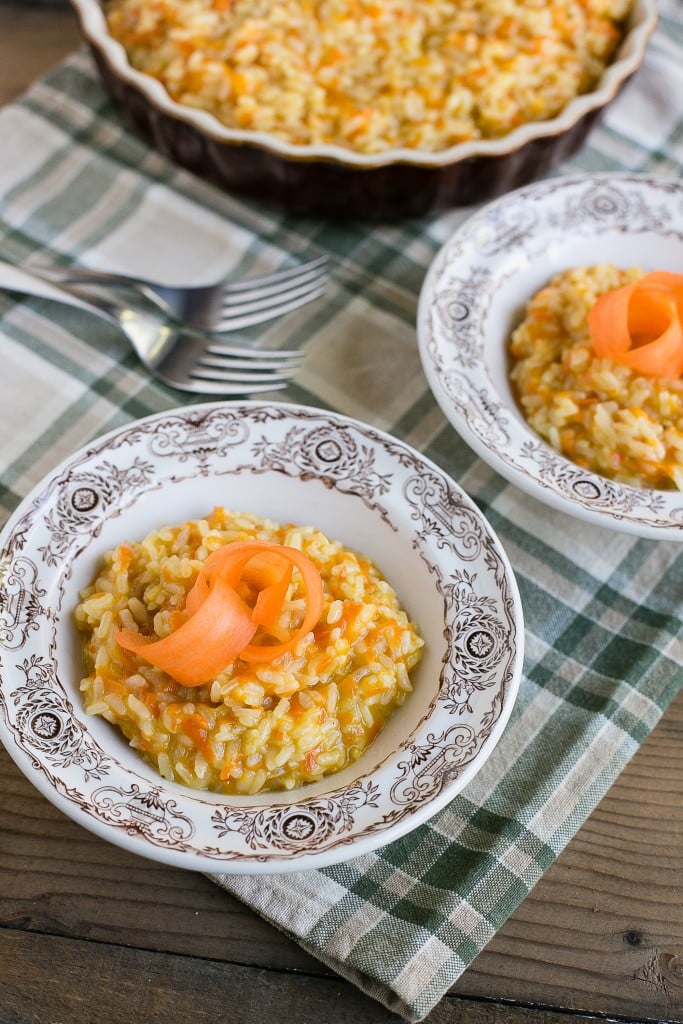 Parmesan Carrot Risotto (Carrot Rice)
This parmesan carrot risotto (carrot rice) is full of vegetables and can be a complete meal in one pot. Adapted from Martha Stewart.
Ingredients
4

cups

chicken or vegetable stock

1

tablespoon

butter

1

medium red onion

finely chopped

6

medium carrots

grated

Kosher salt and ground pepper

1 1/4

cups

short grain rice

1/4

cup

dry white wine

1/2

cup

freshly grated Parmesan cheese
Instructions
In a large saucepan, melt 1 tablespoon butter over medium heat. Add onion and carrots; season with salt and pepper. Cook, stirring occasionally, until softened, 5 to 7 minutes. Stir in rice. Add wine; cook, stirring, until absorbed, 1 to 2 minutes.

Add 1 cup chicken stock; simmer over medium-low, stirring occasionally, until mostly absorbed, 10 to 12 minutes. Continue to add broth, 1 cup at a time, stirring occasionally, until absorbed before adding more. Cook until rice is creamy and just tender, about 20 minutes (you may not need all the stock).

Remove risotto from heat. Stir in Parmesan and and season with salt and pepper to taste.
Recipe Notes
Make Ahead: This recipe can be made up to a day in advance, reheat on the stovetop or in the microwave.
Nutrition Facts
Parmesan Carrot Risotto (Carrot Rice)
Amount Per Serving
Calories 299
Calories from Fat 54
% Daily Value*
Total Fat 6g 9%
Cholesterol 17mg 6%
Sodium 416mg 17%
Potassium 439mg 13%
Total Carbohydrates 46g 15%
Protein 10g 20%
* Percent Daily Values are based on a 2000 calorie diet.