This lemon meringue tart is a graham cracker crust topped with a creamy lemon filling and fluffy brown sugar meringue. It's a show stopping dessert that's perfect for a special occasion.
When I need a dessert that's a little bit on the fancy side, I make berry chantilly cake, Oreo cheesecake, or this amazingly delicious and elegant lemon meringue tart. This dessert takes a bit of effort, but the end result is totally worth it.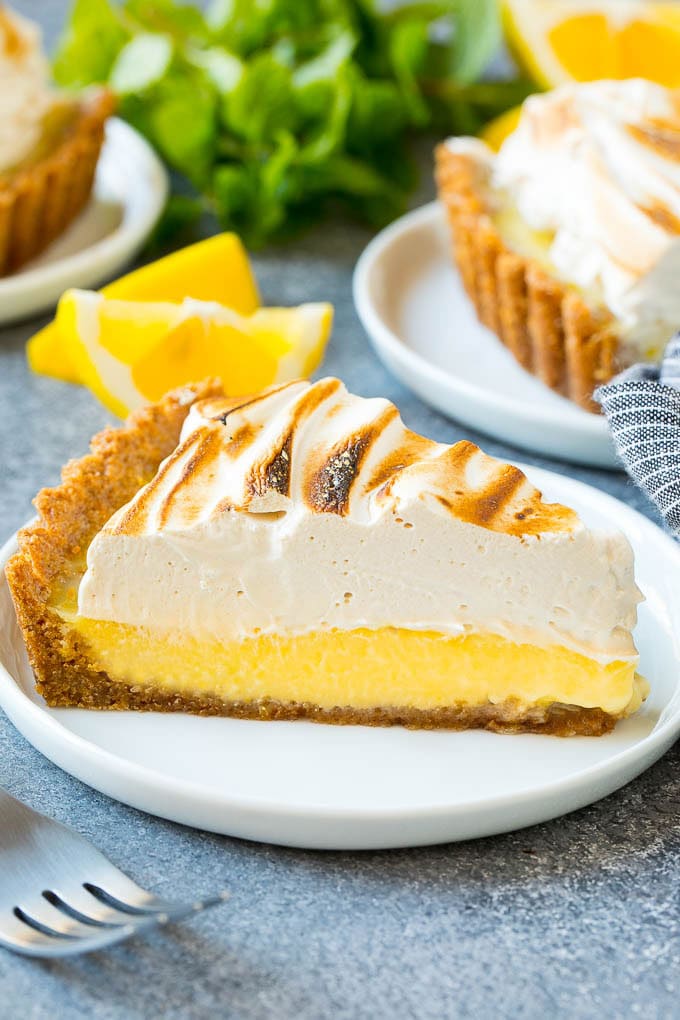 You know how most people have a strong preference for either cake or pie? My family is definitely a cake family. The exception to that rule has always been lemon meringue pie. But have you ever had a store bought lemon meringue pie that was sub-par? I sure have – I've encountered my fair share of artificial tasting lemon goop with a foamy meringue on top that was devoid of flavor. You're not going to find that here, this lemon meringue tart is like the fanciest and most delicious lemon meringue pie that you've ever tasted.
How do you make a lemon meringue tart?
You can either make this as a tart or a pie, your choice. The tart is a little more elegant looking, but the pie has more of the lemon filling. I use a simple graham cracker crust for this recipe, because I think it's the perfect flavor match for the lemon filling and for me, a graham cracker crust is easier to make than a traditional pie crust.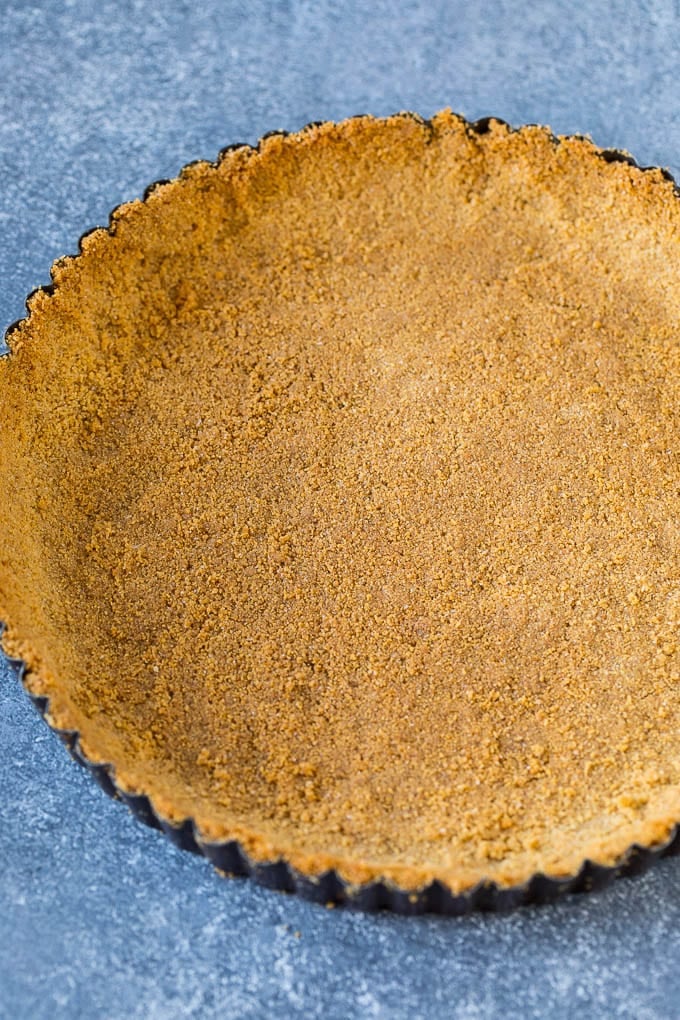 The lemon filling is basically a lemon curd that gets baked into the crust. The recipe makes enough filling for a pie dish which is a little bit deeper than a tart, so if you do the tart, you'll have extra filling. I always pour the extra filling into an oven safe dish and bake it right alongside the tart, that way there's no waste. The crowning glory on the lemon meringue tart is a toasted brown sugar meringue. This stuff is heavenly.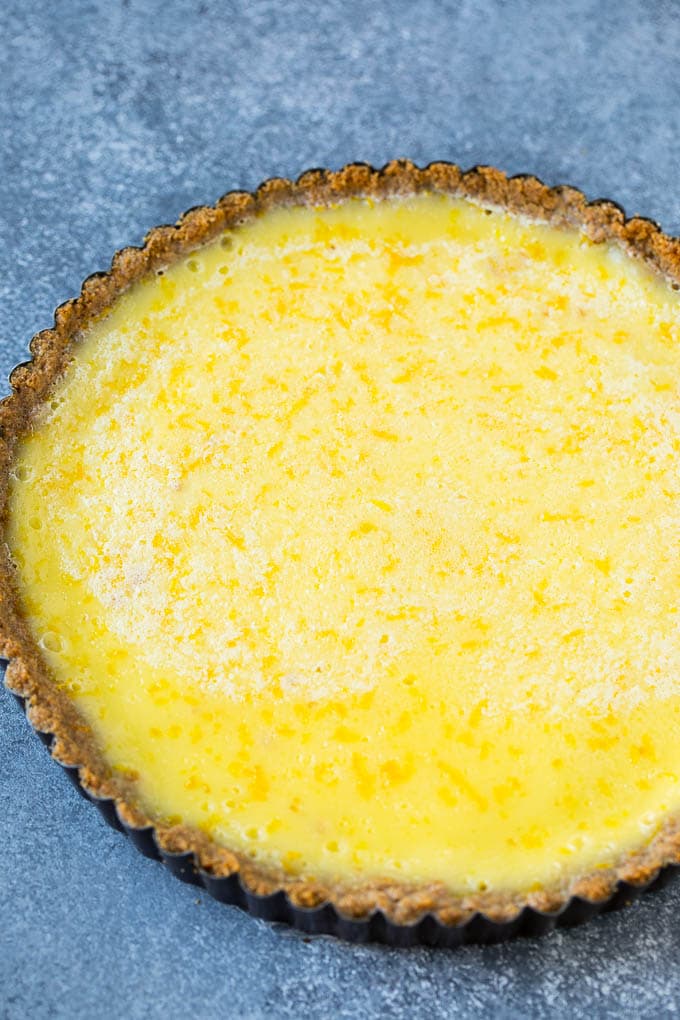 Tips for lemon meringue tart
Slowly pour the lemon filling into your tart shell – if you're too forceful as you pour, the liquid could dislodge some graham cracker crumbs and you might have a little bit of graham cracker in your filling which still tastes great, but isn't quite as attractive.
This recipe calls for a torch to toast the meringue. If you don't have a torch, you can put your tart under the broiler for a few minutes, but watch carefully so that it doesn't burn.
I've made this recipe with both traditional lemons and Meyer lemons, and it comes out great either way.
For a different flavor, you can use gingersnap cookie crumbs instead of graham cracker crumbs.
This tart will keep in the fridge for up to 3 days.
How do you make Italian meringue?
You are going to need a few pieces of specialty equipment to make this meringue, a candy thermometer and a torch. You really can use any kind of blow torch, it doesn't have to be specific for culinary purposes. When I took classes at the culinary academy the chefs used these large industrial torches for everything! This is an Italian meringue where a sugar syrup is boiled to the hard ball candy stage and then slowly streamed into beaten egg whites. After you spread the meringue, it's torching time.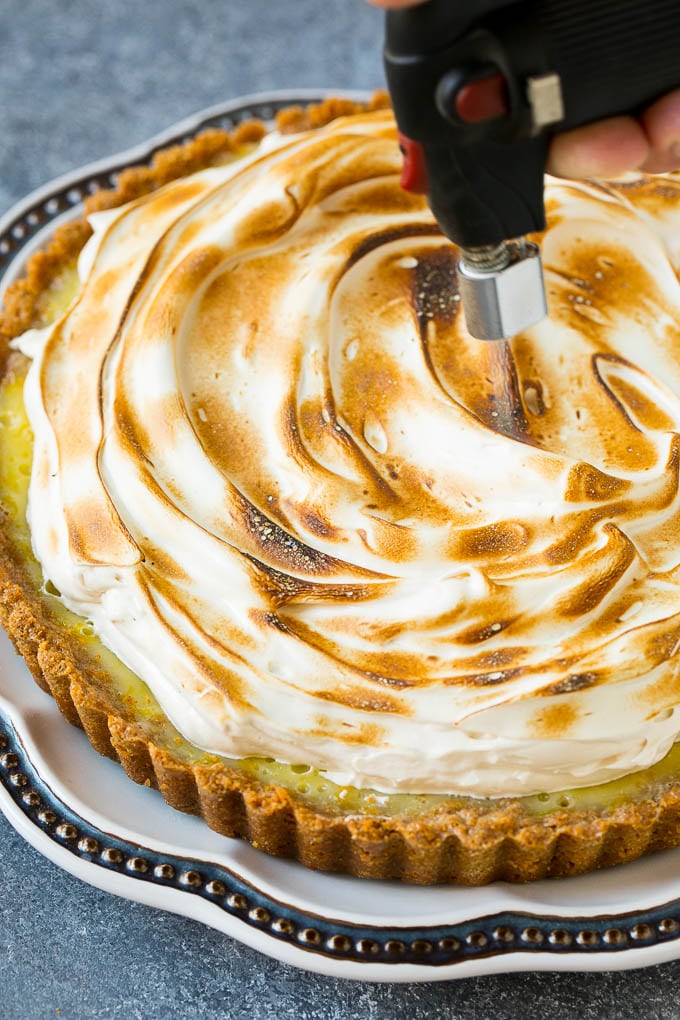 This is one of my all-time favorite desserts, the lemon filling is smooth and creamy with the perfect amount of tartness and the brown sugar gives the meringue such a complex flavor. The next time you need a dessert for a special occasion, try this lemon tart, it's a showstopper for sure.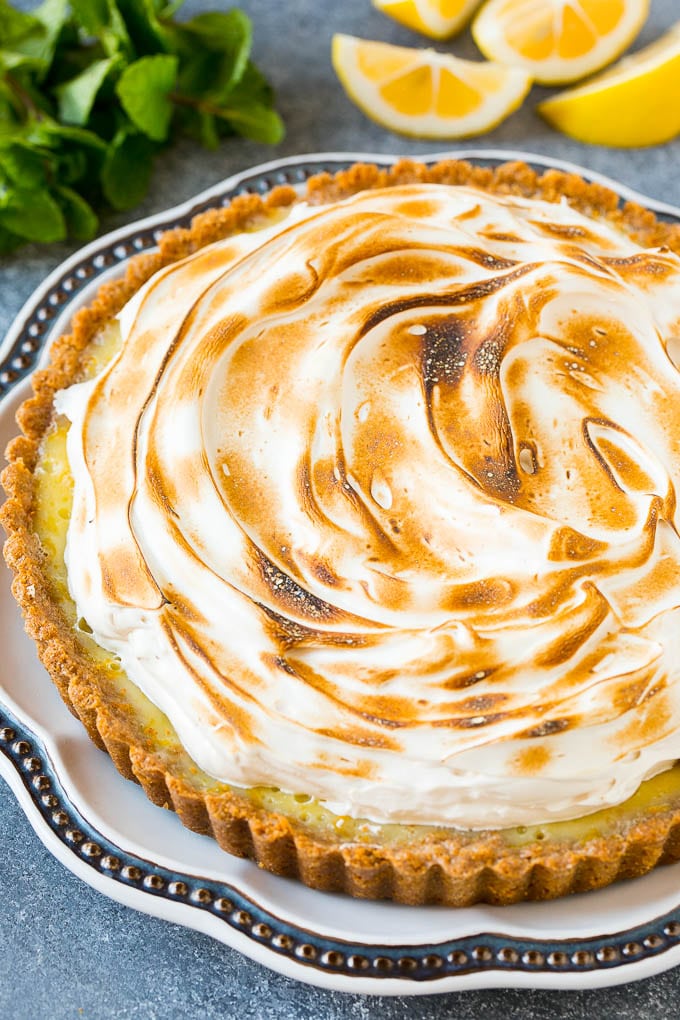 Still hungry? Follow Dinner at the Zoo on Facebook, Twitter, Instagram and Pinterest for more great recipe ideas!
More amazing dessert recipes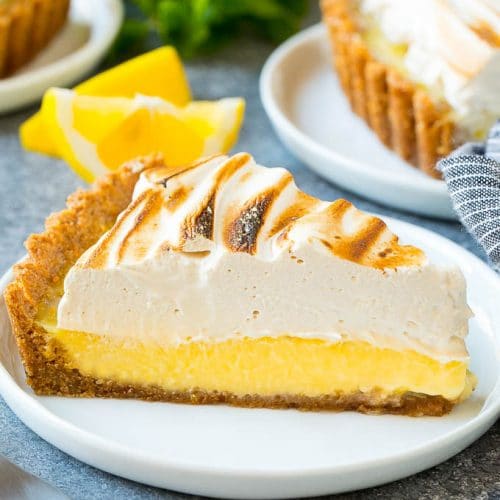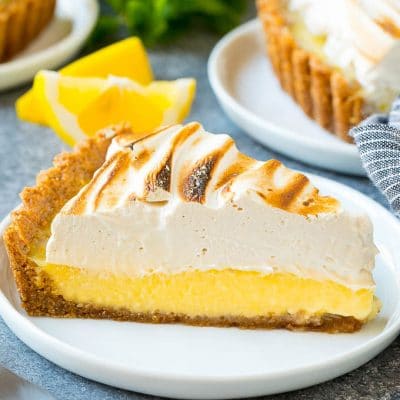 This lemon meringue tart is topped with a pile of toasted brown sugar meringue, it's a show stopping dessert that's perfect for a special occasion.
Ingredients
For the crust:
1 1/4

cups

graham cracker crumbs

2

tablespoons

granulated sugar

4

tablespoons

butter

melted
For the filling:
6

large eggs

1 1/2

cups

granulated sugar

1

tablespoon

finely grated lemon zest

3/4

cup

freshly squeezed lemon juice

1

cup

heavy cream
For the meringue:
3/4

cup

egg whites

1/4

teaspoon

cream of tartar

1 1/2

cups

firmly packed light brown sugar
Instructions
Preheat the oven to 325 degrees F.

For the crust: Place the graham cracker crumbs and sugar in a bowl and stir to combine. Add the butter and stir until crumbs are all moistened.

Pour the graham cracker mixture into a 9 inch non stick tart pan or pie pan. Firmly press the mixture into the bottom and sides of the pan.

Bake the crust for 10-12 minutes or until lightly browned.

For the filling: While the crust is baking prepare the filling. Whisk the eggs and sugar together in a bowl until smooth.

Whisk in the lemon juice until thoroughly incorporated.

Whisk in the cream and then strain the filling through a sieve into a large measuring cup and stir in the zest. The filling will be quite liquid at this point.

Without removing the crust from the oven, pour the filling into the crust. You may have leftover filling if you're using a tart pan; just pour the leftover into a greased ovenproof dish and bake it along with the tart for a snack for later on.

Bake the tart for 35-40 minutes until the center is just set. Cool the tart on a rack and then refrigerate for at least an hour.

For the meringue: Place the egg whites and cream of tartar into a stand mixer fitted with a whisk attachment.

Place the brown sugar into a medium heavy saucepan and add just enough water to cover.

Put your candy thermometer on the pan and turn the heat to high.

When the sugar reaches 240 degrees, start whipping the egg whites by turning your mixer to high speed; you want the egg whites to be foamy and starting to thicken before you add the sugar syrup.

When the sugar reaches 245 degrees, remove the thermometer from the pan and turn the mixer speed down to medium.

Pour the sugar into the egg whites in a thin, steady stream avoiding the moving whisk. When all the sugar has been added, continue whipping until the meringue reaches the firm peak stage.

Quickly spread the meringue over the tart with a large spoon or offset spatula. Use your torch to brown the outside of the meringue. Store the tart in the fridge until ready to serve.
Notes
Make Ahead: The tart crust can be made in advance and stored in the fridge for 2 days or frozen for a month. The tart with the lemon filling baked into it can be made a day in advance, add the meringue just before serving.
Adapted from the Mustards Grill cookbook. This recipe works for a 9 inch tart or 9 inch pie.
Nutrition
Calories:
492
kcal
|
Carbohydrates:
75
g
|
Protein:
7
g
|
Fat:
18
g
|
Saturated Fat:
10
g
|
Cholesterol:
165
mg
|
Sodium:
210
mg
|
Potassium:
178
mg
|
Sugar:
63
g
|
Vitamin A:
725
IU
|
Vitamin C:
8
mg
|
Calcium:
66
mg
|
Iron:
1.4
mg
This post was originally published on April 21, 2015 and was updated on March 5, 2019 with new content.