These baked chicken thighs are coated in olive oil, garlic and herbs, then oven roasted until tender and golden brown. A super easy way to prepare chicken thighs that always gets rave reviews!
Chicken is often on our dinner table, and I try to mix things up a bit with different flavor combinations including rosemary chicken, chicken scallopini, and these Greek style chicken thighs.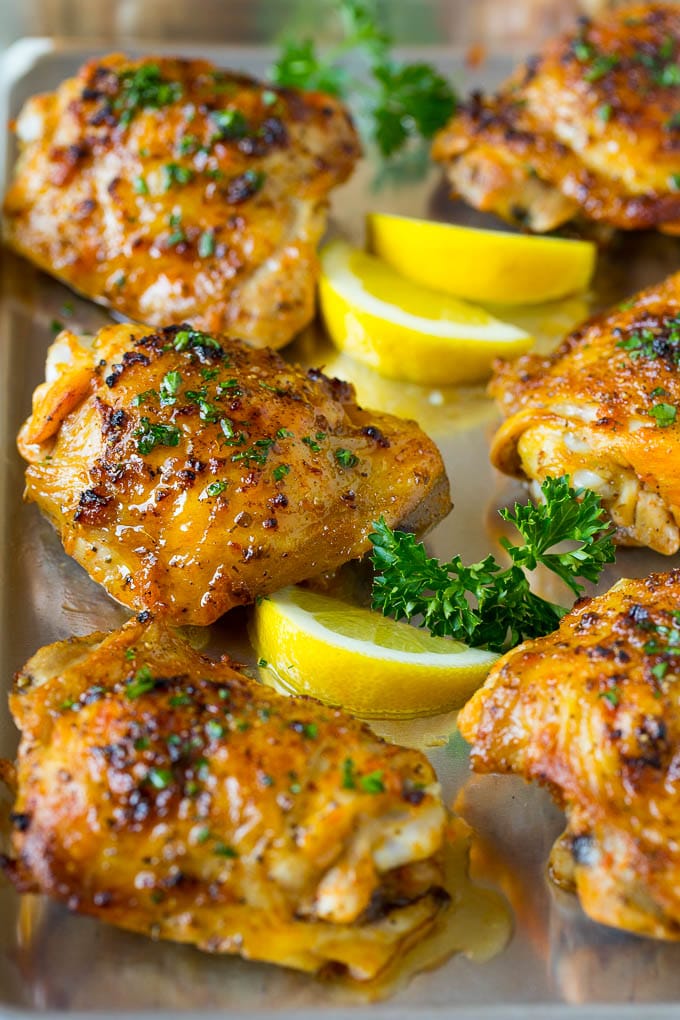 Chicken thighs are inexpensive, easy to prepare, and tend to be more flavorful than chicken breasts. My favorite way to prepare this cut of meat is with baked chicken thighs bathed in a zesty marinade.
These chicken thighs would be great with delicious side dishes like sauteed green beans, homemade rice-a-roni or zucchini casserole. With a few delicious side dishes and this chicken you will have a fantastic feast!
How do you make baked chicken thighs?
The first step in this recipe is to make a marinade of olive oil, lemon juice, garlic, oregano and spices. The chicken thighs are tossed in the olive oil mixture. I like to let the chicken sit in the marinade for at least 30 minutes if I have the time. The chicken thighs go onto a sheet pan to roast until they're golden brown and cooked through. Add a sprinkling of fresh parsley and some lemon wedges and dinner is served!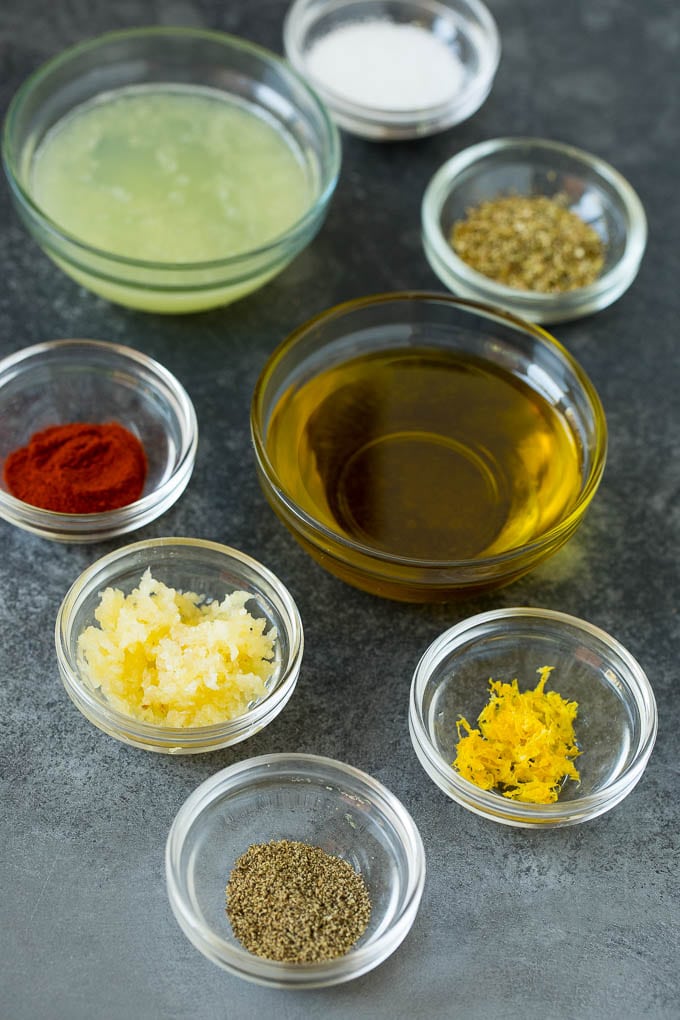 Tips for the perfect chicken
I prefer to use bone-in skin-on chicken thighs for this recipe because they are super flavorful and they don't dry out in the oven. Boneless chicken thighs will work too, but you'll need to cook them for less time.
This recipe also works with chicken drumsticks or bone-in, skin-on chicken breasts. The bone-in chicken breasts will take longer to cook than the chicken thighs, so keep that in mind.
If you'd like, you can reserve a tablespoon or two of the marinade before you add the chicken, then drizzle that reserved marinade over the cooked dish for added flavor.
This dish is great for meal prep; it will keep in the fridge for up to 4 days.
If you like your chicken skin especially crispy, feel free to broil the chicken for a few minutes before you serve it.
For even more flavorful chicken, add a tablespoon of homemade chicken seasoning to the marinade.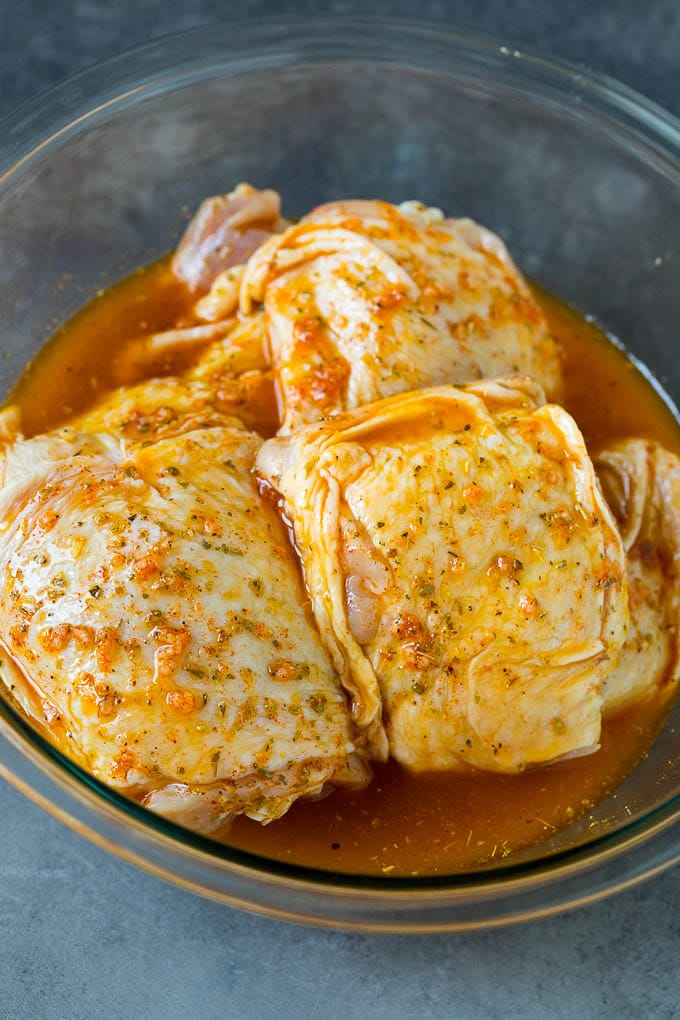 How long does it take to bake chicken thighs?
It takes approximately 45 minutes to bake chicken thighs at a temperature of 400 degrees F. The bake time can vary depending on the size of your thighs. This bake time assumes an average sized chicken thigh that weighs about 6 ounces.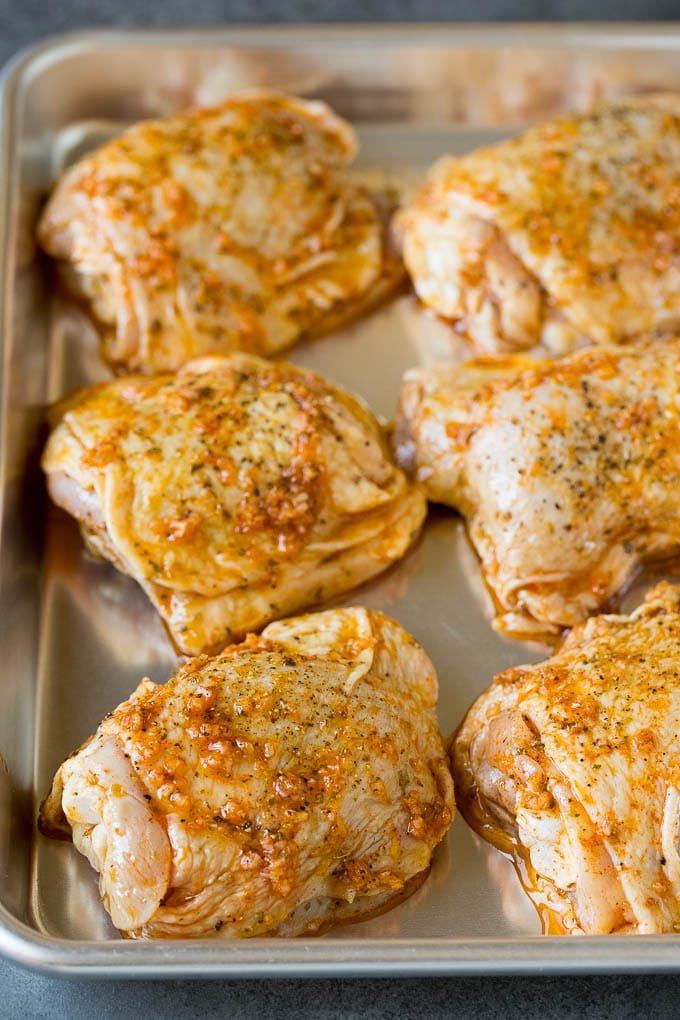 How do you know when is chicken done?
You can tell that your chicken is done when the juices run clear and a thermometer inserted into the thickest part of the chicken thigh registers at least 165 degrees F. I use a digital probe thermometer with a remote so that I can monitor the progress of the chicken while it's in the oven.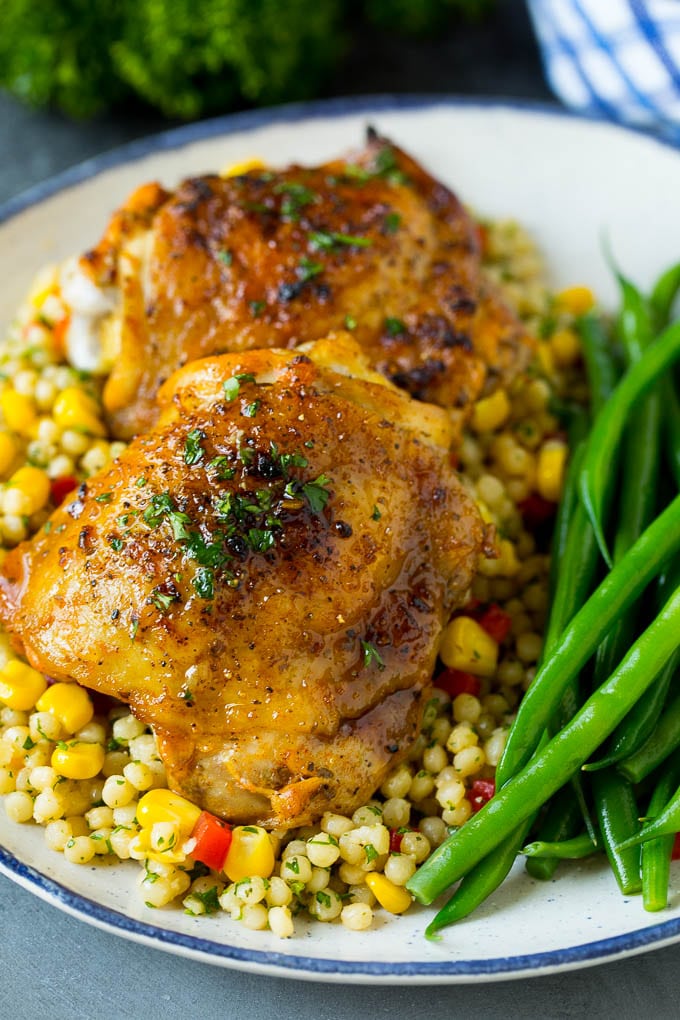 Baked chicken thigh flavor variations
You can add other ingredients to your baked chicken thighs to create flavor variations that suit your tastes.
Vegetables: During the last 15 minutes of the baking time, you can add vegetables such as broccoli, asparagus, cauliflower or zucchini. You can also include potatoes at the start of the cooking time for a one pan meal.
Cheese: Sprinkle 1/3 cup crumbled feta cheese or 1/4 cup grated parmesan cheese over the finished dish.
Herbs: Instead of garnishing your chicken with fresh parsley, you can use green onions, chives, dill or basil.
This is a must-try recipe; it's simple, yet totally satisfying!
More chicken recipes to try
Baked Chicken Thighs Video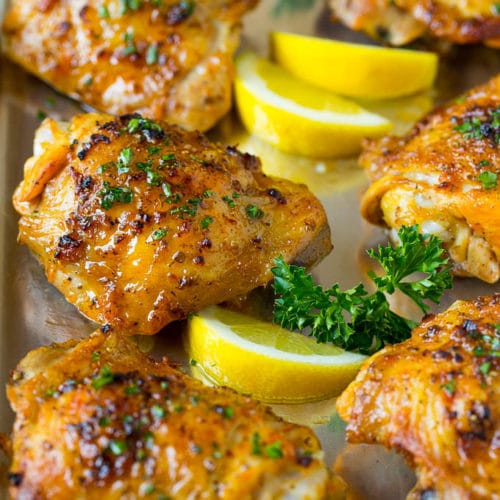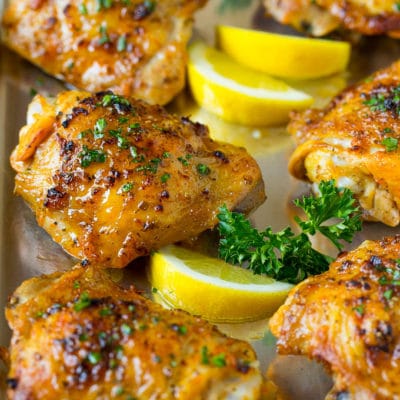 These baked chicken thighs are coated in olive oil, garlic and herbs, then oven roasted until tender and golden brown. A super easy way to prepare chicken thighs that always gets rave reviews!
Ingredients
6

bone-in, skin-on chicken thighs

1/3

cup

olive oil

1/4

cup

lemon juice

1/2

teaspoon

lemon zest

1 1/2

teaspoons

kosher salt

1

teaspoon

pepper

2

teaspoons

minced garlic

1 1/2

teaspoons

dried oregano

1

teaspoon

paprika

I prefer to use smoked paprika

2

tablespoons

chopped fresh parsley

lemon wedges for garnish

cooking spray
Instructions
Preheat the oven to 400 degrees F.

Place the olive oil, lemon juice, lemon zest, salt, pepper, garlic, oregano and paprika in a large bowl. Whisk to combine.

Add the chicken the bowl; toss to coat with the marinade. Cover and refrigerate for at least 30 minutes, or up to 24 hours.

Coat a sheet pan with cooking spray. Arrange the chicken thighs on the pan in a single layer.

Bake for 40-45 minutes or until chicken is browned and cooked through.

Sprinkle with parsley. Garnish with lemon wedges and serve.
Nutrition
Calories:
328
kcal
|
Carbohydrates:
2
g
|
Protein:
24
g
|
Fat:
16
g
|
Saturated Fat:
8
g
|
Cholesterol:
142
mg
|
Sodium:
693
mg
|
Potassium:
314
mg
|
Fiber:
1
g
|
Sugar:
1
g
|
Vitamin A:
277
IU
|
Vitamin C:
4
mg
|
Calcium:
13
mg
|
Iron:
1
mg