This shrimp fried rice is tender seasoned shrimp stir fried with eggs, vegetables and rice. A quick and easy meal or side dish that's even better than what you'd get from your local Chinese restaurant!
I love to make my favorite Asian dishes at home, such as crab rangoon, sweet and sour chicken and this simple yet satisfying shrimp fried rice.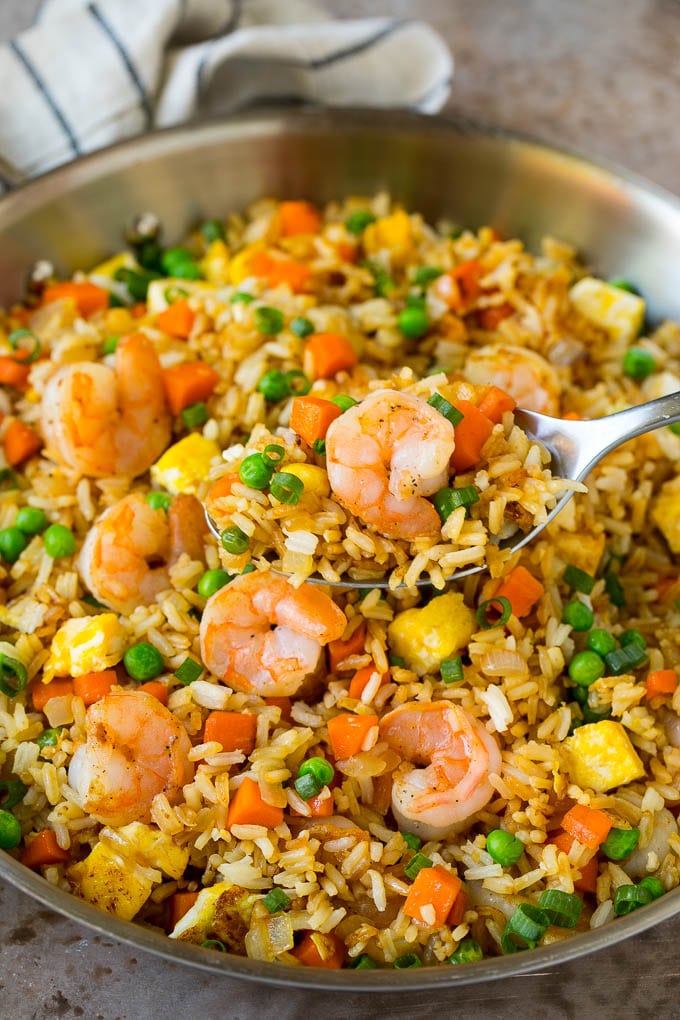 When I'm cooking rice for dinner, I often make a double batch so that I'll have enough to make fried rice the next day. This shrimp fried rice is hearty enough to stand on its own as a complete meal, or pair it with some of your other Chinese food favorites for a memorable meal.
How do you make shrimp fried rice?
This recipe starts with shrimp, which are cooked until just pink and opaque. The shrimp are removed from the skillet, then the vegetables and eggs are cooked in the same pan. The next step is to add everything back to the pan along with cooked rice, sesame oil and soy sauce. Cook until everything is coated in sauce, add a sprinkling of sliced green onions, then serve.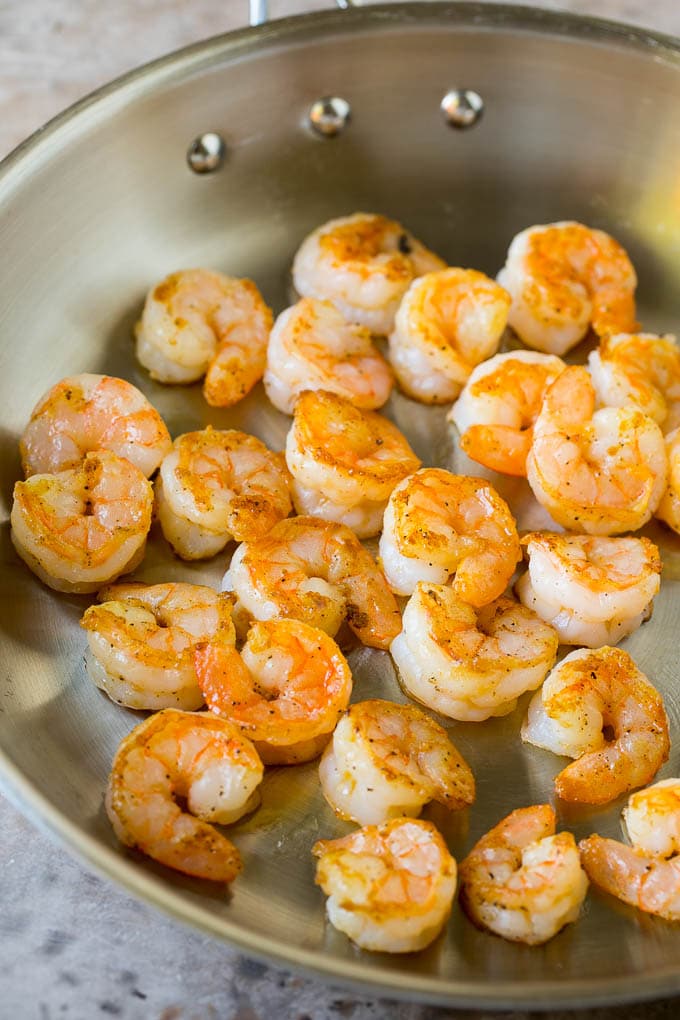 Tips for shrimp fried rice
I use smaller shrimp for this recipe so that you get a bit of shrimp in each bite. I used 31-40 count shrimp. Do not use pre-cooked shrimp, as they'll get rubbery when you heat them up a second time to make the recipe.
Frozen peas work perfectly in this fried rice, no need to look for fresh peas. That being said, I don't recommend canned peas as they don't have as nice of a color or texture as the frozen variety.
Fried rice works best with cold rice, so this is the perfect way to repurpose leftover rice. With cold rice, the grains are all separated and firm, and you'll get a better texture than you would with fresh cooked rice. Fried rice made with just-cooked rice will be softer and won't have those crispy little bits.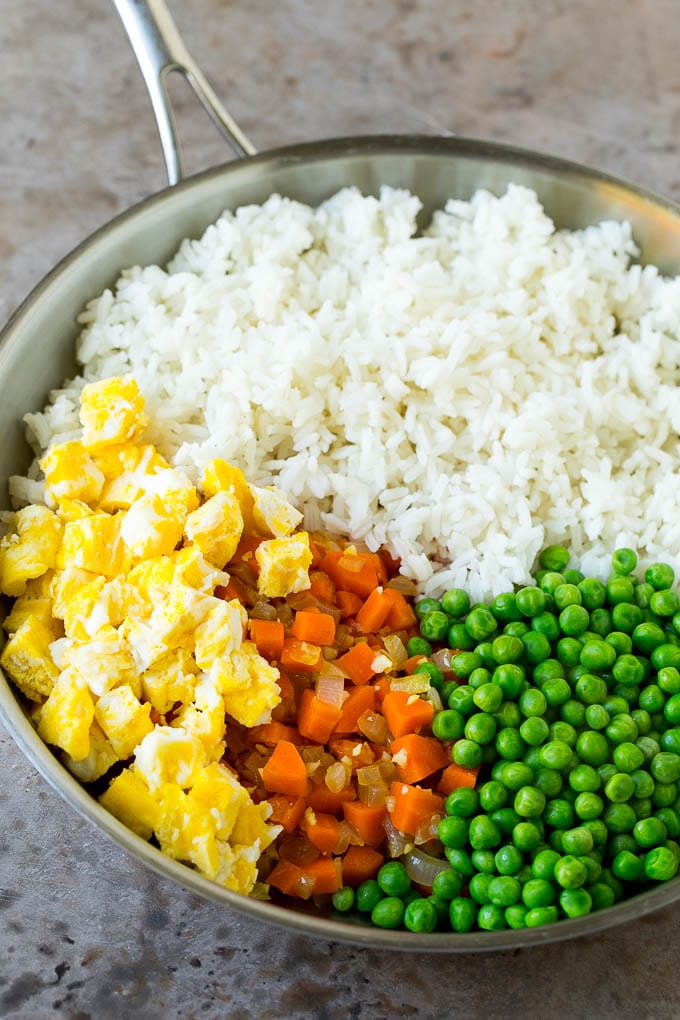 How to peel and devein shrimp
This recipe calls for raw shrimp which are cooked in a hot skillet. Many shrimp come from the store with the shells still attached. If your shrimp have shells on them, you can easily remove them by pulling the main part of the shell off with your fingers, then removing the tail end of the shell. You may also need to devein your shrimp. If you see a dark line running across the top of the the shrimp, you can remove it by using a paring knife to cut a small slit down the shrimp, then use a knife or wooden skewer to remove and discard the vein.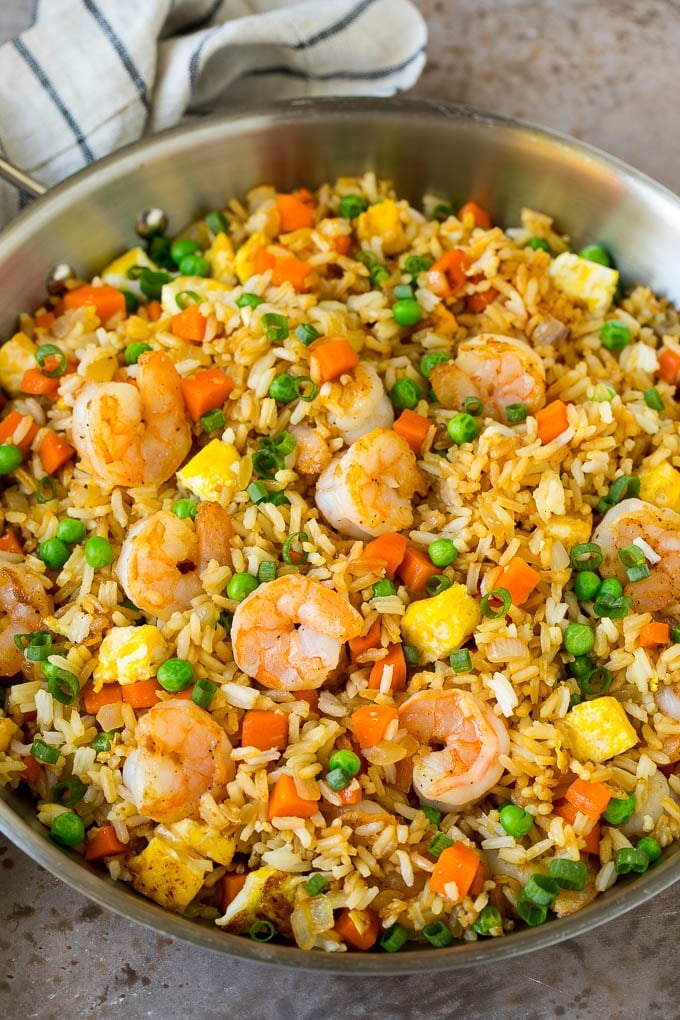 Is fried rice bad for you?
Fried rice does contain some oil, but other than that, the basic ingredients of shrimp, vegetables, eggs and rice are wholesome and packed with nutrients and protein. If you're looking for ways to make your fried rice healthier, you can use half the amount of vegetable oil, substitute brown rice for white rice, and add more vegetables to the mix.
Shrimp fried rice variations
There are so many different ingredients you can add to your fried rice to customize it to your tastes.
Protein: You can add other types of protein such as bacon, ham, chicken or tofu.
Vegetables: I like to add other vegetables such as broccoli, cabbage, red bell pepper or green beans.
Seasonings: You can add other seasonings such as sesame seeds, sriracha sauce for a little kick, or freshly grated ginger.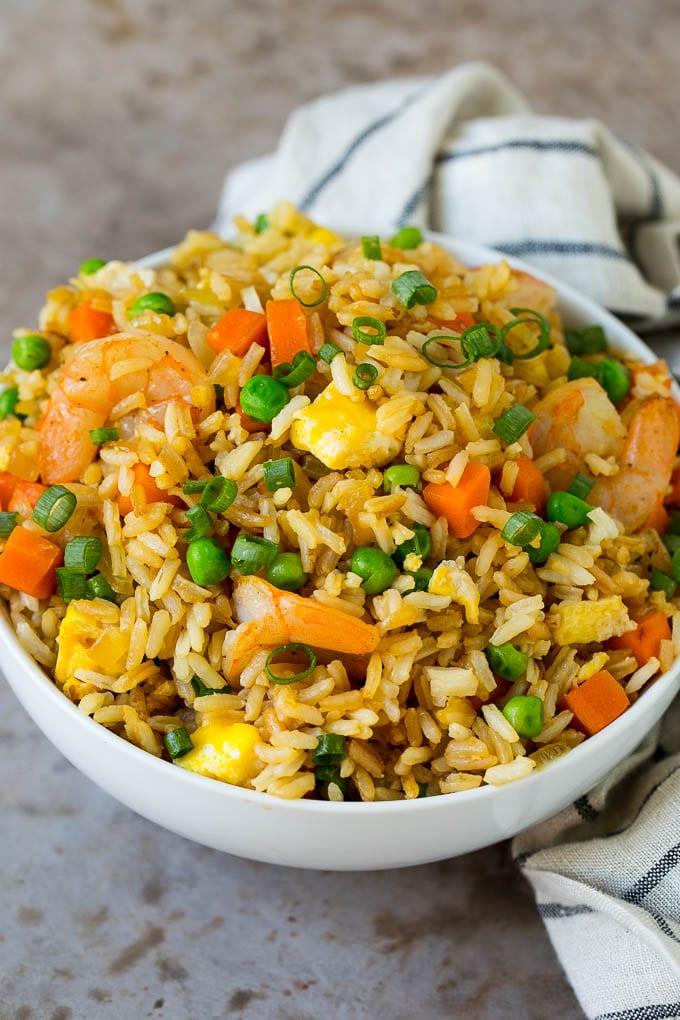 This shrimp fried rice is so quick and easy that it's perfect for even the busiest of nights. The whole family is sure to love it!
More Asian food favorites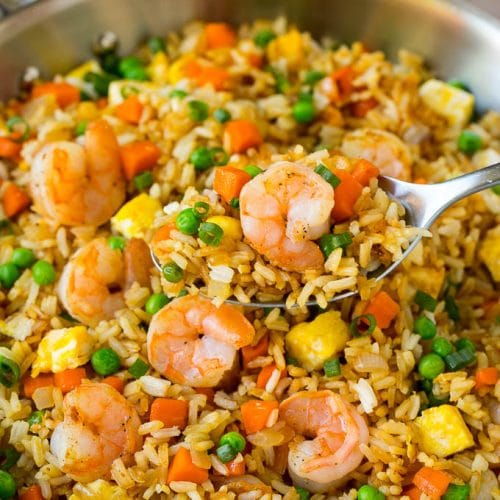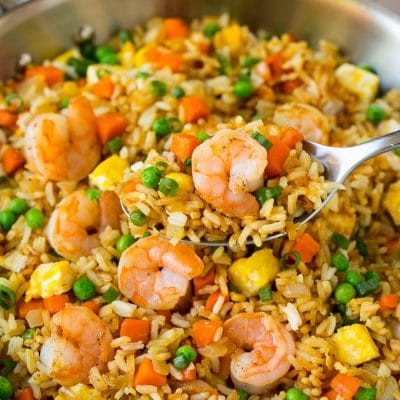 This shrimp fried rice is tender seasoned shrimp stir fried with eggs, vegetables and rice. A quick and easy meal or side dish that's even better than what you'd get from your local Chinese restaurant!
Ingredients
4

teaspoons

vegetable oil

divided use

3/4

pound

shrimp

peeled and deveined

1/2

cup

onion

finely chopped

1/2

cup

carrots

peeled and coarsely chopped

1/2

cup

frozen peas

thawed

2

teaspoons

minced garlic

2

eggs

lightly beaten

3

cups

cooked white rice

long grain

3

tablespoons

soy sauce

1

tablespoon

toasted sesame oil

salt and pepper to taste

1/4

cup

green onions

sliced
Instructions
Heat 2 teaspoons of oil in a large pan over medium high heat. Season the shrimp with salt and pepper to taste.

Place the shrimp in a single layer in the pan. Cook for 2-3 minutes per side or until pink and opaque.

Remove the shrimp from the pan and cover with foil to keep warm.

Add 1 teaspoon of oil to the pan, along with the onion and carrots. Cook for 3-5 minutes or until vegetables are softened.

Add the garlic and cook for 30 seconds.

Remove the vegetables from the pan, then cover to keep warm.

Pour the remaining teaspoon of oil into the pan; add the eggs and cook, stirring occasionally and breaking up with a spatula until the eggs are scrambled and cooked through. Season with salt and pepper.

Add the rice, shrimp, reserved cooked veggies and peas to the pan. Stir in the soy sauce and sesame oil and mix gently until everything is thoroughly combined and warmed through, 3-4 minutes.

Sprinkle green onions over the top, then serve.
Nutrition
Calories:
330
kcal
|
Carbohydrates:
38
g
|
Protein:
25
g
|
Fat:
8
g
|
Saturated Fat:
4
g
|
Cholesterol:
296
mg
|
Sodium:
1460
mg
|
Potassium:
266
mg
|
Fiber:
2
g
|
Sugar:
2
g
|
Vitamin A:
2855
IU
|
Vitamin C:
7.1
mg
|
Calcium:
165
mg
|
Iron:
2.9
mg