This post is sponsored by Foster Farms® Organic Chicken. Thank you for supporting the brands that make Dinner at the Zoo possible!
This recipe for Greek chicken souvlaki is skewers of tender chicken breast marinated in lemon, garlic and herbs, then grilled to perfection and served with a creamy yogurt sauce.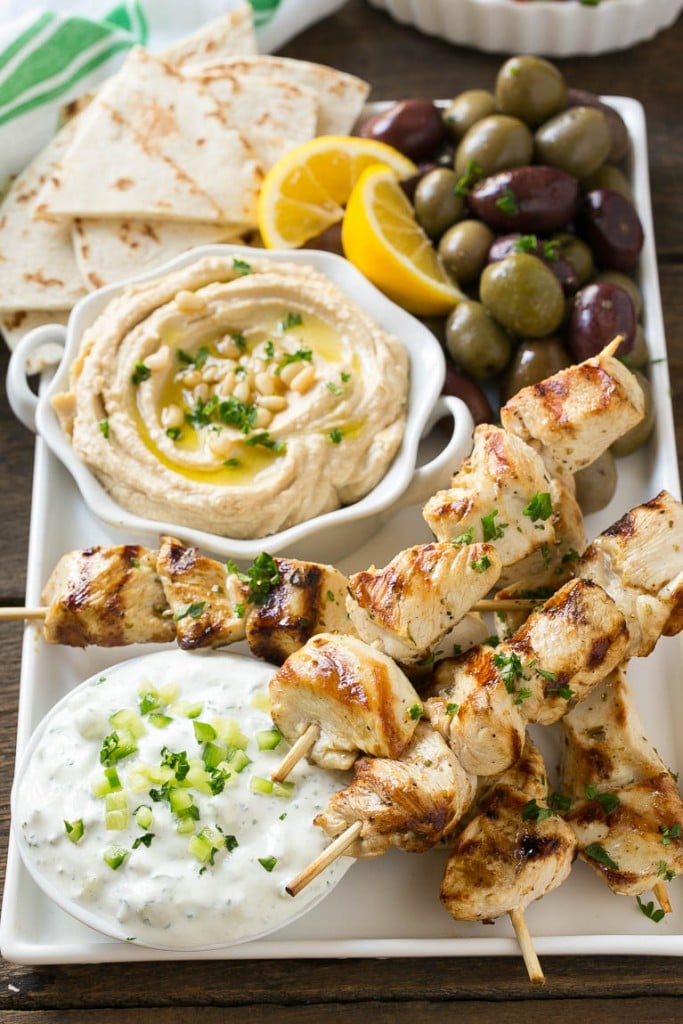 One of my ongoing challenges as a mom and as a cook is coming up with dinner recipes that all three of my children will eat. I've learned through trial and error that if I skewer meat on a stick, the fun factor alone makes it much more likely that the girls will be willing to try it. This Greek chicken souvlaki was no exception – everyone happily devoured their "chicken on a stick". This souvlaki is super simple to make, and when paired with a cool yogurt sauce, tomato cucumber relish and some store bought accompaniments, you'll have a Mediterranean feast in no time at all.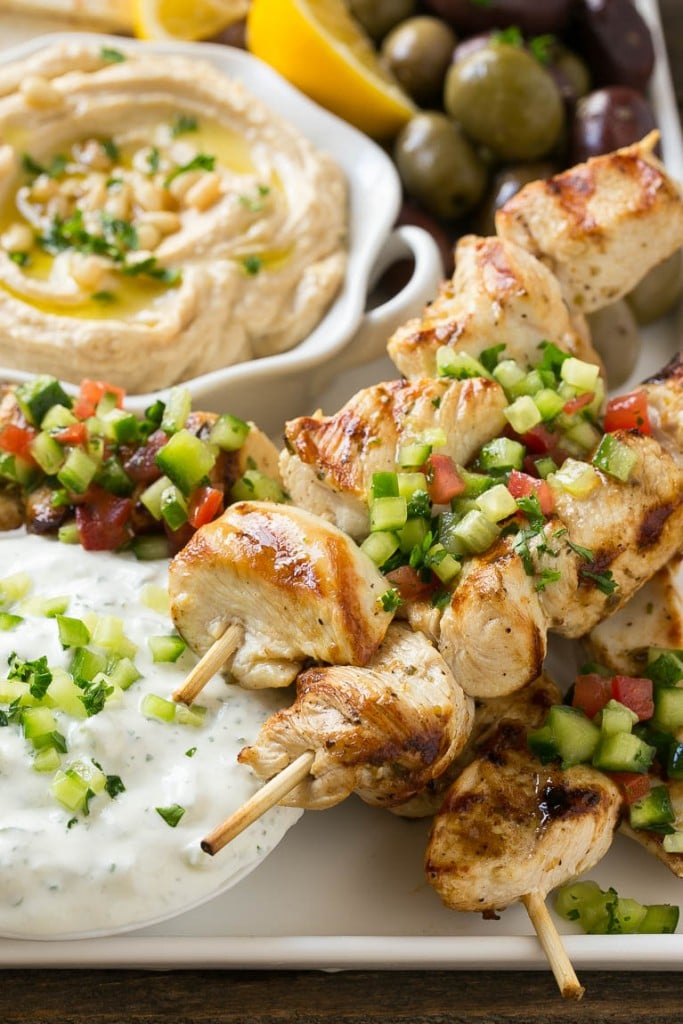 This recipe starts with the chicken –  Foster Farms® Organic Chicken to be exact. I buy organic poultry and meat whenever possible at my local (San Francisco Bay Area) Safeway store. I like that Foster Farms® Organic Chicken is grown in California, free range, fed an organic vegetarian diet, is Non-GMO Project Verified and is certified organic by the USDA.
I used boneless skinless chicken breast for this Greek chicken souvlaki. The chicken is cut into chunks and dipped into a marinade of lemon juice, garlic, oregano and olive oil. It's important to only marinate the chicken for a short period of time, less than an hour is ideal. If the chicken sits too long in the marinade the acid from the lemon juice could make it tough. The chicken then gets threaded onto skewers and can either be grilled or broiled.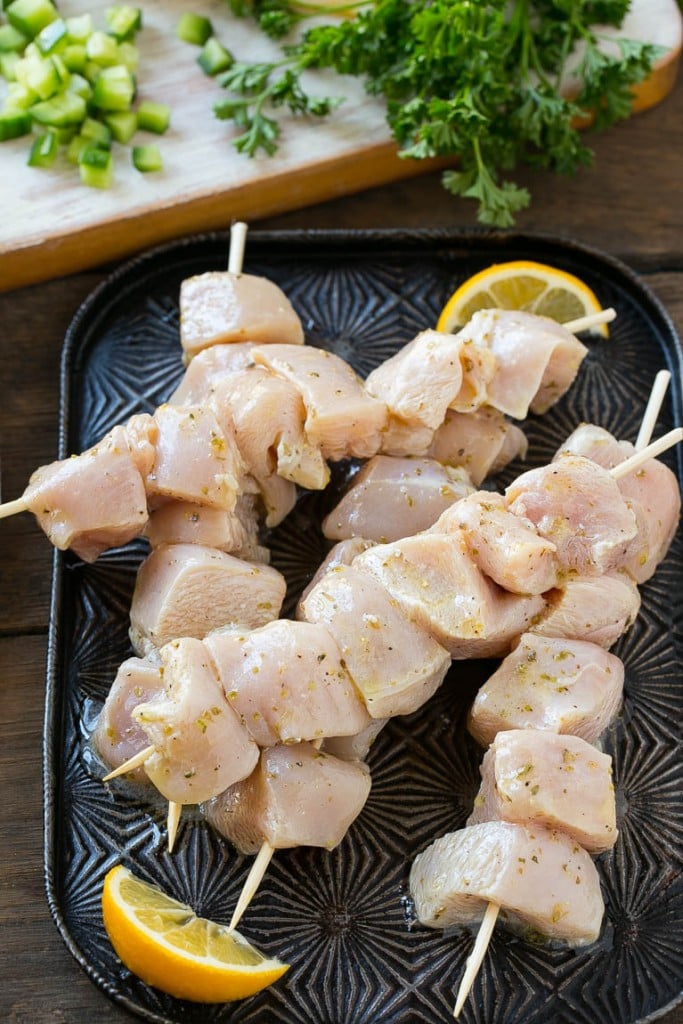 While the chicken is cooking I make my sauces. I do a yogurt sauce that's similar to tzatziki with cucumbers, herbs, yogurt and a special ingredient – sour cream. The sour cream isn't the most authentic but I find that it adds a lot of richness and mellows the tang of the yogurt in a way that makes the sauce more kid friendly. I also make a cucumber tomato relish which is essentially minced cucumber and tomato that's flavored with lemon juice, parsley, olive oil, salt and pepper. The relish adds a fresh note to this dish.
I pair my Greek chicken souvlaki and sauces with store bought hummus, marinated olives and flatbread for a Mediterranean dinner that the whole family will love. In fact, I ended up making this twice in one week because it was such a hit, can't argue with that kind of success!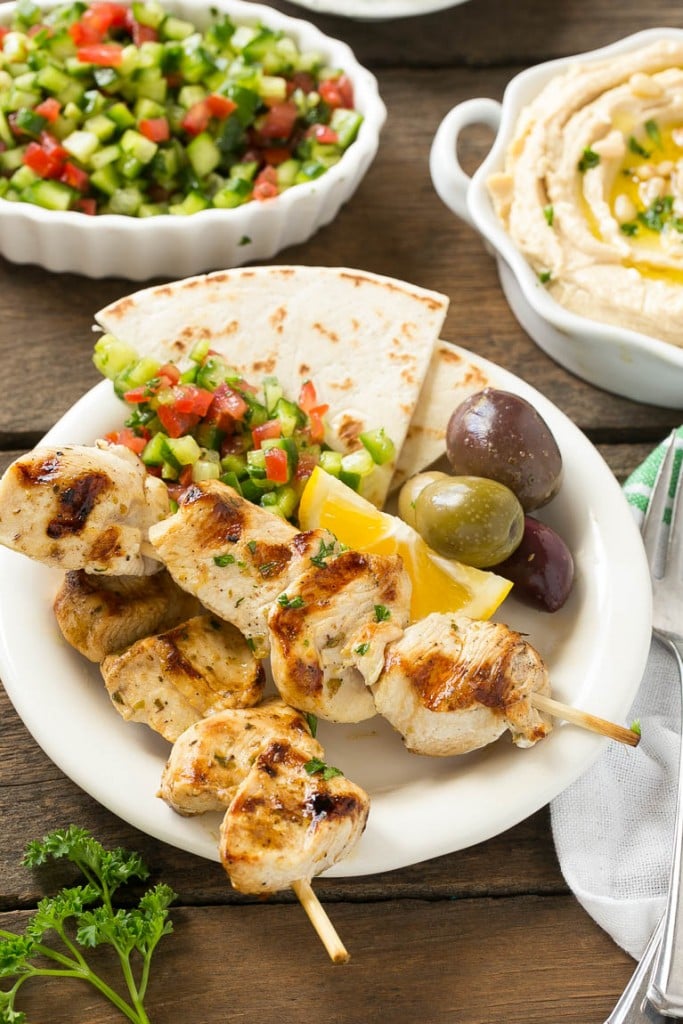 This is a sponsored post written by me on behalf of Foster Farms® Organic Chicken.