This slow cooker pot roast is a chuck roast simmered to tender perfection in a crock pot with carrots and potatoes. A comfort food classic that's simple to make, and is great for feeding a crowd.
When it's cold outside, I often make slow cooker favorites such as salisbury steak, chicken noodle soup and this easy and hearty pot roast.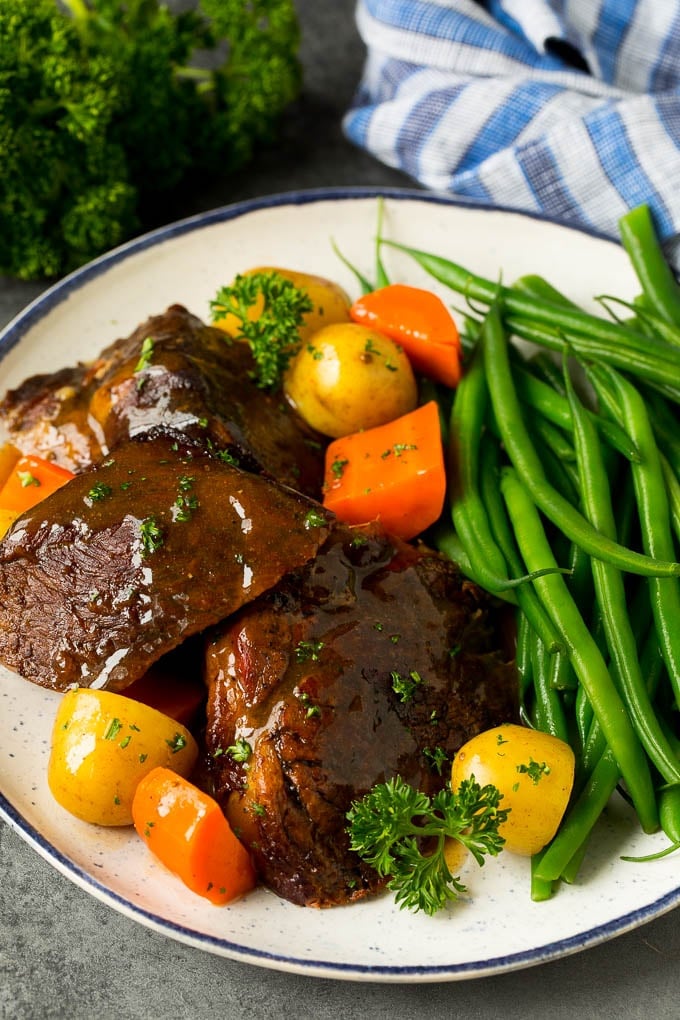 Slow cooker pot roast is a great way to turn an inexpensive piece of meat into an extraordinary meal. This dish is loaded with bold, savory flavors and is a complete meal that will satisfy even the biggest appetites.
What is the best meat for pot roast?
The best cut of beef for pot roast is any piece of meat at the store that is labeled as chuck. I prefer to use a boneless chuck roast, although a bone-in cut will also work just fine. Chuck is a well marbled and inexpensive cut of meat that becomes super tender when cooked for an extended period of time.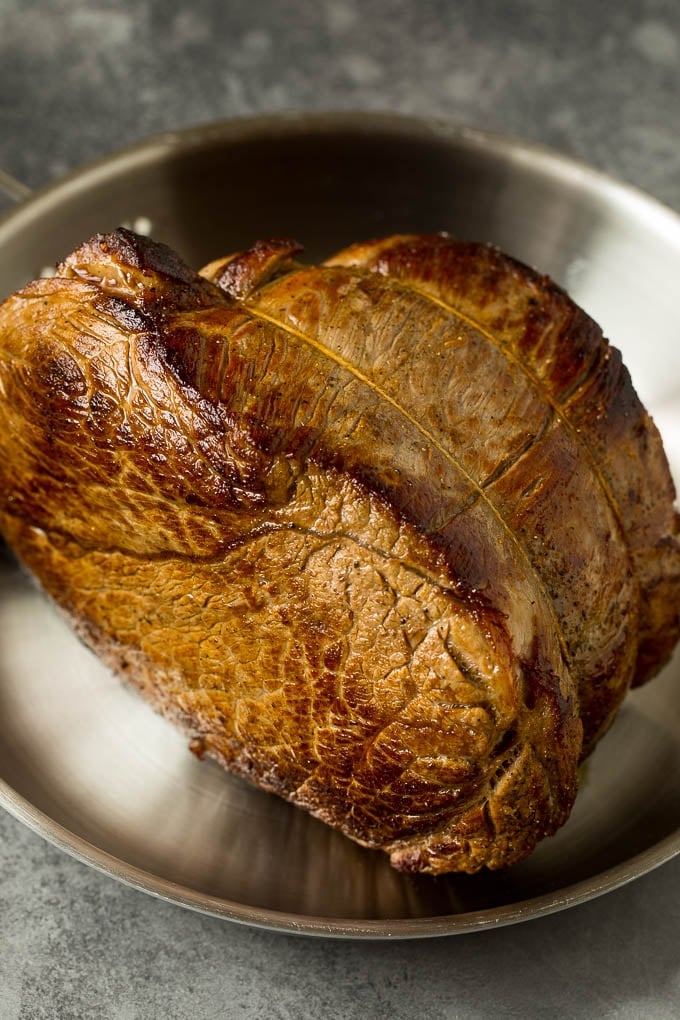 How do you make slow cooker pot roast?
First, season your roast and brown it on both sides in a pan on the stove top. While the roast is browning, prepare your sauce which consists of beef broth, herbs, spices, tomato paste and Worcestershire sauce. Place your sauce in the bottom of a crockpot, then place the meat and vegetables in the pot and spoon the sauce over the top. Add a few strips of bacon on top, then cover your crockpot. Cook for 6-8 hours on low heat, or until the roast is super tender. Strain the cooking liquid into a pan, then simmer it with corn starch to thicken and make gravy. Pour the gravy over the meat and vegetables, then sprinkle with parsley and serve.
Do you have to brown a roast before putting it in the crockpot?
You do not have to brown a roast before putting it into a slow cooker. That being said, I find that it's really worth the extra time to brown the roast first. The browning process adds a lot of extra flavor to the meat. If you're really pressed for time, it's fine to just put the meat into the pot without searing it first.
Tips for the perfect roast
Make sure to cut your carrots and potatoes into large pieces so that they do not get mushy during the long cooking time. You can also add your vegetables in halfway through the cooking process if you prefer them to have a firmer texture.
This dish is even better when made a day in advance. Store the roast and vegetables in a covered dish, then reheat in the oven at 325 degrees F until warmed through.
Do not be tempted to add more liquid to the pot. The meat will release a lot of liquid as it cooks.
You can either slice your cooked roast, or shred it with two forks.
While I like to add a little parsley on top at the end, if you don't have parsley you can also use chives, thyme leaves or fresh basil.
This recipe can be served as a complete meal, or you can add another side dish such as garlic bread or a green salad.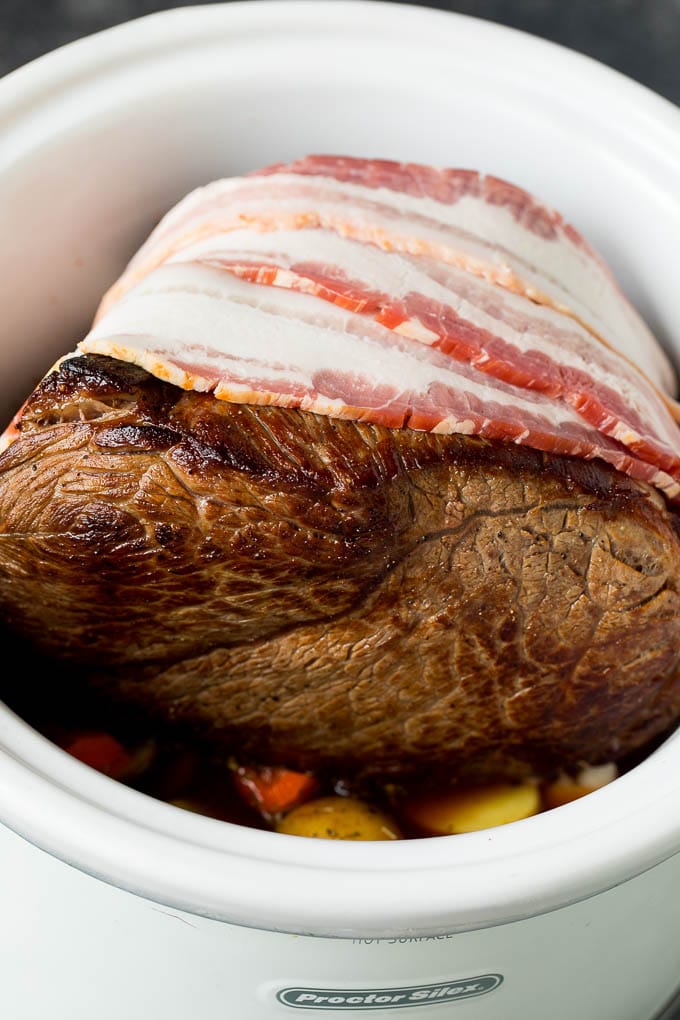 Slow cooker pot roast variations
While this recipe is delicious as written, you can add other ingredients to customize it to your tastes.
Vegetables: Swap out the carrots and potatoes for other hearty vegetables such as mushrooms, parsnips,celery, sweet potatoes, butternut squash or turnips.
Flavorings: Feel free to add other flavorings to the sauce such as Dijon mustard, balsamic vinegar, ketchup, brown sugar, butter, onion soup mix, beer or red wine.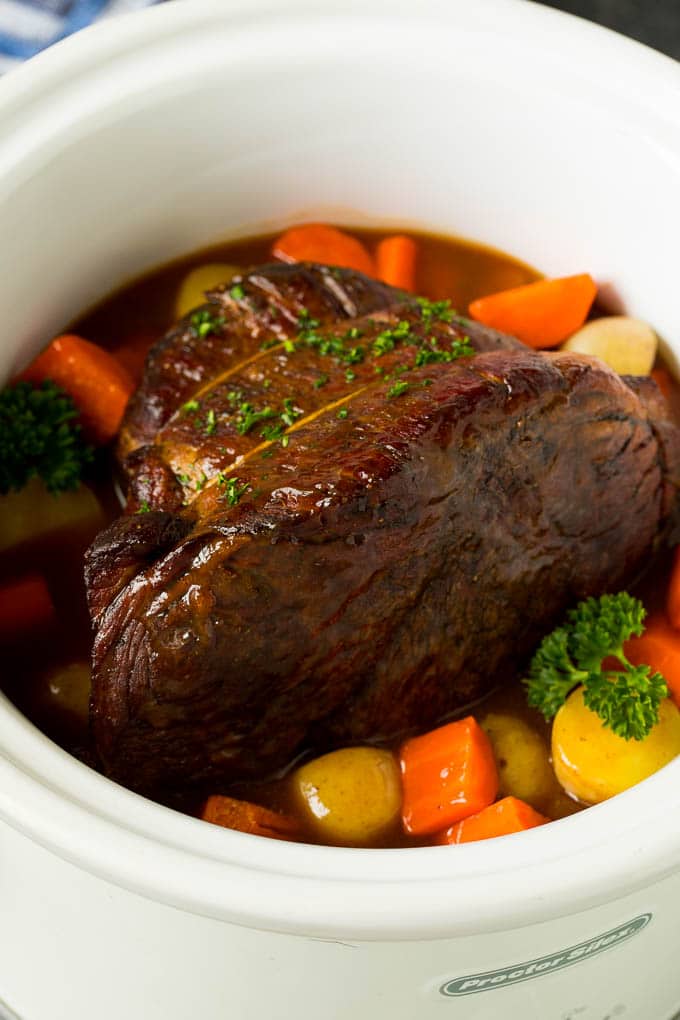 This pot roast is one of the best I've ever had, and it comes out melt-in-your-mouth tender every single time. The whole family is sure to love this recipe!
More crock pot classics
Slow Cooker Pot Roast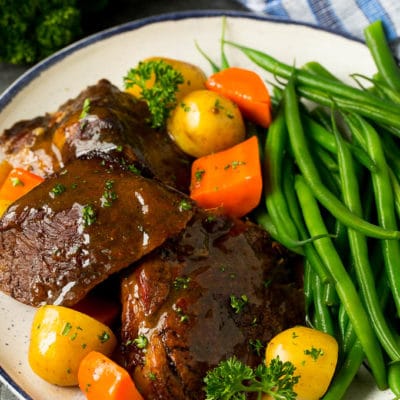 This slow cooker pot roast is a chuck roast simmered to tender perfection in a crock pot with carrots and potatoes. A comfort food classic that's simple to make, and is great for feeding a crowd.
Ingredients
1

tablespoon

olive oil

4

pound

chuck roast

salt and pepper to taste

2 1/2

cups

beef broth

1

tablespoon

tomato paste

1

tablespoon

Worcestershire sauce

1

tablespoon

minced garlic

1

teaspoon

dried Italian seasoning

1

bay leaf

1

teaspoon

smoked paprika

1

onion

peeled and cut into wedges

2

pounds

small Yukon gold potatoes

whole or halved

1

pound

carrots

peeled, halved and cut into 2 inch pieces

3

slices

bacon

2

tablespoons

corn starch

2

tablespoons

chopped parsley
Instructions
Heat the oil in a large pot over medium high heat. Season the roast generously all over with salt and pepper.

Place the meat in the pan. Cook for 4-5 minutes per side or until browned.

Place the beef broth, tomato paste, Worcestershire sauce, garlic, Italian seasoning, bay leaf, smoked paprika and salt and pepper in the bottom of a large slow cooker. Whisk to combine.

Arrange the onions, carrots and potatoes in the bottom of the slow cooker. Place the roast on top.

Lay the slices of bacon on top of the roast. Cover and cook for 6-8 hours on low heat.

Remove the meat and vegetables from the pot and arrange on a serving platter. Discard the bay leaf and bacon.

Pour the liquid from the slow cooker through a strainer into a medium sized saucepan. Skim any fat from the liquid. Bring the liquid to a simmer over medium heat.

Whisk together the corn starch with 3 tablespoons of cold water. Add the corn starch mixture to the pan of liquid. Bring to a boil and cook for 1 minute or until gravy has just thickened.

Pour the sauce over the meat and vegetables. Sprinkle with parsley, then serve.
Nutrition
Calories:
502
kcal
|
Carbohydrates:
24
g
|
Protein:
49
g
|
Fat:
27
g
|
Saturated Fat:
13
g
|
Cholesterol:
162
mg
|
Sodium:
606
mg
|
Potassium:
1523
mg
|
Fiber:
5
g
|
Sugar:
4
g
|
Vitamin A:
9655
IU
|
Vitamin C:
18
mg
|
Calcium:
107
mg
|
Iron:
9
mg